'Another Perspective' – inside the Saudi Arabian analysis
07 Feb. 2023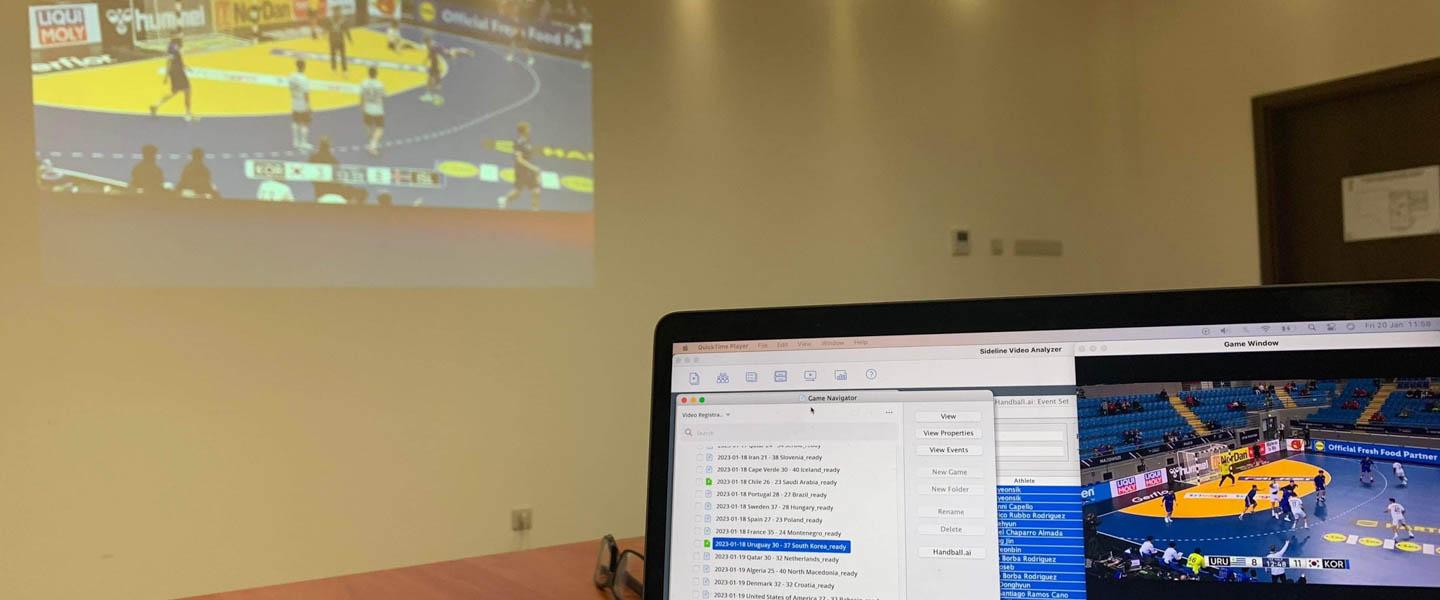 Tactics, data, formations, statistics – sports all over the world have so much to analyse that it can be hard to know where to start and what to use.
Thankfully, head coaches at the 2023 IHF Men's World Championship have a 'team behind the team' to help and one key member of that team is the analyst.
ihf.info hears from the United States of America's Julio Sainz and Saudi Arabia's Mark Hawkins in their own words about the fascinating role.
In part 2 of 2, we speak to Mark Hawkins. After a playing career with HEI in Denmark and Afturelding in Iceland, as well as representing Great Britain at the London 2012 Olympic Games, he became an EHF Master Coach. He gained a Master's degree in Performance Analysis.
He has worked with Great Britain men's 1998 generation, with his former GB coach Jesper Holmris in his role as China women's national team coach at the 2017 IHF Women's World Championship and as head coach of Våg in Norway. 
ihf.info: How do you define the role of an 'Analyst'?
It really depends on the setup of the team, the coach and the skills of the analyst. 
At Poland/Sweden 2023 with Saudi Arabia, I am also a coach. When coach Jan Pytlick first started, it was just him and me with the team for the first month.
We had a training camp in Saudi Arabia and a competition in Turkey, so it set some different parameters. It also depends on whether you work more with data, video or aspects of analysis; for example, crossing over with the physiotherapists and strength coaches.
The analysts in handball are generally working with video, tagging games, preparing for the opponents and helping to prepare the video to be shown to players to review games or for the next opponents.
With so much technology available, how do you decide what to use and what not to use?
Handball, as a sport, doesn't have big analysis departments like a football club, so coaches are used to working on the video themselves. It's important to have things that are intuitive and easy for coaches to use, as opposed to over-complicated systems. 
I use XPS as a coach and for analysis. It is very common in handball. At Poland/Sweden 2023, where we play every other day, time is key and it needs to be effective. We need to have information turned around and presentable to players and coaches quickly, so whatever you have, if we can't have it quickly, then it's effectively useless.
How do you decide what data to use and not to use?
I don't think there is much good data available for impacting the game in handball, but a video is very good and we can access every match almost as soon as it has finished.
I create data myself. I use very basic technologies to plot shots quickly, so I have an accurate record of where precisely each shot is taken from. It gives me the best information to start to understand the strengths and weaknesses and trends we need to show.
What is your relationship like with the players?
Having been a head coach at club level for the past four years and because I started with this team doing more coaching with them, it has impacted on the relationship with the players, making it more on this level for me.
It's like a coach who is working a lot with video as opposed to someone who just sits behind a laptop or with a camera.
This really helps the relationship with the players as they know I watch a lot of footage in preparation so they will also ask my opinions on things, which opponents will do what, etc.
It also helps with the coaches as they can easily ask me to find certain things in the video or talk about things I've seen in the video in training as well. It makes that connection a lot smoother.
Morten Soubak has come in as assistant coach, but I am on court in sessions, working with the players.
During live matches of your team, what are you doing?
I am trying to get an idea of how the match is going relative to our match plan. I'm noting certain things to see if we are achieving this, and then, when it gets to half-time or whenever, I can bring the coaching staff information to either back up what they are thinking or provide another opinion.
What happens at half-time?
We don't have any video at half-time. I'm coming to the coaches with a small analysis of how the match is going, where we have been successful, and where the opponent has been, for example. I can provide evidence to either confirm what they think or give another perspective.
What is your relationship like with the coach?
It's amazing to work with Jan; really a legend of coaching. I have learned so much from him, also not to forget Morten Soubak, who is a world champion himself with Brazil.
It's amazing at this point in my career as a coach to be able to learn from people like this who have done it all, to see how they work, and build a team, a match plan.
From the beginning, Jan has always been amazing, incredibly open to my ideas and looking at things from a more analytical point of view.
He saw the skills I could bring and tried to maximise them, he always trusted me and gave me a lot of responsibility, so I am incredibly grateful for that. 
What advice would you give someone thinking of becoming an analyst?
Most people are looking for analysts who can provide quality information that can actually make a difference, so being able to find things that are making a difference and disseminate that into usable information quickly is the most important thing. You need to get used to analysing matches and creating unique, insightful analyses.
Photos: Basheer Al Saeed