Quarter-finals: Can flawless France stop Hungarian history?
27 Jan. 2021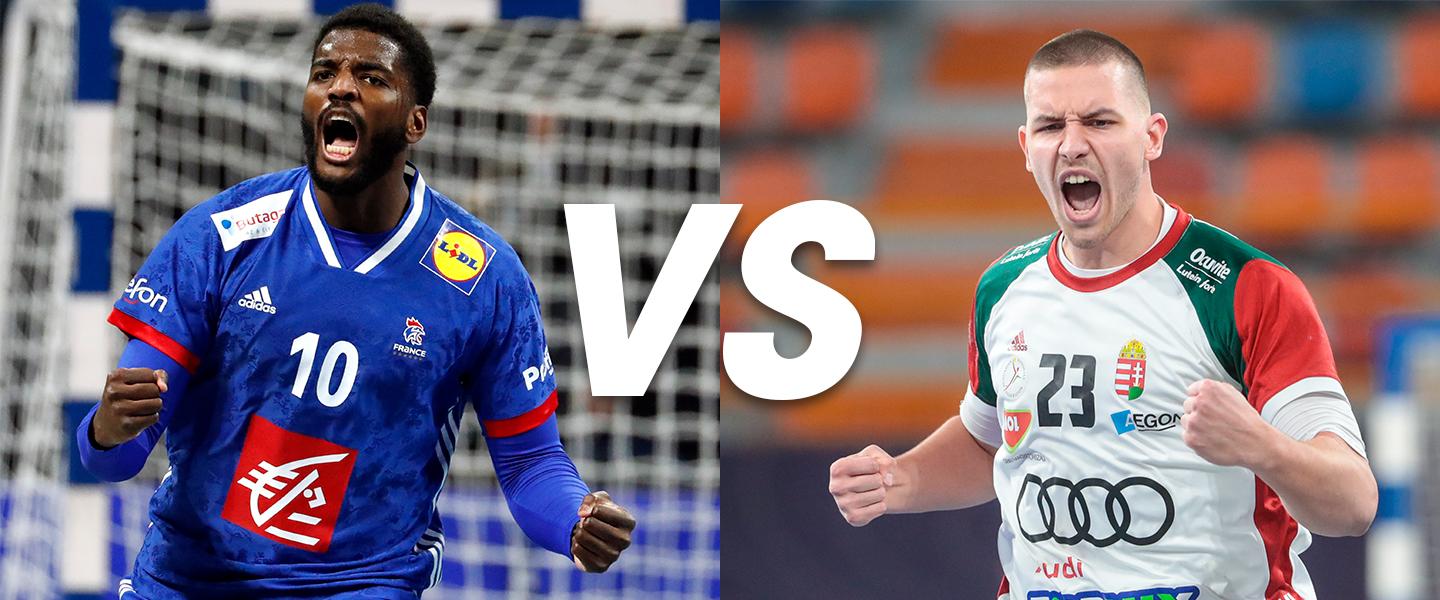 Hungary have just a solitary IHF Men's World Championship medal to their name, a silver won in 1986, despite appearing in 20 editions up until Egypt 2021.
Their best ranking since then was a fourth-place finish in Japan in 1997 losing the bronze match against the Daniel Costantini-coached France and featuring Guillaume Gille, who won what would be his first of five World Championship medals as a player.
And it is Gille and France again now standing in the way of Hungary, with Gille coaching the French – a job which has seen his side win all six of their Egypt 2021 games so far, defeating Norway, Austria, Switzerland, Algeria, Iceland and Portugal.
France vs Hungary 21:30 CAT
Egypt 2021 comes off the back of a 14th-place finish for France at the 2020 European Championship last January – the worst-ever ranking since the competition started in 1994.
Gille, who took over from then coach Didier Dinart, has turned it around and has on his shoulders the unbelievable record of France never having two competitions in a row without winning a medal in the 21st century, starting with gold at the 2001 IHF Men's World Championship.
The nearest they came, was a European championship 11th place in 2012 and World Championship quarter-final in 2013, but in between was a London 2012 Olympic Gold.
"We're here to make the biggest game possible," said Gille. "Hungary has sometimes achieved great things but without finding consistency. At this World Championship they have been stable and efficient, and we find ourselves at a tipping point that will send us home or see us play for medals."
Despite a perfect record, Gille is not completely satisfied with his team in Egypt, but has strength and depth to choose from, evidenced by him turning the bench against Portugal in their clear win last time out.
"We are under construction," he added. "We have to build up and step-by-step find our rhythm. Sometimes it is not working, it is only logical. We have a lot do; and that work is the only key to find the success with our new young team. We have to find a better connection between the players and a better strategy in our game, that's how we try and work each day.
"It's not the end, it's only the beginning," said Gille to ihf.info after the Portugal victory. "The competition is so long, you have to play nine times fast in a row, it's quite impossible to put the load on only several players, you have to share it because you have to take care of the health of the players.
"Our group is strong and together. We are very happy with our overall performances in this championship and this is the only thing that counts."
One key element of a potential victory for France is the inside knowledge of their Hungary-based playmaker and Egypt 2021 top-scorer (28 goals) Kentin Mahé, who promised that the match is "…going to be a fight, a really big fight" but warned against the threat of MOL-Pick Szeged's line player Bence Banhidi.
Banhidi and his teammates won their first five games (Cape Verde, Uruguay, Germany, Brazil and Poland), but coach Istvan Gulyas used the opportunity in their final main round match to rotate and rest his starting seven against Spain, in a match which they lost heavily (28:36).
Despite the long handball history of the two European nations, they have only met a handful of times in the last decade, with their most recent competitive meeting being at the 2012 European Championship in Serbia, which saw Hungary win 26:23.
According to the French Handball Federation, the teams have met 43 times, with Hungary winning 22 times and France 17.
The winners will play Sweden or Qatar in the semi-finals on Friday (29 January).