A Royal message, fighter jets and gold shirts
02 Feb. 2021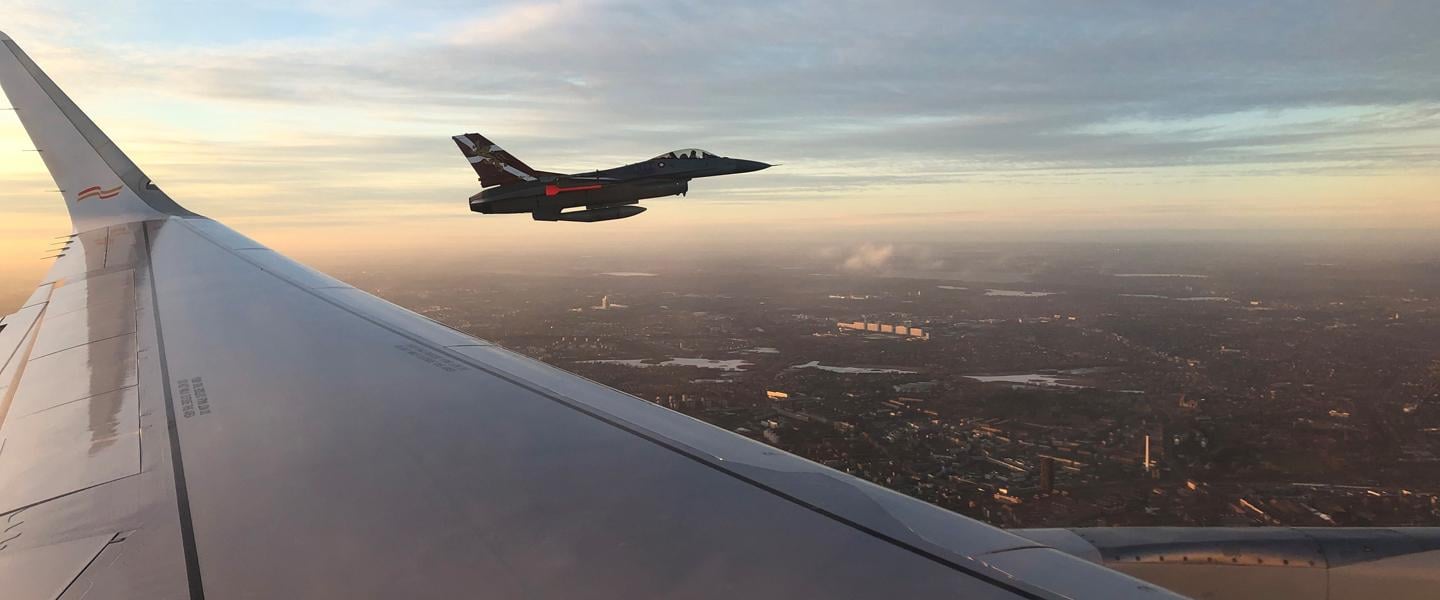 Following their historic 2021 IHF Men's World Championship title won late on Sunday night in Cairo, Denmark coach Nikolaj Jakobsen and his golden Danish players ended more than three weeks inside the 'red bubble' as they returned home from Egypt.
Almost immediately after they had picked up their gold medals and lifted the trophy following their 26:24 (13:13) defeat of neighbours Sweden, they were video-called by Frederik, Crown Prince of Denmark, in their locker room who cheered their victory from his home.
"The Crown Prince has always shown support for us and of course it means a lot," said Denmark's Lasse Svan to ihf.info. "He congratulated us on the win and was very happy for us and for the whole country."
Then it was the regulation post-match activities, including the media mixed zone and conference, with Jakobsen telling ihf.info in the conference; "…right now, I honestly want to get on the bus and go back to the hotel and celebrate with my players."
And he, and they did, with plenty of stories to tell, one of which was relayed by All-star Team right back Mathias Gidsel to TV2 Denmark. "I went to bed, but then Mikkel Hansen came and got me out of bed again," he said. "I think he managed to do that three or four times. He lifted me out of bed, put me on a chair and handed me a beer so it ended up being a long night."
That long night – including "…bad music, which (Magnus) Saugstrup and (Mads) Mensah directed," according to Jakobsen – was rumoured to have finished at 08:00 (CAT) on Monday morning and soon after, with little sleep, the entire Denmark delegation, plus a handful of Danish media who had accompanied them throughout their Egypt 2021 journey, boarded a private plane at Cairo airport to take them home.
Awaiting the players were special editions of their playing shirts with their names and numbers in the colour of their medal, gold, while all staff were wearing Denmark shirts too as they took off around 12:15 (CET).
Once the charter flight arrived in Danish airspace, it was greeted by two F-16 fighter jets from the Danish Air Force base at Skrydstrup, complete with the Dannebrog (Denmark flag) on show and thumbs up from the pilots in their cockpits – a breathtaking sight for everyone.

Upon arrival at Copenhagen Kastrup Airport at 16:30 (CET) they were then greeted by a rescue helicopter flying low-level with another Danish flag on display and as they taxied on the runway, over 12,000 litres of water was sprayed either side of the plane by the airport rescue vehicles, complete with sirens blaring and lights flashing.
Led by Egypt 2021 MVP and Denmark top-scorer on 48 goals, Mikkel Hansen, the players disembarked with Danish Handball Federation Director of Sports Morten Henriksen behind them, carrying the trophy off of the plane around 17:00 (CET) and into the airport terminal where the delegation were greeted with a welcome talk and then conducted some further media activities.
Unfortunately, this year, unlike in 2019 when Denmark won on home soil and were greeted by 1000s of people in Copenhagen, due to COVID-19 there were no big group activities or any with fans and once the official welcome was over around an hour after arrival, the players said their goodbyes and started their final journey of the day home, or to their clubs in their own private cars or taxis.

PHOTOS: DHF