Denmark claim second straight Men's World Championship gold
31 Jan. 2021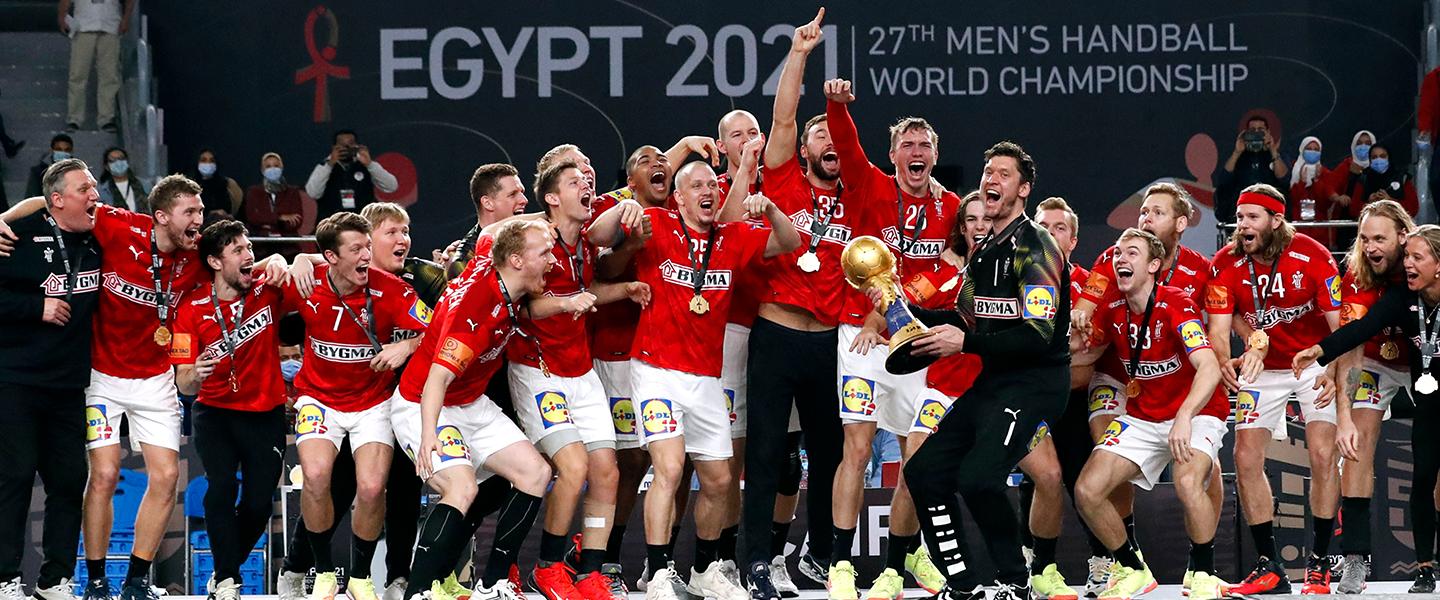 It took experience, patience, determination and a bit of out-of-the-box thinking from coach Nikolaj Jacobsen, but Denmark sealed their second straight world title, proving once again that the current generation are in a league of their own.
With two players in the All-star Team, right back Mathias Gidsel and left back Mikkel Hansen, Denmark were lifted by a 15-save game on the part of goalkeeper Niklas Landin and a great performance of centre back Jacob Holm, who defined the second half to help the Danish side claim gold.
The win also sealed a record-breaking 19-game winning streak at the IHF Men's World Championship for Denmark, as the Scandinavian side won both their world titles – 2019 and 2021 – without dropping a game.
FINAL
Denmark vs Sweden 26:24 (13:13)
The biggest stage in handball. Only 60 minutes between a player and history. It cannot get any bigger than that and the sheer anticipation went through the roof this Sunday evening in Cairo, where Sweden and Denmark faced each other with nothing less than the world title at stakes.
The beauty of handball is such that a single loss can derail your claim for the gold medal. It might be brutal, it might feel disheartening, but it makes one being pumped up with adrenaline for 60 minutes – it makes everyone give it their all. Even "puking or dying," as Sweden's line player Fredric Pettersson put it before the throw off.
Prior to each final, two questions pop up: will the mighty defence stop the best attack in the competition? Or will experience play its part in the next 60 minutes?
Denmark had it all: one of the best attacks of all times at the IHF Men's World Championship, scoring at a rate of 35.25 goals per game, and the experience of winning the trophy two years ago, bringing back 11 players from their 2019 squad to Egypt 2021.
However, Sweden did not make it easy for Denmark. The team nobody expected to deliver such a compelling performance at Egypt 2021, were on par with the world champions, who were a step away from creating history: the biggest-ever winning streak in the history of the competition, with 19 games.
The big final of Egypt 2021 did not disappoint. There were three lead changes and both teams went through rough patches, as defences were on top, proving that even the best attacks can be stopped.
For the first time in this World Championship, Denmark failed to score more than 15 goals in the first 30 minutes, with superb Swedish goalkeeper Andreas Palicka keeping them in check with six outstanding saves in key moments.
When right wing Lasse Svan went down with a muscular injury, it all seemed to unravel for Denmark. Forced to use right back Mathias Gidsel on the right wing, the Danish attack missed shot after shot, as a 6:2 run from Sweden turned the game around.
Yet, Sweden, who were leading 13:11 with three minutes to go in the first half, could not capitalise on their advantage, as right back Nikolaj Oris Nielsen scored four goals in the last 15 minutes of the half to tie the game. 
It was a forced move for Danish coach Nikolaj Jacobsen, but Oris Nielsen duly delivered, improving his goal tally at Egypt 2021 by 50 percent in the final, to tie the game at the break, 13:13.
For Jim Gottfridsson, Sweden's brain in attack and the All-star centre back at Egypt 2021, it was not the best first half, scoring one goal from six shots, with the Swedish efficiency dropping to a meagre 52 per cent in the first half, after putting up outstanding numbers prior to the final, such as a 86 per cent shot efficiency in the semi-final against France.
And it went from bad to worse for Gottfridsson, as he was limited to only two goals from 10 shots and five assists by a superb Danish defence, that played their best game in the event.
While the defence, captained once again by one of the top goalkeepers in the world, Niklas Landin, did their part, the attack was still lacking. Coach Nikolaj Jacobsen still had an ace up his sleeve, though: 25-year-old centre back Jacob Holm, who had quietly played an integral part in Denmark's title defending challenge.
Unleashed early in the second half, Holm scored four consecutive goals to inspire a 5:1 run for Denmark which lifted Jacobsen's side to a 23:20 lead with 12 minutes to go.
As Holm started to keep the Swedish defence busy, Mikkel Hansen had his fair share of open shots, converting seven of them, as he slowly led Denmark to the title.
Nothing, however, could have been achieved without 2019 IHF World Player of the Year Landin. Feet, hands, palms, face – he saved shots with every part of his body, delivering another masterpiece of goalkeeping, stopping 15 shots at a rate of 41 per cent, confirming he is a class act.
Despite Sweden throwing everything they had at Denmark, it was too little, too late, as Landin's outstanding performance in the closing minutes sealed the deal, with Denmark claiming a 26:24 win in the final.
It was a special night for Denmark, who celebrated their second world title in a row, becoming only the second team after France to defend the IHF Men's World Championship title in the last 47 years.
The 26:24 win against Sweden was also Denmark's 19th straight in the competition, breaking France's record of 18 wins in a row, set between Qatar 2015 and Germany/Denmark 2019. Jacobsen's team will thus be remembered in history as one of the most dominant in the sport, winning two titles in a row without even conceding a draw.
The young Swedish side will have to wait at least two years for another gold medal chance – then on home soil, as they will co-host the 28th IHF Men's World Championship with Poland.