President Moustafa: "We made it"
31 Jan. 2021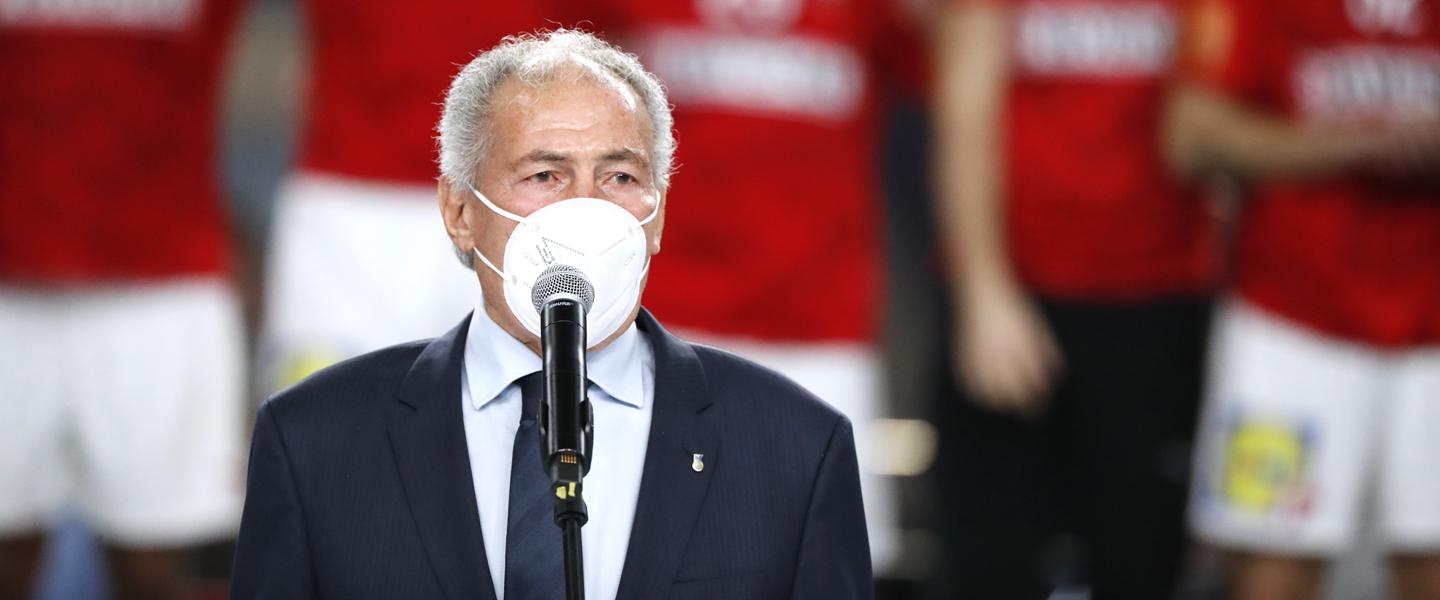 IHF President Dr Hassan Moustafa ended the 2021 IHF Men's World Championship in Egypt as he exclaimed "We made it!" in the official closing ceremony at the Cairo Stadium Complex on Sunday (31 January) night.
Following the conclusion of a classic Scandinavian final in Cairo with Denmark eventually overcoming their neighbours Sweden, those inside the Cairo Stadium and watching around the world were given a taste of the highlights and emotions of the past few weeks with a video entitled: 'One world, One hand, One dream. Together as one.'
The montage looked back at the preparations for the championship, the draw in September, the hygiene concept, sports halls, volunteers, opening ceremony interspersed with highlights from games featuring all 32 teams.
The IHF Men's World Championship trophy, brought from Denmark to Egypt and kept under lock and key in a bank vault since, was then brought on court, to sit on the podium by Egyptian Handball Federation President Hesham Nasr.
IHF President Dr Hassan Moustafa then gave a speech on court, praising all those who made the championship possible in such challenging times.
"We made it," he said. "We played together a successful symphony and in the name of the IHF and all handball family I want to give my special gratitude to President Abdel Fattah El-Sisi for giving us full attention and following up the organisation of this event and the implementation of the COVID-19 Medical Precaution Plan. I give my thanks to the Egyptian Government, His Excellency, the Prime Minister Moustafa Madbouly, and the Ministers concerned who accepted to stage this event in this very difficult time.
"I want to give my thanks to the President of the EHF and the Chairman of the Organising Committee, Hussein Labib. I would also like to give my thanks and my gratitude to our stakeholders, starting from the players, referees, coaches, officials, clubs, national federations, continental federations, media, volunteers, representatives, sponsors – all the people involved in this successful event.
"I wish you all a nice trip and see you at the next world championship. I hope all of you will all be safe and healthy and thank you for accepting our invitation to be in Egypt at this time."
Following the speech by Dr Moustafa, a specially-prepared video message from International Olympic Committee (IOC) President Dr Thomas Bach was then played, where he congratulated the IHF and Dr Moustafa on the hosting of the championship.
"It has been amazing to see how the sport of handball was shining during these days," he said. ""The IHF performed to its best…and have really set an example for the organisation of a great sporting event during this pandemic. This can give us all confidence in the entire Olympic Movement."
Another special video message was then relayed, featuring Denmark goalkeeper and captain, Niklas Landin.
"It's a well-organised tournament this year and we are so satisfied that we could make it until the end. Everything that we asked for is going to be fixed, it's just a good feeling right now. This tournament has shown that everything is possible with the right bubble. 
"They made a good job and I think it was the right decision to make this world championship, to be this success. I could see in Denmark a lot of people are looking at their TV screen and they are really happy they have something to do in this really hard situation for everybody in the whole world."
And after a patient wait, the bronze, silver and gold medal teams were brought onto court and presented with their medals and obligatory photos.
Anna Rapp, IHF Executive Member and Hussein Labib, Egypt 2021 LOC Director presented Spain with their third-place medals while Mansourou Aremou, IHF-Vice-President and Dr. Ashraf Sobhy, Egyptian Minister of Youth and Sports handed over Sweden their silvers.
It was left to Dr Hassan Moustafa and Dr Madbouly, Egyptian Prime Minister to present Denmark with their gold medals and once the medals were presented, the trophy was lifted, and the Danish national anthem was played.
The final act was for Egyptian Handball President Hesham Nasr to pass the IHF flag to Dr Moustafa who then passed it over to the joint hosts of the 28th IHF World Championship will be held in Poland and Sweden in 2023 and who were represented by Frederik Rapp, President of the Swedish Handball Federation and Bogdan Sojkin, Vice President of the Polish Handball Federation, both of the Organising Committee of Poland and Sweden 2023.

Read about the Egypt 2021 Opening Ceremony HERE.