Hansen scores 12 and lifts Denmark past Spain
29 Jan. 2021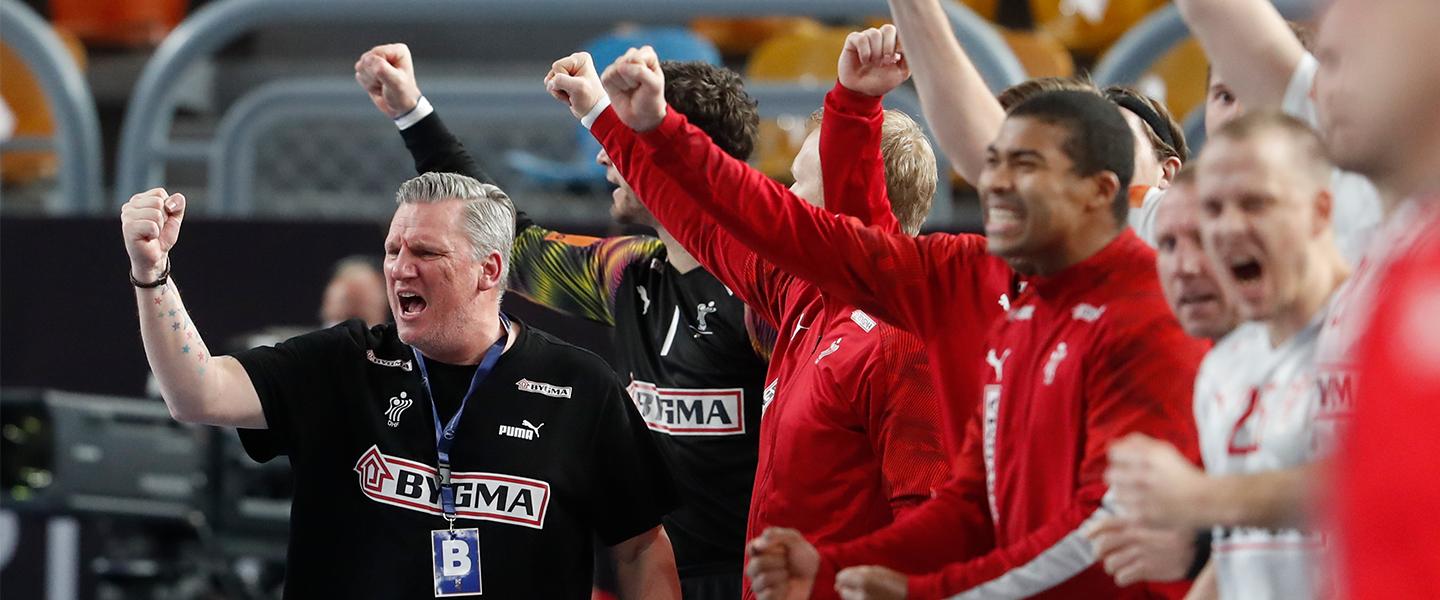 For the second IHF Men's World Championship in a row, title holders Denmark are in the final without dropping a single game, as they extended their winning streak to 18 games after their 35:33 win in the semi-final against Spain.
On Sunday, Denmark will face Sweden in a 100 per cent Scandinavian final and will have the chance to become the second team after France in recent handball history to defend the world title.
SEMI-FINAL
Spain vs Denmark 33:35 (16:18)
It takes strength to win an IHF Men's World Championship semi-final and this is what Denmark tried to show from the first minute on.
Spain might have expected an aggressive approach from the best attack in the competition, but Nikolaj Jakobsen's choice to start the first attack with seven outfield players was a huge risk. Turning the ball over and seeing yourself one goal down would not have been the optimal start for such a crucial game.
However, Denmark had it all mapped out and it quickly became a shoot-out between the best attacks in the competition, who had a combined tally of for 476 goals in their overall 14 games played at Egypt 2021.
Spain needed three minutes to score their first goal – an 83 km/h bullet from right wing Ferran Sole who netted from the right back position – but it quickly became clear that Denmark were more confident and in control.
Star player Mikkel Hansen was due a big game after a quiet start to the World Championship – and he duly delivered against Spain, looking to forget him being sent off for a crucial mistake in the quarter-final against Egypt.
When Denmark needed it the most, Hansen was there and he finished the first half on six goals and five assists, having a direct hand in 11 of Denmark's goals in the first half, or 61.1 per cent of their 18 goals.
If the title holders were to progress to their second final in a row at the IHF Men's World Championship, though, they would need more in the second half. Boasting a two-goal advantage against a powerhouse like Spain after the first half (18:16) is surely a nice feature – yet, Denmark were up by five goal before (13:8). 'Los Hispanos' never gave up, despite not featuring their best game.
The attack was problematic, even though some corrections were made after coach Jordi Ribera called a time-out in the 16th minute, yet the most pressing question was their defence; especially their goalkeepers, who saved 37 per cent of the shots they faced prior to the semi-final against Denmark, the best rate in the competition. Their first half? Despite switching from Gonzalo Perez de Vargas to Rodrigo Coralles, the Spanish pair only saved two shots, for a meagre 10 per cent saving efficiency.
A 2:0 run to start the second half saw Denmark once again in charge, but the Spaniards fought harder and harder to keep up and tie the game.
It took an overwhelming effort from left back Daniel Dujshebaev, who scored seven goals in the game, but also from line player Adrian Figueras, who netted five times, including three in a row, in the second half to help the Spanish side cut the gap to only one goal (25:26), with 15 minutes to go.
Whenever Spain came back, however, disaster struck. It was either a bad pass from experienced centre back Raul Entrerrios or a costly miss from Spanish top scorer in the tournament, left wing Angel Fernandez Perez – who finished the game without a single goal – that hampered Spain's efforts.
And when it mattered most, with 30 seconds to go, line player Ruben Marchan had the tying goal in his hands, one-on-one with Niklas Landin, only to hit the crossbar. Denmark scored on the subsequent attack and sealed a 35:33 win – their 18th in a row at the IHF Men's World Championship – and the win that put them through to the final.
It was a collective effort in a nail-biting match, but it would have not been possible without a key game from hummel Player of the Match, Mikkel Hansen. One of the best, if not the best player of his generation, Hansen recorded his second World Championship semi-final with 12 goals scored in a row, to lift his team in the position to defend their world title won at home.
So far, Denmark seem impossible to stop, having scored at least 31 goals in each of the eight games played until this point in the World Championship. Now, they will face Sweden in the final, two years after they beat another Scandinavian side, Norway, in the last act at Germany/Denmark 2019.
hummel Player of the Match: Mikkel Hansen, Denmark