Spain vs Denmark: Top attacks face each other on the way to final
29 Jan. 2021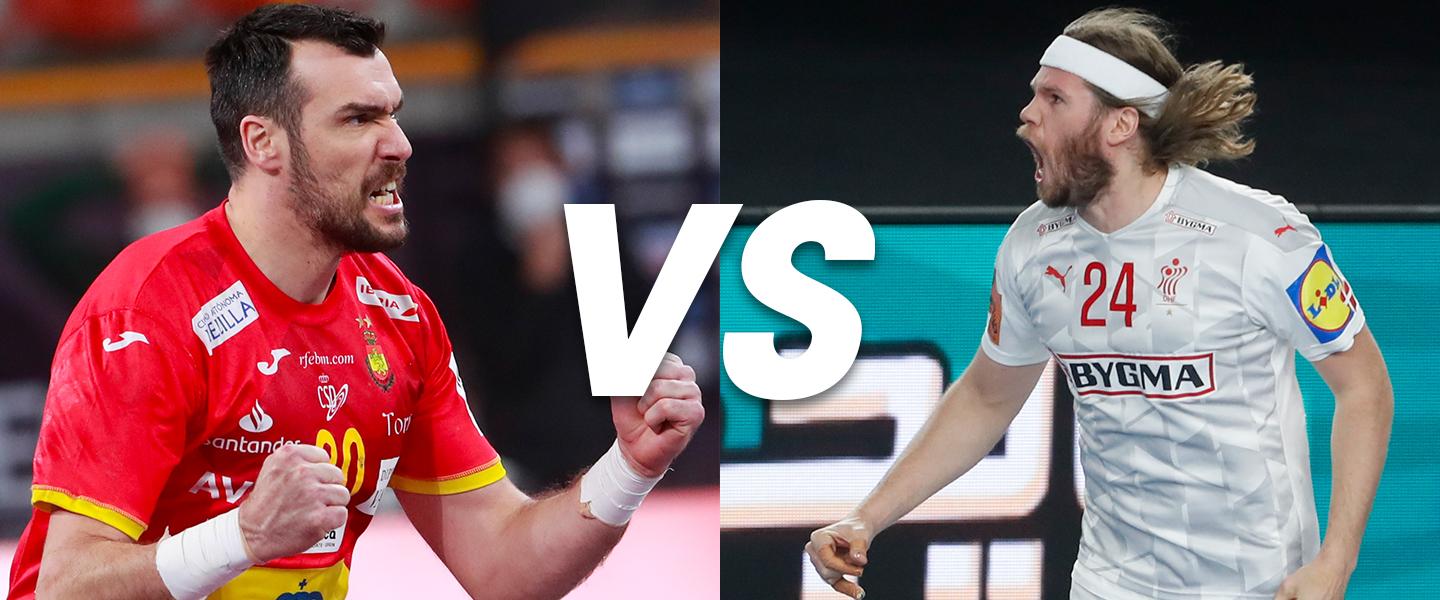 The two teams with the best attacks in the competition, Spain and Denmark, will be facing off in a do-or-die game in Cairo on Friday evening, with the winner progressing to the final of the 27th IHF Men's World Championship.
Everything is set for a dramatic game and a chance for Denmark to avenge some painful defeats at the hands of their Spanish counterparts over the last eight years in the world's flagship handball event.
SEMI-FINALS
Spain vs Denmark 21:30 CAT
Never has a final of the IHF Men's World Championship more one-sided than at Spain 2013, when the hosts drubbed Denmark 35:19 in what became the benchmark for a performance in the last act of the competition.
It was a game that Denmark will never forget, as Spain put on one of the most vintage displays in the history of the competition.
Players like Niklas Landin, Mads Mensah Larsen, Mikkel Hansen, Henrik Mølgaard or Lasse Svan Hansen will certainly never forget that game, just like they will not forget the 24:25 quarter-final loss against Spain six years ago at Qatar 2015.
Spain's recent history against Denmark in the IHF Men's World Championship has been inconsistent, with important wins in crucial moments in the event.
For coach Jordi Ribera, however, Friday's game against Denmark will be business as usual.
"The win against Norway, which enabled us to go to the semi-finals is very important for Spain. Being back between the top four teams in the world is crucial for Spanish handball," said Ribera.
Indeed, Spain's golden generation is at its zenith, with players like Raul Entrerrios, Daniel Sarmiento or Joan Canellas in their final steps of superb careers. Another world title, their third in the last 16 years, would set the tone for the years to come.
In the middle of a six-game winning streak at Egypt 2021, after drawing the first game against Brazil 29:29, Spain have corrected their flaws and played their cards to perfection.
With 229 goals scored in their first seven games, Spain have the second-best attack in the competition, only behind Denmark, who scored 18 goals more.
'Los Hispanos' have enormous depth on all positions, giving Jordi Ribera the luxury to change players on all positions on a whim, with little impact on the overall display.
Goalkeepers Rodrigo Coralles and Gonzalo Perez de Vargas, who saved 97 shots combined in the competition – the largest number of saves made by two goalkeepers at Egypt 2021 – will have their hands full, though. 
Their championship-best 37 per cent saving efficiency will be put to a test by a team that constantly finds new ways to score. Only Sweden (73 per cent) have a better efficiency than Denmark, who converted 72 per cent of their shots in the competition, with the wings of the title holders scoring at a groundbreaking 82 per cent efficiency.
The Scandinavians survived a huge scare in their quarter-final on Wednesday, when they beat Egypt on penalties 39:38, after one of the wildest games in the history of the IHF Men's World Championship. 
"If we are to have a chance, then we must play better offensively than we did yesterday. Otherwise, it will be difficult to beat Spain, which boast players who really know each other well," said Danish coach Nikolaj Jacobsen, during the daily media call held by the Danish team on Thursday.
Surprisingly, star player Mikkel Hansen is not the Danish top scorer at Egypt 2021, as rookie right back Mathias Gidsel put on a superb performance at the World Championship, scoring 34 goals in his first seven games, five more than Hansen.
"They are a team that likes to attack. So, probably, this means I would have more chances to score, which really suits me," said Gidsel.
With both teams expecting a cracking game, the drama should be at its peak, as these results will set the path to both Spain and Denmark's future for the years to come.