Spain take care of short-handed Hungary to win Group I
25 Jan. 2021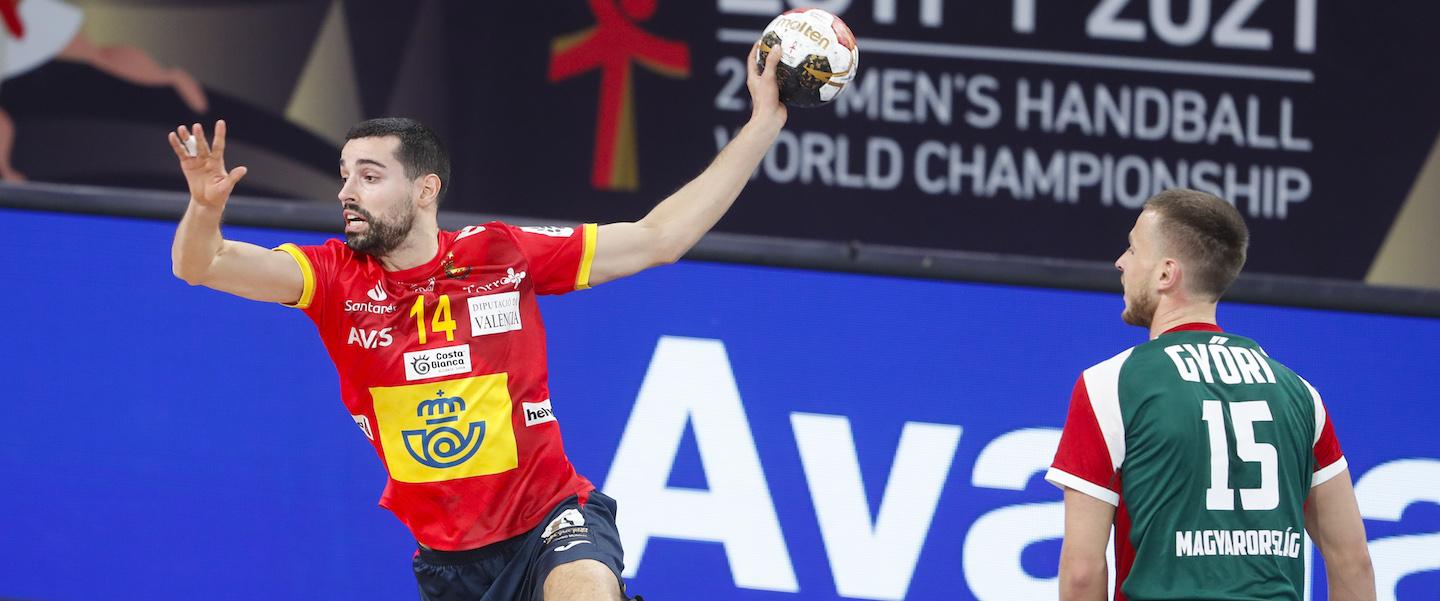 The decision to rest three key players for the last game in the main round against Spain backfired horribly for Hungary.
Their first loss in the competition, 28:36, means Hungary finish second in the group, setting up a gruelling quarter-final game against France, while Spain's path to the gold medal will include Germany/Denmark 2019 silver medallists, Norway.
MAIN ROUND GROUP I
Spain vs Hungary 36:28 (21:14)
After their best IHF Men's World Championship start since 1986, with five wins in their first five games, Hungary finally got their streak snapped.
It was a calculated decision to rest crucial players like centre back Mate Lekai and line player Bence Banhidi, who have combined for 43 goals in the first games, but also goalkeeper Roland Mikler, who has a 30 percent saving efficiency.
And for a moment, it looked like it would backfire drastically. With no answer in defence for a pacey and creative Spanish side, Hungary went down 2:7 after seven minutes.
But a suspension for back Joan Canellas turned the game on its head, with Hungary scoring two empty net goals in a row to set up a 5:0 run in only three and a half minutes that tied the game, 7:7.
However, Spain took care of things. An unusually laid-back defence from Hungary collapsed in the last ten minutes of the first half, as Spain embarked on a game-sealing 7:2 run.
It was right wing Ferran Sole who led the charge with eight goals from eight shots in the first 30 minutes, but Spain really played to their strengths, boasting a seven-goal lead, 21:14, but also an otherworldly 81 percent efficiency in attack.
A 2:0 start to the second half could have signalled Hungary were back in business, only for Spain to quash that with their own 7:0 run, preventing their opponents from scoring and opening a 28:16 lead.
It was not only about an efficient attack, but also about a goalkeeping masterclass from hummel Player of the Match Gonzalo Perez de Vargas, who stopped 17 shots.
Vargas also jumped into second place of the top goalkeeper rankings, with a 39.5 percent efficiency, only behind Portugal's Humberto Gomes, who boasts a 43 percent efficiency, but is first in the number of saves in the tournament, with 57, two more than France's Vincent Gerard.
But when Hungary finally broke the rut, after exactly 14 minutes, it was too little, too late. Spain sealed a crucial win, 36:28, in a game where their wings scored 20 goals, with Sole leading with eight and Aleix Gomez following with seven.
With their fifth win in six games, Spain secure first place in Group I, with a clash against Norway in the quarter-finals on Wednesday at New Capital Sports Hall.
Meanwhile, Hungary will head to Borg Al Arab, where they will face Group III winners, France, with a place in the final weekend in Cairo on the line.
hummel Player of the Match: Gonzalo Perez de Vargas Moreno, Spain