Group I: Hungary and Spain meet for first place
25 Jan. 2021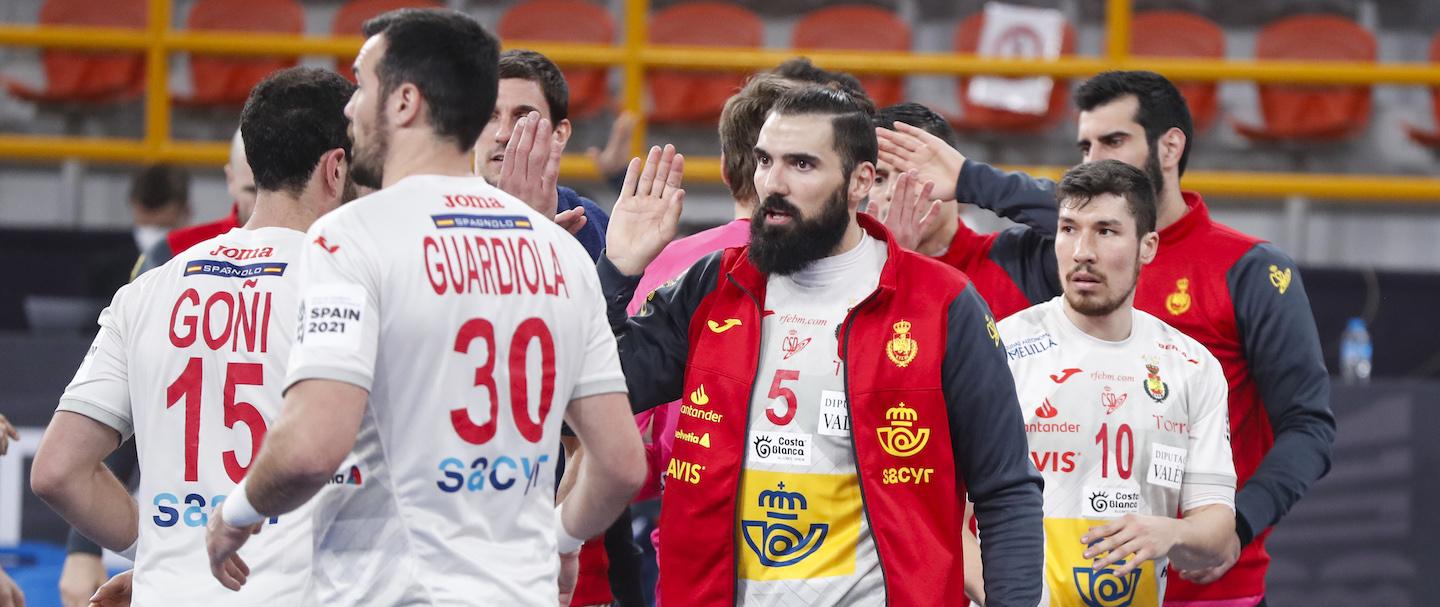 The curtain will fall over the main round at New Capital Sports Hall on Monday, but not before a crucial game between Hungary and Spain decides the winner of the group.
Both unbeaten in their last five games, Hungary and Spain secured their quarter-finals berths on Saturday, with the Hungarians in the driver's seat, with eight points, one more than Spain.
Brazil vs Uruguay 16:30 CAT
Brazil have not finished an IHF Men's World Championship without a win since Portugal 2003, securing at least two wins in each of the past eight tournaments.
However, ravaged by injuries and COVID-19 positive cases, and without their head coach Marcus Oliveira, the Brazilian side is on pace for their worst finish since Sweden 2011.
Brazil enjoyed a lively start, with draws against Spain (29:29) and Tunisia (32:32), but have lost their last three games, against Poland, Hungary and Germany.
Their last chance to finish a difficult tournament on a high is in their game against Uruguay, a team that have lost four of their last five games and won against Cape Verde, 10:0, after the African side withdrew from the competition.
The head-to-head record between the two sides goes back since 1993, with Brazil winning all 13 mutual matches by at least nine goals.
In the past five years, Brazil and Uruguay have met four times, with Brazil taking four wins by an average margin of 19 goals per game, including a convincing 31:14 win in the inaugural South and Central American Men's Handball Championship in January 2020.
"We will be focusing with all our strength for the game against Uruguay, our last at this World Championship to try and secure our first win in the competition to be able to leave with our heads up high," said Brazilian right wing, Rudolph Hackbarth.
Spain vs Hungary 19:00 CAT
Two of the five unbeaten teams in the competition face off in the last round of Group I, with the winner sealing first place in the standings.
Hungary and Spain secured their quarter-finals berths with wins against Poland and Uruguay on Saturday, as they are both eyeing first place in the group, which will set up a tie with the second placed team in Group III in the quarter-finals on Wednesday.
Hungary have been the feel-good story of the competition, with a strong defence that has conceded only 122 goals throughout the first five games, but with an efficient attack.
In fact, when Hungary (166 goals scored) and Spain (162 goals scored) will take the court, the second-best attack at Egypt 2021 will be facing the fourth-best attack in the competition.
Yet a flurry of goals could not be norm in this European derby, as Hungarian goalkeepers Roland Mikler and Marton Szekely have the best saving efficiency in the tournament, 36 percent, just ahead of Spain's Rodrigo Coralles and Gonzalo Perez de Vargas, who saved 35 percent of the shots they faced.
It will also be a special game for Chema Rodriguez, Hungary's assistant coach, who played for Spain between 2004 and 2015, scoring 159 goals in 125 appearances for "Los Hispanos".
Rodriguez, who won the gold medal at Tunisia 2005 with Spain, has donned the national team shirt alongside several members of the current Spanish squad, like captain Raul Entrerrios, backs Jorge Maqueda, Joan Canellas, Alex Dujshebaev, goalkeeper Gonzalo Perez de Vargas or defender Viran Morros.
"I do not feel so old knowing that Chema is now an assistant for the Hungarian side. He knows us very well, he was our teammate, but we also want to win all games we play in, so we are thoroughly motivated," said Entrerrios to ihf.info.
Provided Hungary do not lose, they will win the group, as they are leading the standings with eight points, with Spain only one point behind, after their draw against Brazil in the first match, 29:29.
"We still have an important game against Spain and we will do our best to continue our winning streak in the tournament," said Istvan Gulyas, Hungary's coach, after the game.
Spain have won five of the last mutual seven games against Hungary, but Hungary secured a 32:29 win in November 2020 against a depleted Spanish team, in the EHF EURO Cup.
Poland vs Germany 21:30 CAT
14 years ago, Poland and Germany were playing in the 20th IHF Men's World Championship final in a packed arena in Köln. Germany became champions with a dazzling 29:24 display, securing their last gold medal in the competition.
Now, the two sides have nothing but pride to play for, as they are both eliminated after losing two games each in the competition.
However, Germany will be eyeing to secure a win and avoid their worst-ever finish at the World Championship, which is currently the 11th place at Sweden 2011.
"I am really happy with how our team played, it is a learning process, so I am very satisfied with how we played in the last games," said Germany's coach, Alfred Gislason.
One of the most improved sides at this year's IHF Men's World Championship, Poland, displayed their lack of experience in the game against Hungary, in their 26:30 loss.
"We made too many costly turnovers and the game was over as soon as Hungary took advantage of them," said Polish coach, Patryk Rombel.
Despite failing to seal a quarter-finals berth, Poland can pride themselves with their best finish since Qatar 2015, but they will also look to end the tournament on a high, with a win against Germany.
Three Poles – captain Piotr Chrapkowski, line player Maciej Gebala and right back Maciej Majdzinki – are currently playing in the German Bundesliga, while German goalkeeper Andreas Wolff plays for Polish powerhouse Lomza Vive Kielce.
Therefore, the two sides know each other well and there will be little surprises when the teams get on court for their final game at Egypt 2021.
In the last 20 years, Poland and Germany have met 12 times in competitive games, with Germany taking seven wins, the last two in the 2016 Olympic Games, 32:29 in the preliminary round and 31:25 in the bronze-medal game.