Iturriza and Pereira think big for Portugal
24 Jan. 2021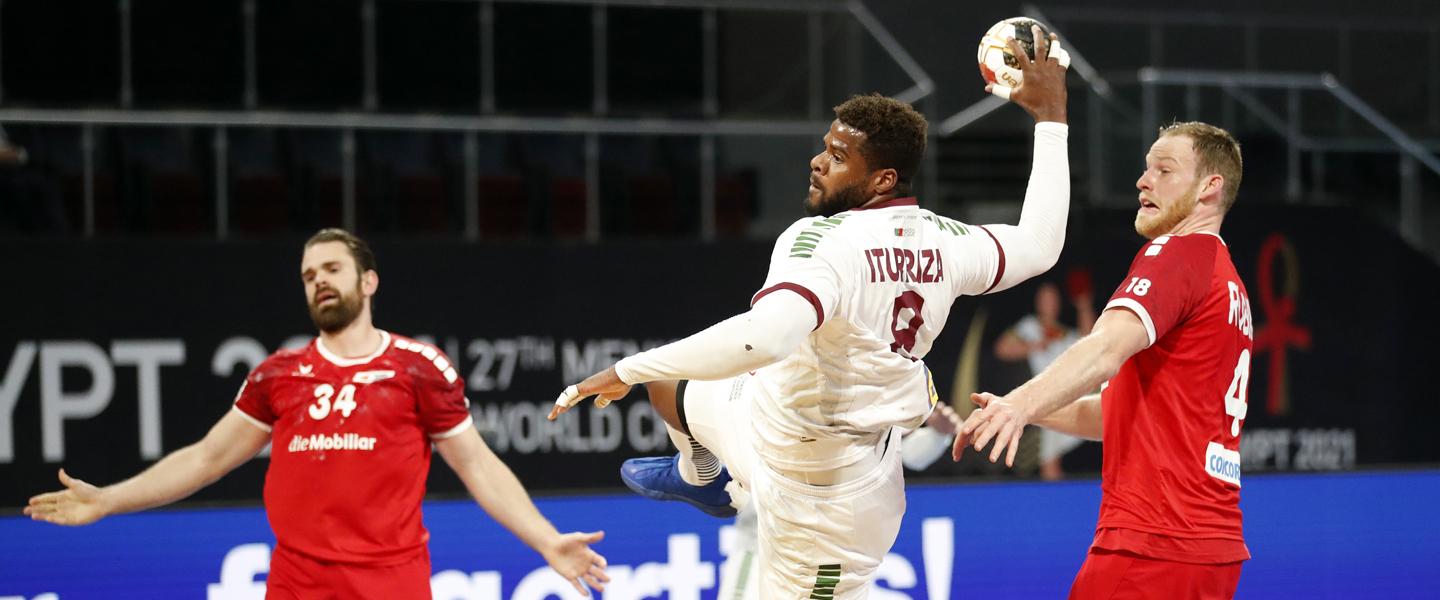 Ahead of Egypt 2021, FC Porto's line player Victor Iturriza had played just four games for Portugal, making his debut in the Men's European Championship qualifier win against Israel in November and then following it up a few days later with a second victory against Lithuania.
A double-header then followed against Iceland in January, with both teams taking one win each and then Paulo Pereira's squad made the trip to North Africa to get their 2021 IHF Men's World Championship campaign underway.
In Egypt, they started off Preliminary Round Group F in the best possible way, gaining revenge over Iceland (25:23), before wins over Morocco and Algeria as they stormed into the main round, but came up against a resolute Norway, who defeated them (28:29). An expected win against Switzerland (33:29) then followed, to set up a do-or-die clash against France today (Sunday 24 January).
That Norway defeat was tough to take for the Portuguese, ruining their automatic chances of qualification before today, but for the Cuban-born Iturriza, it especially hurt as he was shown a record after picking up his third two-minute in the 54th minute with his side leading 27:26.
"I have to stop, and I can't be so aggressive in some situations because the team need me and I know I am important in attack, I need to be there," said the naturalised player to ihf.info ahead of the France clash. "I need to be careful with my action and against Switzerland I was better."
The 30-year-old showed just how important his miss was against France, scoring seven (five by half-time) against the Swiss, but with his play on the line in both defence – repelling the Swiss forward play – and attack, causing untold issues for the Swiss defence and seven-metre penalties.
"So good, so good," said Iturriza when asked how he felt scoring so many against the Swiss. "When you have a good day and you make many goals, I only can be happy for this form. It's good. For me, a penalty is like a goal, it's the same [feeling], the bench are happy with either a penalty or a goal; it's a win for us.
"We feel so good, we needed that win [against Switzerland] because it opened up the possibility to go to the final [weekend] in the championship. The game was very interesting. There are no easy games in the world championship. To want to win something in these kinds of competitions you have to hold, you have to know when to break, and you have to give your best. Now, we have another final against France."
Even though Portugal coach Paulo Pereira was quick to stress the importance of team when asked about Iturriza, the stats back up the importance of the line player.
With just over a minute less than three hours played in the five games so far, he lies a handful of minutes behind fellow Cuba-born line player Alexis Borges and left wing Diogo Branquinho in terms of total time played so far.
"We try that everyone in my team has their space and their task. Everybody is important here, some days one, some days others and we try to implicate everybody in this job," said Pereira to ihf.info. 
"Victor in is really very important for our team. Some years ago he was not a line player like he is today. Today he is an organised player, a clever player and now he understands what he needs to achieve to get a high level, for me, he can be one of the best pivots in the world. 
"In defence he is great," he added. "Every time we must improve some things, but in this case, I am very satisfied with him and he is very important for the team."
A key player missing on the line is Luis Frade, who picked up an injury against Morocco and has not played since. Despite this, the FC Barcelona player is a key member of the squad in Egypt, helping Iturriza to analyse the opposition – even during the half-time breaks in games. And when asked if he spoke English for this interview, despite Iturriza initially saying he did not, Frade jumped in to say, "he does, it's OK".
"We have a very nice relationship, we are friends and we all play so many years in Portugal," said Iturriza, smiling about his friendship with Frade. "He is now in Barcelona, but we are so good [together]. We are a team, we are friends and he is always helping me, saying 'make that shot there, make that shot here'. It's good for the team – we fight as one."
While Iturriza was not in the Portugal squad for their sixth-place finish at the 2020 European Championship, he, and his coach are aiming high in Egypt.
"We want the medals, it's our goal," said the 1,93m player. "We will fight with everything we have, for one medal, it's our goal and we will do everything for the win, not just for us, but for Portugal."
"Since the beginning, when we started to begin preparing for this world championship, or even before, I decided not be a realist," added Pereira. "Because if I were, with only 10 million Portuguese, and so little handball players in our country that would not have been.
"All my life I have been a realist and I could have won a lot more if I wasn't, so we set the bar to get to the first eight of this world championship and if we can push through that, we can also push through to the medals and we will fight for one."