Portugal end Swiss fairytale
22 Jan. 2021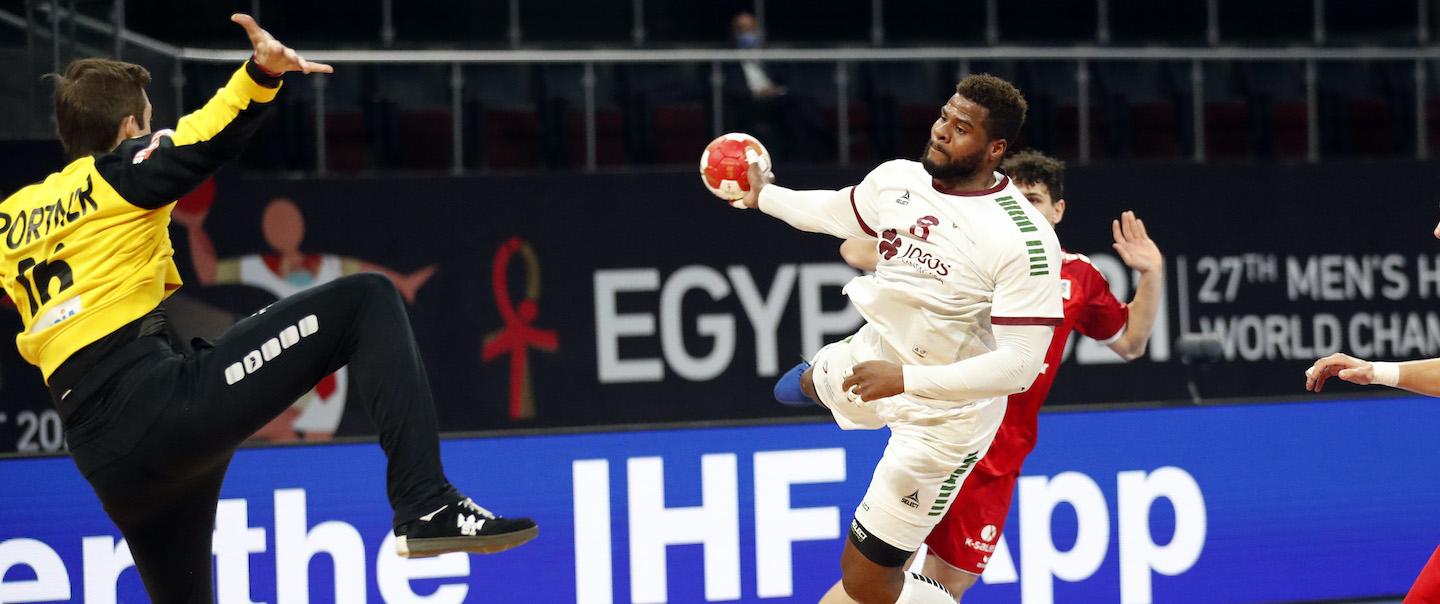 The last-minute replacements for the United States of America, Switzerland, saw their Egypt 2021 dream come to an end at the hands of Portugal today as Paulo Pereira's side made it four wins out of five and can now have one eye on the quarter-finals.
MAIN ROUND GROUP III
Switzerland vs Portugal 29:33 (15:17)
Victor Iturriza (7 goals on 11 shots) showed just how important he was to Portugal today with his line play at both ends, one of the key reasons why his side kept Switzerland at bay and why they can now start dreaming about a last eight place.
The four-goal win for Portugal was deserved in the end, with Switzerland coach Michael Suter later admitting his side had run out of steam after their late call-up to the championship.
"It was our fifth game in nine days, but we don't want any excuses," he said after the match. "We were a bit empty and I thought you could see that in the second half, but the last 20 minutes it was incredible how [my team] came back. We had a chance to make it 30:30, but the two-minute at the end killed us."
That suspension was given to Philip Novak as Antonio Areia made no mistake from the penalty mark, making it 31:29 for Portugal.
But it could have been different for Switzerland, who knew a win would mean they could keep their dreams alive for another match at least. 
At 29:30, Iturriza, with his superb work on the line, caused another seven-metre for Portugal, but Pedro Portela could only hit the crossbar, and this meant another Swiss attack. However, under passive play Cedrie Tynowksi found the angle too tight and could only shoot wide. And with Portela still on the court, Areia took over seven-metre duties to score (31:29) and put his side almost in the quarter-finals as he fist-pumped on the bench and received high-fives from his whole squad.
In the first half, Pereira had taken an early timeout (11 minutes) to settle his side, but they were never behind in a half which was not one for the goalkeepers, as Nikola Portner could only register four saves from 21 (19%) and Alfredo Quintana could only register half of that (2/15, 13%). Humberto Gomes was swiftly brought on in place of Quintana for the Portuguese in the second period.
Iturriza had already grabbed 5/8 in that opening half hour to set the scene as Andy Schmid tried to push his team through, but they were making mistakes not seen so far in Egypt, with right wing Samuel Zehnder misplacing a pass to a deep Schmid, behind his back, and Portugal's Fabio Magalhaes seized on it to sprint through and score (22:18, 35th minute).
Moments later Suter utilised his successful 7v6 attack and as his side got closer to Portugal, Pereira called another timeout (40th minute, 22:24) and when Lenny Rubin mishandled a pass in the 58th minute, Portela seized the opportunity to score into an open goal and the Swiss bench knew their fairytale was coming to an end.
"Today we were luckless but still we kept fighting until the end," said Switzerland's Michal Svajlen. "We still have one game ahead of us and we will focus and prepare well."
That last chapter for the Swiss will be against Algeria, on Sunday (24 January), while France are next for Portugal in a 'mini-final' for the group.
hummel Player of the Match: Andy Schmid, Switzerland