Group I: Germany and Spain fight for quarter-finals place
21 Jan. 2021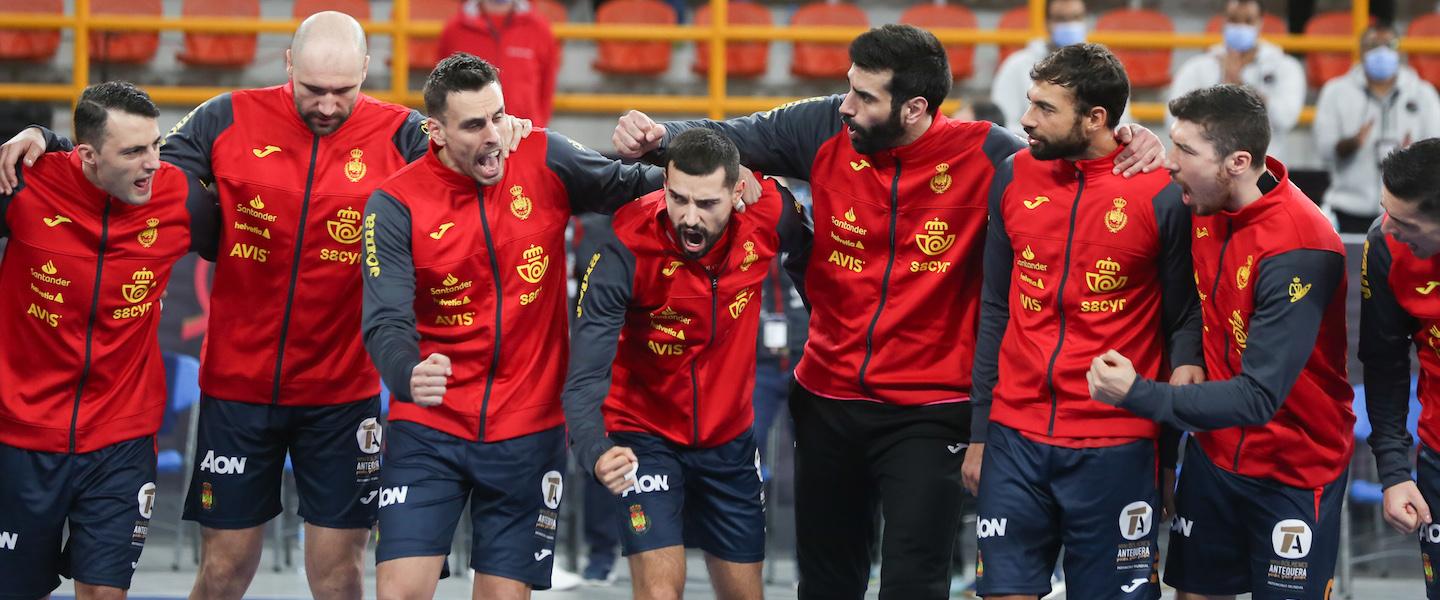 Hungary can extend their Egypt 2021 winning streak to four games provided they beat Brazil, but all eyes will be on the showdown between Spain and Germany.
Winning this game will be crucial after both teams dropped points in the preliminary round,
Uruguay vs Poland 16:30 CAT
The maiden IHF Men's World Championship for Uruguay has been a rollercoaster of emotions for the South American side, as they progressed to the main round after Cape Verde's withdrawal.
Despite losses by 29 against Germany and 26 against Hungary, it has been an immersing tournament, as they now eye to gain more valuable international experience against Poland, reigning European champions Spain and fellow South American powerhouse Brazil.
Enjoying the competition is the only objective for the young Uruguayan side, as underlined by coach Jorge Botejara to ihf.info.
"We are going to find difficult teams, very hard matches, but we will take advantage of that; to keep on learning, keep on improving our level of play," Botejara said.
On the other hand, Poland were one of the most impressive and most improved teams in the preliminary round.
They won two games, against Tunisia and Brazil, and only lack of experience on the big stage was their undoing in their 26:27 loss against Spain.
But with Poland starting the group with two points, everything is on the table, with a quarter-finals return a big ambition for this young Polish group. 
Goalkeeper Adam Morawski has been nothing short of superb, earning one hummel Player of the Match award already, and saving 27 shots in the first three games.
Right wing Arkadiusz Moryto has also been in superb form for Poland, scoring 22 goals, with more expected in the next games if Poland are to challenge for one of the top two places in the group.
Hungary vs Brazil 19:00 CAT
Hungary have made it to the quarter-finals at the IHF Men's World Championship only twice in the past 22 years, at Spain 2013 and France 2017, but they could be on their way to their best finish in the competition since Japan 1997, when they lost the bronze-medal game.
They swept their opponents in Group A and start the main round with four points, as anything but a win against Brazil would be deemed a failure.
Hungary are also buoyed by their last-minute win against Germany on Tuesday, 29:28, enjoying their best start of the competition since Germany 2007.
Their spirits are high and everything looks to be playing well for Hungary, as they are the only team in the group to start with the maximum amount of points.
"When we travelled to Egypt many journalists told us in Hungary that people trust us to win and they are eager for victories. Everybody hopes that we will go back to Hungary as late as possible," said Hungary coach Istvan Gulyas.
But Brazil are no pushovers, despite missing key player Thiagus Petrus and  coach Marcus Oliveira due to a COVID-19.
With line player Rogerio Moraes playing for Hungarian powerhouse Telekom Veszprém, he might know a thing or two about Brazil's counterparts, as Hungary only boast two players who play abroad.
"We need to keep everything in check and forget about the loss against Poland, because our first two games against Spain and Tunisia in the preliminary round were quite good," added Brazil's stand-in coach, Alvaro Herdeiro.
Brazil and Hungary have never met at an IHF Men's World Championship, but Hungary took both wins between the two sides, 27:21 in the group phase at the 1992 Olympic Games and 20:19 in the group phase at the 2004 Olympic Games.
Spain vs Germany 21:30 CAT
It is a crucial game for both sides, as they dropped vital points in the preliminary round, placing second and third in the group's standings prior to the throw off.
These sides are the usual suspects when it comes to favourites for a tournament, winning four titles between them, including two in the last 14 years.
Spain and Germany have met 25 times in the past 29 years, with Spain dominating the head-to-head record with 17 wins, as opposed to Germany's six.
At the IHF Men's World Championship, Germany have won twice in seven games, both times at home, including a 31:30 win two years ago in Koln in the main round of GER/DEN 2019. Yet, Spain's fortunes might be boosted by the convincing 33:26 win last January in the preliminary round of the Men's EHF EURO 2020.
Things have changed since then, with Germany suffering a flurry of late withdrawals from the national side, as Spain eye to send off their golden generation with another gold medal.
"It would be huge for us to win another World Championship, so we are doing everything we can to secure another gold medal," said team captain Raul Entrerrios, who is currently playing in his eighth and last IHF Men's World Championship at Egypt 2021.
Shrugging off up-and-down displays against Brazil and Poland, Spain looked like their best selves once again winning against Tunisia in the last game of the preliminary round, 36:30.
It might all come down to the goalkeepers, with both sides boasting top shot stoppers.
Germany had Johannes Bitter, Silvio Heinevetter and Andreas Wolff combine for a leading 38 percent efficiency at Egypt 2021, while Spain's pair of Rodrigo Coralles and Gonzalo Perez de Vargas are close behind, with 45 saves for a 35 percent saving efficiency.
But for Germany, there is no room for complacency after the loss against Hungary. Another loss might end their medal hopes, therefore coach Alfred Gislason, at his first tournament as the German national team coach, is preaching caution.
"We must not make mistakes against Spain, they are one of the big favourites at Egypt 2021, so we must improve both in attack and in defence," said the 61-year old Icelandic coach.