Main stage opens as Greece 2022 action gets hotter
23 Jun. 2022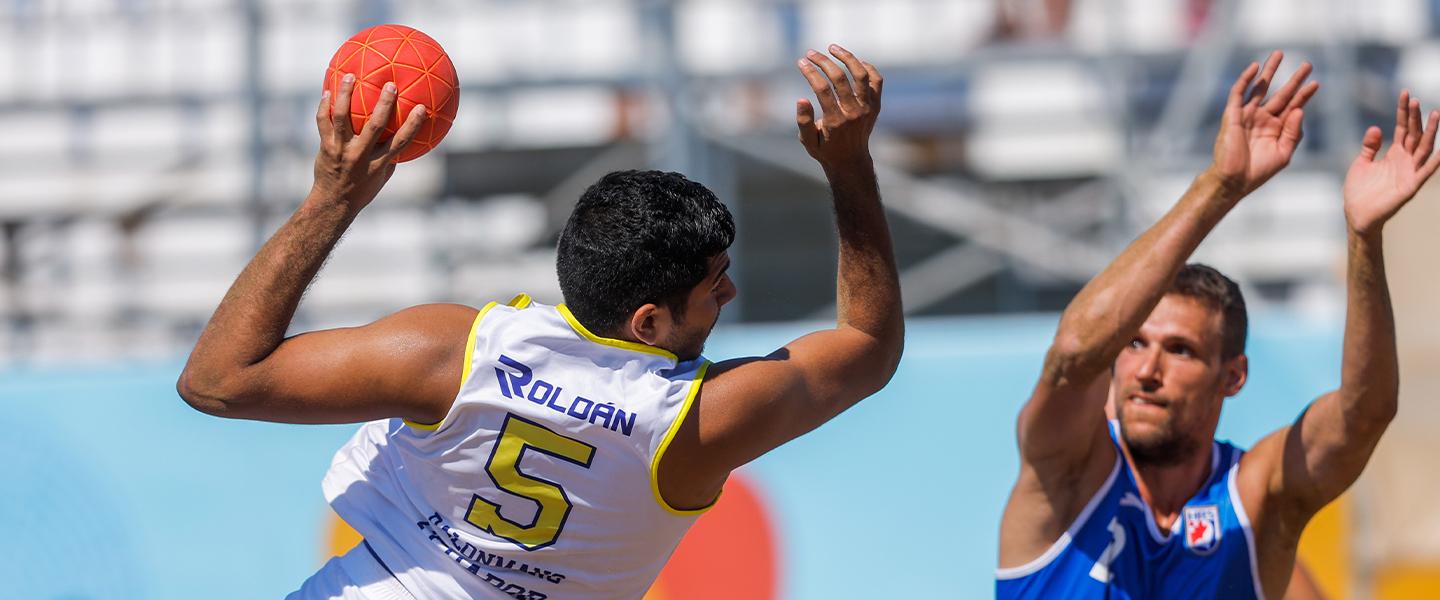 Live blog: It's a crucial one, day 3 at the 2022 IHF Men's Beach Handball World Championship, as the teams play two matches, which can already decide their Greece 2022 fate. The main round is ready to throw-off at 10:40 EEST, while the day opens with Ecuador vs New Zealand.
Today's matches:
09:00 EEST CR: Ecuador vs New Zealand (2-0)
10:40 EEST MR II: Denmark vs Portugal (2-1) / Islamic Republic of Iran vs Brazil (0-2) / CR: Puerto Rico vs Egypt (0-2)
11:30 EEST MR II: Norway vs Qatar (2-0)
12:20 EEST MR I: Greece vs Spain (2-1) / United States of America vs Uruguay (1-2) / Argentina vs Croatia (0-2)
15:30 EEST CR: New Zealand vs Puerto Rico (2-0) / Egypt vs Ecuador (0-2)
16:20 EEST MR II: Islamic Republic of Iran vs Portugal (2-1) / Norway vs Brazil (0-2)
17:10 EEST MR I: United States of America vs Croatia (0-2) / Argentina vs Spain (0-2) / Denmark vs Qatar (1-2)
20:30 EEST MR I: Greece vs Uruguay (1-2)
21:57 EEST That's it for the men today
16 games have been played and the sun has been hot.
21:40 EEST South America beat Europe
The host nation men have been handed their first defeat at Greece 2022, by Uruguay. They won 9:8 after winning the initial period 22:18, but letting Greece back in 22:26 in the second.
21:17 EEST Greece and Uruguay is going to a shoot-out
The host nation men have turned it around, it's 1-1 and now it's shoot-out time.
18:33 EEST No more men's action until 20:30 EEST when Greece take on Uruguay
Bye for now!
18:00 EEST Epic match won by Qatar
They've just beaten Denmark in the EIGHTH round of shots in a shoot-out.
17:43 EEST Mauritius 2017 experience all added to the mix for New Zealand beach handball history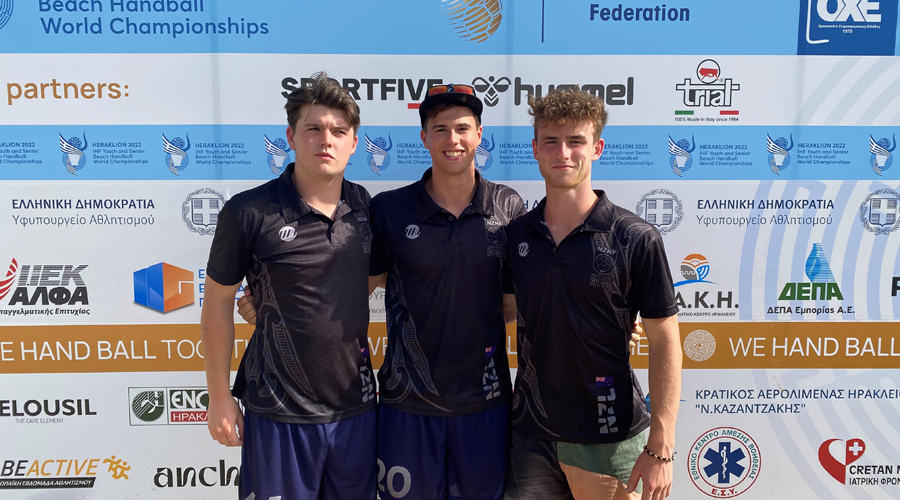 New Zealand's Angus Hamilton, Paul Ireland and Max Brookes spoke to ihf.info about being part of the kiwi side which beat Puerto Rico 2-0 today to register the first-ever IHF Men's Beach Handball World Championship for the side from Oceania.

The trio were also part of the New Zealand youth team who played in the 2017 IHF Men's Youth Beach Handball Championship in Mauritius where they recorded four wins, two against Togo and two against South Africa – the first-ever world championship beach wins for the country

"Credit to all the boys on how everyone came together and did what needed to be done," said Hamilton about coming back from the loss against Ecuador this morning to turn it around and beat Puerto Rico in the afternoon.

"Our captain James Cochrane gave us great focus and great leadership."

"We were a little bit disappointed about that," added Ireland about the loss against the South Americans. "We definitely tried to go hard for that game (Ecuador), but we knew we had to lift it for Puerto Rico, it was our big target and we definitely delivered on that."

Hamilton represented New Zealand at their first senior men's beach handball world championship appearance and said the experience that he, Hamilton and Ireland brought to the team from their Mauritius helped in a little way.

"Having had guys that have had experience at a world champs showed that we've kind of been through it a little bit," he said. "But then that extra four years of beach handball being a 'thing' in New Zealand has really allowed us to grow as a team and be able to come to the world stage and compete in a number of games."
17:05 EEST A long game comes to an end as Iran claim a shoot-out victory
The Asian champions defeat Portugal.
16:00 EEST New Zealand off the mark, Ecuador win for the second game running
New Zealand win their first-ever IHF Men's Beach Handball World Championship game, defeating debutants Puerto Rico, 2-0. They had won world youth championship games before in 2017 and three of that team are here in Greece.
Ecuador win their second game ever and second at Greece 2022. We'll have quotes from both teams coming up.
EEST 12:55 EEST It's that time again: wow!
They couldn't, could they? World championship debutants - and hosts - Greece have just beaten Spain in a shoot-out, 9:8. After losing the first period clearly (20:30), they squeezed past in the second (20:19) with a golden goal. The crowd are going wild here.
The hosts are now through to the quarter-finals with six points - the minimum goal demanded by their coach on Monday. Their six points means that neither Argentina or Spain fifth and sixth cannot catch them with two games remaining and on zero points each.
Joining them in the last eight are Croatia, who saw off the South Americans 2-0. Fellow South Americans Uruguay, just beat their North American rivals USA via a shoot-out too. The second games this evening (17:10 EEST) will be interesting!
EEST 11:50 EEST The Professor loses to Brazil, Denmark squeeze past Portugal
Since our last post, four games have completed - you can see all the results here.
Most importantly, Brazil and Denmark are now up to six points each and have confirmed their quarter-final places as they cannot be caught by the teams ranked in fifth and sixth who just so happen to be the ones they just beat.
One of those teams is Iran and in an emotional game (see below), The Professor was not able to defeat his students.
EEST 10:40 EEST The men take centre stage now
The women's competition has a pause and in the men's right now we have three games and a total of seven between now and the afternoon break.
It's emotional over on court 2 as Brazil men's legendary coach Antonio Guerra Peixe (known as 'The Professor') is coaching against Brazil in his new role as Iran head coach.
EEST 09:34 Ecuador have done it!
They were 1-0 ahead, it was 24:24 and there was just a few seconds left of the second period, time out Ecuador.

New Zealand did all they could but Luis Johnny Nieves Caicedo can now put his name in the record books of Ecuadorian handball - his single-pointer won the period, the game and made history: they've got their first win.
09:15 EEST Ecuador win first-ever period
The Ecuadorian men have just taken the first period against New Zealand out here on court 3. It's the first-ever IHF Beach Handball World Championship period in history for the South American nation.
Watch live on the IHF - Competitions YouTube channel.
08:45 EEST Main round action to begin
As the preliminary round concluded yesterday, 12 teams will continue their race for the title with the first main round day today. 
In the first match of the day, Ecuador have another opportunity to grab their first-ever World Championship win in the consolation round against New Zealand, who will be hoping to get off the mark in Greece themselves.
The clear highlight on the opening day is Islamic Republic of Iran taking on Brazil in Main Round Group II. In what is sure to be an emotional match, it marks the first time that Brazilian coaching legend Antonio Guerra Peixe goes up against his former team as the newly-installed Iran coach.
Denmark face Portugal in a repeat of their European championship quarter-final from last year, won by the Danes 2-0. Who will emerge victorious today? Let's find out! 
You can read all about the first main round day in our preview here.