Down to the last day: who will secure the final main round spots?
22 Jun. 2022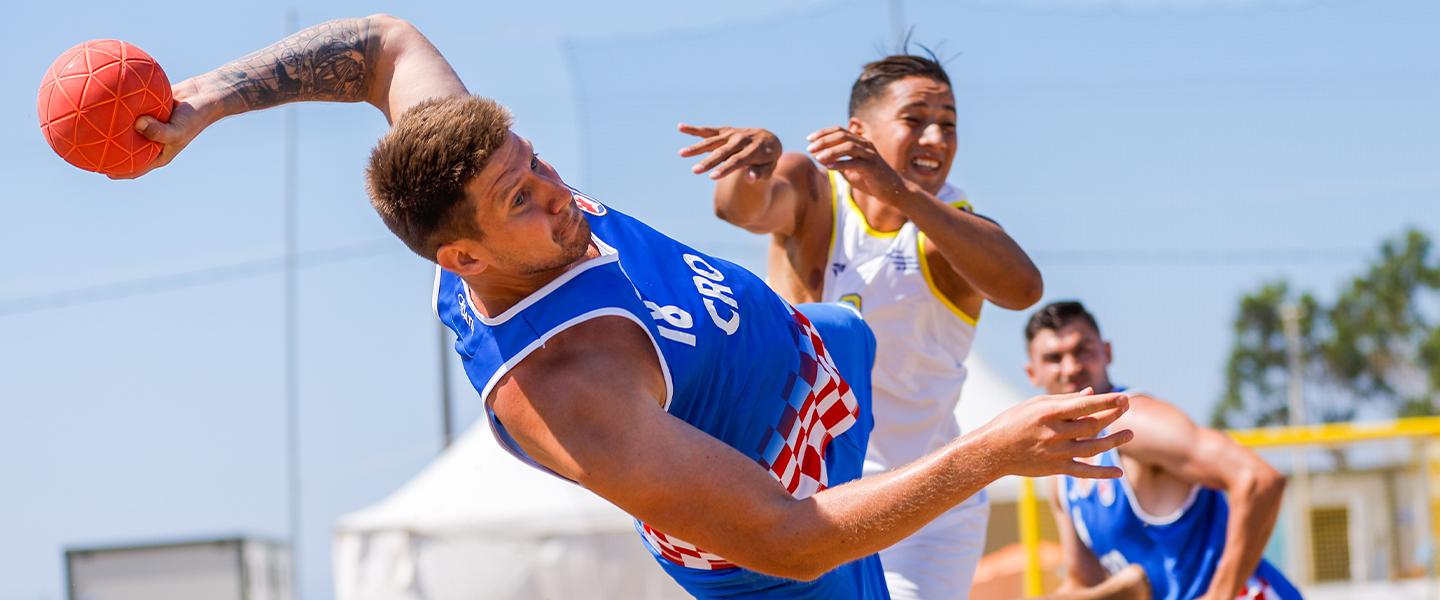 Live blog: It's day 2 at the 2022 IHF Men's Beach Handball World Championships and it's been a good day for some and bad for others.
Today's results:
11:20 EEST Uruguay vs Ecuador (2-0) / Croatia vs Spain (2-1)
15:00 EEST Islamic Republic of Iran vs Egypt (2-1) / Denmark vs Norway (2-0)
15:50 EEST Qatar vs New Zealand (2-0) / Brazil vs Portugal (2-0)
18:20 EEST Argentina vs Greece (0-2) / United States of America vs Puerto Rico (2-0)
19:05 EEST That's it for the prelims, main round all the way tomorrow!
It all starts again on Thursday.
18:55 EEST Greece top the group, USA men join their women in making main round history
A second place finish in group A and main round spot is reward for the USA this evening after beating Puerto Rico 2-0. They only lost to Greece, who top the group with three wins from three, having seen off Argentina, who are the third and last team to make into the next stage.
Chants of 'USA, USA' were ringing around court 2 after the men confirmed their 24:18, 20:14 victory.
Perhaps now we can get some quotes USA?
18:20 EEST The last two games of the day are underway, can the US men copy their women's team?
The US women's team have, moments ago, just made it through to the last 12. Can the men do the same?
16:30 EEST Qatar join Brazil and Portugal in main round
Qatar and Brazil both win 2-0 in their matches today meaning Brazil top the group with three wins from three, Qatar finish second and Portugal in third.
15:50 EEST No sooner has the drama subsided, two more games
Can New Zealand pull off one of the biggest shocks in IHF Men's Beach Handball World Championship history and beat Qatar to dump the former Asian champions out? Let's see (watching details below).
15:49 EEST Iran through, Egypt into consolation round
After powering back in the second period, to win 22:16, Egypt took it to a shoot-out and it started well for both, particularly Egypt goalkeeper Mohamed Amer, who scored directly to make it 2:2.
He then saved Iran's next shot, on course to be a hero, but Iran saw their second shot saved too. The next two shots, the third round, were both blanks with Iran overthrowing and Mohamed Amer hitting the crossbar with another direct attempt.
It was the fourth round which made the difference, Iran, shooting first, going 4:2 ahead and the Egypt then seeing their fourth dribble agonisingly wide, with the goalkeeper beaten.
It went from bad to worse in the final round of shots when Mahmoud Noaman was a little bit too aggressive in attempting to block Iran's likely winner, that he made contact with the player and was directly disqualified.
All Moslem Kazemi had to do then was shoot the six-metre, he did, and Egypt could not catch them.
15:14 EEST The Professor has the advantage
Iran have been dominant in that first period, winning it 20:12 to go into the break 1-0 up. Wael Aly and his Egypt guys have a lot to do in the second period coming up if they want to stay in contention for a medal.
Denmark hold on against Norway to take their first period 18:16 after a time out with nine seconds remaining gave everyone a little extra nervousness.
Find out how to watch and follow the second periods live here.
14:55 EEST A massive session coming up for two, certified beach handball legends
It's Wael Aly's Egypt versus Antonio Guerra Peixe's Iran. Whoever wins joins Denmark and Norway in the main round, whoever loses goes into the consolation round.
Aly was the first-ever captain of a men's beach handball world championship-winning side, when he led his Egypt team to gold on home sand back in 2004 in the debut event, while Peixe, known as 'The Professor', is synonymous with the Brazilian men's beach handball team having been their coach for many years which saw them drip in gold.
12:10 EEST That's it for the morning session
Short and sweet! Two games down, six remaining. We're back at 15:00 EEST.
12:06 EEST Croatia win!
Three wins from three games, the second all-time best team in the men's championship are through with maximum points.
Croatia just beat Spain 9:8 via a shoot-out.
11:46 EEST Croatia vs Spain goes to shots
Not surprising really - two main round points at stake.
11:45 EEST Uruguay make it through
Ecuador can be proud of their fight, but Uruguay were just too good on the day. They win the battle of South America 2-0 and push Ecuador into the consolation round.
11:17 EEST A massive game for South America
Uruguay and Ecuador do battle in just a few minutes, whoever wins is through to the main round. Ecuador are debutants here.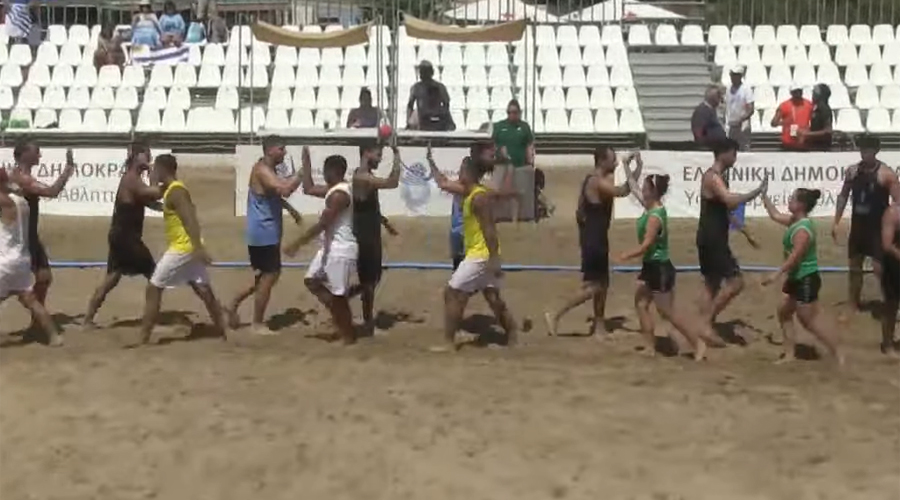 In the other game, Croatia can confirm their top spot with victory over Spain. Both are already through.
10:35 EEST Main round teams to be determined
Day 2 is just about to throw off after an action-packed day 1 at the 2022 IHF Men's Beach Handball World Championship in Heraklion.
It's the last preliminary round day, meaning that we know the main round teams at the end of it. However, at the same time this also means that there are still some spots open for the teams to advance to the next stage – and the teams are more than eager to get one of these spots and stay in the race for the medals. 
Thrilling matches are therefore guaranteed! 
Read everything you need to know about today in our preview and check how to follow the event here.