Relive the 2019 IHF Men's Super Globe action
05 Sep. 2019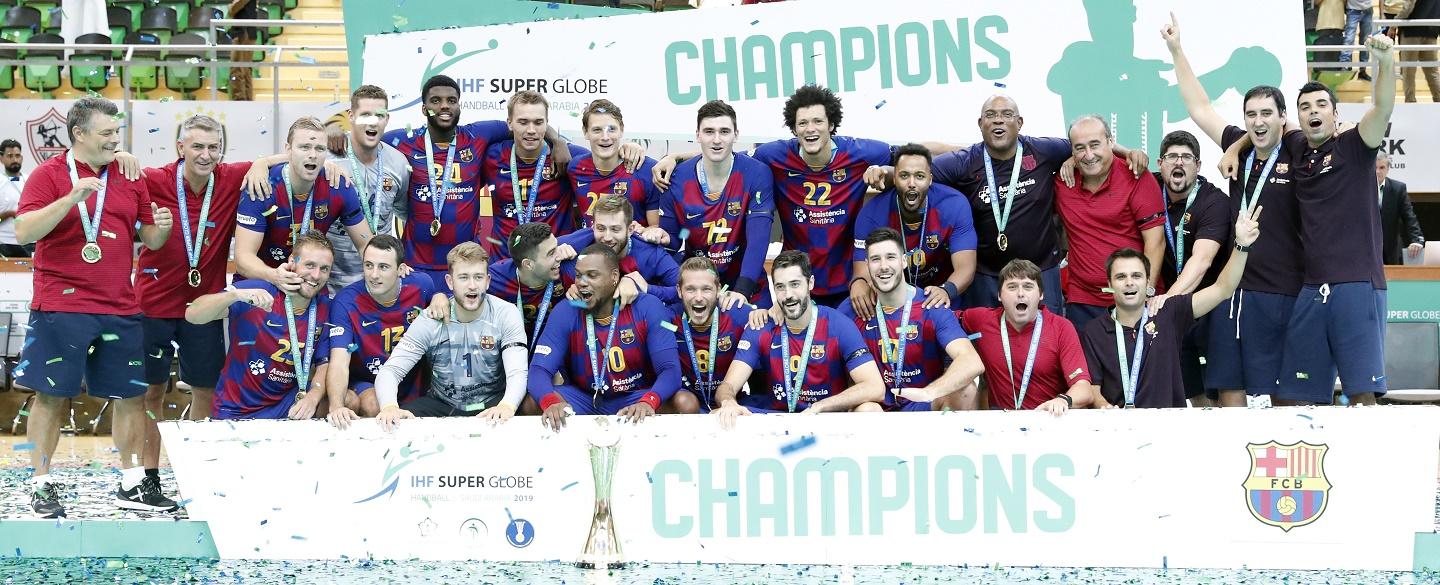 The first IHF Men's Super Globe in Saudi Arabia concluded with Barça defending their title and raising their fifth trophy this past weekend. It was Barça's third consecutive title in the Super Globe. The bronze medal went to Macedonian team Vardar, who won the 3/4 play-off versus Al Wehda 30:26. 
Barça secured the trophy with a 34:32 victory over THW Kiel in the final, after a close game which saw the German team leading by two goals at half-time. Barça had reached the final by way of a 34:24 semi-final victory versus Saudi team Al Wehda, in a match where they also had to fight back from a half-time deficit – this time 13:16. In their opening game, in the quarter-final stage, Barça defeated Al Duhail with a 38:26 result. 
Runners-up Kiel qualified for the final thanks to a 34:30 win against 2018/19 Champions League winners Vardar, which followed a hard-fought 32:28 quarter-final victory versus Egyptian team Zamalek. Kiel started their campaign in the quarter-final qualification stage, where they beat Sydney Uni 41:27. 
In both the semi-final and trophy game, Barça were led by top-scoring games from new arrival Luka Cindric, who transferred to Barça over the summer. Cindric also finished as the overall top scorer for his team and fourth best in the tournament with 22 goals.
Two Kiel players ranked ahead of Cindric on the top scorer list – wing Niclas Ekberg, with 24 goals, including nine from the penalty line, and back Nikola Bilyk, who scored the same number of goals from the field only. However, the top scorer of the event was Al Mudhar's Skandar Zaied, who contributed 29 goals towards his team's seventh place finish. 
Behind tournament hosts Al Wehda in fourth position, Zamalek placed fifth, Brazilian team Taubate clinched sixth, Saudi side Al Mudhar took seventh, Qatar's Al Duhail were eighth, the USA's New York City were ninth, and Australia's Sydney Uni were 10th. 
It was the first Super Globe with an expanded format that featured 10 teams, and a new structure for the placement round was therefore adopted. After losses in their respective quarter-final qualifications or quarter-finals, the six teams to contest the placement round were split into two groups for a series of round-robin matches. 
At the end of the phase, the teams ranked first in their groups were sure to finish fifth or sixth, the clubs in second were in seventh or eighth, and those in third were ninth or 10th. The final positions were calculated based on points gained then goal difference. 
More information on the 2019 IHF Men's Super Globe can be found on the championship microsite.