Taubate defeat Al Mudhar to top placement Group A
31 Aug. 2019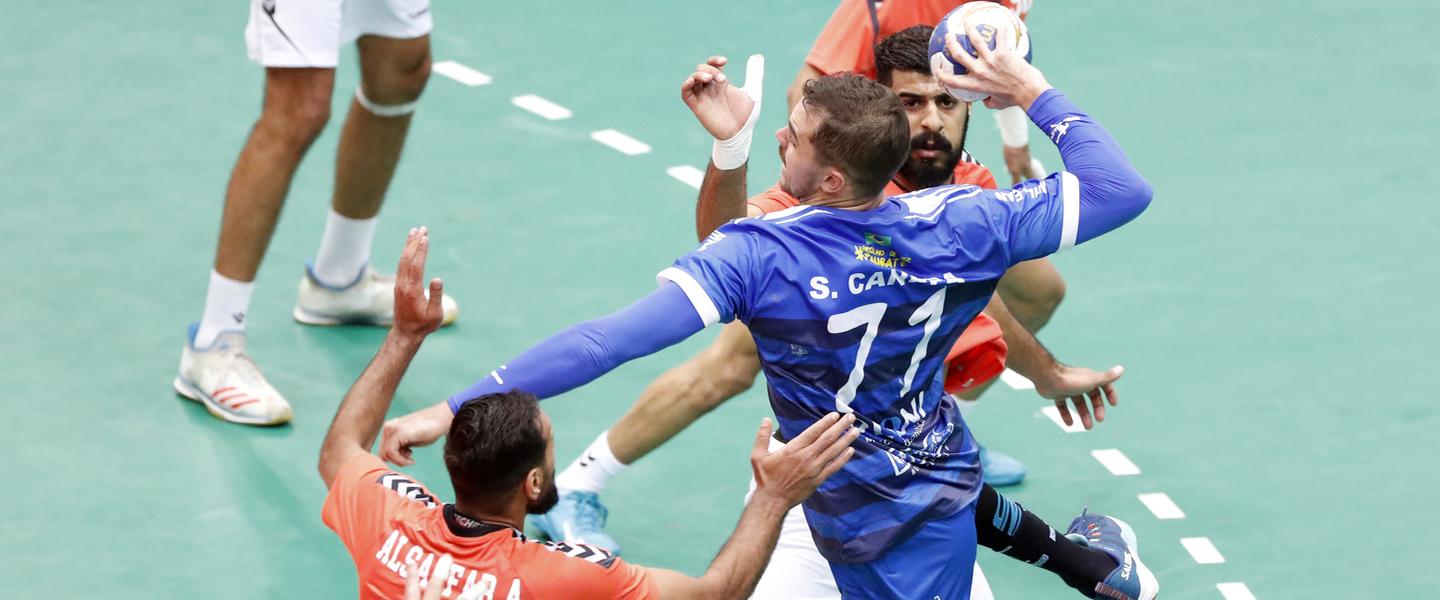 After a first half that saw them trail by a distance as clear as five goals, Taubate fought back to take their second win of the 5-10 placement round at the 2019 IHF Men's Super Globe. The victory took Taubate to four points and first place in Group A, where they are assured of either fifth or sixth place on the final ranking. 
The Brazilian team now await the result of the Zamalek versus Al Duhail match to learn their final place. Al Mudhar will place either seventh or eighth, and also depend on the result of the clash between the Egyptian and Qatari teams. 
5-10 PLACEMENT ROUND
Taubate (BRA) vs Al Mudhar (KSA) 31:27 (15:17)
It was an impressive comeback from Taubate that won them the match. After what had been a somewhat one-sided first half, during which Al Mudhar built a lead as clear as five goals, the Brazilian fought back and held the advantage from the 34th minute on. 
Al Mudhar had a stronger start, creating an early lead at 4:3 after eight minutes and holding steady at 8:6 at the end of the first quarter. With a goal from the top scorer of the match, Skandar Zaied, in the 23rd, Al Mudhar pulled ahead to 15:10, before a 5:2 partial for the Brazilian side through the last minutes of the half saw them come to a much more manageable two-goal distance at half-time. 
Taubate's comeback was spurred by the entry of goalkeeper Maik Santos, along with Santiago Canepa and Rodrigo Quost. After coming into the game just after the 10-minute mark, Canepa went on to a goal tally of eight as well as two assists, while Quost contributed five goals. Santos had a great game, with 10 saves at 50%.  
Quost and Canepa were responsible for two of Taubate's opening goals in the second period, with Canepa the one to pull the Brazilian team in front for the first time in the match, at 18:17. From that point on, though Al Mudhar stayed close for a time, the match belonged to Taubate. 
At the 45-minute mark, Taubate had the edge at 23:22, and as the clock ticked into the final 10 minutes, they had inched ahead to 27:24. With the score at 29:26 and three minutes on the clock, there was still time for Al Mudhar to come back – but two critical saves from Santos enabled his team to create a more comfortable advantage before the buzzer. 
Player of the match: Skandar Zaied, Al Mudhar