'We invite you to enjoy our region'
30 Jan. 2019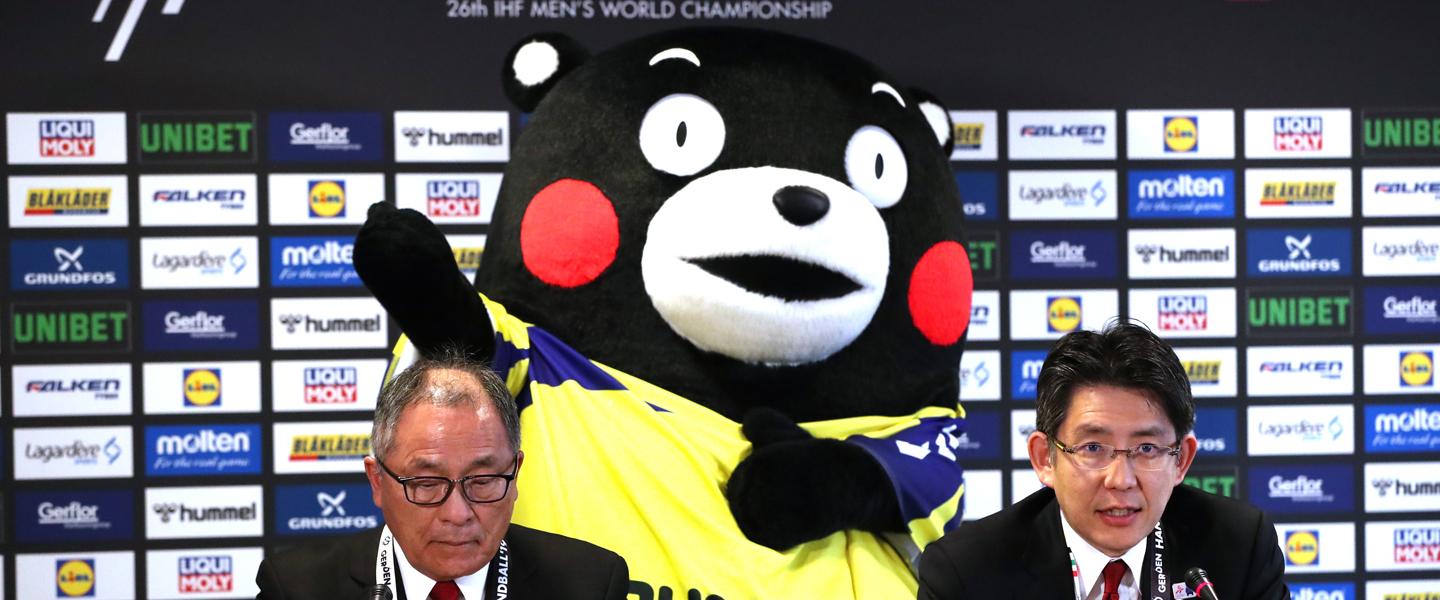 Japan 2019: Fans welcomed to IHF Women's World Championship in Kumamoto
On the final day of the 2019 IHF Men's World Championship, the organisers and hosts of the 2019 IHF Women's World Championship gave an update to the world's media ahead of the event which will take place in Japan from 30 November to 15 December 2019. The update followed their previous media conference, held at the end of the 2017 IHF Women's World Championship.
In addition to senior representatives from the organising committee and Japan Handball Association in Herning, there was also a visit from the Kumamoto mascot – Kumamon.
Kanji Wakunaga, President – Japan Handball Association

"I would like to thank the IHF for supporting us and giving me the opportunity to speak here. The 2019 IHF Women's World Championship in November and December is an extremely important competition for the Tokyo 2020 Olympic Games. We already had the 2018 AHF Women's Asian Championship in Kumamoto last December and this was a great success and experience and was important not only for the next women's world championship, but for Tokyo 2020. 
"By hosting these events we are not only working on the development of handball in Japan, but its development in other Asian countries.
"We wish for it to be a great success, but for this we need spectators from all around the world to come to Kumamoto, so please join us. I am looking forward to seeing you in Kumamoto."
Toshiro Shimada, President – Kumamoto Handball Association

"In 1997, Kumamoto hosted the IHF Men's World Championship and I am filled with emotion because 22 years later the 2019 IHF Women's World Championship will be hosted on the same ground.
"I still remember it like it was yesterday; with the championship being a great success, attended by over 280,000 visitors, players and tourists from abroad and a lively atmosphere prevailing in Kumamoto.
"The objective of the 2019 IHF Women's World Championship will be to show the world a brand-new Kumamoto and to do so we will focus on four principles; first, to make it a championship that anyone can enjoy; second, to make it a championship where women show their talent; third, to make it an environmentally-friendly championship; fourth, and finally, a championship where visitors can feel the spirit of Kumamoto.
"Three years ago, in April, a strong earthquake hit us but thanks to the worldwide support we received our recovery is proceeding at a fast pace and through this we would like the world to know about Kumamoto's recovery.
"From now on we plan to do our best in order to make everyone feel as much excitement and emotion as we had during the 1997 IHF Men's World Championship and we wish that many visitors from all around the world will come and see it."

Hisatoshi Sakamoto, Senior Director – Kumamoto 2019 Organising Committee

"Kumamon is here to help us promote Kumamoto and he is popular, not only in Japan, but in other countries too and he was even received by HRH The Crown Prince of Denmark, Frederik.
"Kumamoto has a population of around eight million and is located in the south-west of Japan – on Kyushu island. The region where Kumamoto prefecture is located is the same size as Denmark and the Netherlands, with around 13 million people and we are blessed with a rich culture and history.

"Japan 2019 will be held in five venues located in three cities of Kumamoto prefecture and they are gathered in a very condensed area. We invite everyone to come and enjoy the culture and natural richness that our region has to offer."
Japan 2019 also received the well wishes of the President of The Association of Summer Olympic International Federations (ASOIF), Francesco Ricci Bitti, at the Germany/Denmark 2019 closing media conference, as he emphasised the importance of the event for Tokyo 2020.
"Kumamoto is the last competition before Tokyo 2020 and it is very important," said the ASOIF President. "This is further proof that the IHF is very sensitive to having a great test event in Japan. I am also a member of the coordination commission of Tokyo 2020 and I am very confident that this competition will be a great success."
Back in October, the official Japan 2019 contract was signed at the IHF headquarters in Switzerland and with ticket sales already underway and the volunteer programme up and running, the championship is drawing ever-closer.
For more information visit the official Japan 2019 channels:
Japan 2019 website: https://japanhandball2019.com/
Japan 2019 Twitter: https://twitter.com/japanhand2019 
Japan 2019 Facebook: https://www.facebook.com/japanhand2019/ 
Japan 2019 YouTube: https://www.youtube.com/watch?v=VAwBsbG9akU