Flawless Denmark claim first world title
27 Jan. 2019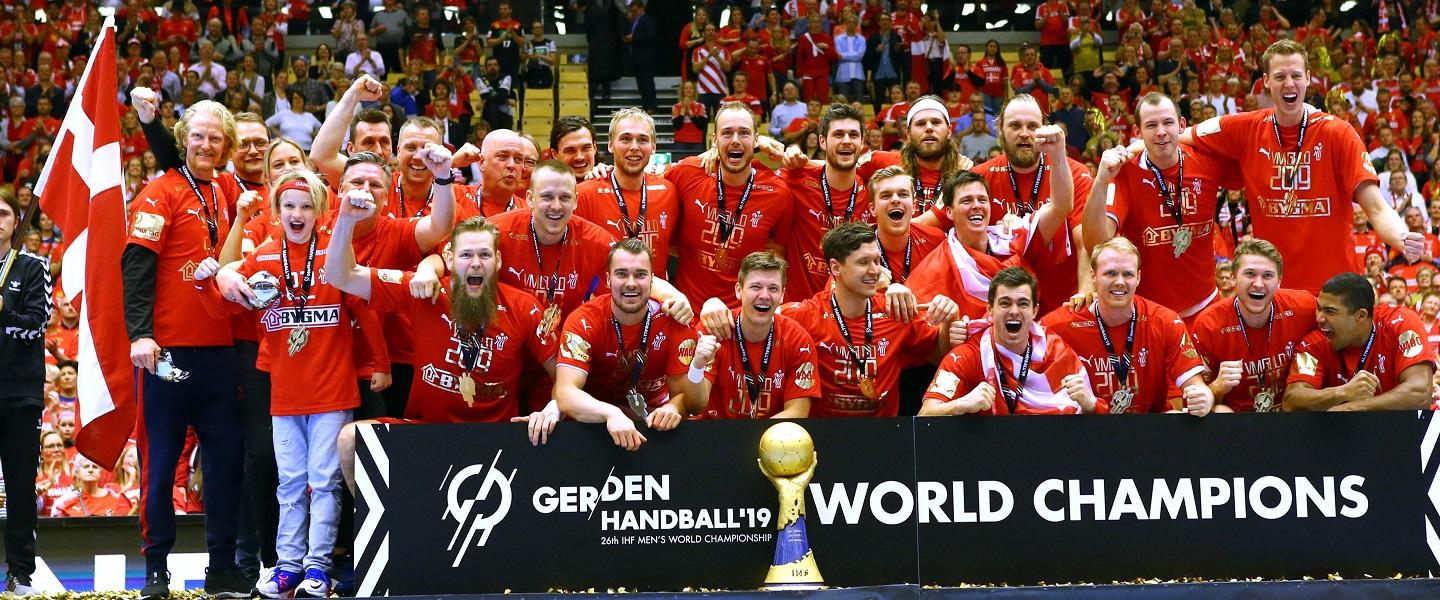 The 26th IHF Men's World Championship could not have seen a more perfect campaign from co-hosts Denmark, who finished the home event with a perfect record of only victories – including the most important, in the trophy battle against Norway in Sunday evening. Denmark finished with a nine-goal win that earned them their first ever world title, while Norway left the IHF Men's World Championship with the silver medal for the second consecutive time.
Norway could keep pace only through the first 10 minutes, before the 2016 Olympic champions streaked ahead to an eight-goal lead by half-time that meant the trophy was all but secured. Norway managed to close the gap to six goals in the second half, but a time-out from coach Nikolaj Jacobsen helped his team regroup and increase the gap further through the remainder of the match.
Norway vs Denmark 22:31 (10:18)
Last time Denmark played a World Championship final they endured a considerable defeat versus a perfect Spain at home in Barcelona. On Sunday evening in Jyske Bank Boxen, Herning, it was Denmark's turn to take a dominant win in front of their own crowd of more than 15,000 spectators.  
After a level first 10 minutes, Denmark grabbed the momentum and never slowed. By the 15th minute, there was already little doubt. Everything fell perfectly into place for the hosts – goalkeeper Niklas Landin was in peak form, recording a 39% save rate, while the key stars such as Mikkel Hansen and Rasmus Lauge were unstoppable. After he had very little match time early in the World Championship, Morten Olsen started on court for Denmark and had an incredible game, with five spectacular shots.
Denmark's defence managed to keep Norway's stand-out players very quiet. Sander Sagosen managed only three goals out of nine attempts, and Norway's strong goalkeepers, Torbjorn Bergerud and Espen Christensen, managed just eight saves between them.
When Landin saved a penalty shot off Sagosen in the 23rd minute, it was clear Norway were already losing their nerve. After Denmark held an eight-goal lead at the break, Norway temporarily staged a comeback, closing the gap to 15:21 in the 40th minute – but it was quickly brought to a halt when Jacobsen called a time-out.
Denmark only seemed to become stronger as the time ticked down and they could feel increasingly secure that the title was theirs. Jacobsen rotated through his bench and every player had the chance to step on the court, and when the co-hosts hit a 30:19 advantage with four minutes left, the first tears of joy began to show.
It is the first World Championship trophy for the Denmark men's team, who are now the reigning world and Olympic champions.
Statements after the match:
Nikolaj Markussen, player Denmark: Whenever we were in trouble, new guys came in and they also delivered. We were a strong team all the way through and no one was even close to beating us this tournament. It's very well deserved.
We have strong defence and very good goalkeepers. We have both so that is perfect for us. We came out early in the games, put pressure on the other teams, and we had the home crowd supporting us whenever we were in trouble. It was very, very good to be at home.
I hope that in many years I still have photos and videos to prove [that we won the World Championship]. I will look back at this with joy.