Egyptian Minister Sobhy: 'We dream to do something amazing in 2021'
31 Jan. 2019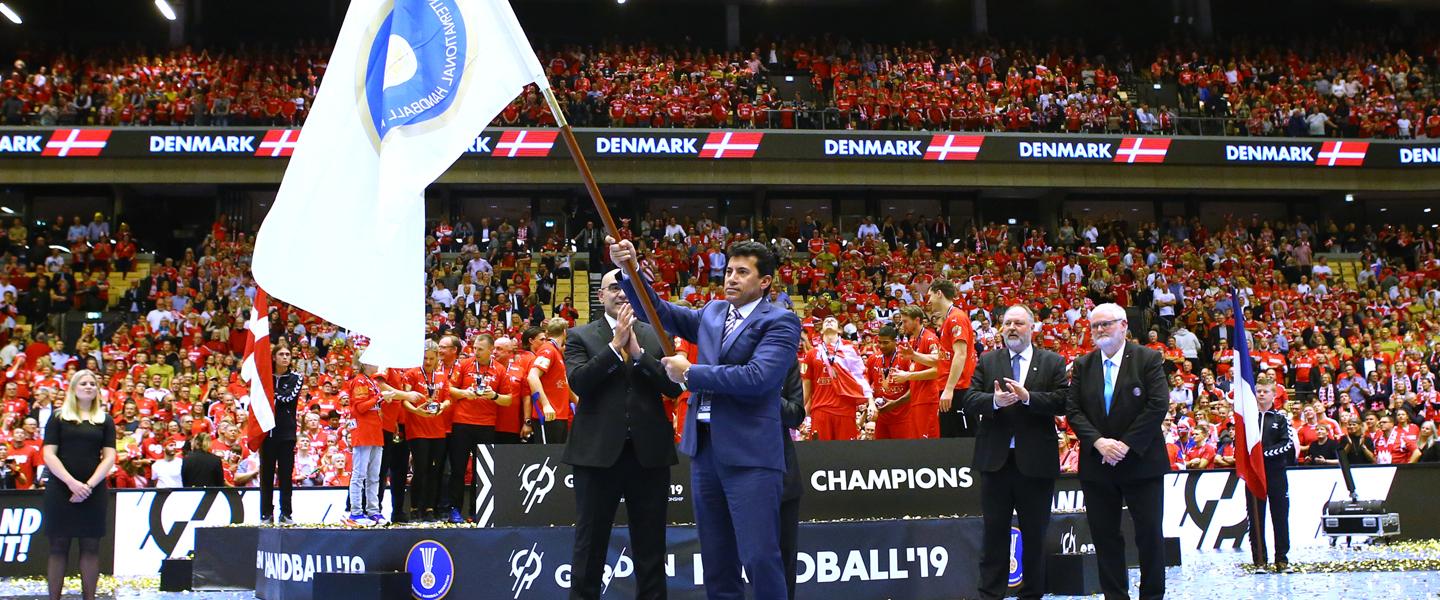 After Denmark made it fourth-time lucky in an IHF Men's World Championship final, beating Norway on Sunday, handball fans started looking ahead to the next championship, the 27th edition, which will be held in Egypt in 2021.
To symbolise the handover from one world championship to another, the organisers of the current tournament pass the IHF flag to the IHF President, Dr Hassan Moustafa, who then passes it over to the next hosts.
At the Jyske Bank Boxen in Herning on Sunday, with Denmark still celebrating on the podium, the German and Danish Handball Federation Presidents took this honour, passing the flag via President Moustafa to Egyptian Handball Federation President Hesham Nasr who then handed it over to the Egyptian Minister of Youth and Sports, Dr Ashraf Sobhy.
"I was very proud as an Egyptian, and for Egypt, to represent my government and receive the flag," said Sobhy to IHF.info after the ceremony.
"It was a great occasion to be part of the closing ceremony, and also to attend the opening ceremony in Berlin with (Egyptian) Prime Minister Dr Mostafa Madbouly. I am very excited because I have seen something amazing here and I will now prepare myself – and we will prepare ourselves – to do something amazing for 2021, equal to what we have seen here in Germany and Denmark."
Back in 1993, Egypt hosted the ninth edition of the IHF Men's Junior World Championship, won by the host nation in Cairo, while in 2009, they again hosted the tournament for U21 players, finishing fourth. In 1999, they hosted the 16th edition of the IHF Men's World Championship and in 2001 in France, the team gained their best-ever senior rank, finishing fourth.
In 2019, the Egyptians, under David Davis – who became coach in May 2018 – finished eighth at Germany/Denmark and Sobhy is already happy with their performance so far but hopes for continued excellence as they prepare to host the next senior men's global event and welcome fans from around the world.
"We were very glad of this championship and are very proud of our team as we prepare them for 2021," he said. "After I took my position as Minister back in June 2018, we started the national team with new coaches and everything, and after six months and a preparation period we have reached this position in 2019 and I wish the best for the team (leading up to and including 2021).
"We organised the youth championships before and in 1999 we arranged the senior world championship so in 2021 we dream to do something amazing.
"Fans who want to come in 2021 can see both an ancient country with lots of monuments in all the cities, something which is great for tourism, but they can also see a modern civilisation and modern country – we gather both together.
"They will also see the kindness of the Egyptian people who are always smiling and saying; 'you are always welcome'."