Group I: France breeze past Iceland, one foot in the semi-finals
20 Jan. 2019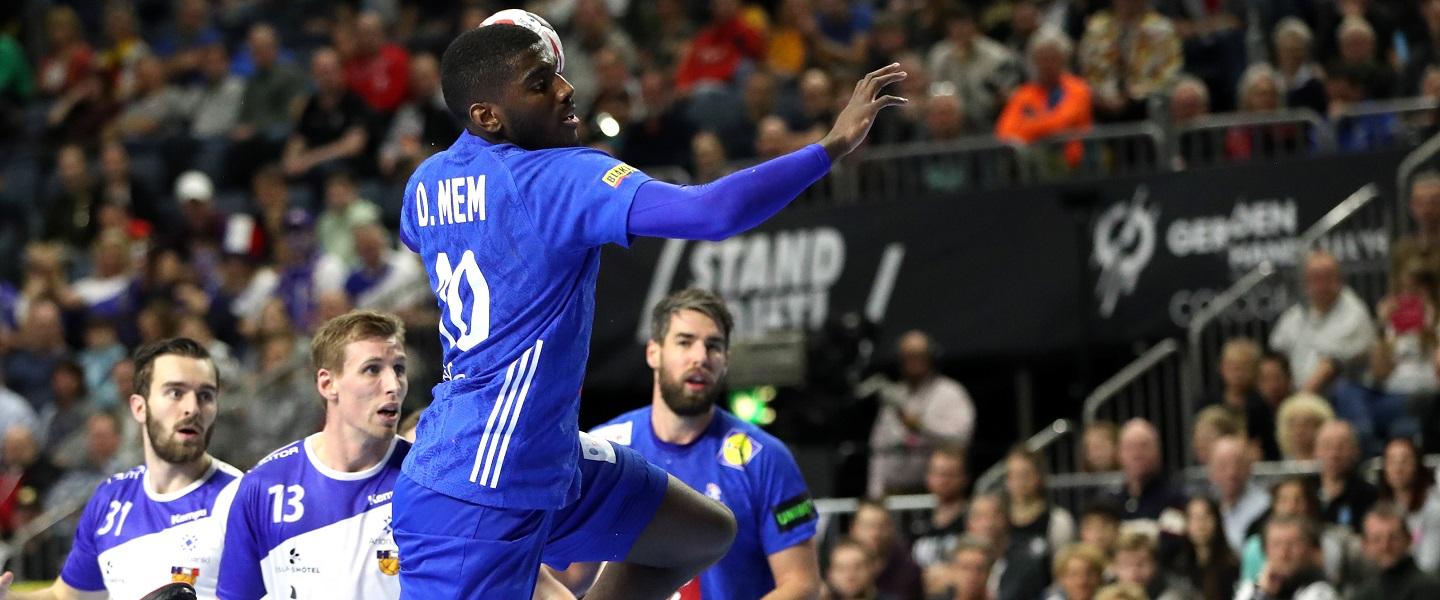 World champions France did their job to make it two wins from two in the main round, beating the already-eliminated Icelanders, who rotated their squad and shone the spotlight on their next generation.
Iceland vs France 22:31 (11:15)
With both sides going in different directions at Germany/Denmark 2019, this game was never much of a contest, but it represented an opportunity for both coaches to rotate, refresh and try something new in front of nearly 19,000 fans inside the LANXESS arena.
Didier Dinart's French side prevented an Iceland side missing the injured Aron Palmarsson from scoring for 13 minutes in this one-sided affair and by the time Gudmundur Gudmundsson's team opened their account, through Elvar Orn Jonsson, the French were already 6:0 up.
Second-choice Icelandic goalkeeper Agust Eli Bjorgvinsson played the entire first half, ending with an impressive 41% save rate (nine saves), but with his team strike rate the other end of just over 50%, and taking nearly the first quarter to score, they left themselves with an uphill challenge.
By the break, the deficit of Iceland was four (15:11), but, more significantly, it included a debut world championship goal for 17-year-old Haukur Thrastarson, who came in as a replacement to the squad overnight.
Early on in the second half Gudmundsson's side had the opportunity to move within one, but a missed fast-break saw them unable to pull back, and instead, Michael Guigou's strike made it 17:14 within five minutes of the second half, sparking a 6:0 run which saw France move out of sight (22:14 - 41st minute).
Backed up by 14 saves from Vincent Gerard, France were always comfortably in front and with all 16 players given court time and these two points to go with the couple from their victory against Spain last night, the French look in a healthy way as they aim to defend their title once again.
hummel Best Player of the Match: Vincent GERARD (FRA)
Statements after the match
Didier DINART – Coach France: They offered us a very good fight tonight and sometimes we have problems to play against them, but we improved tonight and maybe we have more confidence for the next match in the tournament.
Gudmundur GUDMUNDSSON – Coach, Iceland: France were the better team, they are a very difficult team to play against as I have experienced many times before, but in this tournament,  we are playing with a very young team. As you could see we had a 17-year-old playmaker playing with young guys on his left and right which is part of a three-year plan. France are professionals and we will be back on the top in three years.
Luka KARABATIC – Player, France: They can have a lot of hope for the future, they have a lot of qualities and in the future,  they can be champions again. Today was a tricky game, we gave a lot against Spain yesterday and everybody was tired. We started the game well and it put us in a good rhythm, we started the game really well and are in a good position in the group and I hope we can reach the semi-finals.
Olafur GUSTAVSSON – Player, Iceland: We knew it would be hard coming into it, but to start 0:6 it made it a lot more difficult. We came back at 16:14 down but France came back and finished us in the end and deserved the victory.