Group II: Defensive battle ends with victory for Norway
20 Jan. 2019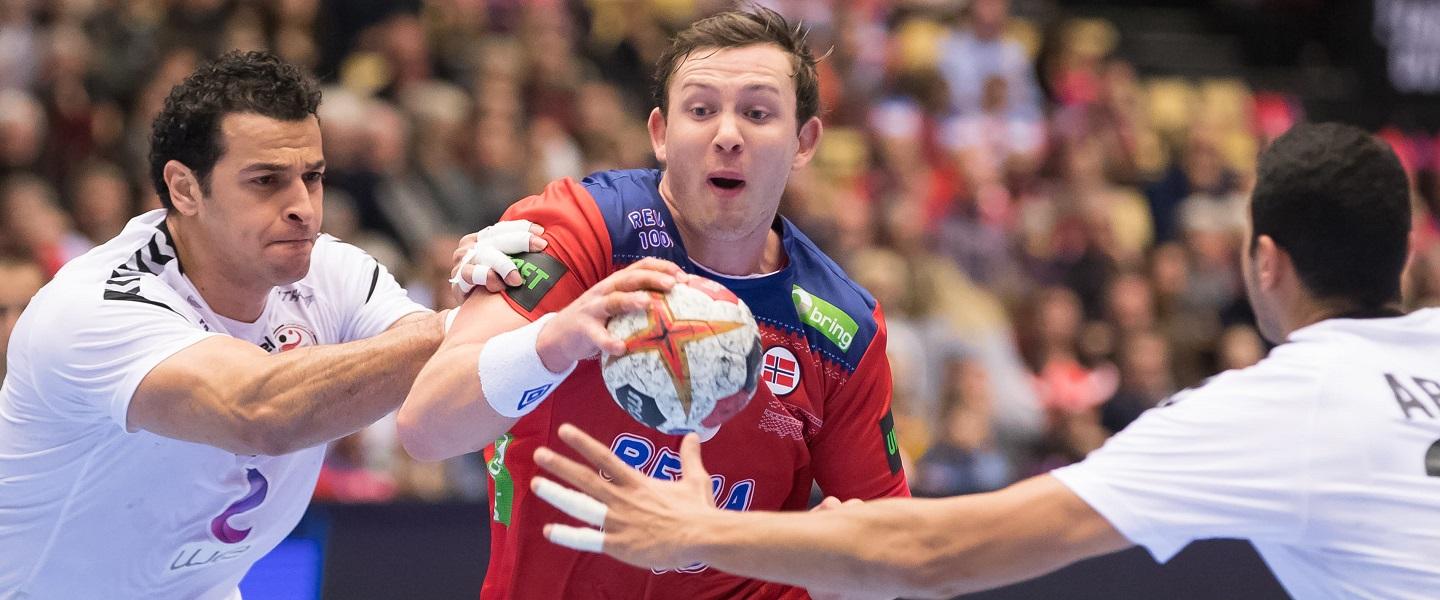 After a physically tough 60 minutes where defence was the key factor, Norway recovered from their loss in the last game of the preliminary round to start their main round with a success. The 2017 World Championship runners-up did not have an easy time against the strong Egypt side, but fought their way to a four-goal win at the final whistle.
Norway vs Egypt 32:28 (16:14)
After their perfect run through the preliminary round came to an end versus Denmark in the final game, Norway returned to winning form in their opening main round match on Sunday night. Egypt pushed the Scandinavian side right till the end, containing their fast-break game well and forcing Norway to play mostly positional attack.
Egypt took an early lead before Norway claimed the edge, with the European team holding a 7:6 lead at the 10th minute when back Sander Sagosen already counted three goals to his name. After favouring the combination of Christian O'Sullivan at centre back and Eivind Tangen on right back to start most of their preliminary round matches, Norway coach Christian Berge started the contest against Egypt with Goran Johannessen and Magnus Rod on court.
Rod turned out to be a perfect choice at right back against Egypt, as he and Sagosen combined for a total of 20 goals in the match. The two were clearly Egypt's biggest problem in defence. Egypt coach David Davis changed his line-up frequently, and his team kept close the entire game, but they had to work very hard against Norway's solid 6-0 defence and their endurance was tested as they looked for shooting opportunities.
Egypt rotated up to three defensive and attacking specialists with each change of possession, and it was some of those changes that cost them the level score line as Norway's counter attacks helped them add some distance. It was more of a combined effort from Egypt, as they finished the match with 11 players on the score sheet while only seven Norwegians scored during the game.
After Norway led by two at the break, nothing was decided. It was a tiring game for both teams, as each side took almost 50 shots in the match – 47 for Norway, 49 for Egypt. Egypt always had the chance to come back, as they were only behind by two goals with less than three minutes remaining (29:27). But Norway held on, with both Rod and Sagosen reaching the 10-goal mark by the time the final buzzer sounded. Sagosen received the hummel player of the match award.
Statements after the match:
Christian Berge, coach Norway: I thought Egypt played fast. They came with a lot of crosses and played a good game. We tried to run counter attack again. We did so in the first half but missed a lot of clear chances. It was a tight game until the very end.
David Davis, coach Egypt: Today we made too many mistakes. Stupid mistakes – exclusions and losing the ball. But I'm satisfied with the performance of the team, of course. For us it's a present to be in the main round. We are going to fight all the matches, we fight today, we're going to fight tomorrow and we're going to fight against Tunisia because we just want to grow. I want to congratulate my players because they are making excellent tournament; we have only been working for five months.