President's Cup: Qatar take title and 13th spot
20 Jan. 2019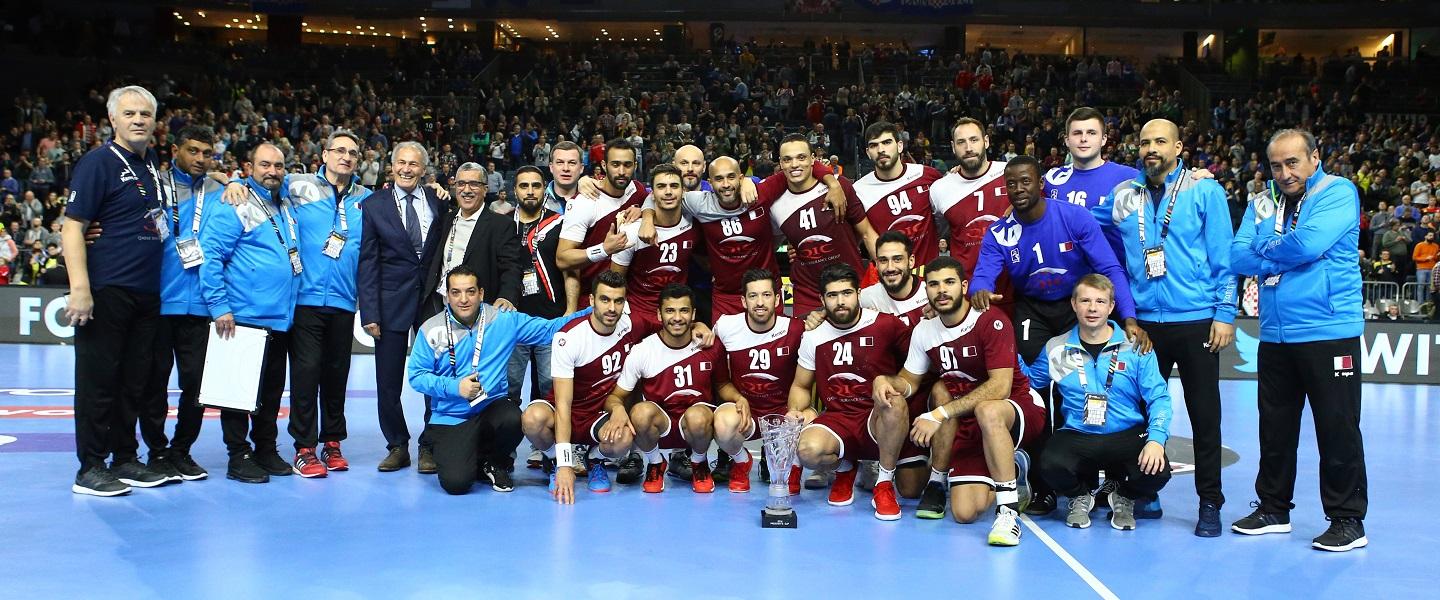 The 2015 World Championship runners-up Qatar ended a disappointing Germany/Denmark 2019 campaign with a win in the President's Cup to claim 13th, beating Russia by six goals.
Russia vs Qatar 28:34 (14:17)
Qatar coach Valero Rivera admitted in the post-match media conference that the President's Cup was not his sides' goal for Germany/Denmark 2019 but revealed that the path his side went down had an unexpected positive ending.
"We made big mistakes in the preliminary round," he said, "but after the group stage the team showed that they are a 'team' in these two matches here in Cologne."
His Qatari team started slowly against Russia, down 2:0 in the opening two minutes, but thanks to three straight goals from the eventual best player of the match, Youssef Ali, they took the lead (3:2 – eighth minute) and never looked back for the remainder of the match.
Leading by three at half-time, they doubled the lead by the end of the game to six (34:28) as both Ali and Frankis Marko ended with eight goals each, with both teams also seeing a player shown red after three two-minute suspensions, with Russia's Maksim Mikhalin going to the spectator seats in the 41st minute and then five minutes later Wajdi Sinen joining him (46th minute).
Following the final buzzer, Qatar were presented with the President's Cup on court by IHF President Dr Hassan Moustafa.
hummel Best Player of the Match: Youssef ALI (QAT)
Statements after the match:
Valero RIVERA – Coach, Qatar: I am happy how the team played in defence and attack yesterday and today. We were the better team in both matches and we shall learn from our mistakes and do better next time.
Dejan PERIC – Assistant Coach, Russia: This result was very clear because they were the better team and they wanted this victory more than us. I think in every championship it is important from the start until the final match. The President's Cup for us was important as a game for a medal. We had respect because Qatar was being the second best team in the world, so it was a motivation for our young players to give their maximum for the victory of this match.
It was also a big learning experience for us, and I think in the future. If we play in a semi-final in a such tournament we must play without these big ups and downs during the competition. One more time, congratulations to Valero, to the team of Qatar, all the best for the future, for life. Our team is in a good way, but we must analyse this and do it better than this match.
Moustafa HEIBA – Player, Qatar: First of all, I am very happy today because we won this match which was very important for us. As a team we wanted to finish this championship very well. All big teams get sick but never die. We learned a lot from our mistakes.
Vitaly KOMOGOROV – Player, Russia: Big thanks to Qatar for this match and to the German organisation of this tournament, it was very great. I do not know why we lost today.