Feature: The wildcard men of Japan step up to the global stage
15 Jan. 2019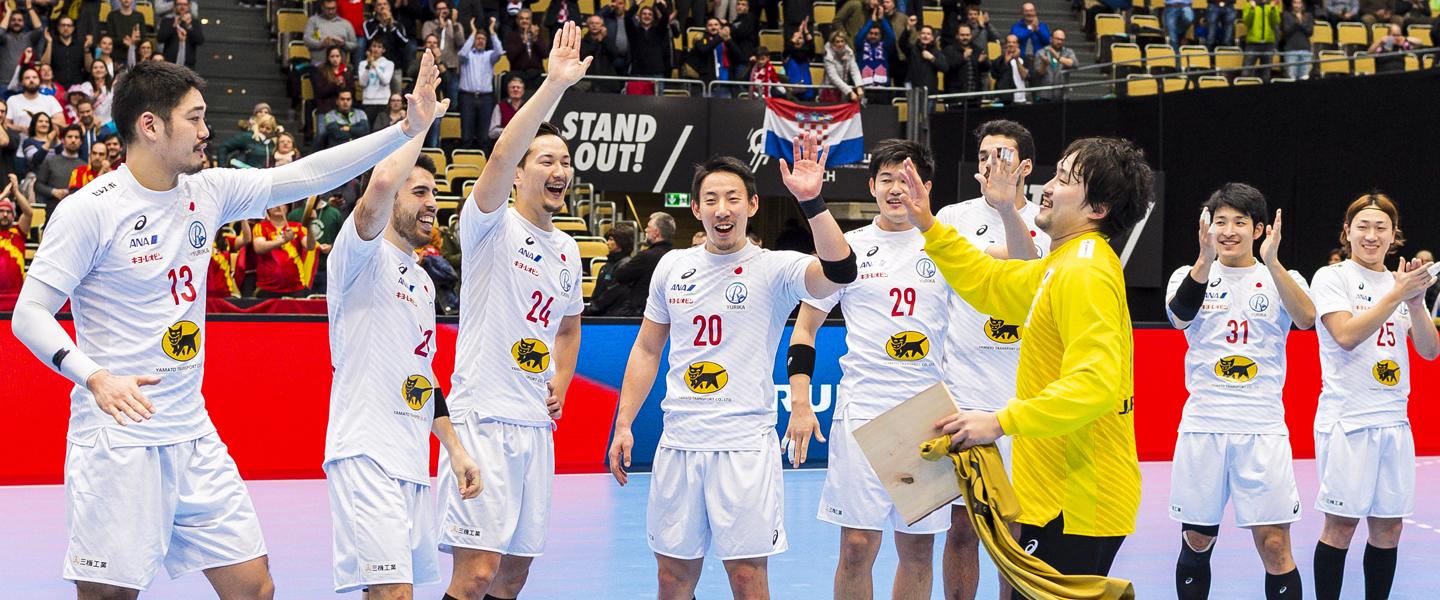 Sigurdsson, Kai, Corrales Rodal, Stepancic and Parecki talk to IHF.info about the Asian nation's development.

It is not often that a whole arena of nearly 10,000 spectators, the opposition squad and everyone else watching, give a standing ovation to a player on the losing side of any sporting match, but that is what took place yesterday at the Olympiahalle in Munich in Group B of the 2019 IHF Men's World Championship when Japan goalkeeper Akihito Kai was announced as the hummel Best Player of the Match against Spain.
A best player, a near-perfect performance
The award came despite his side losing 26:22 against the current EHF Men's European champions and 2013 IHF Men's World Championship winners, but it was an award that was clear after an unbelievable first-half performance which saw the shot-stopper end with a 53% save rate – holding back a squad of multiple national and international club and country champions from scoring until the ninth minute as the Japanese – who were awarded a wildcard for Germany/Denmark 2019 – led 11:10 at the break.
In fact, as IHF.info spoke with Kai after the game in the mixed zone, every Spanish player who walked past took time to pat him on the back or offer their hand in recognition of what has to be his best-ever performance – all of which came just over 24 hours after his side had played Croatia.
"We were disappointed we didn't do our best against Croatia, but against Spain we were able to produce a different performance," said Kai. "They are at a very high level and we expected a very tough match, but we prepared and tried to do our very best."
Spain's goalkeeper Rodrigo Corrales Rodal, who also had an impressive game, was in the best position to see the action down the other end and was full of praise for his fellow guardian. 
"He started so, so hard and that gave them opportunities to be in the game," said the Paris Saint-Germain player. "Up until the eighth minute we had not scored and that proves his performance was really amazing. He made key saves which kept Japan in the game and deserved the best player award."
Kai revealed that his performance could not only be attributed to good coaching, but also by enjoying himself as a player. "We have a good relationship with our head coach," he said. "We have lots of individual feedback and group feedback with videos and from my side I am having a good time - it has all been very helpful for me."
That coach is the famed Dagur Sigurdsson, winner of the 2016 EHF EURO with Germany, who ahead of the Spain match had said he hoped his side would "…give Spain more trouble than we did against Croatia."
"Absolutely," said Sigurdsson to IHF.info when asked if his pre-match hope had materialised. "It was a big surprise for us, because at the beginning of the game I think Spain invited us a little bit [to attack] which they should not have done because that gave us great confidence, plus we had a great goalkeeper and defence, and in attack we grew with every minute."
So, was it a half-time team-talk that the experienced Sigurdsson had planned for – to be up by one goal against one of the championship favourites?
"No, I can't say that [I had prepared]," said Sigurdsson, smiling, having received numerous wishes of 'congratulations' despite his side losing, "but we did plan that we wanted to control the game even though we were underdogs. We are happy with the performance in the first half and the second half was just the same, but we had more difficulties as Spain came with everything they had in the second half.
"I am really proud of the team and proud of how they fought back," he continued. "Some of our players played against Spain five years ago and lost by 28 goals so this is a huge confidence boost. After facing Croatia, we were at a little disadvantage physically, but we put in a 60-minute performance and absolutely we have seen that [part of our game] grow - we saw that in our five preparation games before the tournament and looked stable."
New coach, a team within a team
Ahead of the championship Sigurdsson appointed Polish goalkeeping coach Antoni Parecki, who was part of Helle Thomsen's Netherlands coaching team who won bronze at the 2017 IHF Women's World Championship, with the Pole having previously worked with Kim Rasmussen and the Polish women's national team.
"I only started a few weeks ago but it is a fantastic job and I can already see the team improving and growing with the targets we give them," said Parecki after the match about his new role with the Asian nation. "I give the goalkeepers good information and we always try before matches to find some solutions by analysing the teams we are playing and giving both Kai and Yuki (Kubo – second goalkeeper), targets. Every day we do a couple of individual sessions and then together we make our strategy. They are playing smarter and cleverer and for us this is everything.
"It was a fantastic night for Kai, and I enjoyed watching it," he continued. "He was very concentrated and very focussed about our strategy. It was fantastic. We played matches before with our strategies, but against Spain with our strategy - Dagur's strategy - we found the right solution. We fought together and played with a very concentrated defence who helped our goalkeepers a lot. It was pure teamwork and it was perfect."
Sigurdsson was keen to highlight the trio of those involved between the sticks and praised the performance of his 'other' squad.
"Antoni is an experienced goalkeeping coach who used to work with a lot of the best Danish goalkeepers, and he is giving our two confidence and good points to work with - they are a small team within the team so congratulations to all of them [with this performance]."
Looking to 2020 and beyond
As the Japan team focus on their next matches at Germany/Denmark 2019, they are also sure to have one eye on 2020 as Tokyo prepares to host a home Olympics, and as the squad continues to develop, their progression has already been noticed by those who have lined up against them in Munich.
"Dagur has proved with Japan, like with the German team, that he has done an amazing job," added Corrales Rodal. "Japan did a really good job against us and put us in a lot of trouble - they made it so difficult for us and it is good to know that handball (is strong) all around the world."
For Croatia's right back Luka Stepancic, the progression of Sigurdsson's side represents something bigger than Germany/Denmark 2019.
"If you watch them closely you can see the touches of the coach, with a lot of crossing," he said. "When Brazil hosted the Olympics (in 2016) they had a European coach and improved a lot and right now they are a great team, not like before and the same happened to Qatar when they hosted this world championship in 2015. 
"I hope the same thing will happen with Japan and they still have one more year to improve before they host the Olympics - you really have to prepare well to play against them, and in the future,  I think it will be trouble to play against them.
"It is very exciting for handball, he continued. "They have players in Europe who are opening the door for others to come. Globally, I want teams like Japan to improve, as what we want as players now -  and for future generations - is to spread the game in the USA, Japan, Korea and China for example, because that would mean a lot for the sport overall."
"We as the Japanese are still in a development stage," concluded Kai. "Height-wise, on average, we are shorter than the rest of the teams but with our performance against Spain we showed where Japan are in international handball and we will continue to fight."