Group B: Horvat inspires Croatia to overcome Japanese threat
13 Jan. 2019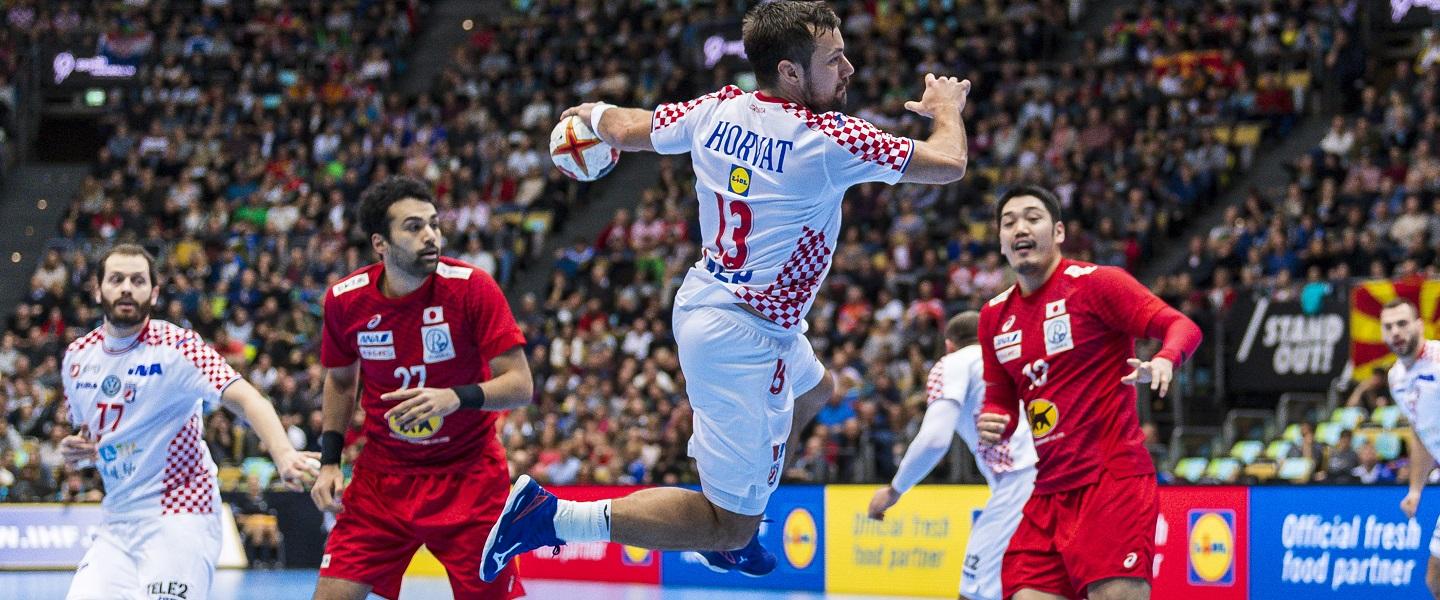 Croatia vs Japan 35:27 (18:13)

Croatia's attack devastated a Japan defence to make it two wins out of two for Lino Cervar's side and resign Dagur Sigurdsson's Japan to two losses in as many games. And it could have been worse for the Asian side as the Europeans missed numerous chances to extend their lead, already six by the 10th minute (7:1). Japan did find a way to test Croatia though as they went on a 5:2 run straight after, but at 11:7, Remi Anri Doi received a two-minute suspension and Croatia's Luka Stepancic clenched his fist in thanks, knowing the brief spell of pressure would be over.
Led by Zlatko Horvat, Croatia were strong in all areas as nine saves from Marin Sego, who played in goal for the first half, saw Japan unable to disrupt the organisation and strength on court, even if, at times, their handling of the player exchange from bench to court was not so organised.
By the end of the half though Japan had brought the score within five (18:13), but with an 82% scoring ratio in the half (18 from 22 strikes) and Japan's goalkeeping pair only able to save twice, the Croatian firepower was unstoppable, illustrated best by player of the match Horvat and his perfect six goals from six shots.

"The beginning of our game and approach was really good," said Lino Cervar after the match. "Our defensive system played really good, with a very good density and we had a very good fast-break.

"We made many technical mistakes, but the result says it all - tomorrow our opponents (FYR Macedonia) are very good and we must play better."

The second half started the same as the first, with Japan opening the scoring, followed by a Croatia run of six (24:14), which saw a 10-goal lead in the match for the first time. This was to prove too much for Japan to overcome in the 20 minutes remaining, but they showed a resilience to take the final third of the match 13:11 and give themselves hope as they prepare to face the mighty Spain in their next match tomorrow.

After the match Sigurdsson was philosophical in defeat. "It was a very difficult start for us, as they not only had a very strong defence, but the goalkeeper was excellent too," he said. "We started to lose a lot of balls and our rhythm and Croatia scored lots of easy fast-break goals.

"But I am very happy that the Japanese team fought back and got the confidence and still tried in the second half to go back into the game. We can only learn from our performance and hopefully we will give Spain tomorrow more trouble than we gave Croatia today."

hummel Player of the Match: Zlatko HORVAT (CRO)

Photo: Marco Wolf