Group B: Macedonians dispatch Bahrain as Lazarov looks ahead to European tests
13 Jan. 2019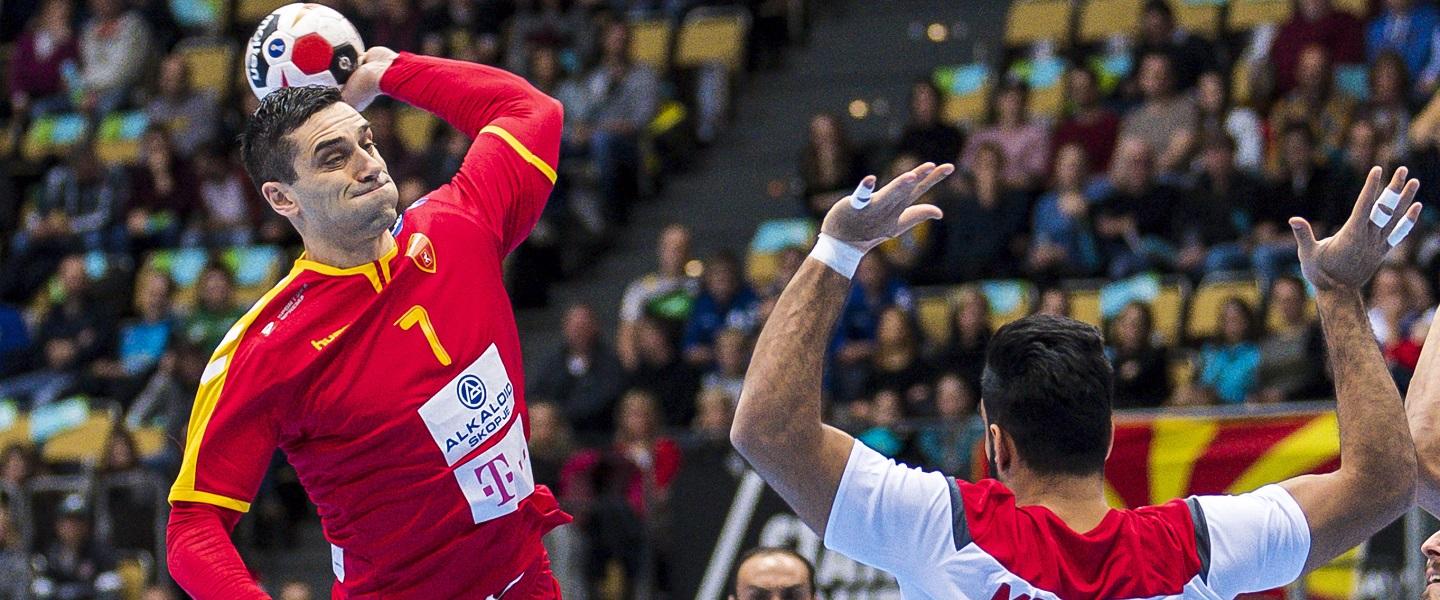 Asia played Europe twice in the second match day of Germany/Denmark 2019 at the Olympiahalle in Munich, starting with the Macedonians comfortably beating Bahrain ahead of Japan vs Croatia and Spain vs Iceland.

FYR Macedonia vs Bahrain 28:23 (12:8)
The Europeans made it two wins out of two against Asia, beating Bahrain comfortably, 28:23, following their opening day victory against Japan on Friday.
Against Bahrain today they were 6:2 up with just over nine minutes on the clock, but Raul Gonzalez's side took their foot off the gas mentally and physically and allowed Bahrain to mount a comeback, as the Asian team went in front, 7:6 in the 19th minute, as Aron Kristjansson's side showed why they gave Qatar such a close match in the recent final of the Asian Games which went to additional time.
The turn of events forced Gonzalez to take a relatively early team time out as he sought to address the on-court issues shown by his players and following the pause, an action-packed period of play took place.
Firstly, both goalkeepers made identical saves down low and then the Tunisian referees sought the IHF video proof system to confirm that Hasan Al Samahiji's shot had not fully crossed the line after bouncing down on it twice.
A quick couple from Lazarov then put his side in front again (8:7) five minutes from the end of the first half, and with a further four goals from his side before the break, Bahrain found themselves four behind (12:8) and leaving the court stunned.
Kristjansson had brought his side up to the maximum of 16 allowed players overnight, adding 30-year-old Hasan Alfardan after the line player returned from a pre-tournament injury, and his power and energy, combined with the rest of his squad's efforts, saw a more even second half, although Gonzalez used the lead to fully rotate his squad, starting with goalkeeper Nikola Mitrevski, who replaced the again-excellent Borko Ristovski, who had saved five out of 12 shots in the first 30 minutes.
The second half was best summed up with player of the match Kiril Lazarov slotting home to make it 20:13 in the 47th minute, shooting early from the floor without jumping, fooling the goalkeeper and causing Mahdi Saad on the Bahrain bench to hold his head in his hands.
A late 4:0 run from the Asian side made the final score more respectable, but the Macedonians were already thinking about their all-Balkan clash tomorrow against Croatia as Lazarov admitted afterwards that the world championship for him starts with Croatia - the first of three European sides his team will face in the next four days along with Spain and Iceland.

"For us, the world championship starts tomorrow and then we will see the level we are at the moment," referring to the clash against Croatia - the first of three European sides his team will face in the next four days along with Spain and Iceland.

For Kristjansson, there is work to do, but a lot of positives to take into match day three. "We knew before the game that our task would be to play good defence and 7v6 and I think our defence, when we played 6v6, in the first half was very good although we have problems when we play 7v6, but we fought for the whole 60 minutes, and that makes me really proud of my team."

hummel Player of the Match: Kiril LAZAROV (MKD)

All six Group B teams in Munich will be in action again tomorrow (Monday 14 January) with Iceland vs Bahrain (15:30hrs), Croatia vs FYR Macedonia (18:00hrs) and Spain vs Japan (20:30hrs)

Photo: Marco Wolf