Group A: Germany and France easily keep their clean records
12 Jan. 2019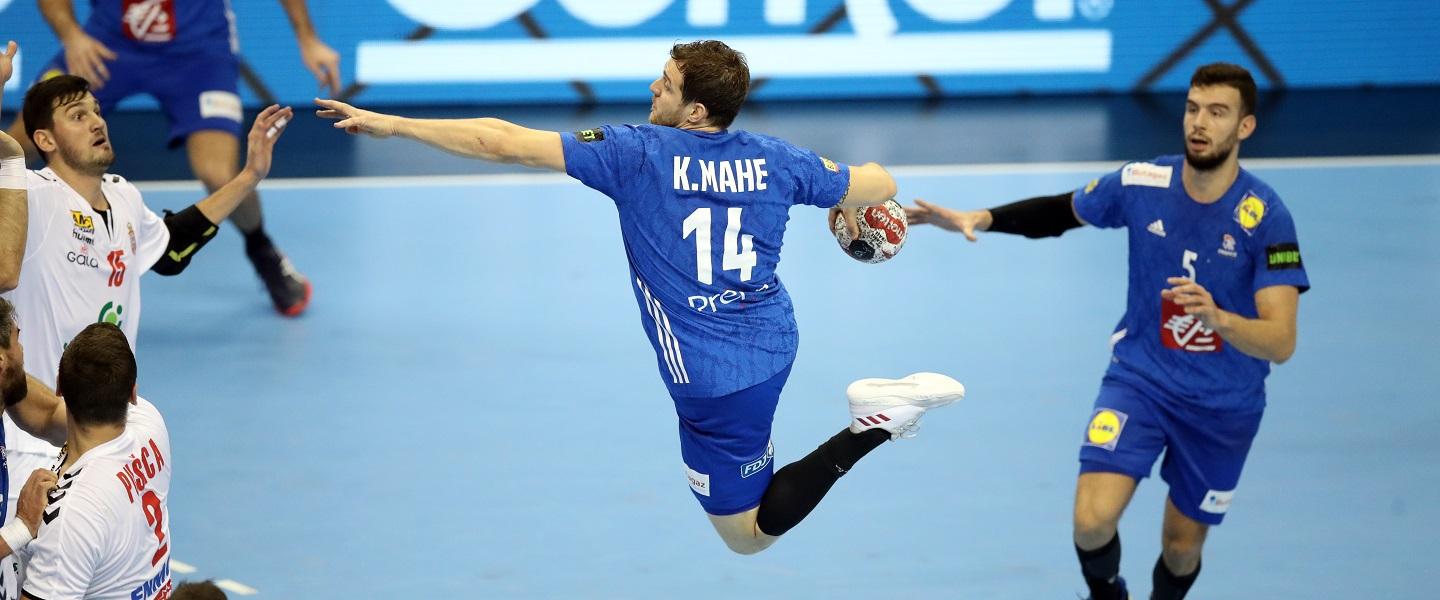 Three matches, three clear victories, three unbeaten teams – this is the outcome of the second match day in Berlin. While France (against Serbia) and Germany (against Brazil) took clear wins and keep their unbeaten record, Russia had no problems to leave Korea behind to be on 3 points.
Russia - Korea 34:27 (10:13)
It was a match that seemed like boys vs men but the Korean 'boys' again, just like in their opener against Germany, never surrendered. This fighting spirit was honoured by the first ever Player of the Match award for a Korean player: Dongmyung Kim.
But right from the start the physically stronger Russians were in full control of the match. After only twelve minutes the score was 10:4, mainly thanks to the strikes of Daniil Shishkarev, best Russian scorer with seven goals in total.
After a seven-goals lead at the break, Russia coach Eduard Koksharov started his huge rotation, but still his side were never in danger of defeat and even took the first double-figured lead at 30:20 eight minutes before the end. Finally, Jan Kang and Jeongu Kang reduced the gap to seven goals with seven strikes in eight minutes.
hummel Player of the match: Dongmyoung Kim
Statements after the match:
Eduard Koksharov, coach Russia: When we prepared for the game, it was different, because Korea plays another style in comparison with Germany and France. The result of the match is not important. After the draw against Serbia, which was bad for us, we prepared some solutions – some problems we solved, others we still have to work on.
Sergej Mark Kosorotov, player Russia: It was a difficult game, as Korea played very special. We had to be concentrated the whole game. It was a good match and we tried to make the best out of it.
Young Shin Cho, coach Korea:  This match against strong Russians was a challenge for us, we tried to show the best, and we are a little bit disappointed.
Myong Choi, Sin, assistant coach Korea: In the first game, we were nervous. In the second, we wanted to show that we have learned.
Dongmyung Kim, player Korea: Even though we lost, we did our best. I am happy to be awarded best Player of the Match, and I say thank you to the German audience for the great support for our team.
Germany vs Brazil 34:21 (15:8)
Backed by 13,500 fans, Germany outclassed Brazil and remain with a clean record after two matches. Ten goals by Uwe Gensheimer and impressive periods of Steffen Fäth were two keys for the unexpectedly clear win but in the end, the team spirit and the initial stage were decisive. Less than 24 hours after their strong performance against France, Brazil lacked power and remain on zero points.
After only 15 minutes, Germany were ahead by 9:2, as goalkeeper Andreas Wolff made one save after another and there was no breaking through the German defence. Without the great saves of goalkeeper Carlos Almeida, the gap at the break would have even been bigger than 8:15. With the victory in mind, Germany missed some chances but the win was never in question. The final ten minutes (from 25:18 to 34:21) were a pure demonstration of power, while the South Americans had resigned.
hummel Player of the match: Uwe Gensheimer (GER)
Statements after the match:
Christian Prokop, coach Germany: It was a fantastic atmosphere, we were very movable and aggressive in the defence and had many discipline in the attack. I am very satisfied.
Fabian Wiede, player Germany: We played a perfect first half with an overwhelming defence. The coach had watched and analysed Brazil's match yesterday and we implemented everything what the coach had said.
Washington Nunes da Silva, coach Brazil: Congratulations to the German team for a very good match and a good performance. We expected to do a better game than we did today. We had difficulties in attack, as we had a very tough match yesterday. And we had only one night to recover. But nevertheless, we did a good job. The German defence was the key, why we lost today.
Leonardo Tercariol, player Brazil: We played under the level what we had expected. After a very good game yesterday we hoped for a better result. But Germany knew how to defend against us.
France vs Serbia 32:21 (15:12)
For 22 minutes, Serbia could hope for a major surprise, being at th same level as the defending champions, then the team of coach Nenad Perunicic lost its pace, while France accelerated their engines. After the 9:8 for Serbia in minute 22, France turned the tide within 19 minutes with a 14:4 series to the decisive score of 22:13. The deal was sealed, France cruised to a clear second win in this competition.
Serbia made too many technical mistakes and missed too many chances against France goalkeeper Vincent Gerard, who was awarded as Player of the Match thanks to his eleven saves. Almost all French court players netted in, topped by Nedim Remili and Ludovic Fabregas with five goals. Only Serbian wing Bogdan Radivojevic scored more often with six goals from six attempts.
hummel Player of the Match: Vincent Gerard (FRA)
Statements after the Match:
Didier Dinart, coach France: After yesterday, we played a good match today. To win yesterday was the most important thing, today we played much better. I am very satisfied today.
Vincent Gerard, player France: I am very happy, last night it was very difficult. We did a great job today and didn't stop playing. The first half was difficult.
Nenad Perunicic, coach Serbia: Congratulation to Didier and the whole French Delegation. We saw the whole power of the World and Olympic-Champion. It was very painful to see my team losing, we fell apart at minute 22. We seemed to be surprised, made 22 technical mistakes and had 20 missed shots. It was impossible to keep up and to do better.
Stefan Vuijic, player Serbia: Congratulation to the French team. In the first third of the game we played very well, the rest we couldn't keep up; very painful. It was not a shame to lose, it's a shame how we lost. We have to keep our heads up, I'm sure, that we'll analyse, what were our mistakes and what we have to change.