Group D: Angola cause first big upset; Argentina draw with Hungary
11 Jan. 2019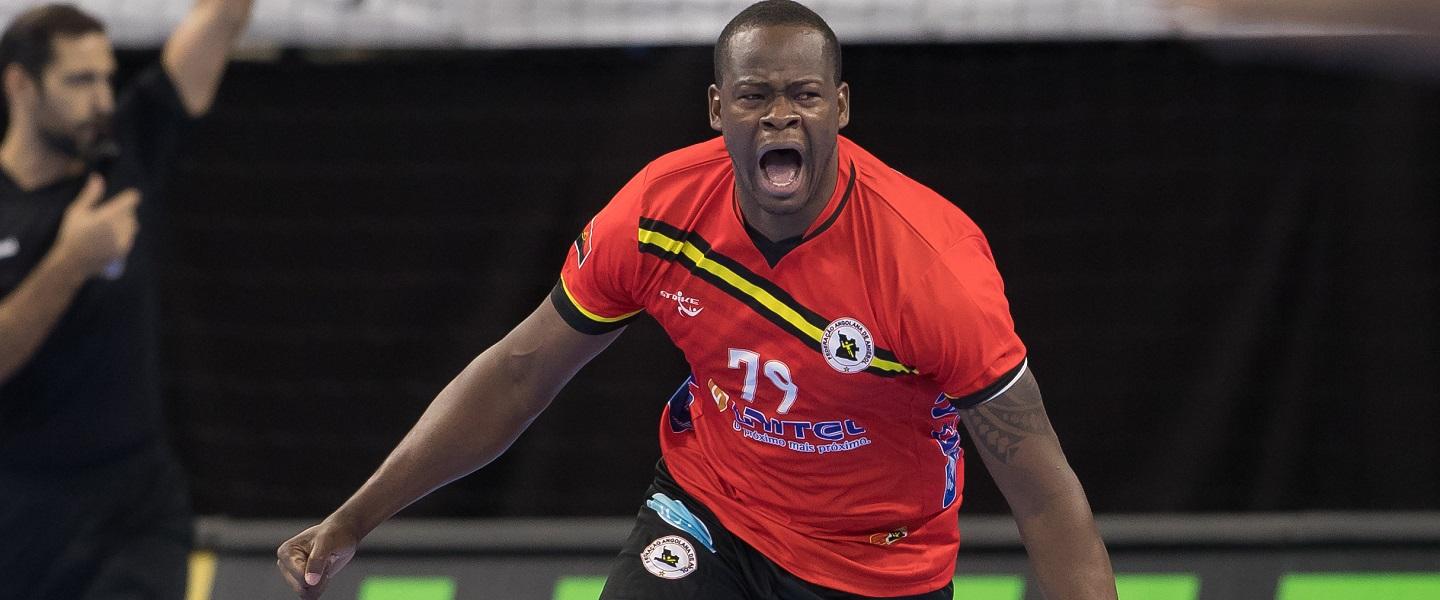 The first big surprise of the tournament was caused by Angola today in group D, as the African team closely beat Asia's number 1 side. In the second intercontinental encounter, Argentina, as well, fought bravely and drew with Hungary. In the last match of the day, the fans in the Royal Arena saw Sweden defeat Egypt.
Angola vs Qatar 24:23 (12:8)
Angola had a good start in their first match at the tournament. Saves from their goalkeeper and a lot of goals on the other end quickly got them a 4:1 lead.
A strong defence from Angola made it difficult for Qatar to score goals. In addition, their goalkeeper Muachissengue was in excellent shape and ended the first half with 11 saves (61%). Rome Hebo, who was awarded Player of the Match, scored the last goal in the first half.
Danijel Saric began the second half in the goal for Qatar, and they started much better than they did in the first half. The game got more equal but Angola were in the lead most of the second half. Despite several 2-minute suspensions on the side of Angola, Qatar did not manage to take the lead. Danijel Saric in the goal made a difference but Giovany Muachissengue on the other end continued his high level of first half. With 4 minutes left in the game, Qatar got their first lead since the 0:1. Danijel Saric made two important saves and put the pressure on the team from Angola. Rome Hebo scored with 15 seconds left, Qatar shot on goal, but a save from Angola's goalkeeper gives them the opportunity to score, they do – and that surprisingly made Angola the winners of today's first match in group D.
hummel Player of the Match: Rome Hebo (ANG)
Statements after the match:
The assistant coach from Angola was very happy about their victory. But he was very humble and was telling about their journey to get where they are today. "We enjoy being here, and we can use all the training we can get. We take one game at the time, and it's going to be difficult but we can only do our best." 
Angola's Goalkeeper Custido Gouveia agreed with his coach. "We are here to learn and get better. Our next games will be tough, but I am sure that we will play our best.
Valero Rivera, head coach of Qatar was not happy. Despite that, he congratulated Angola on their victory. "We've just played the most horrible game in over 5 years. They were better than us in almost every aspect of the game. All we can do is look forward to the next match and forget that this game."
Wajdi Sinen agreed with his coach. "Today was really not our day. Angola beat us because they were good and we weren't. Hopefully we will do better in our next game against Egypt."


Argentina vs Hungary 25:25 (10:13)
The second game in group D was between Argentina and Hungary. First goal was scored after 3 minutes, and Hungary quickly were in the lead, 5-0. Hungary's goalkeeper Roland Mikler starts the tournament in an impressive manner with a lot of saves. The first goal for Argentina is scored after 11 minutes by Lucas Moscariello. Argentina struggled a lot in the offence against a very compact and strong Hungarian defence. Hungary's number 9, Zsolt Balogh played a great first half by scoring 5 goals. Argentina fought back and after 22 minutes they were only one goal behind. Argentina's goalkeeper got a 2-minute suspension for entering the pitch before one other player came out. Hungary were now in front with 3 goals. The last goal of the first half was a 7m-throw by Zsolt Balogh to end the first half 10:13. He scored seven goals in the first 30 minutes.
Argentina started the second half with three scored goals in the first 5 minutes. They were much better in the defence than they were in the first half. Now Hungary struggled. 35 minutes into the game, Hungary's most important player, Laszlo Nagy made his entrance into the tournament with a goal. After 39 minutes Argentina took the lead, 16-15 for the first time in the match. Zsolt Balogh scored his goal number 10, and levelled the game at 21:21 with 10 minutes left. Pablo Simonet is playing a good game for Argentina. With 5 minutes left, Argentina's goalkeeper, Matias Carlos Schulz saved a penalty, giving his team the chance to get in the lead – they do, and the score suddenly was 24:23 to Argentina. Hungary made too many mistakes and with 3 minutes left in the game Argentina could expand their lead with two goals. With 15 seconds left, Ronald Mikler made an important save. It was a close match, without any winners.
hummel Player of the Match:  Pablo Simonet (ARG)
Statements after the match:
 "I think it was a very good match. Two teams who both wanted to win. We got a draw, and I think the result is fair," said coach of Argentina, Guillermo Milano.
Federico Matias Vieyra complemented his coach. "The result is good for us. Today we were good in the defence, and in the offence, we need to be a little bit better, but in total we are happy for the one point against Hungary.
Head coach of Hungary, Istvan Csoknyai was not satisfied with his team's performance today.
"It's our first match at this tournament. We knew that this game against Argentina wouldn't be easy. We didn't play our best, but it's a good result for us. Of course, we wanted to win, but unfortunately, we didn't. But there is a new game soon, and we hope to perform much better then."
Hungary's Ferenc Ilyes agreed with his coach. "Everybody expected us to win the match today, but we knew that it would be a very difficult match. And it did – we got a draw. But nothing is over yet. It's a long tournament with many games."
Egypt-Sweden 24:27 (11:13)
The third and last game in group D was the encounter between Egypt and Sweden. In an almost yellow Royal Arena, it looked like we're going to end this day with a bang. Albin Lagergren scored the first goal and the fans in the arena went crazy, cheering for their team. The keeper from Egypt began the match very well. It was a nervous start for both teams, with not that many goals and many technical faults in the first 15 minutes.
Mikael Appelgren kept Sweden in the lead with a lot of good saves. Kim Anderson is back on the Swedish national team and after 20 minutes he scored his first goal in the match. Egypt struggled a bit in attack, having a hard time scoring, and they needed saves from their goalkeeper if they wanted to compete with Sweden. They fought back, however, and scored the last goal in the first half.
Sweden was in the lead 15:11 after 33 minutes. It was a great start in second half for the Egyptian goalkeeper Karim Hendawy but Sweden continued scoring fast break goals. Egypt was hanging on, but they still had to fight a little bit more for their goals than Sweden did.
15 minutes were left of match day 2 in Royal Arena Copenhagen as Sweden were in the lead, 16:21.  Egypt fought back, and the difference was now only two goals, 19:21. Andreas Palicka replaced his goalkeeper colleague and started off with a brilliant safe. With eight minutes left, the match was level. Egypt had made a fantastic comeback. They were chasing the two points, and maybe another big surprise in this group today. The last five minutes were intense, and you could feel it by watching both teams. Goalkeeper Karim Hendawy kept Egypt in the game with some important saves in the last minutes. Jim Gottfridsson scored, a technical fault from Egypt, and Sweden could almost smell the victory. Jim Gottfridsson scored the final goal – Sweden won 27:24. 
hummel Player of the Match: Lukas Nilsson (SWE)
Statements after the match:
"The first match in a tournament is always difficult, so I want to thank Egypt for a great game with good intensity and fight. For us to be winners, we need the important goals and saves in the end, and we got that, so I'm happy." I also want to thank all our fans tonight," said Kristjan Andersson.
Wing player Jerry Tollbring also wanted to thank Egypt for an intense match. "We were good in the defence, but we weren't good enough at making fast break goals. And this atmosphere in Royal Arena tonight almost feels like home. Thank you to all our fans for an amazing support."
Venio Losert praises his players for their performance tonight. "Congratulations to all my players. It was a tough match, but we were fighting till the end. In moments we play on a very high level, but today that wasn't enough. Despite that, I am happy about our performance against a good team."
It was a tired Yehia Elderaa who sat at the post match conference. "It was a tough start against a strong team, and we couldn't do more than we did today. We gave our best. Nothing is over, we have to keep focused on our next game Sunday against Qatar."