Group A: Brazil close to shock France; Serbia let victory slip away from their hands
11 Jan. 2019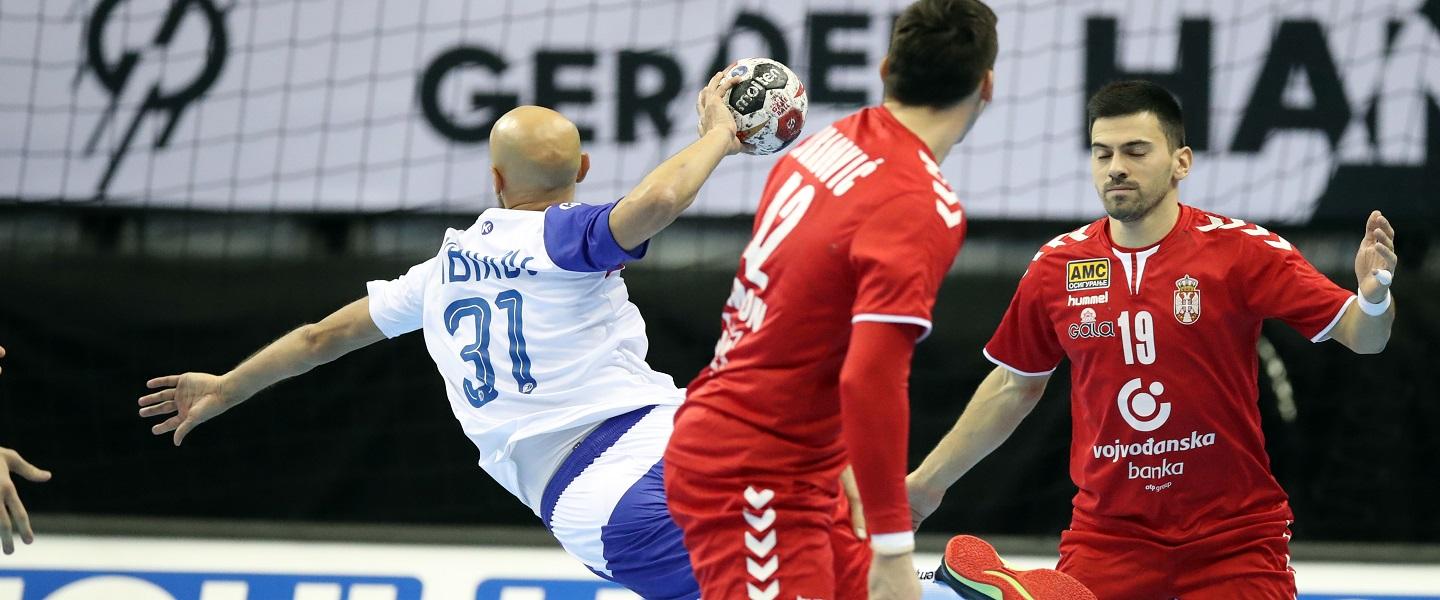 After the dominant German start against Korea on Thursday, the remaining two encounters of match day 1 in Berlin on Friday were extremely thrilling. First, Serbia tied with Russia, then defending champions France were close to a defeat against Brazil.
Serbia vs Russia 30:30 (16:16)
The fans in Berlin saw a true thriller, which deservedly ended in a draw. The Serbs were partly clearly ahead, but Russia took the profit from a superb performance of left wing Timur Dibirov, who scored 12 goals from 13 attempts and was awarded Player of the Match.
Serbia had the better start, pulled away to 6:3, but the Russians stroke back and equalised again at 10:10. From that moment on, the lead changed constantly – the 16:16 at the break was the outcome.
Right at the start of the second half, Russia had problems in defence, and the Serbs turned a 17:18 deficit into a 23:19 lead in their strongest period of the game, steered by wing players Bogdan Radivojevic and Nemanja Ilic (best Serbian scorer with six strikes). But still nothing was decided, as Dibirov scored like a Swiss clockwork. Russia reduced the gap, levelled and even took the lead at 27:26.
Now Serbia were back on track, scoring a treble strike – and seemed to be on the winners' way at 29:27. But who else than Dibirov should have been the one to level the result in the final minute. After a late time-out eight seconds before the end, Russia even had the chance to win, but Drasko Nenadiic blocked the last Russian shot.
hummel Player of the match: Timur Dibirov (RUS)
Statements after the match:
Nenad Perunicic, coach Serbia: We have a huge respect for all opponents. We could have won this match, and we knew that the rundown of the match would be like it finally was. Both teams are young, both teams made mistakes.
Drasko Nenadic, player Serbia: We showed a good fight for 60 minutes, small details were decisive in this match. But we keep our heads up high for the next matches and we think positive.
Dejan Peric, assistant coach Russia: Opening matches are always difficult, especially at World Championships. It was a good match of both sides, with power, tension and tactic. We started well and later we came back. Both teams were better in attack than in defence, this is what we need to improve.
Timur Dibirov, player Russia: I have a great respect for Serbian handball and the whole country. It was a tough start in the tournament and we could have won, but finally a draw was deserved.
Brazil vs France 22:24 (13:16)
The defending champions had enormous problems, but in the end, France cheated the gallows thanks to their goalkeeper. Vincent Gerard saved 50 percent of all Brazilian shots and finally was the key to an unexpected close opening win for the record world champions.
Those who thought that France would easily forge ahead were wrong, as the match was completely equal until the 10:9 in favour of the Pan American runners-up. But thanks to a 7:1 run, the French side took the upper hand. When Matthieu Grebille scored twice right after the break for the first six-goal advance at 19:13, the fans in Berlin expected an easy walk in the park for France.
But then Brazil stroke back, improved their defence – and France made many mistakes in attack.
It was another 7:1 run, this time for Brazil, which turned the match in another direction. Twelve minutes before the end the score was 20:20 – and everything was open again. But from that moment on, Brazil missed too many chances – and the final result was already sealed six minutes before the end, when Valentin Portes netted in for the 24:22.
Best scorers were Jose Toledo (eight goals for Brazil and awarded best player of the match) and the French duo Dika Mem/Michael Guigou with six goals each.
hummel Player of the match: Jose Toledo (BRA)
Statements after the match:
Didier Dinart, coach France: We had some difficulties against Brazil, as we knew that they have an efficient style of play. It is always hard to start a competition like this, and we were not surprised, as Brazil have a strong team. Other teams had much more difficulties in their openers than us.
Dika Mem, player France: It was a very good match. Everybody saw that no match is easy at a World Championship. Tonight we won, this is what is important.
Washington Nunes da Silva, coach Brazil: France have very good players on all positions. It is great, how we played, but I am disappointed with the result. In most parts of the game we played our best, but finally we lacked some efficiency, and the French goalkeeper was brilliant.
Jose Toledo, player Brazil: We knew that it would be a tough game. In the end we made some mistakes – we are sad on one hand, but on the other, we played a great game. We will keep our heads up.