Five days and the first win: India's historic journey at Egypt 2022
24 Sep. 2022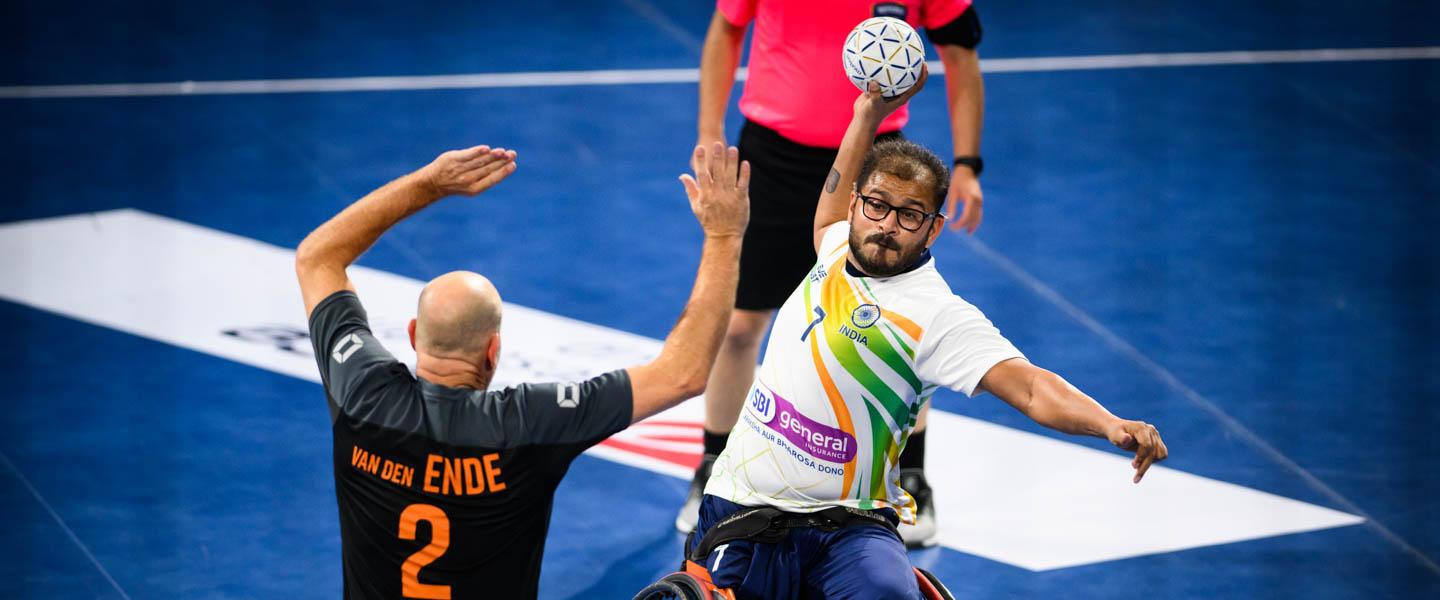 India have made huge strides in the quest to develop handball in all disciplines over the past few years. They made their debut in several competitions, such as the IHF Women's Youth World Championship, and the IHF Women's Junior World Championship, but also in the IHF Women's Youth Beach Handball World Championship.
2022 could not end without another maiden competition for the Asian side, as they have also featured at the inaugural IHF Four-a-Side Wheelchair Handball World Championship, marking another premiere for Indian handball.
Sure, results might not have come their way, but the learning curve is certainly steep, with the potential for development. It is surely the case for each of the teams mentioned above, but, in particular, for the India wheelchair handball national team. They have just won their first-ever international match, taking a 2:0 win against the Netherlands, an experienced side that was definitely favoured before the throw off.
Of course, India's lack of experience was on display during the first two days at Egypt 2022, with their attack providing the lowest amount of points after four games, 23, and conceding the second-largest amount of points, 46.
Yet, the feeling is upbeat, and the happiness was there to be seen on the faces of India's players after the superb win against the Netherlands side, after suffering losses against Chile, Egypt and Brazil, all in straight sets.
"It is such an amazing feeling to represent India on the world stage and especially to take a win against a more experienced side," says Javed Ramjan Choudhari. He is India's top scorer in Egypt, who signed over 50% of his team's points at the inaugural IHF Four-a-Side Wheelchair Handball World Championship.
India started the second day of the competition with two losses but emerged as a strong side against Brazil, the team with four wins after four matches, forcing the first set to go into extra time. The South American side scored the golden goal to take the set, 5:4, and clinched the second one with 12 unanswered points.
However, India looked like a team that could do some damage. Only six hours later, they sent shockwaves into the competition after a straightforward win against the Netherlands, 2:0 (7:6; 7:5), taking everybody by surprise.
"After the match against Brazil, we really thought we were onto something because we have been getting better and better. We really outdid ourselves, and we surprised ourselves because nobody would have expected us to take such a win against a prestigious opponent. It was a hard-fought game, but we never gave up. We tried to bring the best to the table and create opportunities to win.
"The plan was there, but it was always hard to achieve it, but we made it, and I am so happy to have won the match," added Choudhari, who scored 13 points in the tournament, out of India's 23 overall.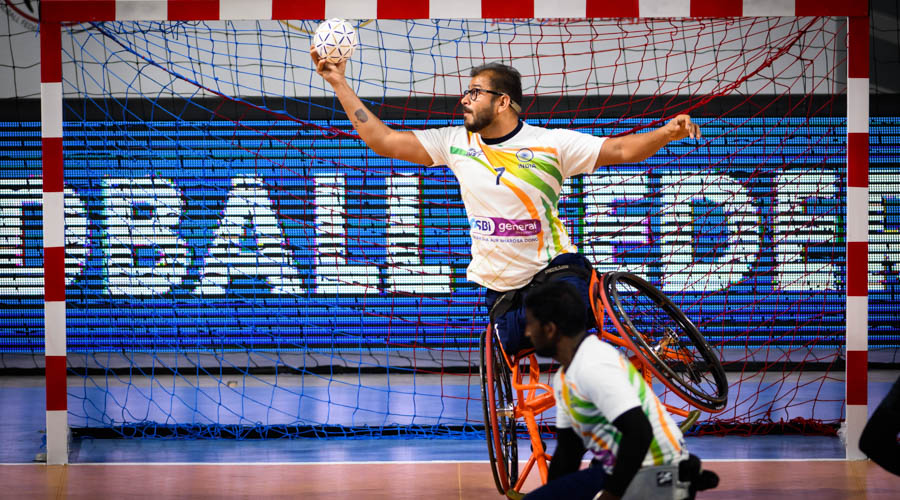 The success is even more surprising, judging by the time this team spent together before the IHF Four-a-Side Wheelchair Handball World Championship. The players know each other well, as they have previously represented their country in wheelchair basketball. Yet, wheelchair handball is a totally different sport, with a different strategy, moves and ways to take a shot.
"We only had five days of training between ourselves, and we are still learning how to adapt, how to shoot, how to set up on the court and, basically, how to play wheelchair handball. Yet, we are trying very hard, and we gave everything in training sessions and on the court," adds India's top scorer.
For a team that spent so little time on the court practising wheelchair handball, India's achievement is even more of an eye-opener than just looking at the scores and analysing the results. 
Especially when the team they won against, the Netherlands, had a very successful wheelchair handball programme and roughly 100 active players throughout the country.
"We are still getting to grips with this sport; we are learning some of the rules during the matches. I may sound naïve, but I tried to score a goal from a penalty with a spin shot, and it was only one point. I did not know that only open-action spin shots count double the points," laughs Choudhari.
As a national champion in wheelchair basketball and a member of the India national team in the discipline, Choudhari has been one of the bright stories of the inaugural IHF Four-a-Side Wheelchair Handball World Championship, proving that anything is possible if done with passion and determination.

"I see that handball in India is certainly on the rise, and I really hope that with these results, we get even more players to come in and try to play," concludes India's top scorer.
Whether that will happen or not is still an open question. What is certain is that India dream high in the last match against Slovenia in the round phase, and a win would potentially set them up nicely for a place in the bronze-medal game against Chile.