Kuwait SC win Gulf derby against Al-Najma to finish seventh at the 2023 IHF Men's Super Globe
12 Nov. 2023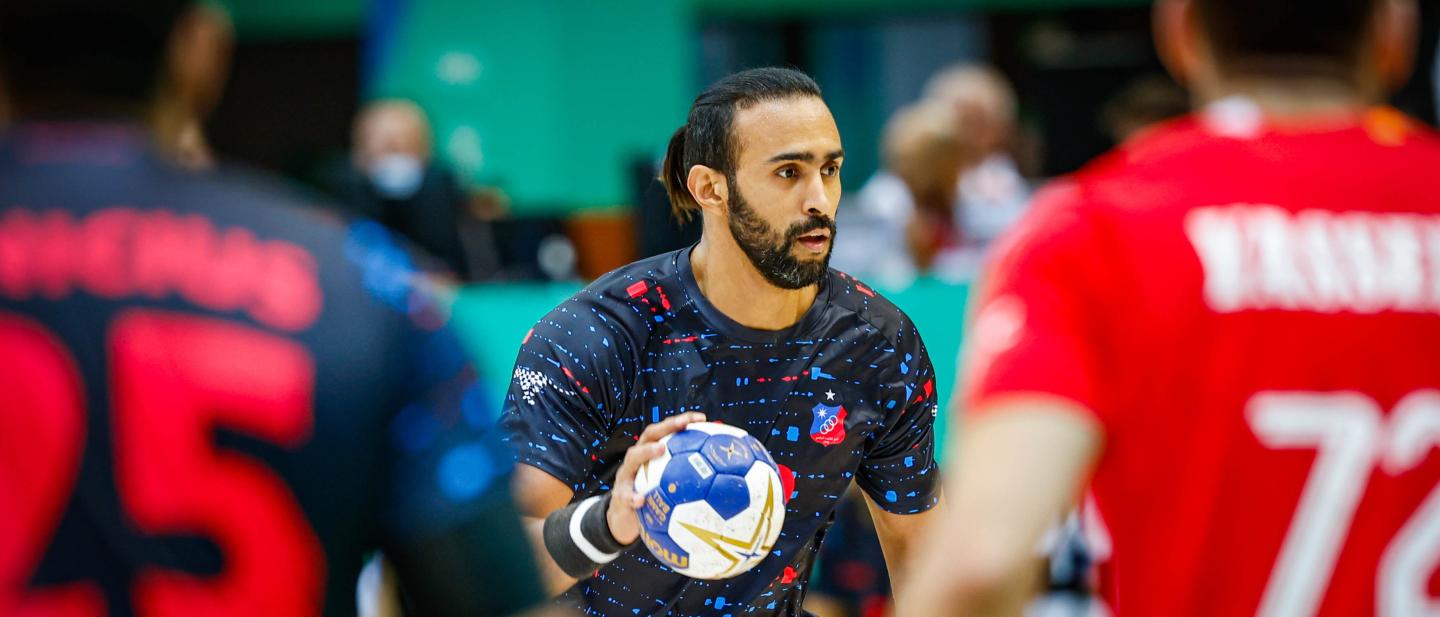 Kuwait SC finished their best-ever appearance at the IHF Men's Super Globe with a win, 29:24, against Bahraini side Al-Najma Club, with the Kuwaiti side ending up on the seventh place in the final standings of the 2023 edition.
PLACEMENT MATCH 7/8
Kuwait SC (KUW) vs Al-Najma Club (BRN) 29:24 (15:12)
Al-Najma threw off the 2023 IHF Men's Super Globe with an outstanding display against Industria Kielce, barely conceding a 26:27 loss, in what was one of their best games in history against such a tough opposition. 
But it looked like they spent all their energy in that match, with the win against the San Francisco CalHeat being cancelled by another loss, 24:27, in a fiery clash against Khaleej, which set up a match another Gulf team, Kuwait SC, as Al-Najma aimed to avoid finishing on the eighth place.
However, it was a chance for coach Sayed Ali Al Falahi to use some of the players which did not feature as much on the court in the previous matches, as Al-Najma's top scorer, Mohamed Ahmed, who was the third best scorer after the first four days of the competition, with 24 goals, scored only twice in this match.
Yet Al-Najma still went out strong in the first 17, leading by one goal, 7:6, with their defence doing an excellent work in stopping Kuwait's top two players, Angel Hernandez and Frankis Carol Marzo. But then, something change, and it was the performance from Kuwait's goalkeeper, Hasan Safar.
Al-Najma's efficiency starting to drop sharply, as Safar entered his groove, with a 39% saving efficiency and nine saves in the first 30 minutes of the match. That was also seen on the scoreboard, as Kuwait finished the first half with a 9:5 run, to turn the game on its head and boast a three-goal lead at the break, 15:12.
Marzo has always been a natural-born scorer, having proven that at the 2021 IHF Men's World Championship, when he was the top scorer of the competition, and showed his prowess once again here, as he dominated Al-Najma's defence with his nine goals and three assists, with the gap growing.
Kuwait looked in clear control, taking a clear 22:15 lead after 40 minutes, but then Al-Najma replied with a 4:0 unanswered run, preventing Kuwait to score for five minutes and 43 seconds, to cut the gap to three goals and make the game even more interesting.
But once again, Frankis Marzo stole the show in attack, delivering both from the back line and from fast breaks, while Safar finished the match with 17 saves, eight of which came in one-on-one situations, especially in crucial moments, to help their side take a 29:24 win.
Marzo was the match's top scorer, as he improved his overall tally at the 2023 IHF Men's Super Globe to 26 goals, jumping to the second place in the top goal scorer standings, tied with Magdeburg's Daniel Pettersson and Al-Najma's Mohamed Ahmed.
Kuwait capped off their most impressive performance at the IHF Men's Super Globe with a win and finished on the seventh place, while Al-Najma, which finished seventh in their previous appearance in 2017, settled for the eighth place, but proved plenty of potential against strong opponents. 
hummel Player of the Match: Hasan Safar (Kuwait SC)