The anatomy of a success: How did Magdeburg win the IHF Men's Super Globe for the third time in a row
13 Nov. 2023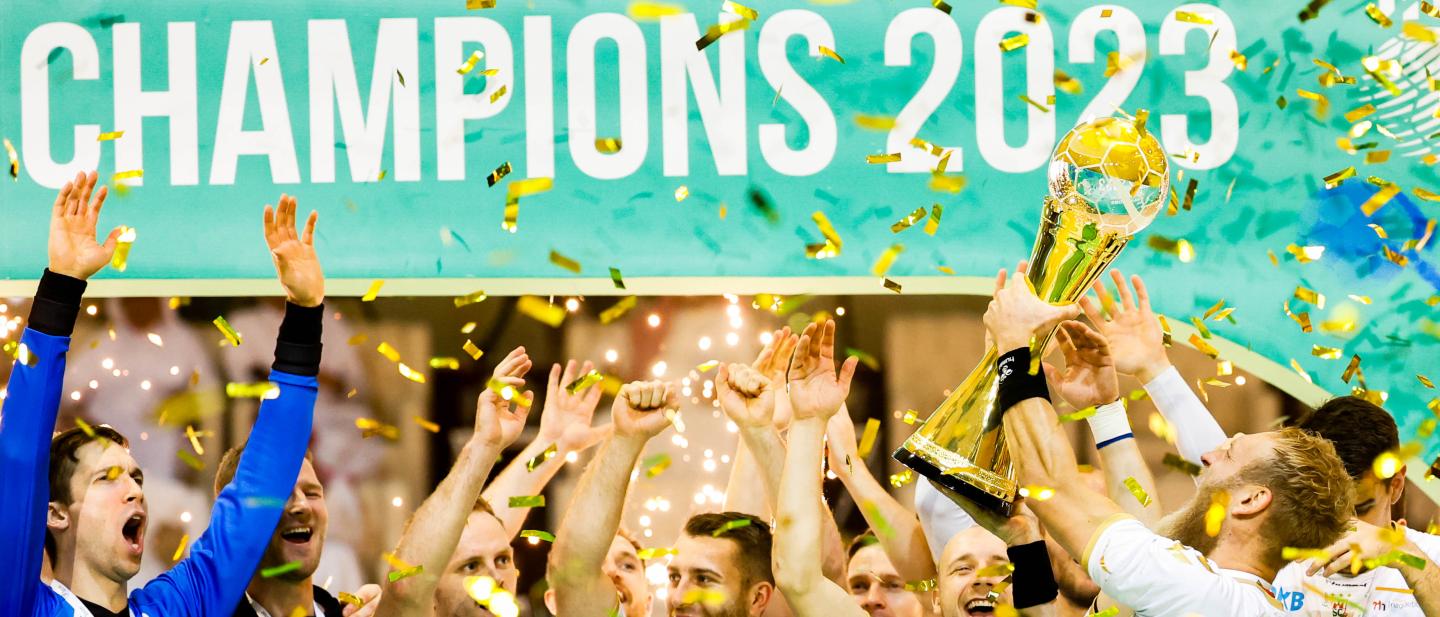 Hundreds of fans battled a heavy rain to greet the 2023 IHF Men's Super Globe champions, SC Magdeburg, as the German side returned from Dammam on Monday evening. It became somewhat of a tradition, as over 10,000 people flocked to the main square in the German city last June, when the 2023 IHF Men's Junior World Championship was about to throw off, to celebrate the EHF Champions League Men title won by Bennet Wiegert's side.
This time, it was more of the same, albeit with less people, due to the difficult weather conditions, but it was still an abundance of joy and respect for their heroes, as Magdeburg sealed a historic three-peat at the IHF Men's Super Globe, after their wins in 2021 and 2022.
From the three titles secured in Saudi Arabia, the first one, in 2021 in Jeddah, looked to be the easiest, when Magdeburg sealed a 33:28 win over FC Barcelona in the final. One year later, they needed extra-time to secure another magnific 41:39 win over the Spanish squad. And this time, in the first all-German final at the IHF Men's Super Globe, they took a 34:32 win over Füchse Berlin, also in extra-time.
But how was it possible? What was Magdeburg's secret? How did the German side morphed from a contender to the second team in history to secure the IHF Men's Super Globe title three times in a row?
First of all, it must be the resilience. The German side delivered all their greatest hits in the past two seasons in extra-time or at penalties. Winning the semi-final against Barcelona in the Champions League on penalties? Checked. Winning the title in the Champions League against Industria Kielce in extra-time? Checked.
Two IHF Men's Super Globe titles won after extra-time? Checked. They say handball is all about fine margins, but Magdeburg have taken those fine margins even further, delivering outstanding team spirit, some fantastic resilience and excellent performances in crunch time, irrespective of who was on the court.
Magdeburg did not even flinch when right wing Daniel Pettersson missed a penalty with eight seconds left in the final against Füchse, as that shot could have been the decider. Instead, Pettersson was picked up by his teammates and they played as a team in the next ten minutes, outclassing their German rivals with a hard-to-beat defence.
"There are some moments where one can enjoy it even more than usual. I am super proud and super happy, because with this mentality, it is very hard to lose. As a coach, one can only be proud," said Magdeburg's Bennet Wiegert.
Indeed, Wiegert has to be proud of how strong a unit Magdeburg was at the 2023 IHF Men's Super Globe, after the MVP of the EHF FINAL4, Gisli Kristjansson, did not play a minute this season, recovering from a shoulder injury, while one of their best scorers last season, right back Kay Smits, moved to SG Flensburg Handewitt.

Magdeburg faced even more uncertainty with their line-up, after left back Philipp Weber went off injured in the first match of the 2023 IHF Men's Super Globe, against Khaleej Club, adding more woes for the German side, which also had Michael Damgaard sidelined for the first matches, as his fitness was not up to par after an injury.

Any team would have been excused of dropping their level, but not Magdeburg, which delivered excellent performances over the last two months in all competitions, creating a 13-game winning streak, which also included the largest ever win in the history of the IHF Men's Super Globe, 57:14, against the University of Queensland.
After a shaky start of the season, Wiegert tweaked a bit the team, here and there, and did not back down for a moment, even when his team was down five goals in the second half of the final against Füchse.
Whether it was luck, a good gameplan or just Magdeburg doing Magdeburg things, it clearly worked and his team has now a 13-match winning streak at the IHF Men's Super Globe, conceding only one loss in the 17 matches they played in the competition, for the best winning percentage in history.
"It is something really amazing, to be fair, it is spectacular, it is something that we did not expect a few years ago. We have been playing good, in this edition too, and I think we deserve to be here. The feeling is fantastic, it is a bit crazy to be in this situation," added Wiegert, after Magdeburg beat Industria Kielce in the semi-finals of this edition of the IHF Men's Super Globe.
With their third title in as many editions, Magdeburg jumped to the second place in the all-time standings in the competition, having finished second in their first appearance, in 2002. Only FC Barcelona have more titles, five, but it looks like a new king dominates over the competition.
And, who knows, maybe in the next edition, which will take place in the autumn of 2024, Magdeburg can write even more history. Then Wiegert can really say this is crazy, with his side aiming to become the first ever to win four titles in a row at the IHF Men's Super Globe.