Developing on the fast track: Lichtlein comes of age at the 2023 IHF Men's Super Globe
11 Nov. 2023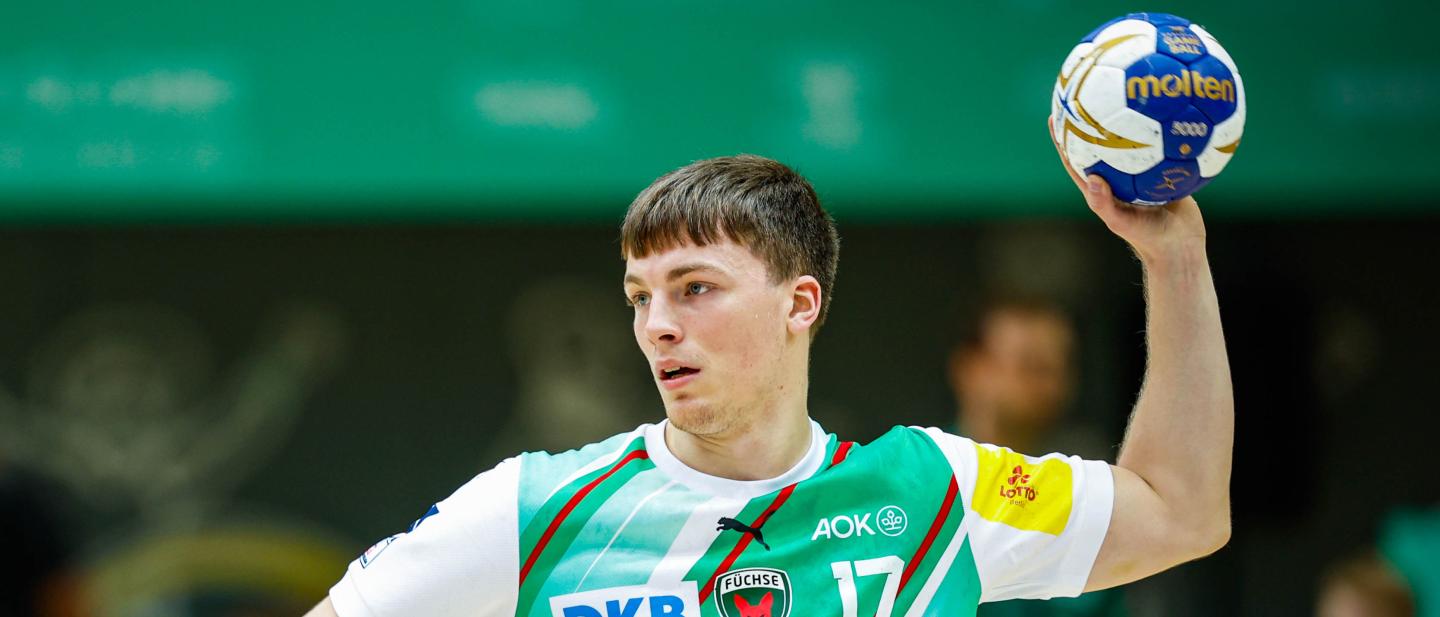 Five months ago, Nils Lichtlein was starring for Germany at the 2023 IHF Men's Junior World Championship, helping his side win the coveted gold medal, by sweeping their opponents and delivering one of the most dominating performances from a single side in the history of the competition.
Lichtlein, an atypical left-handed centre back, was named the MVP of the 2023 IHF Men's Junior World Championship, delivering 21 assists and drawing eight suspensions through his particularly pacy and creative style, despite not being a true scorer, with only 12 goals scored from the back line throughout the whole competition.
Lichtlein turned 21 years old only after the competition, in July, but has since has become a crucial player for his club side, Füchse Berlin, and also made his debut in the Germany men's senior national team, scoring two goals in his first two matches.
Now, after just a few months after his exciting success at the 2023 IHF Men's Junior World Championship, Lichtlein has plenty of responsibility for Füchse, becoming a crucial player for the Bundesliga leaders, earning more time on the court due to the injuries suffered by the German side in the start of the season, but also thanks to his excellent performances. He is not the only player from that golden squad to feature at the 2023 IHF Men's Super Globe, with Tim Freihöfer, Lasse Ludwig and Matthes Langhoff also in both squads. Yet Lichtlein look like the player who is most ready to deliver at this level.
While Lichtlein might have international experience – he has played in the EHF European League Men for Füchse only in thepast four seasons – the 21-year-old centre back has never featured before at the IHF Men's Super Globe, but felt excellent in the preliminary round, scoring seven goals and adding five assists in Füchse's wins against San Fernando HB and Kuwait SC.
"It is clearly a different level here, there are teams from outside of Europe, which play a different type of handball, it is clearly a fast-paced handball and maybe less physical than in Germany, but we adapted well and won both matches so far. We want to go as far as possible, so we'll see what the future holds," says Lichtlein.
The future is now, though, and it presents a difficult proposition for the German Bundesliga leaders, in the mold of FC Barcelona, the most decorated team in history of the IHF Men's Super Globe, in a fiery semi-final, with the two sides locking horns for the fourth time in history in the competition. 
This time around, Füchse will have nowhere to hide, but they still boast an exciting squad, with Lichtlein coordinating an exceptional back line, where right back Mathias Gidsel has been nothing short of spectacular in the first two matches, scoring 13 goals in each win, to lead the top goal scorer standings after the preliminary round.
This somehow underlines Lichtlein's fantastic ascension over the last few months. From the MVP of the 2023 IHF Men's Junior World Championship, the centre back was propelled into Füchse's squad, playing right alongside the top goal scorer of the 2023 IHF Men's World Championship and the MVP of the Tokyo 2020 Olympic Games.
"It is special, clearly. I think there is a big difference between the junior and the senior level, of course, there is a lot more tactic in the game, there is also a bigger physical level, it is something clearly different, but I really enjoy it," adds Lichtlein.
Hailing from a handball family, with his grandfather, Artur, and uncle, Carsten, and mother Silke all playing through their lives, Lichtlein is carrying the name and the heritage further, projecting to be a sure-fire starter for the Germany men's national team in the future.
But how has 21-years-old Nils felt this ascension on his own skin?
"Winning the World Championship with the Germany junior team, it has been…. I cannot explain it in words. I am really lost for words, because it was an amazing feeling, we gave it our all and we really played great throughout the whole competition. Being at home and celebrating it there was even more special," says Lichtlein.
"Especially in Berlin, which is my home city, in my own arena, the Max-Schmeling-Halle, I think it was really something that I felt it even stronger. But that is in the past now and we have to focus a bit on the future, I have to focus on the future."
Currently, the short-term future is the 2023 IHF Men's Super Globe, where Lichtlein confirmed, once more if needed, that he is a special player. Now two big tests await, the first one against Barca and the match on Sunday, against another European powerhouse.
But Lichtlein is living the dream and maybe, just maybe, he will be a leading star at the 2027 IHF Men's World Championship, which will be hosted by Germany. By that time, Lichtlein will be 25 years old and at this rate of development, he will be in his prime.