Decision day for the preliminary round at 2022 IHF Men's Super Globe
20 Oct. 2022
Live blog: Just like this, after three days of intense competition, the preliminary round of the 2022 IHF Men's Super Globe is done and dusted. We know the winners and teams facing off in the Placement Rounds 5/8 and 9/12.
Three European sides have made it to the semi-finals, reigning champions SC Magdeburg and the two finalists of last season's EHF Champions League Men, Lomza Industria Kielce and Barça, the latter two also being the best attacks in the competition.
Khaleej, Benfica, Taubate and Esperance will play in the Placement Round 5/8, while Sydney-Uni, Mudhar, Al-Kuwait SC and Club Ministros head to the Placement Round 9/12.
Final standings:
Group A: 1. SC Magdeburg 4p (76:52), 2. Khaleej 2p (64:56), 3. Sydney-Uni 0p (44:76)
Group B: 1. Al-Ahly SC 4p (65-58), 2. SL Benfica 2p (67-56), 3. Mudhar 0p (57-75)
Group C: 1. Lomza Industria Kielce 4p (86-56), 2. Handebol Taubaté 2p (62-67), 3. Al-Kuwait SC 0p (54-79)
Group D  1. Barça 4p (87:42), 2. Esperance de Tunis 2p (70-58), 3. Club Ministros 0p (39:96)
Today's games:
12:15 AST Handebol Clube Taubaté (BRA) vs Lomza Industria Kielce (POL) 30:39 (16:18)
14:30 AST Barça (ESP) vs Espérance de Tunis (TUN) 37:24 (18:12)
16:45 AST Al-Ahly SC (EGY) vs SL Benfica (POR) 29:28 (12:13)
19:00 AST SC Magdeburg (GER) vs Khaleej (KSA) 35:29 (17:14)
20:29 AST Full-time: SC Magdeburg vs Khaleej 35:29 (17:14)
When Kaddah's energy reserves started to dwindle, so did Khaleej's chances to win this game. The Egyptian left back, who has nothing short of superb and delivered a classic performance in the match, finishing with 11 goals, had too little energy in his tank in the second half as cramps started to get the better of him. While Khaleej still had Hussain Al Sayyad and Ahmed Elahmar on the court, they could simply not find ways to unlock Magdeburg's defence, as Nikola Portner made some key saves in crucial moments to create a gap that proved to be unassailable, including two penalties.
Magdeburg won their sixth game in a row at the IHF Men's Super Globe and their 10th in the history of the competition, 35:29, but they had to sweat for it and work all the way out until the end, with the plucky Khaleej really putting up a fight. A six-goal advantage was down to only three goals, 30:27, with six minutes to go, as the crowd went wild, applying huge pressure on Magdeburg. It is surely one of the best-ever performances by a Saudi side in the competition, displaying great grit and skills, but eventually, it just fell short of a historical win. Still, Kaddah, who was also the `hummel Player of the Match`, entered his name in the history of the Super Globe with his superb performance. At the same time, Khaleej will now play with SL Benfica in the Placement Round 5/8, another tough match for the Portuguese side.
SC Magdeburg will continue their quest for retaining the trophy they won in 2021, facing Egyptian side Al-Ahly SC, who secured a superb win against SL Benfica, as it looks like the challenge for the German side will not get easier.
Final standings Group A: 1. SC Magdeburg 4p (76:52), 2. Khaleej 2p (64:56), 3. Sydney-Uni 0p (44:76)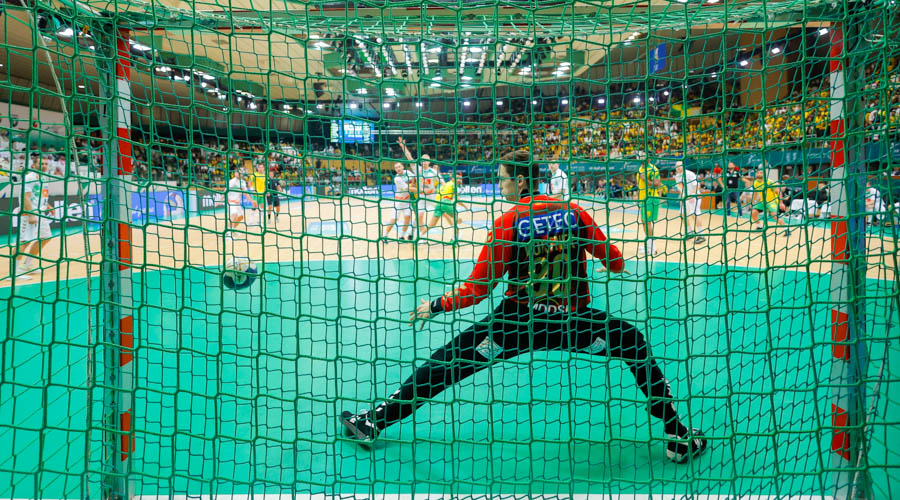 20:07 AST Magdeburg get a grip on the game
Khaleej are surely not making it easy for Magdeburg. In fact, after 36 minutes, the two teams were back level, 19:19, with two other great goals for Kaddah, who improved his overall tally to 11 goals in the match, a massive number against a very, very strong side like Magdeburg, who, by the way, are the reigning champions. But the German side beefed up their defence a little, closed the lanes and forced two fast breaks that were the fuel for a 4:0 unanswered run that opened the first four-goal gap in the match, 23:19, prompting a timeout from Khaleej.
Kaddah is now the top goal scorer at the 2022 IHF Men's Super Globe, with 16 goals, but his side is starting to lose the grip on the game. Magdeburg are leading 25:21 with 15 minutes to go and have started scoring easier goals, not working so much to find a way to unlock the Saudi side's defence. A penalty missed by Ahmed Elahmar did not help Khaleej, but the Saudi side should be proud of what they did today so far, applying huge pressure on Magdeburg.
19:33 AST Half-time: SC Magdeburg vs Khaleej 17:14
Magdeburg took the lead, even put two goals between them and Khaleej, but still failed to get a full grip on the game. And it is many thanks to the excellent Hassan Kaddah, who has been flawless and unstoppable. It is just one of those days when a player hits the groove and just pulls everyone behind his magic. But this is not a match that is going to be decided by a single player; more need to chime in from Khaleej. Simply put, Kaddah, who is still only 22 years old, cannot be expected to feature a full 60 minutes against such a great side as the current German champions, Magdeburg.
That was on display in the latter part of the half, when Kaddah was rested for a few minutes and Magdeburg jumped to a 3:0 unanswered run, with Daniel Petterson featuring prominently, as the Swedish right wing scored twice. Eventually, though, Magdeburg got in front at the break, 17:14, but it will be very, very interesting to see what Khaleej bring to the table in the second half. So far, they only have five players scoring, while Ahmed Elahmar did not score a goal, with Kaddah leading the charge with nine goals.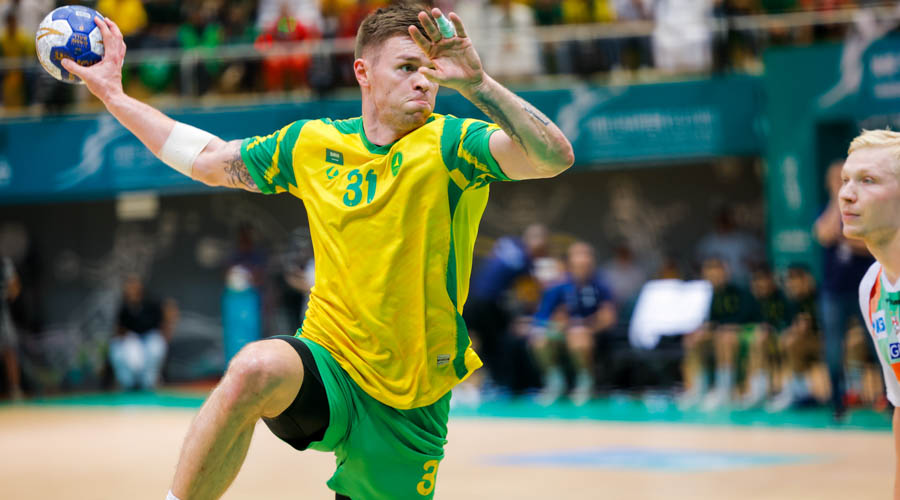 19:16 AST Khaleej put Magdeburg under pressure
It has been an excellent start from Khaleej, whose loan players have been stellar in Dammam for the match against SC Magdeburg. The reigning champions, who have a five-game winning streak in the IHF Men's Super Globe, found themselves down 5:3 early in the match, with each goal from Khaleej or every save made by Karim Hendawy being cheerfully celebrated. Not surprisingly, the first five goals for the Saudi side were scored by Hassan Kaddah, who has been loaned from Zamalek SC for this tournament. The towering left back has been pretty much unstoppable and led his team with some superb skills via breakthroughs or shots from far, far away, as much as 10 metres.
On the other side, Magdeburg have been constantly put under pressure here, as they are surely facing a tough challenge. They probably did not expect such a stern challenge from Khaleej. But the German side slowly got back, used a 4:0 run to turn the tide and even got some help from the Saudi side. Wing Hassan Al Turaiki saw the red card for endangering an opponent. At the same time, goalkeeper Karim Hendawy, who saved three shots until the 15th minute, needed to come out after being injured, only to return after five minutes. After 15 minutes, Magdeburg are leading 9:7, but this is far from over.
18:18 AST Full-time: lL-Ahly SC vs SL Benfica 29:28 (12:13)
This has been an outstanding game, with plenty of twists and turns, with a fluid situation that kept everybody glued to their seats. Benfica led by as many as three goals in the second half, but Al-Ahly SC never backed down and tried whatever was possible to cut the gap. And they even took the lead in the 53rd minute, sending their fans into raptures. With Benfica down two men – Ole Rahmel and Alexis Borges – due to red cards, the Portuguese side really struggled. Especially in defence, where they found it difficult to contain the full force of the Egyptian side's attack.
And when Jonas Kallman, the 41-year-old left wing from Benfica missed the final shot of the game, with two seconds to go, Al-Ahly SC secured the 29:28 win, sending the arena into raptures. It was an amazing win, a superb performance from the Egyptian team, who really delivered a masterclass performance to seal their semi-finals berth, where they will be facing SC Magdeburg or Khaleej. 
The `hummel Player of the Match` award went to Al-Ahly's Ahmed Nasr Allah.
Final standings Group B: 1. Al-Ahly SC 4p (65-58), 2. SL Benfica 2p (67-56), 3. Mudhar 0p (57-75)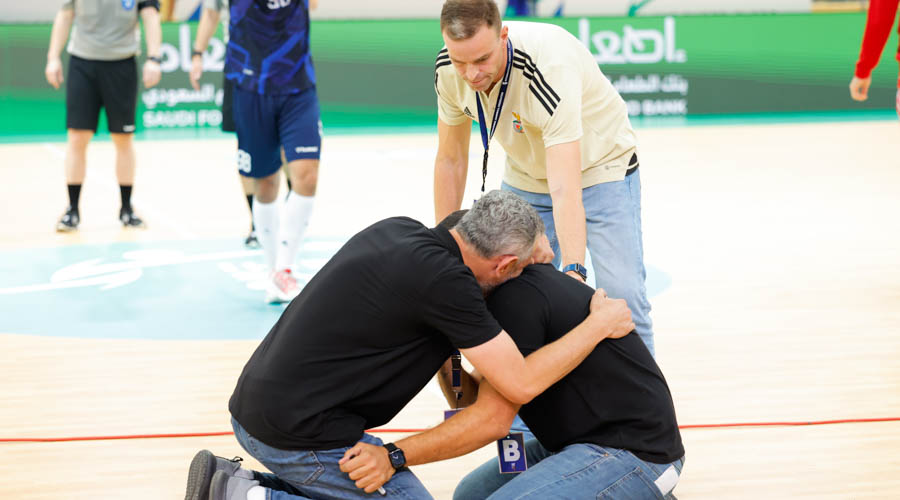 17:57 AST Crunch minutes to follow for Al-Ahly SC and Benfica
Petar Djordjic has been running the show for Benfica, scoring seven goals in the first 34 minutes, nearly half of the Portuguese side's goals in this match. Three of those goals were crucial, coming in the minutes when Benfica really had trouble scoring. He was also seconded by line player Paulo Moreno, a superb force who Al-Ahly SC could not tame. Still, the Egyptian side did not back down even when they were three goals down, energised by the outstanding support from their fans, managing to cut down Benfica's lead to a single goal, 19:18, with 20 minutes to go.
What Al-Ahly SC really need in these final minutes of the game is some contribution from their goalkeepers, who only saved five shots from the 26 they faced, for a saving efficiency of 19%. It is too little, and Benfica are not exactly an attacking powerhouse in this match, where they had been seriously lacking impetus, going for a stint of 11 minutes without a goal. With 15 minutes to go, it is still anyone's game, as Benfica are now up only 21:20.
17:23 AST Half-time: Al-Ahly SC vs SL Benfica 12:13
It has been getting harder and harder for Benfica to score, as their attack simply lacked the firepower to surprise Al-Ahly SC, constantly failing to score. And the Egyptian side definitely took advantage of it, amping up their defence and constantly frustrating Benfica's top scorers, like backs Petar Djordjic and Demis Grigoras. On the back of this run, Ahly scored four unanswered goals in a row to turn the game on its head and prevent their Portuguese opponents from scoring for 11 minutes and 10 seconds. Yet two goals in quick succession helped Benfica wrestle back the lead, only for a penalty from Raul Nantes to be saved by Sergey Hernandez, the second of the game for the Spanish goalkeeper.
It was a total collapse for Benfica, who showed signs of weakness in the match against Mudhar, but this is totally a different situation, where the Portuguese side need to seal at least a draw to progress to the semi-finals. The break could not come early enough for Chema Rodriguez, whose side has totally failed in attack, turning the ball over seven times. But the main issue for Benfica was, once again, their discipline. They conceded seven suspensions, with Tadej Kljun and Alexis Borges each suspended twice.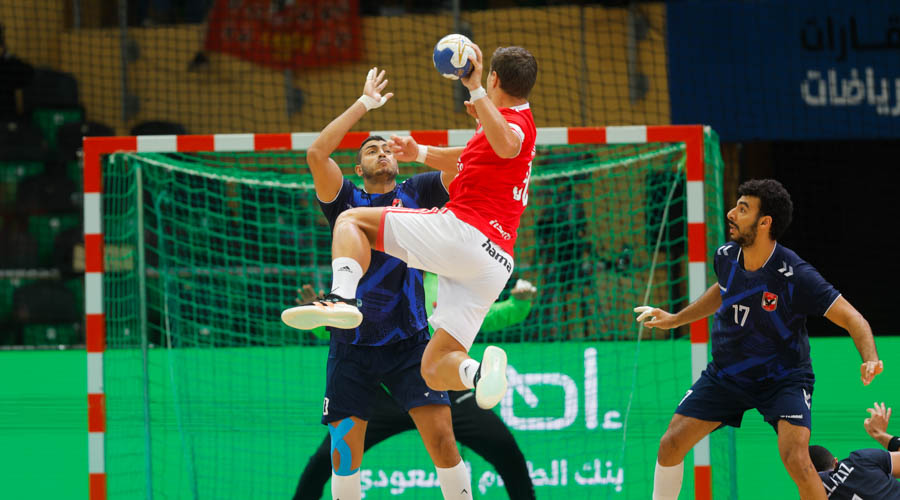 17:04 AST Strong Ahly challenge Benfica
Yesterday, SL Benfica started the match Mudhar quite slowly and had their share of issues in the first 20 minutes. Coach Chema Rodriguez knew that the Portuguese side must not repeat the same thing in the game against Al-Ahly SC, a team much more well-versed and experienced, and they threw off in style, taking a 6:3 lead after nine minutes. But, once again, their main issue was the discipline, conceding three suspensions in the first eight minutes, basically playing without a player on the court for six minutes. What worked better was Serbian left back Petar Djordjic, who had already scored two goals in 10 minutes, after failing to put his name on the scoresheet at all against Mudhar.
But on the back of that good start, Benfica still left a small door open for Al-Ahly SC to stay close. Buoyed by their fans, which have been nothing short of amazing since the start of the match, the Egyptian side had three goals from Omar Ali Daghroug to cut the gap to only one goal, 8:7, after 15 minutes. Ahly are definitely improving in defence, so this game is anyone's now.
15:55 AST Full-time: Barça vs Esperance de Tunis 37:24 (18:12)
Barça have not gone full throttle in this game, saving some energy for the semi-final against Kielce. Because with their second win in the 2022 IHF Men's Super Globe, Barça have qualified for the semi-finals, where last season's EHF Champions League Men's finalists will be facing off again. Until then, though, Barça have controlled the match against Esperance and have really thrived on the fast breaks, where the Spanish powerhouse scored 12 of their 37 goals, as 12 out of their 14 outfield players scored at least one goal, with back Jonathan Carlsbogard and line player Artur Parera Ibanez being the only ones who failed to score. But that big amount of fast breaks could not have been possible without the saves of Gonzalo Perez de Vargas, who played throughout the entire match and ended the game with 23 saves for a 52% saving efficiency. For his antics, Perez de Vargas was also named the `hummel Player of the Match`.
Esperance had little chance to save something from this match, as the Tunisian side lacked the firepower in attack and the speed in defence to counter Barça's excellent fast breaks. But it will be a learning experience for the Tunisian side, where Abdelhak Ben Salah shined, scoring seven goals and dishing one assist, as their 37:24 loss will now see them head to the Placement Round 5/8.
Final standings Group D: 1. Barça 4p (87:42), 2. Esperance de Tunis 2p (70-58), 3. Club Ministros 0p (39:96)
15:38 AST Barça cruise to win
The six-goal gap from the break just ballooned to 11 goals after 10 minutes of the second half, as Barça are impossible to stop on fast breaks. They scored eight goals in quick succession, with Esperance mustering only three, as Perez de Vargas ran the show, improving his overall tally of saves to 17, which amounts to 50% saving efficiency. French pair Ludovic Fabgregas and Timothey N'Guessan combined for 13 goals so far, as Barça are cruising to a 30:17 win with 15 minutes to go.
We are preparing for a European showdown in the semi-final between Barça and Lomza Industria Kielce, as the two sides will win their groups.
15:04 AST Half-time: Barça vs Esperance de Tunis 18:12
Down 12:5, Esperance called a timeout, but it did not deter Barça. The Spanish powerhouse might have expected a more difficult game than this, but they made it easy, scoring plenty of goals via fast breaks or fast throw-offs, while goalkeeper Gonzalo Perez de Vargas had nine saves for a 45% saving efficiency. Barça always give this impression of a well-oiled machine. They constantly dominate their opponents and have so many different ways of scoring at their disposal, so it is almost impossible to stop them.
In the previous two matches played by Esperance against Barça, they lost 24:42 in 2017 and 23:37 in 2014. The gap might just be around that mark this time also if the Spanish side deploy the same game in the second half. They have scored 18 goals in the first half without even trying to set a new record like they did in the previous match against Club Ministros, when they had 50 goals in a single game. More importantly, Antonio Carlos Ortega completely changed his squad after 15 minutes, giving all players a rest.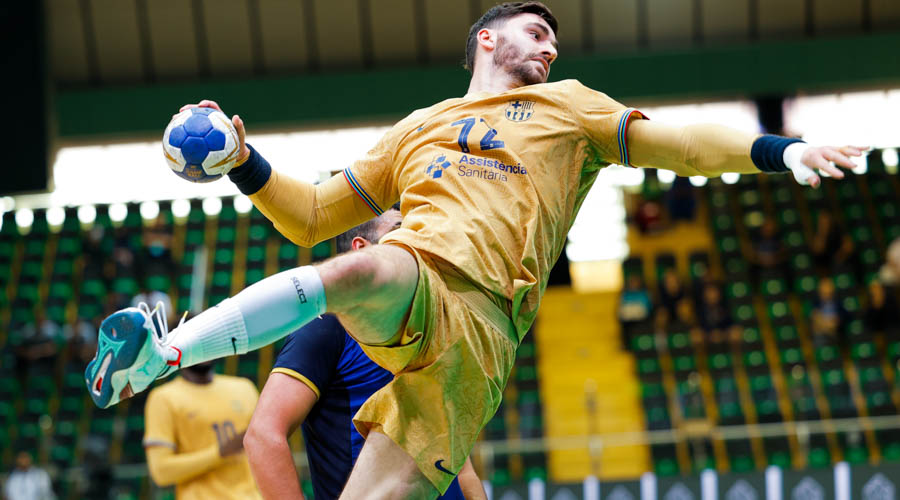 14:46 AST Strong start for Barça, who aim for a new semi-final
Barça needed over two minutes to score their first goal, but when they got going, the reigning EHF Champions League Men winners were impossible to stop. It will be difficult for non-European teams to find a solution against the fast throw-offs made by Barça or Kielce. It was exactly the same recipe in this match, where Barça's high-octane game really hampered Esperance. In the first nine minutes, the Spanish side scored seven times, with Timothey N'Guessan and Aitor Arino combining for six goals, with the other goal scored by Ludovic Fabregas.
It is very difficult to cope with the pressure mounted by Barça, and Esperance knew that this would be a tough game. After scoring through their wings yesterday against Club Ministros, they are now relying too much on centre back Abdelhak Ben Salah, who had three of his team's first four goals. After 15 minutes, the Spanish side is cruising in this match, taking an 11:4 lead.
13:44 AST Full-time: Handebol Taubaté vs Lomza Industria Kielce 30:39 (16:18)
In the end, the fast breaks and Kielce's penchant for scoring easy goals after breaking the opponent's attack really turned the game around and sealed their win. The Polish side stopped Taubaté in their tracks for some minutes, with the Brazilian side failing to score for four minutes and 31 seconds. That was the moment when Kielce totally used the full strength, creating a 4:0 unanswered run that sealed the win. Only two of Kielce's outfield players – wings Miguel Sanchez Migallon and Szymon Wiaderny did not score a goal, as this was a well-rounded performance for the Polish side, albeit a little scrappy in defence.
Goalkeeper Andreas Wolff, the Player of the Match, was also nothing short of superb in the match, saving 17 shots, including three penalties, for a 42.5% saving efficiency, which bodes well for him before the semi-final match against either Barca or Esperance de Tunis. Because Kielce are now the first team to qualify for the semi-finals of the 2022 IHF Men's Super Globe after taking two wins in the group. With a win against Al-Kuwait SC and one loss against Kielce, Taubaté finished second and will head to the Placement Round 5/8, where they will try to tie their best-ever performance in the competition.
Final standing Group C: 1. Lomza Industria Kielce 4p (86-56), 2. Handebol Taubaté 2p (62-67), 3. Al-Kuwait SC 0p (54-79)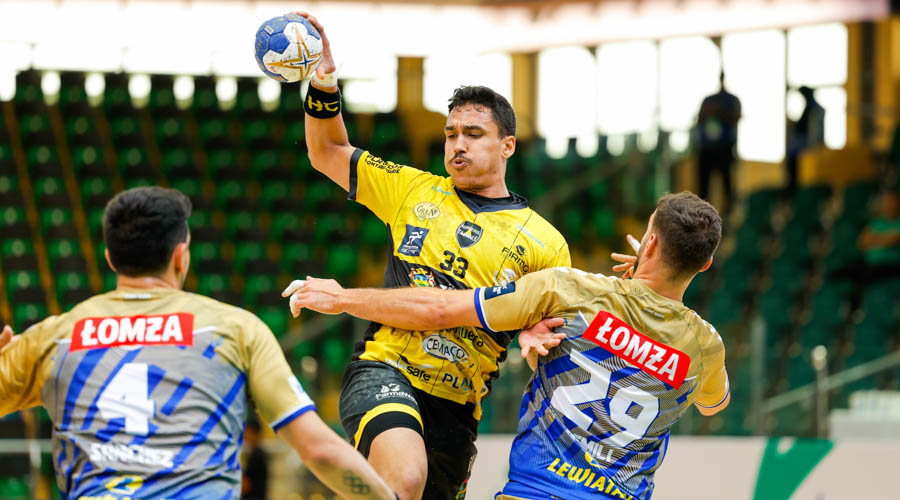 13:20 AST Kielce still control the match
Taubaté were forced to call a timeout less than five minutes into the second half after Kielce restarted the match with a 4:1 run. It prompted a change of defence, from 6-0 to 5-1, which was swiftly countered by Kielce deploying a seven-on-six attack, as Talant Dujshebaev wanted nothing to do with a comeback from the Brazilian side. As we previously mentioned, the sheer depth of Kielce will probably be too much for Taubaté. Still, the South American team has really done an excellent job until this point in the game, with some flawless transitions and a fast play.
But the lack of experience can only get you so far. Yet this game might still throw a surprise or two. Dujshebaev is totally relentless on the bench, as Taubaté cut the gap to only two goals, 24:22, with 20 minutes to go. Whether Kielce are coasting and trying to save energy for Saturday's game, or they simply are challenged by Taubaté, it is still to be seen. With 15 minutes to go, Kielce are leading 28:24 and are heading to the semi-finals.
12:49 AST Half-time: Handebol Taubaté vs Lomza Industrie Kilece 16:18
Alex Dujshebaev led the line for Kielce with five goals, and all five were scored in the first part of the first half when the Polish side struggled to get a grip on the match. But coach Talant Dujshebaev has so many players at his disposal that the sheer depth of Kielce is going to be decisive in this match. They have been scoring easily after a mediocre start and have already thrown 18 goals in the game. But Taubaté are simply not backing down.
The Brazilian side, who need a win to qualify for the semi-finals, have been seriously applying pressure on Kielce, as the Polish powerhouse could not improve their gap to more than three goals in the game. Taubaté's Maik Ferreira dos Santos has kept his team in the game with seven saves. But what will happen in the second half?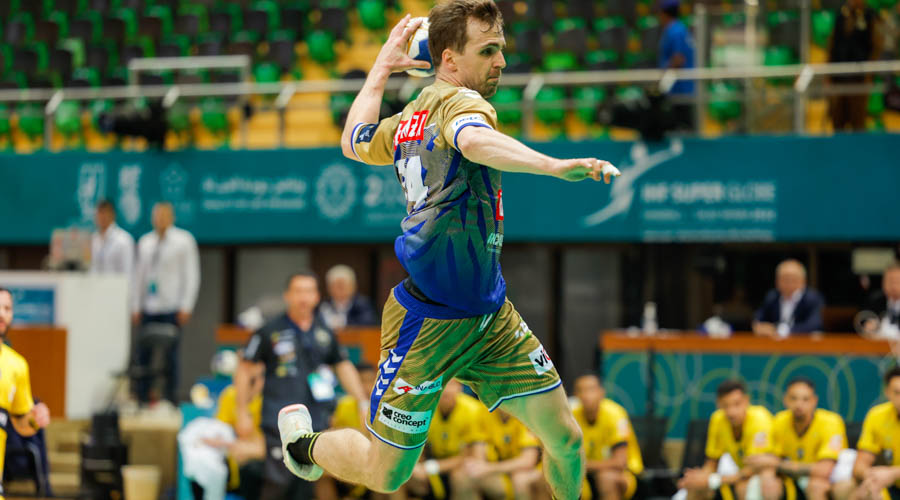 12:34 AST Back and forth for Kielce
Taubaté have started the game brightly, taking an early 3:1 lead, as Kielce's defence failed to really stop the Brazilian side. But when goalkeeper Andreas Wolff, who made only a cameo in the first match yesterday, started to get going, Kielce were in full stride. The Polish side used a 3:0 run to turn the game on its head, as the experienced German goalkeeper saved four shots, boosting his saving efficiency to 57%. Yet the Brazilian side still stayed close, with four players scoring two goals each.
But Kielce are the more experienced side and are starting to control the game. Their steals in crucial moments of the match enabled them to take the lead and even open a two-goal lead. But after 15 minutes, Taubaté are still in the game, with Kielce's lead being the slimmest, 10:9.
11:30 AST What's going on in the standings?
So here we are, after two days of the competition. Only the top two teams from each group will proceed to the next phase of the 2022 IHF Men's Super Globe, with the goal difference deciding in case of a draw. Therefore, the first-placed teams have the advantage in case of a draw, as they have a better goal difference after their first match.
Standings
Group A: 1. SC Magdeburg 2p (+18), 2. Khaleej 2p (+14), 3. Sydney-Uni 0p (-32)
Group B: 1. SL Benfica 2p (+12), 2. Al-Ahly SC 2p (+6), 3. Mudhar 0p (-18)
Group C: 1. Lomza Industria Kielce 2p (+21), 2. Handebol Taubaté 2p (+4), 3. Al-Kuwait SC 0p (-25)
Group D: 1. Barca 2p (+32), 2. Esperance de Tunis 2p (+25), 3. Club Ministros 0p (-57)
10:30 AST Ministros, true pioneers
Club Ministros are the first Mexican team to ever play at the IHF Men's Super Globe, so we decided it would be interesting to find out more about them. They do not have a league to play in; all the players are amateurs, but they enjoy handball and live their dream in this competition. Find out more about them here.
09:30 AST Surprising leaders in individual standings
Mudhar's Mohab Khallaf is the top scorer of the competition so far, with 13 goals in two matches, followed by Al-Kuwait's Angel Hernandez and Ali Saleh and Barca's Pablo Urdagarin, who have both scored 12 goals. Another Mudhar player, Amine Bannour, is the only other player who has over 10 goals. Yet, as his productivity dropped, the Tunisian right back only had one goal against Benfica on Wednesday.
In the goalkeeping standings, Roberto Domenech is still leading with 22 saves and a 55% saving efficiency, followed by Kielce's Mateusz Kornecki, who has 18 saves and a 41.8% saving efficiency and Benfica's Sergey Hernandez, who saved 12 shots for a 42,.8% saving efficiency. Surprisingly, each three have only played once.
09:00 AST Here. We. Go.
This is a deciding day in the 2022 IHF Men's Super Globe, with the eight unbeaten teams facing off for a place in the semi-finals. There could be four European teams in the final weekend in Dammam, a feature that has never been achieved in the competition's history. All they need to do is to earn at least a draw today. For sure it will be a very, very interesting day.