Last day of 2022 IHF Men's Super Globe brings crunch final
23 Oct. 2022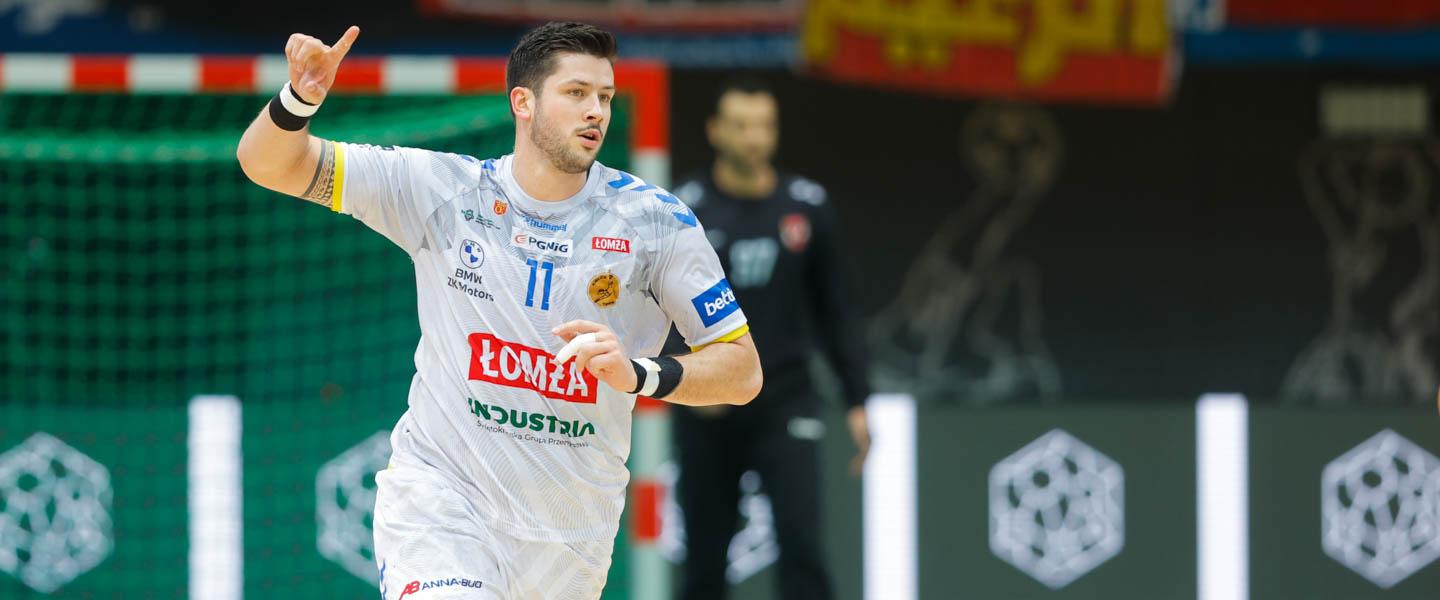 Live blog: The IHF Men`s Super Globe offered all spectators five days of the best entertainment and sport. Many a record was set, and history was made. Today was the best advertisement for handball. Especially the final was unrivalled in terms of drama: nerve-racking, exciting, magnificent, a game for the history books... One could find superlatives without end.
Barça made a comeback after being six goals down and equalised with five seconds left. The game was still tied after five minutes of extra time. In the end, however, SC Magdeburg managed to defend their title. 
Kielce ensure that the podium remains in European hands for another year. But nevertheless, Al-Ahly showed outstanding performance with their fourth place and advertised the sport outside of Europe. Sydney-Uni, Al-Kuwait, SL Benfica and Esperance de Tunis also finished the tournament with a win. 
Today's games:
09:30 AST 11/12 Placement match: Sydney-Uni (AUS) vs Club Ministros (MEX) 33:29 (16:15)
11:30 AST 9/10 Placement match: Mudhar (KSA) vs Al-Kuwait SC (KUW) 19:34 (5:20)
13:30 AST 7/8 Placement match: SL Benfica (POR) vs Taubate Handebol (BRA) 32:27 (17:18)
15:30 AST 5/6 Placement match: Khaleej (KSA) vs Esperance de Tunis (TUN) 30:31 (14:15)
18:00 AST Bronze-medal match: Al-Ahly SC (EGY) vs Lomza Industria Kielce (POL) 26:35 (13:16)
20:30 AST Final: SC Magdeburg (GER) vs Barça (ESP) 41:39 a.e.t. (35:35, 21:17)
22:27 AST Full-time: SC Magdeburg vs Barça 41:39 after extra time (35:35, 21:17)
SC MAGDEBURG HAVE DONE IT! THEY HAVE WON THE IHF MEN'S SUPER GLOBE FOR THE SECOND TIME IN A ROW! This has truly been a vintage classic, a superb match, one for the ages. But Magdeburg threw everything they had at it and clinched a superb 41:39 win, after extra time, in the highest-ever scoring final of the Super Globe. Credit to Barça for the fight they put up, but in the end, the missed penalties really mattered the most. Barça missed four of them, including one in the last minute of the extra time, when Nikola Portner blocked Hampus Wanne's shot.
It was truly a superb game, with 80 goals and a lot of tactical tweaks, like Barça using a 5-1 aggressive defence to mount a comeback, but in the end, it was Magdeburg who kept strong. Omar Ingi Magnusson was the top scorer of the match, with 13 goals, as the German side became only the third in history after Fuchse Berlin and Barça to retain their title.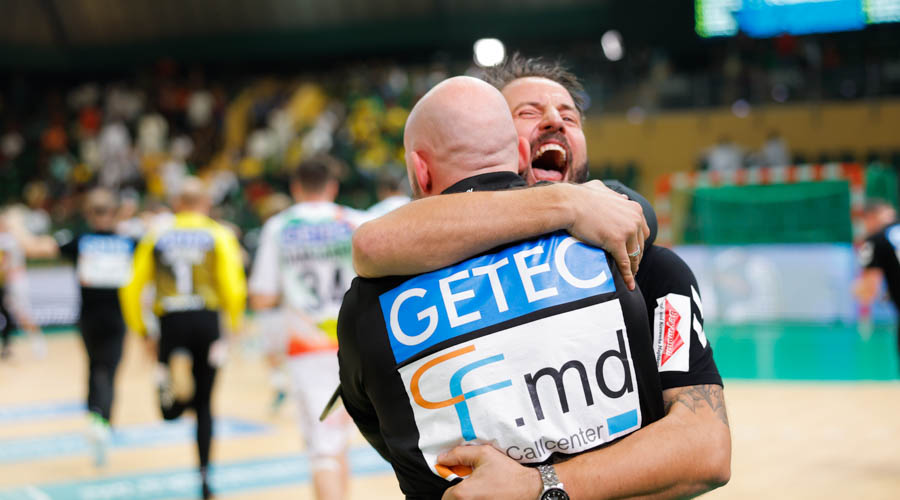 21:56 AST Full-time: SC Magdeburg vs Barça 35:35 (21:17)
It's over, and the winner is … EXTRA TIME!!! It has been a true roller-coaster of a match, with Magdeburg having a six-goal lead evaporate in just a matter of minutes, only for the German side to bounce back, get firmly in control of the match and concede the lead once again, when Hampus Wanne converted a penalty with four seconds left in the match, to tie the game, 35:35. The pivotal moment of the match looked to be in the 59th minute when Barça could have taken the lead. Still, Nikola Portner, who had a quiet second half, saved Aitor Arino's shot.
Once again, Omar Ingi Magnusson, the top goal scorer of the previous season in the Bundesliga and the EHF EURO 2022, has been worth his weight in gold, being the top scorer of the match, with 10 goals. But now we will have two halves of extra time of five minutes each. Good!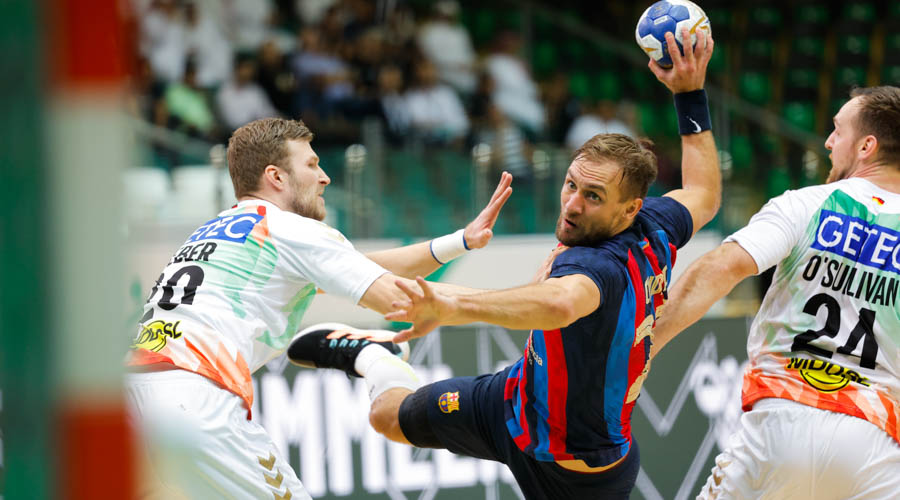 21:33 AST Can Barça complete a comeback?
It will be harder and harder for Barça to come back from this hole they dig themselves into. Gomez missed another penalty, the third for Barça in this game, but the issue is that they simply concede goals too easily, while Magdeburg have just enough answers for them in attack, constantly surprising the Barça defence. Antonio Carlos Ortega tried everything there is to try in this game. He took once again an early timeout after only eight minutes, when Magdeburg were leading 26:20. To concede 26 goals in the space of 38 minutes is something that not even the best of teams in the world, like Barça, cannot expose to, because it will be very difficult to match the output.
That timeout from Ortega did help Barça settle down and cut the gap to only two goals, 27:25, taking advantage of Magdeburg getting out of their groove a bit. But entering the last 17 minutes, the reigning champions are still ahead. Yet coach Bennet Wiegert felt the difficult moment and took a timeout himself, with Barça coming dangerously close.
21:04 AST Half-time: SC Magdeburg vs Barça 21:17
Barça are the more rested side here, having definitely managed the players' minutes throughout the first matches of the 2022 IHF Men's Super Globe, but SC Magdeburg have been the better side in the first 30 minutes. Sure, it did not help that Barça missed two penalties, with their best shooters, Aleix Gomez and Melvyn Richardson producing two unexpected misses. But their attack simply did not bring the needed level to this game, with Magdeburg's defence being superb, especially with Nikola Portner making 10 saves throughout the first half.
But Magdeburg's attack worked like a well-oiled machine, with only seven players on the scoresheet, with right back Omar Ingi Magnusson and right wing Daniel Pettersson combined for 11 goals, with the latter scoring six times. It is not any day you see Barça concede so many goals in a single half, 21 to be precise, including an in-flight to finish off the half, so what Magdeburg pulled out was really impressive. But can they do it for 30 minutes more? If so, they will do the impossible and beat Barça twice in two finals of the Super Globe.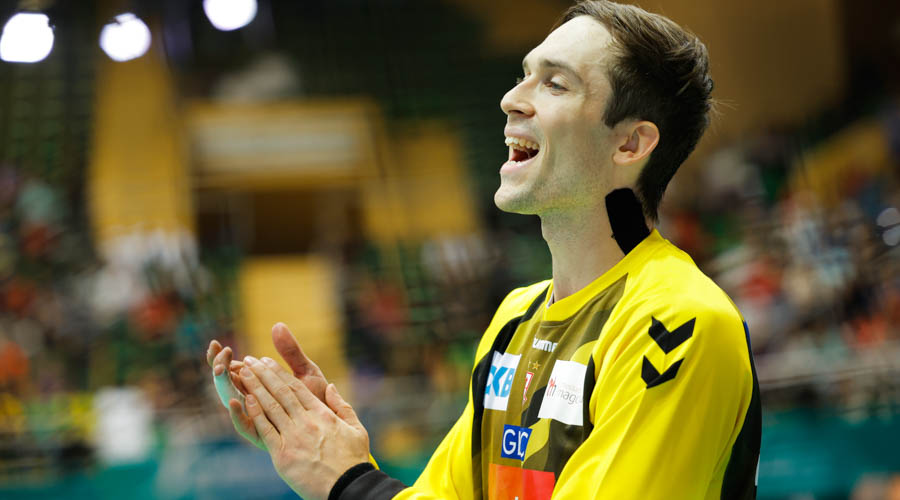 20:46 AST Barça start slow, as Magdeburg deliver excellent peformance
This final starts having shades of the previous one, from the 2021 edition of the IHF Men's Super Globe when Magdeburg took a 33:28 win against Barca. The Spanish side has definitely not been put in this position so far this season in all competitions, so finding themselves down 8:4 after only eight minutes prompted Antonio Carlos Ortega to take a timeout. So, where should he start? First of all, right back Omar Ingi Magnusson and right wing Daniel Pettersson both scored three goals. Goalkeeper Nikola Portner finally turned up in style, saving five shots for a 57% saving efficiency. And Barça?
Well, after their timeout, things have been getting better and better, with Magdeburg scoring a single goal in the next five minutes, as Barça took a 4:1 run to cut the gap to a single goal, 9:8, after 14 minutes. One thing that has been working really good was right back Dika Mem, who has been excellent and scored all three shots he tried. But the Spanish side need more from their stars and especially from goalkeeper Gonzalo Perez de Vargas.
19:28 AST Full-time: Al-Ahly SC vs Lomza Industria Kielce 26:35
For the second time in as many editions played in the IHF Men's Super Globe, Lomza Industria Kielce finished third, earning the bronze medal, after a dominating display in the second half against Al-Ahly SC, with the Polish side taking a 36:25 win. It was the physical aspect and superior depth that decided the winner, but also Andreas Wolff's amazing saves – 11 for a 44% saving efficiency, including four penalties – that tilted the balance into Kielce's side. However, the superior experience was clear, despite the Polish side missing left wing Dylan Nahi, who got injured in the match against Barca.
Al-Ahly SC finished fourth in this tournament and also secured one huge win for them in the preliminary round against SL Benfica, which helped them seal a semi-final berth. It is not Ahly's best finish in the competition, which was the second place in 2007, but it sure feels like a success.
19:04 AST Al-Ahly SC stay close
The pace has definitely picked up in the first minutes of the second half, with the two teams trading blows, in a very, very fast match. In the first 15 minutes of this part of the game, the two sides combined for 14 goals, but there were plenty of misses and mistakes, which duly took something from both attacks. And were it not for Kielce's goalkeeper, Andreas Wolff, who saved two penalties, the Polish champions might have been in an even tougher spot. But right now, they are hanging by the skin of their teeth, boasting a 23:20 lead with 15 minutes to go.
Wolff has now saved three penalties from the seven he faced, taking his overall tally in the competition to seven, which is quite an amazing achievement. Kielce will need more of his antics, especially as Al-Ahly SC are starting to fade a bit, making mistake after mistake.
18:34 AST Half-time: Al-Ahly SC vs Lomza Industria Kielce 13:16
Kielce might have thought they would have an easier game, especially as their physical level is better than Ahly, but that was not the case until now. After a very strong start in attack, the Polish powerhouse has faltered, and coach Talant Dujshebaev has been fuming on the sidelines about the large number of missed chances from his side. Mohamed Ahmed, Ahly's goalkeeper, has saved seven shots, frustrating Kielce at times, who had eight players scoring at least one goal.
But Al-Ahly faltered yesterday in the second half against Magdeburg. This time around, they have been using left back Raul Nantes more, one of the players who featured the least amount of time in this competition, a clear signal that they want fresher legs in the second half. Their attack has been well-rounded, but they still made four turnovers, a small amount seeing the challenge. At the break, Kielce, who also finished third in the 2016 IHF Men's Super Globe, are leading by only three goals, 16:13.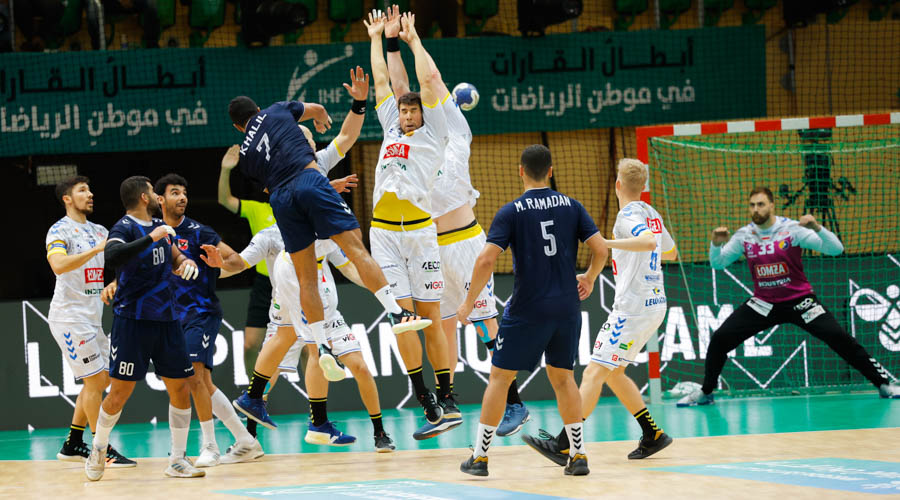 18:16 AST Ahly keeping tabs on Kielce
After they totally disappeared in attack yesterday against Barca, Kielce have started this game brightly by scoring five goals in the first five minutes, as right back Nedim Remili entered into the groove and scored three times – impossible to stop. Their fast breaks have also been impressive, as Kielce are poised to prove that yesterday's loss against Barca was just an accident. But how are Al-Ahly SC coping? Well, this is probably the toughest opponent they faced, with the best credentials.
And they fared just well, keeping close to Kielce, and staying true to their same tactics, which worked against SL Benfica in the preliminary round. Ahly continuously found ways to score, as Omar Khaled Hassan and Mostafa Khalil each scored twice. With 15 minutes gone, Kielce are leading 8:7, with their attacking prowess missing a bit after they started turning the ball over. Yet they were kept alive by some saves from Andreas Wolff, who also stopped a penalty.
16:56 AST Full-time: Khaleej vs Esperance de Tunis 30:31 (14:15)
What a dramatic end! The team with the larger experience and depth, tested through thick and thin in the past months, prevailed. Back at the IHF Men's Super Globe for the first time since 2017, Esperance de Tunis secured a 31:30 win against Khaleej and sealed the fifth place in the competition, tying their best-ever performance, which was already clinched in 2014 and 2016. The African side enjoyed the better start and were wary of the challenge. Therefore they even managed to stop the challenge of Khaleej even without Islem Jbeli, who saw a red card in the 19th minute.
The Saudi side fought bravely but lost their second match in the competition, but were one of the plucky underdogs that really challenged their opponents all the way, irrespective of their names. The `hummel Player of the Match`, Hassan Kaddah, delivered another vintage performance, the best-ever single performance in the competition, with 16 goals, virtually taking the crown of the top scorer of the competition, leapfrogging Kuwait's Ali Saleh by five goals. This was also Kaddah's third game with at least 10 goals scored, making him a huge, huge prospect for the future of handball, as he will head to Lomza Industria Kielce next summer. But Tarak Jallouz's final goal, which came in the final second, helped Esperance seal the win.
16:41 AST Crunch time to decide fifth place
Kaddah has been handed a bit of rest at the start of the second half to be as fresh as possible in the game's final minutes, with Khaleej's coach, Dimitris Dimitroulias anticipating a tight match against Esperance. The outcome of this strategy was that Esperance managed to create a three-goal lead, 19:16, after 38 minutes, with the two sides failing to bring the same creativity and attacking impetus in the first part of the second half, with their energy resources being reduced. Of course, Esperance know Kaddah well, as Khaleej's player has been featuring for Zamalek this year against them, so they know what to expect.
With 15 minutes to go in the match, Esperance are still leading, 20:19, as they did throughout the whole game, but Khaleej has that amazing support from the stands that can really count in difficult moments. Hussain Alsayyad, the Bahraini centre back, has also been featuring more and more in this game for Khaleej, so expect some fiery last 15 minutes.
16:09 AST Half-time: Khaleej vs Esperance de Tunis 14:15
Kaddah is also on penalty duty today, chasing the top goal scorer award, where he is now on 36 goals, four less than Al-Kuwait's Ali Saleh. He has been the driving force behind Khaleej's attack, with seven goals, albeit the Saudi side still needs more from other players to really contend against Esperance. They got a break when Islem Jbeli, a crucial part of Esperance's defence, got a red card for a foul against Nemanja Mladenovic. This was when Khaleej got going and cut the gap, basically making the game one on a knife's edge. At the break, it is Esperance who are in front, 15:14, but by the slightest of margins.
It would be prudent to say that Khaleej needs input from other players, but this edition of the Super Globe was clearly one in which Kaddah shined, so he might be unstoppable once again, irrespective of how hard it will be for him to play for 60 minutes. He got some cramps in the match against Magdeburg, so that was a question mark.
15:47 AST Esperance frustrate Khaleej's attack
It was not the best of starts for Khaleej, who has seen their attack dwindling, with their top scorer in the competition, Hassan Kaddah, frustrated by Esperance's defence. In the first seven minutes, Kaddah scored only once from four shots, improving his overall tally in the competition to 30 goals in four matches, but it was far from enough for what Khaleej needed to aim to end the 2022 IHF Men's Super Globe on a high. Therefore, it was no surprise that Esperance, which boasted a very, very tough defence, took a 7:3 lead after nine minutes, applying serious pressure on the Saudi side.
Back Bilel Abdelli was in superb form for the Tunisian side, scoring four goals for an excellent 100% efficiency in his best game so far in Dammam. Khaleej definitely need more in attack, as their attack simply had not produced the required level. After 15 minutes, Esperance are leading, 11:7, and look to be in pole position to finish on the fifth place.
14:54 AST Full-time: SL Benefica vs Handebol Taubaté 32:27 (17:18)
What Benfica did in the second half was to beef up their defence and limit Taubaté's attack throughout the whole 30 minutes without their trademark suspensions, which were limited to only two throughout the match. And just like that, Benfica took the lead and never looked back, with a 4:0 run that prevented Taubaté from scoring for eight minutes and 19 seconds. It was also an excellent game from goalkeeper Sergey Hernandez, the `hummel Player of the Match`, who turned the tide of the match with 16 saves for a 57% saving efficiency, coming back to his old self after two off matches against Khaleej and Al-Ahly SC when Benfica really suffered in the goalkeeping department.
The Portuguese side really used all the experience and every skill they had in the arsenal to finish the 2022 IHF Men's Super Globe on a high. Taubaté threw everything they had at the game, as Oliveira took two timeouts but failed to get going, scoring only nine times in the second half, which was their undoing. In the end, Benfica finished with a 10:4 run that turned the game around and helped them seal the seventh place at the IHF Men's Super Globe.
On the other side, Taubaté finished eighth, the worst-ever finish from a Brazilian side in the competition, after conceding two losses in the Placement Round 5/8. However, they looked like a skilled team, with plenty of talent on display, producing great handball and creating problems for all the teams they faced, including Lomza Industria Kielce in the preliminary round. While the eighth place might be harsh, Taubaté really proved they belong here with some great handball.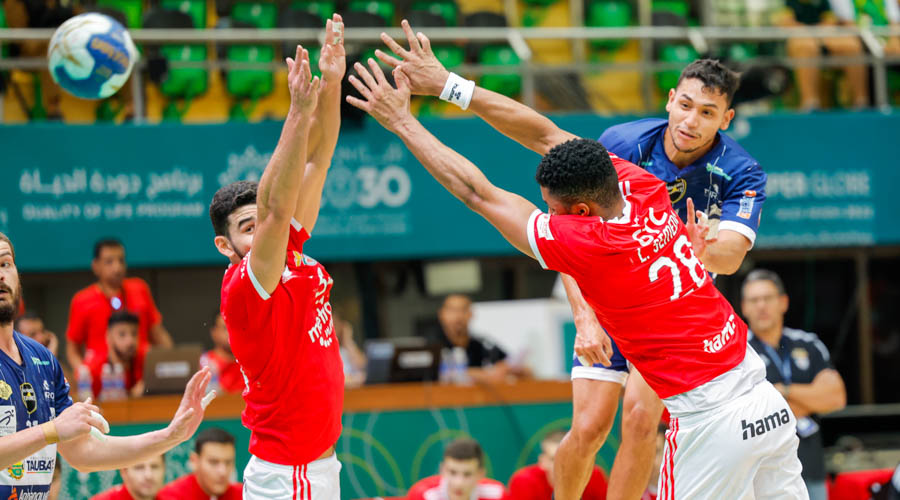 14:34 AST All or nothing in the last 15 minutes
If Taubate win this match, it will probably be their biggest-ever win in terms of the opponent, so they are really pushing hard and going all the way. They displayed once again impressive depth, with coach Marcus Oliveira changing his players constantly because yesterday's match against Esperance de Tunis went all the way to penalties, so those legs might be tired. But Taubate really held their advantage against Benfica, who missed chance after chance to make a comeback.
The Brazilian squad also displayed incredible strength yesterday to cut into Esperance's six-goal lead in the second half. Therefore everything is on the table. Whether they make it or not, we will find out in the next 15 minutes, but right now, Taubate are leading, 23:22, despite scoring only five goals in the second half, with the rhythm of the match slowing down.
14:04 AST Half-time: SL Benfica vs Handebol Taubaté 17:18
Benfica have definitely not been at their best in this edition of the IHF Men's Super Globe, as they are heading to their third consecutive loss. With many fringe players in the squad, set to the court by coach Chema Rodriguez, the Portuguese side could not stop Taubate in defence, as the Brazilian side produced a superb attacking performance, scoring 18 goals in the first half. Missing Djordjic is clearly hurting Benfica, but it was a conscious decision made by Rodriguez. However, Benfica did prevent Taubate from scoring in the last four minutes and 46 seconds of the first half, using a 2:0 run to cut the gap to a single goal at the break, 18:17.
If Benfica lose, it will be only the sixth time when a European side conceded a loss against a non-European team in the IHF Men's Super Globe. And three of those losses could be Benfica's after the EHF European League Men reigning champions have previously lost against Al-Ahly SC and Khaleej in the last three days in Dammam.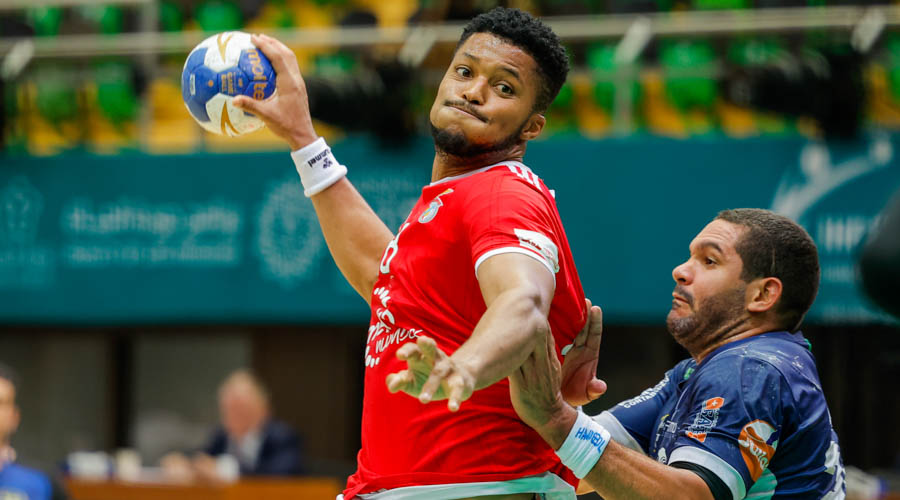 13:46 AST Benfica get off slowly but bounce back
SL Benfica are clearly reeling after their last two losses against Al-Ahly SC and Khaleej and are in sure trouble, as Taubate started very, very strong, with a 5:2 run, with Leandro Alves Monte da Silva scoring three times for the Brazilian side in only four minutes, with Benfica's defence unable to stop him. The Portuguese side has been slowly getting back into the game, but their attack has been erratic, while their defence conceded too many goals.
Still, this is an experienced European side, which can always bounce back, and they were close to tying the game, but their top scorer in the competition, right wing Ole Rahmel, missed a shot. Benfica are also without another stalwart, left back Petar Djordjic, as their attacking prowess has taken a hit. After 15 minutes, the two teams are tied, 10:10, with Benfica mounting a comeback.
13:10 AST New records at the 2022 IHF Men's Super Globe
The average number of goals scored in a game in the 2022 IHF Men's Super Globe is the highest ever so far (63.75), beating the previous two best performances – 61.8 in 2011 and 60.6 per game in 2002. We also have a new record for the highest-scoring game for a single player in the competition, courtesy of Ali Saleh.
Ali Saleh (Al-Kuwait SC) – 16 vs Mudhar 2022
Hassan Kaddah (Khaleej) – 14 vs SL Benfica 2022
Amine Bannour (Mudhar) - 14 vs Sydney-Uni 2012
Amine Bannour (Mudhar) - 13 vs Metodista 2012
Amine Bannour (Al Sadd) - 13 vs Esperance 2014
Ahmed Elahmar (Zamalek) - 13 vs Al Sadd 2010
Anis Mahmoudi (Esperance) - 13 vs PSG 2016
Rafael Lobato (Taubate) - 12 vs Sydney-Uni 2016
Kiril Lazarov (Al Sadd) - 12 vs Al Sadd 2010
Kiril Lazarov (Al Sadd) - 12 vs Zamalek 2010
Kiril Lazarov (Al Sadd) - 12 vs Ciudad Real 2010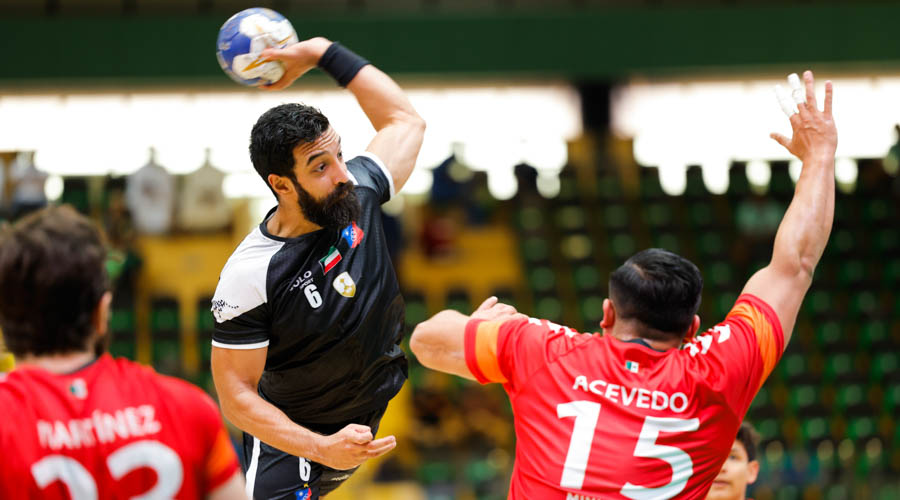 12:59 AST Full-time: Mudhar vs Al-Kuwait SC 19:34 (5:20)
History has been written this morning in the IHF Men's Super Globe, in Al-Kuwait SC's win against Mudhar. With the win already sealed in the first half, it was time for the Asian side to hand right wing Ali Saleh a chance to become the player with the highest number of goals scored in a single game in the competition. And he broke that record with two minutes to go in the match with his 15th goal, breaking the record tied yesterday by Hassan Kaddah and set by Mudhar's Amine Bannour in 2012 against Sydney-Uni. Saleh finished the game with 16 goals, an outstanding feature in Kuwait's 34:19 win.
Saleh is now the tournament's top scorer, with 40 goals, a feature that can virtually only be leapfrogged by Khaleej's Hassan Kaddah. With his 16 goals in the match against Mudhar, Saleh now holds an 11-goal advantage over Kaddah, but his performance is the best for a single player in the IHF Men's Super Globe since Tunisian right back Amine Bannour scored 42 goals in 2014 for Mudhar.
Al-Kuwait SC have now finished ninth in the 2022 IHF Men's Super Globe, a good achievement, seeing that this is the first edition they took part in. Winning two games is also a great achievement for the side, which will try to improve in the following years. On the other side, Mudhar, the reigning Saudi champions, will definitely be disappointed with their 10th place, with only one win in three matches. They lost against Benfica and Al-Ahly SC and took a single win, 29:26, against Sydney-Uni, only thanks to a 6:0 run to end the game.
12:36 AST Al-Kuwait SC cruising to the ninth place
To put into perspective just how much Mudhar failed to get their game going in the first half, they scored four goals in the second part of the game, one goal less than the entire first 30 minutes. Three of those goals were scored by right back Amine Bannour, who has been getting slowly back into form after scoring a single time from four shots in the first half. But their wake-up is too little, too late, as it looks impossible to mount a comeback from this position.
Indeed, Al-Kuwait SC are heading to a clear win, as they have thoroughly outplayed their opponents, especially via fast breaks, scoring seven goals after stopping Mudhar's attacks, with star Frankis Carol Marzo opening his account in the 38th minute. And Kuwait, leading 26:12 with 15 minutes to go, are doing all this without their stalwart right back Angel Hernandez, who has missed the past two matches.
12:03 AST Half-time: Mudhar vs Al-Kuwait SC 5:20
In the fifth minute, Mudhar tied the game, which looked like a very even contest. But they failed to score in the next 12 minutes and 16 seconds, enabling Al-Kuwait SC to take a 9:0 unanswered run – the largest one in the 2022 IHF Men's Super Globe – to power to a 12:3 lead, with their star, Frankis Carol Marzo, not even scoring a goal, instead dishing four assists to his teammates. Right win Ali Saleh also shined, scoring six goals, which enabled him to leapfrog Hassan Kaddah as the competition's top scorer, with 30 goals.
With goalkeeper Hasan Safar making 10 saves for Kuwait, for an outstanding 71% saving efficiency, the game has already got to the point of no return for Mudhar, as they are down 15 goals at the break, 20:5, scoring only two goals in the last 25 minutes of the first half. It has truly been a disappointing performance, with everything collapsing at the worst possible time for the Saudi side, who has been thoroughly outplayed in this match.
11:46 AST Perfect start for Al-Kuwait
This is certainly an important game for both sides, a proper Asian derby unfolding in the Dammam Sports Hall, in a game that will decide who finishes ninth and who finishes tenth in the 2022 IHF Men's Super Globe. Therefore, the pressure is on, as Mudhar, the host team, is definitely trying to give their fans a reason to celebrate. Yet that challenge looks big enough, as Al-Kuwait SC had the better start, using a 6:1 run to open a four-goal gap, 7:3, with four goals scored on fast breaks, as wings Ali Saleh and Saif Aladwani each scored two goals in the first eight minutes.
It prompted coach Zoran Kastratovic to call a timeout, as Mudhar's top scorers have lagged behind, with right back Amine Bannour missing his first two shots. Saleh continued his excellent outing in the Super Globe and improved his overall tally to 28 goals, one less than the top scorer, Hassan Kaddah, shaping up to be a contender for the podium of the top goal scorer standings. But, more importantly, his side, Al-Kuwait SC are ahead, 9:3, after 14 minutes, taking huge advantage of the mistakes made by Mudhar.
10:59 AST Full-time: Sydney-Uni vs Club Ministros 33:29 (16:15)
It was Sydney's turn to fail to score for five minutes and 58 seconds, with the Australian side totally losing the plot midway in the second half, as coach Christoph Friedrich Scholl was in dire need of calling a timeout until it was too late. In that span, Ministros used a 4:0 run to cut the gap to only two goals, 25:23, never looking in doubt at any time and overcoming the challenge of losing Avalos. However, after Scholl called the timeout, it was game over for Ministros. The lead immediately grew to six goals, 29:23, with nine minutes to go, as the Australian side finally used their own 4:0 run to decide the winner.
Line player Kai Dippe, who was named the `hummel Player of the Match`, and left wing Icario Gregorio were Sydney's top scorers, combining for 16 goals, taking advantage of Ministros' lack of experience was there on display when their comeback was cut short after a single timeout. Eventually, Sydney won their first match in the IHF Men's Super Globe since 2015, 33:29, breaking a run of 31 games without a win. It was also their second win in history in the competition, as the Australian side avoided the last place.
Therefore, we have the first confirmed part of the final standings, with Sydney-Uni finishing 11th, which is still their worst-ever finish in the competition. At the same time, Ministros, with their four lost matches, ended on the last place, the 12th in this competition.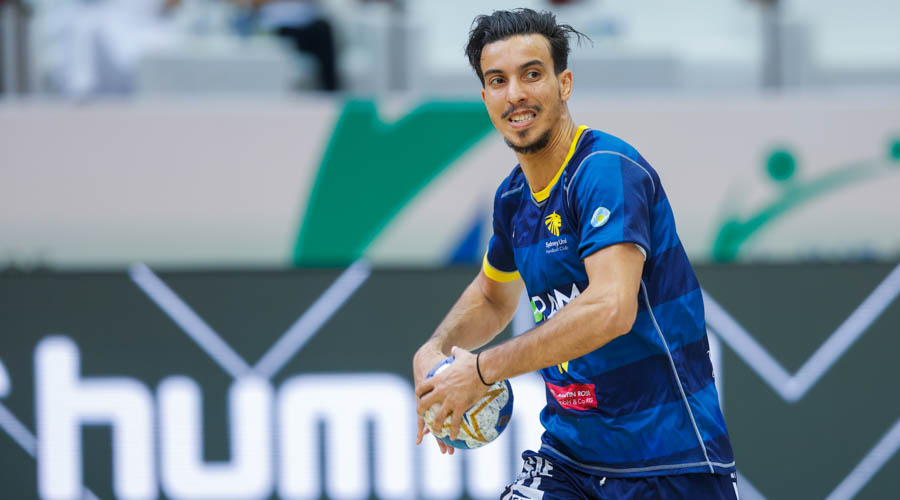 10:38 AST Sydney use strong start to dominate match
This could be the pivotal moment of the match, as Sydney-Uni have started excellently in defence and used a 6:2 run to throw off the second half and create a four-goal lead, 22:17. Three of those goals came via fast breaks, a testament to how good their defence worked, with two steals, converted immediately by left wing Icaro Gregorio. This start prompted an immediate timeout from Club Ministros, with the grip on the game slipping through their hands.
The timeout did not change anything, as Sydney-Uni prevented Ministros from scoring for six minutes and six seconds, as the gap widened even further. The Mexican side's lack of experience was clear in these moments, as well as the lack of solutions in the back line, with them failing to produce something in that department. Ministros also lost Luis Antonio Avalos Tamez, due to a direct red card, with the right wing being the team's top scorer, with five goals. It's Sydney's game to lose now, as they are leading 25:21 after 44 minutes.
10:03 AST Half-time: Sydney-Uni vs Club Ministros 16:15
The two teams have been going back and forth in this first half, but Sydney have taken the initiative in the last 12 minutes, with line player Kai Dippe being unstoppable, scoring six of the team's 12 goals in the first 26 minutes. But the Australian side had their share of trouble in attack, missing plenty of shots, as they failed to take advantage even of the moments when Ministros did not have all their players on the court due to suspensions.
This will probably be a game in which the depth will count a lot, with Sydney looking better in that department, as well in terms of experience at the IHF Men's Super Globe. Until that moment, the game is on a knife's edge after the first half, with Sydney taking a one-goal lead after left wing Lukas Eisenhuth scored their last two goals, 16:15.
09:47 AST Ministros enjoy a bright start
We do not have time to waste, so the last day's first game has already started, with Sydney-Uni facing Club Ministros. It took the Mexican five minutes and 48 seconds to score their first goal in the match. Still, they went on a 4:1 run after to take the lead, with some excellent play in attack, covered by three saves combined from Leonel Gloria and Eric Trejo Acevedo, including a penalty saved by the latter.
Remember, this game will decide the 11th and 12th places in the final standings, with the teams properly motivated to avoid the last place, as Sydney-Uni have finished on the last place in seven of their nine previous participations in the competition. This is totally another dimension from Ministros, who have been getting better and better as the tournament progressed and they find themselves in the lead after 15 minutes, 6:5, after missing a penalty of their own.
09:00 AST Kaddah and Barça's goalkeepers dominate standings
It has been a spectacular event, as we have previously told you, and it is time to review the best players so far. Top scorer? Well, it has been an excellent few days for left back Hassan Kaddah. He scored 29 goals in the first three matches for Khaleej, including a 14-goal outing on Saturday, against Benfica, tying the best-ever performance for a player in a single match. Kaddah has a five-goal lead ahead of Ali Saleh, Al Kuwait's wing, and an 11-goal lead ahead of Benfica's Petar Djordjic and Ole Rahmel, with the top goal scorer award clearly between the first two players.
What about the goalkeepers? No goalkeeper saved more shots than Barça's Gonzalo Perez de Vargas (41), with Taubate's Maik Ferreira dos Santos stopping 35 shots and Kielce's Mateusz Kornecki having 28 saves. Barça have two goalkeepers on the top of the saving efficiency, Robert Domenech (51%), who only played against Ministros, and Perez de Vargas (48%), as they have surely been excellent this time around.
08:30 AST 12 hours until the final!
Last year, Magdeburg took a 33:28 win against Barça in the final, but the Spanish team has been unplayable in this edition, comfortably winning all their three matches by a huge margin. Their win in the semi-final against Kielce, 39:28, was just a testament to their strength, as Magdeburg must be aware of their force.
Want to find out more about the six matches? Read our preview for the last day of the 2022 IHF Men's Super Globe.
08:00 AST Welcome to the final day of the 2022 IHF Men's Super Globe
The Dammam Sports Hall was such a lovely host for the 2022 IHF Men's Super Globe over the past week. Still, now it is time to focus on the last day of the competition, which will see six matches scheduled, starting at 09:30 AST with the Placement Match 11/12, and finishing with the big final between SC Magdeburg and Barça.
We will keep you updated on everything important on the final day. Therefore prepare for handball and enjoy the last games in this fantastic competition.