Time for revenge? Barça and Magdeburg lock horns once again with Super Globe on the line
23 Oct. 2022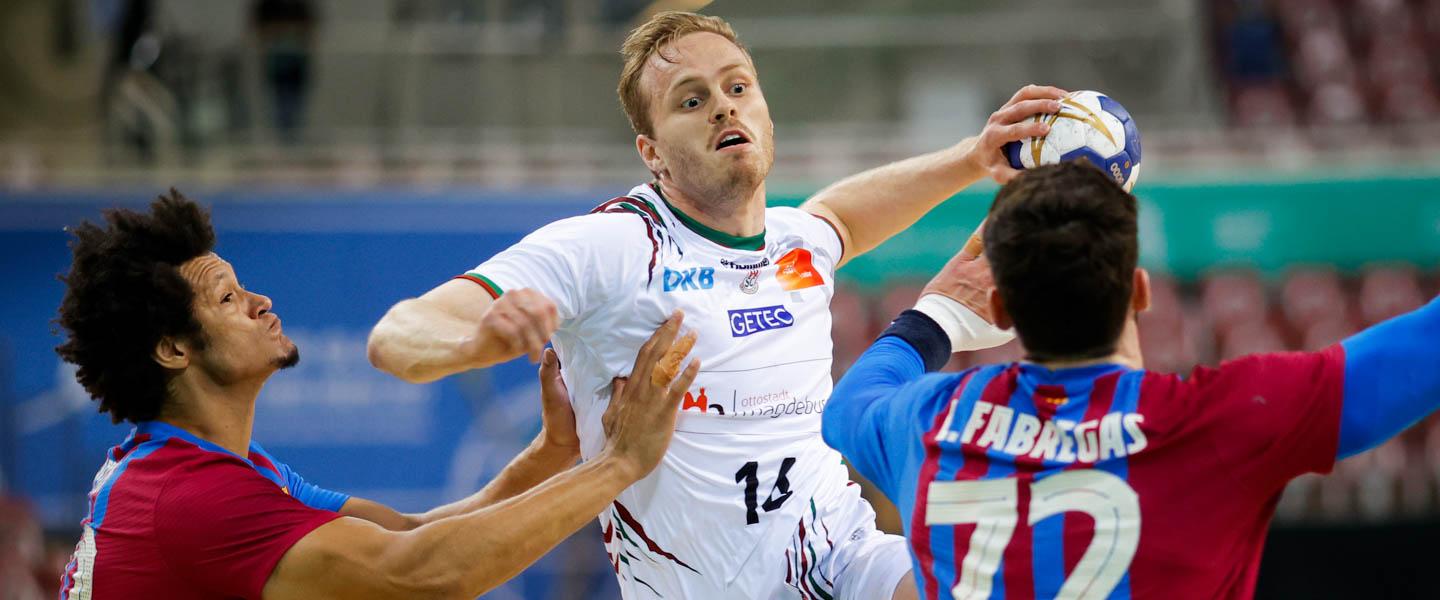 It was precisely one year and two weeks ago when SC Magdeburg produced one of the biggest upsets in the history of the IHF Men's Super Globe by taking a superb 33:28 win against Barça, the most decorated team in the history of the competition.
Back then, the Spanish powerhouse was just in the first few months of Antonio Carlos Ortega's reign, and the players were still trying to get acquainted with the mindset and philosophy of the new coach.
"We are a better team now than we were back then, simply because we had more time together, we got to know the coach better, and we just improved the chemistry and our game," says Gonzalo Perez de Vargas, Barça's goalkeeper and captain.
Perez de Vargas knows a thing or two about Barça, as he has been an integrant part of the team's success over the past eight years. He is also one of the most decorated players at the IHF Men's Super Globe, having won the trophy four times – in 2014, 2017, 2018 and 2019 – gunning now for the fifth trophy.
Barça's captain has also been the most consistent goalkeeper in this year's edition of the Super Globe, saving 41 shots in the three games he played for a 48.2% saving efficiency.
18 of those saves came in the semi-final against Kielce, which Barça won comfortably, 39:28, with Perez de Vargas making 10 saves in the first 12 minutes, finishing the game with six one-on-one saves.
His consistency over the past years has been nothing short of remarkable, being named the MVP of the EHF FINAL4 in 2021 and winning 45 trophies with the Spanish powerhouse in his career.
He can add one more on Sunday, when Barça take on Magdeburg, their nemesis from the previous edition, one of the few major international finals the reigning EHF Champions League Men winners have lost in the past decade.
"It will be a very, very difficult game because we are facing the team we lost against last season, and of course, that match is something that we want to forget and overcome. First, it was difficult, but now we are just ready for the challenge.
"We do not think a lot about it. We just want to win and add another trophy to our cabinet, which would be another amazing feature," Perez de Vargas adds.
Barça have been cruising in this year's Super Globe, winning at a record pace, with an average margin of winning with 18.6 goals per game. They have also set a new record for the number of goals scored in an international game in their win against Club Ministros, 50:18, and they simply are the best team in the competition, looking at the numbers.
Ortega's side has scored the highest number of goals, 126, conceded the lowest number, 69, and have been just a machine, impossible to stop, with the Spanish coach constantly finetuning his approach and handing players essential rest throughout the matches.
There is no surprise that Barça's best scorer in the 2022 IHF Men's Super Globe, Ludovic Fabregas, is only 11th in the top goal scorer standings, with 15 goals, 14 goals less than the leader, Khaleej's Hassan Kaddah.
But handball is still a sport played on the court, not in some statistical wonderland. Surprises might happen, like the one produced by Magdeburg one year ago, when Barça lost their first final in the Super Globe.
The German champions head into the final after two tough games, which they won only thanks to their depth and experience. First, they beat Khaleej in the preliminary round, 35:29 and followed up with a semi-final win against Al-Ahly SC, 36:28.
"We have faced two very difficult teams, two very strong teams, two very physical teams until this match. It was very hard, but we managed to win and qualify for our second final in a row," says Magdeburg's centre back, Christian O'Sullivan.
Indeed, Magdeburg are here for the second time in a row, with only two teams in history having previously achieved this, fellow German side Fuchse Berlin and Barça. But their energy levels are surely way lower than Barça, who managed to rotate the players nicely over this week, dominating their opponents clearly.
It is also the second time in history that two teams play back-to-back finals in the competition, after Fuchse and Barça met twice, in 2017 and 2018, with the Spanish powerhouse clinching two wins, 29:25 and 29:24.
"We are not thinking about what happened last year. It would be foolish of us to believe that; we are just going to have a bit of rest, see whom we face and prepare for the match," added O'Sullivan after Magdeburg's win, scheduled before the second semi-final, which saw Barça steamroll Kielce.
One thing is certain, though: a team from Germany or Spain will win this edition of the IHF Men's Super Globe, which is not a novelty, far from it. Until the 2022 IHF Men's Super Globe, 13 of the 14 titles were won by teams from the two European countries, with only Qatari side Al-Sadd breaking the norm in 2002.