Barça aim to avenge last edition's loss against Magdeburg
22 Oct. 2022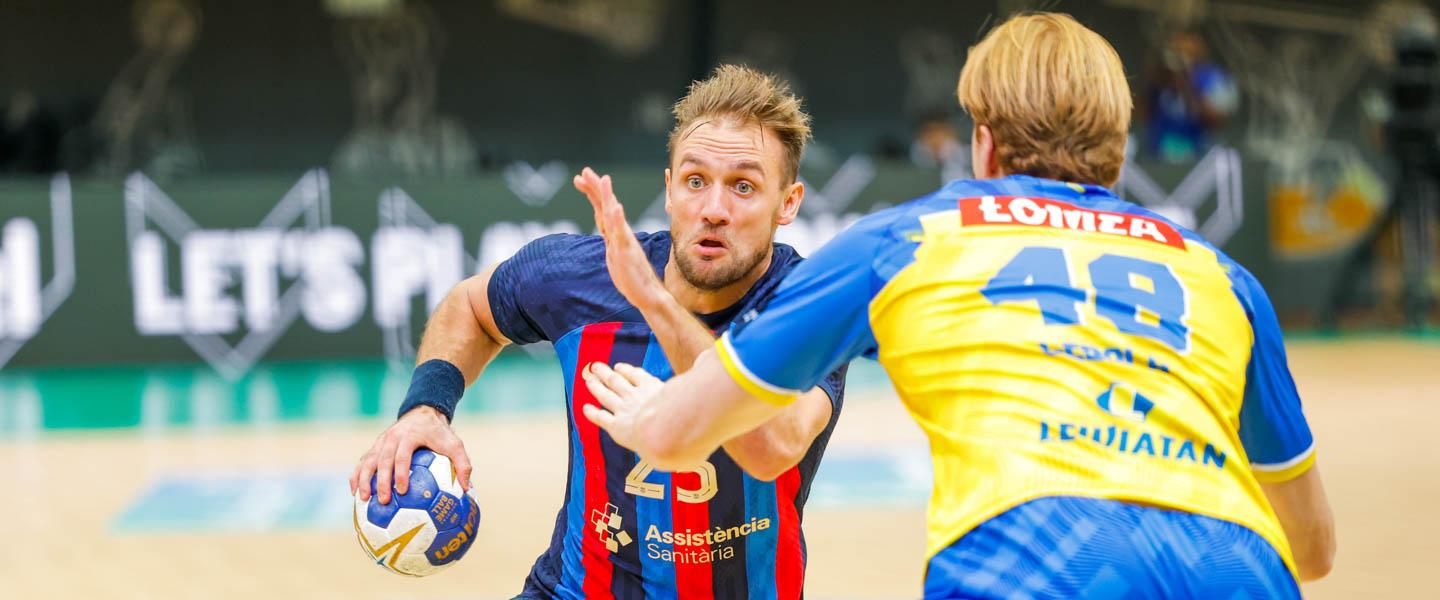 The reigning EHF Champions League Men champions, Barça, will be trying to win their sixth trophy in the IHF Men's Super Globe as they face SC Magdeburg in the final of the 2022 edition – a rematch of the final of the last edition, which the German side won, 33:28.
In the bronze medal match, Lomza Industria Kielce face a stern challenge from Egyptian side Al-Ahly SC, with the two sides trying to overcome their painful defeats from Saturday's semi-finals.
Final
20:30 AST SC Magdeburg (GER) vs Barça (ESP)
One year ago, in Jeddah, the final of the 2021 IHF Men's Super Globe was decided by a stellar performance from goalkeeper Jannik Green and a great team effort from SC Magdeburg, who deposed the reigning champions, Barça, in an outstanding final, which the German side won 33:28.
But Green is no longer on Magdeburg's roster, while Barça look to be in a superb run of form, bringing a 45-game unbeaten streak in this game in all competitions. 
The Spanish side have thoroughly dominated their three games played so far in the competition, winning their matches by an average margin of 18.6 goals per game, including a superb win against Lomza Industria Kielce in Saturday's semi-final, 39:28.
Barça have the best attack in the competition, scoring 126 goals in three matches, an average of 42 goals per match, 14 goals more than Magdeburg, whose average number of goals scored is 37.3 per match.
The most decorated team in the history of the competition, with five titles, also has the best defence, with an average of 23 conceded goals per game and the top goalkeeper, Gonzalo Perez de Vargas, who saved 41 shots for an average of 48.2% saving efficiency.
"Last season it was different, we had a new coach, we were trying to adapt, now we are playing very good, and it has been a pleasant experience being here and trying to win another trophy," said Perez de Vargas, after Barça's win against Kielce.
On the other hand, Magdeburg are one of the last teams to have won against the Spanish champions, with their 33:28 win still resounding in their minds.
"We will go at it again and see what we can do," concluded Magdeburg's centre back, Christian O'Sullivan.
In the past 20 years, the two sides faced off five times, with Barça taking three wins, as opposed to Magdeburg's two.
Bronze-medal match
18:00 AST Al-Ahly SC (EGY) vs Lomza Industria Kielce (POL)
For their second edition of the Super Globe, Kielce failed to better their result from 2016, when they finished third. They can tie that result at most, provided they clinch their third win in four games in Dammam in the bronze medal match against Al-Ahly SC.
The Egyptian side failed to produce the same excellent performance from the preliminary round match against SL Benfica, clearly dominated by SC Magdeburg in the semi-final, losing 28:36.
Now, Kielce will have to pick up the pieces and secure another win to finish on the podium, despite their painful loss against Barça, 28:39, and they might have to do without left wing Dylan Nahi, who is doubtful due to a knee injury.
Kielce have scored 21 goals more than Al-Ahly, or seven goals per game on average, with their attack being their best weapon, yet they failed to bring the intensity and clarity needed against Barça.
However, they will be favoured against Ahly, who will be counting on the amazing support of their fans – over 2.500 – which flocked to the Dammam Sports Hall to cheer for their side in the past days.
The Egyptian side has played three matches against European sides in the Super Globe, losing against Ciudad Real and Barca but securing a win against Benfica in this edition.
Placement match 5/6
15:30 AST Khaleej (KSA) vs Esperance de Tunis (TUN)
Al-Wehda's fourth place in 2019 will still be the best performance for a Saudi side at the IHF Men's Super Globe, but Khaleej's antics in this tournament have seriously put the team on the map.
It was especially thanks to left back Hassan Kaddah, who scored 14 goals in the match against Benfica on Saturday, tying the best-ever individual performance by a player in the competition, set by Tunisian right back Amine Bannour in 2012, when he was playing for Mudhar. Kaddah is also the top scorer of the competition so far, with 29 goals in three matches.
Now, Khaleej can finish the 2022 edition of the Super Globe with a three-game winning run, provided they secure another win against Esperance de Tunis and finish fifth in the standings.
Placement match 7/8
13:30 AST SL Benfica (POR) vs Taubaté Handebol (BRA)
Benfica lost back-to-back matches, as coach Chema Rodriguez failed to address the physical game brought to the table by both Al-Ahly SC and Khaleej. Another strong side, Taubaté, will be Benfica's next opponent, as the Portuguese side will try to end the 2022 IHF Men's Super Globe on a high.
The Brazilian side proved their mettle in Saturday's game against Esperance de Tunis, when they cancelled a six-goal lead by the Tunisian side, only to miss two penalties in the shoot-out that saw Esperance win, 35:33.
Placement 9/10
11:30 AST Mudhar (KSA) vs Al-Kuwait SC (KUW)
Despite missing three players in the match, including their previous top scorer, right back Angel Hernandez, Al-Kuwait SC secured their first win in the competition on Saturday, dominating Club Ministros, 41:26.
Right wing Ali Saleh, who scored 12 goals in the game against the Mexican side, is the top scorer of the 2022 IHF Men's Super Globe, with 24 goals, and will be looking to add to his tally against Mudhar in the final match for the two sides in the competition.
Mudhar, the hosts who entered the competition with big ambitions, will be aiming to finish on the ninth place. Still, they will need a bigger contribution from right back Amine Bannour, who started the 2022 IHF Men's Super Globe with 10 goals against Al-Ahly SC, only to score only five goals in the next two games.
After finishing seventh in both previous participations, in 2012 and 2019, Mudhar will now finish either ninth or 10th, but with a win in their final game, they can tie their win tally from the previous two editions, where they had two wins each.
Placement 11/12
09:30 AST Sydney-Uni (AUS) vs Club Ministros (MEX)
The two sides have lost the three matches and have the worst defensive record in the competition so far, with Ministros conceding 137 goals, while Sydney-Uni have conceded 105 goals.
However, the Australian side has the superior experience and was close to clinching a win against Mudhar on Saturday, only for the game to finish with a 6:0 unanswered run from the Saudi side.
Sydney-Uni also aim to avoid finishing on the last place for only the third time in history in their ten participations, as they currently have one win, one draw and 36 losses at the IHF Men's Super Globe. This, however, will be their worst-ever finish, as the competition expanded for the first time to 12 teams after the Australian side ended on the 10th place in 2019.