Day two delivers first answers at the 2022 IHF Men's Super Globe
19 Oct. 2022
Live blog: Well, the day is over, and there have not been surprises, with everything to be decided tomorrow. We will be waiting again here, with plenty of news, highlights and info regarding the 2022 IHF Men's Super Globe, with the eight undefeated teams facing off for a place in the semi-finals.
Standings:
Group A: 1. SC Magdeburg 2p (+18), 2. Khaleej 2p (+14), 3. Sydney-Uni 0p (-32)
Group B: 1. SL Benfica 2p (+12), 2. Al-Ahly SC 2p (+6), 3. Mudhar 0p (-18)
Group C: 1. Lomza Industria Kielce 2p (+21), 2. Handebol Taubaté 2p (+4), 3. Al-Kuwait SC 0p (-25)
Group D: 1. Barca 2p (+32), 2. Esperance de Tunis 2p (+25), 3. Club Ministros 0p (-57)
Today's games:
12:15 AST Al-Kuwait (KUW) vs Lomza Industria Kielce (POL) 26:47 (14:23)
14:30 AST Club Ministros (MEX) vs Espérance de Tunis (TUN) 21:46 (7:21)
16:45 AST Sydney-Uni (AUS) vs Khaleej (KSA) 21:35 (10:14)
19:00 AST Mudhar (KSA) vs SL Benfica (POR) 27:39 (10:14)
20:28 AST Full-time: Mudhar vs SL Benfica 27:39 (10:14)
It's the final whistle, and SL Benfica have their first-ever win at the IHF Men's Super Globe. Mudhar could only stay close for 20 minutes, but the Portuguese side used all their experience and depth to create an unassailable gap that started with a 6:0 unanswered run that proved to be the match's pivotal moment. From that moment on, Mudhar could do absolutely nothing to mount a comeback, as their star player, Amine Bannour, who had 10 goals in the first match, also had an off night, scoring a single goal.
Benfica had their share of issues in the first 20 minutes, but after that, everything clicked in attack for them, with coach Chema Rodriguez constantly changing players, as Benfica had 13 different scorers in the match. Goalkeeper Sergey Hernandez got named `hummel Player of the Match`. 
Rest will be essential for them, as they face Al-Ahly SC tomorrow in a do-or-die game, which will decide the winner of the group. But until then, they are to celebrate this 39:27 win against Mudhar, where German right wing Ole Rahmel was the team's best scorer, with eight goals.
20:09 AST Benfica head to first-ever win at the IHF Men's Super Globe
Mudhar's issues in attack have continued in the second half, as the Saudi side's run without scoring extended to nine minutes and two seconds. By the time it ended, it was already too late, and Benfica jumped with both hands to a 16:10 lead, using a 6:0 run to get away and seal their first-ever win at the IHF Men's Super Globe. What was worst for Mudhar, though, was losing key centre back Saifeddine Hmida, who got injured while trying to break through and will not return to the game, with his knee now packed up with ice.
Benfica also had some big help from goalkeeper Sergey Hernandez, who racked up 12 saves until the 45th minute, including three one-on-one saves that really turned the game in the Portuguese side's favour. But the main reason the Portuguese side is ahead, 26:16, at this mark is their fast throw-offs, which have totally seen Mudhar crumble, failing to stop any of them. Playing seven-on-six and turning the ball over also did not help, with Benfica scoring three goals in a row with open-goal shots as the gap ballooned.
19:34 AST Half-time: Mudhar vs Benfica 10:14
Benfica's main issue in this match has been their discipline, with five suspensions being awarded against them. This is too much in this type of match, as the Portuguese side had to make do without a player on the court for ten minutes in the first half, which definitely hampered their attack. A team that usually scores plenty of goals, Chema Rodriguez's side did not impress in that respect against Mudhar, trying to take it easy. But more importantly, their top scorer, Petar Djordjic, the go-to player in plenty of matches, has been lacking his usual efficiency, failing to score a goal, despite registering three shots.
Without relying too much on Amine Bannour, as they did in the previous match, when he scored 10 goals, Mudhar mounted a strong comeback and even tied the score, 8:8, in the 20th minute, totally putting the brakes on Benfica's attack. The Portuguese side took advantage of their fast throw-offs in several cases, but coach Chema Rodriguez will surely want more from his side in the second half. Because, right now, at the break, the European side is only four goals ahead, thanks to a 4:0 run at the end of the half, which prevented Mudhar from scoring for the last six minutes and 31 seconds.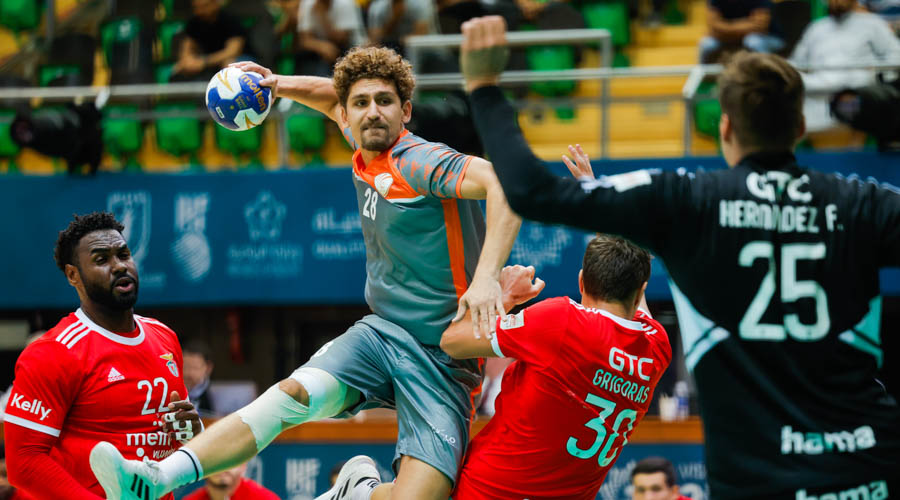 19:17 AST Mudhar stay close to Benfica
Brazilian centre back Acacio Marques Moreira Filho has not featured much in Mudhar's loss against Al-Ahly SC yesterday but has now taken a central role in the Saudi team's attack against Benfica. He has been crucial on both sides of the ball, scoring twice and stealing one ball from the Portuguese side in the first ten minutes, as Mudhar kept close to their opponents, who have not started the game very consistently. Yet they constantly found spaces in Mudhar's defence, which they exploited with breakthroughs, keeping the lead.
The support for Mudhar is not like yesterday when thousands of fans flocked to cheer for them, yet the team lost against Al-Ahly SC. But they still produced a good start to the match, despite their penalty miss through Amine Bannour. However, with time passing, misses started to pile up for Mudhar, as they are now down two goals after 15 minutes, 7:5, after failing to take advantage of two simultaneous suspensions for Benfica, which did not concede a goal in that timespan.
18:12 AST Full-time: Sydney-Uni vs Khaleej 21:35 (10:14)
The second half really underlined why Khaleej deserve to be here, with a strong performance against Sydney-Uni, as coach Dimitris Dimitroulias used the entire roster to its strength and created a great win for the rookies, their first-ever at the IHF Men's Super Globe. After scoring 14 goals in the first half, Khaleej pushed the pedal to the metal and delivered an excellent attacking second half, taking advantage of Sydney's woes, who dropped their level, scoring 21 goals. It was also an impressive well-rounded performance from both Khaleej goalkeepers Mohamed Alsalem (nine saves for 42% efficiency) and Karim Hendawy (four saves for 33% saving efficiency), who have both made crucial saves.
In attack, the trio of Ahmed Elahmar – who was the 'hummel Player of the Match'–, Hussain Al Sayyad and Hassan Kaddah worked well together for the first game, combining for 15 goals, as the two Egyptian players were loaned for this competition from Zamalek SC, as Khaleej really looks like a side that can progress in the future, after their 35:21 win. More interestingly, Khaleej's 12 outfield players scored at least one goal, getting meaningful time on the court. On the other hand, Sydney-Uni conceded their second loss in a row in their tenth edition of the IHF Men's Super Globe, but it was all expected, with better and more experienced teams in front of them. The Australian side will now play in the Placement Round 9/12, while Khaleej will feature tomorrow in the group's final against SC Magdeburg.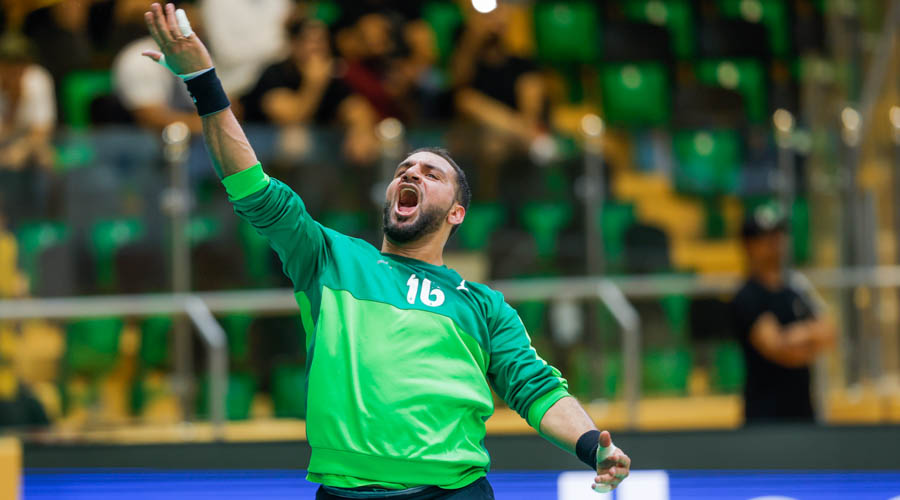 17:57 AST Sydney-Uni start to fade
It took a pair of saves from goalkeeper Mohammad Alsalem for the gap to really widen in this match. Much for the excitement of the home fans, who have been singing non-stop since the start of the game. Khaleej gained more and more confidence and opened a ten-goal lead, 24:14, with 15 minutes to go, which seemed unassailable. Thanks to some good performances from Kaddah, Al Sayyad and Elahmar, who have now scored 15 goals together.
Sydney-Uni are starting to fade, which is understandable; this has been their second game in as many days, and they do not have the proper depth, to begin with. Therefore, the Australian side is heading to their second consecutive loss at the 2022 IHF Men's Superb Globe and will follow Club Ministros and Al-Kuwait SC to the Placement Round 9/12, while Khaleej must wait patiently for their match against SC Magdeburg tomorrow.
17:19 AST Half-time: Sydney-Uni vs Khaleej 10:14
Sydney-Uni have some experience against Saudi sides, taking one of their best-ever results at the IHF Men's Super Globe in the previous edition when they drew against Al-Wehda, 26:26, after mounting an impressive comeback in the second half. They are not far from that performance, as Khaleej have been unable to open a bigger gap than five goals until the 26th minute, with the Australian side clinging by the skin of their teeth in this match. Sure, Khaleej have missed plenty of chances, prompting a double save from Sydney's Tim Schubiger, but, in general, the hosts failed to really maximise their potential.
However, the Saudi side navigated well a difficult moment when they had two players suspended for one minute and 40 seconds, managing to keep Sydney-Uni at bay. But the two missed penalties and plenty of other mistakes made this game closer than Khaleej would have liked, with the hosts taking a 14:10 lead at the break. Let's see what happens in the second half, but it is clear that the Saudi side relies heavily on Al Sayyad, Elahmar and Kaddah, who combined for seven of their 14 goals.
17:04 AST Big support for home side
Every goal scored by Khaleej has been greeted with huge cheers from the home fans, which have not stopped chanting and singing since the game started. But how does their team fare? Pretty well, some should say. Two of the players they have signed in the past days, Hendawy and Kaddah, have been featuring prominently in these first 15 minutes, being integrants for the Saudi side. But the player who really stole the show was Bahrain's centre back, Hussain Al Sayyad, who has been unstoppable. Al Sayyad scored three goals and delivered two assists, having a direct hand in five of Khaleej's first seven goals.
While the Saudi side still has some growing pains between their players, they are clearly the better side. Sydney-Uni had trouble stopping the opponents' attacks, while their efficiency dipped to under 50% in these first 15 minutes, as the Australian side scored only 45% of the shots they had. Therefore, with Khaleej leading 7:4, the Saudi side is getting closer and closer to throwing off their first participation in the IHF Men's Super Globe with a win.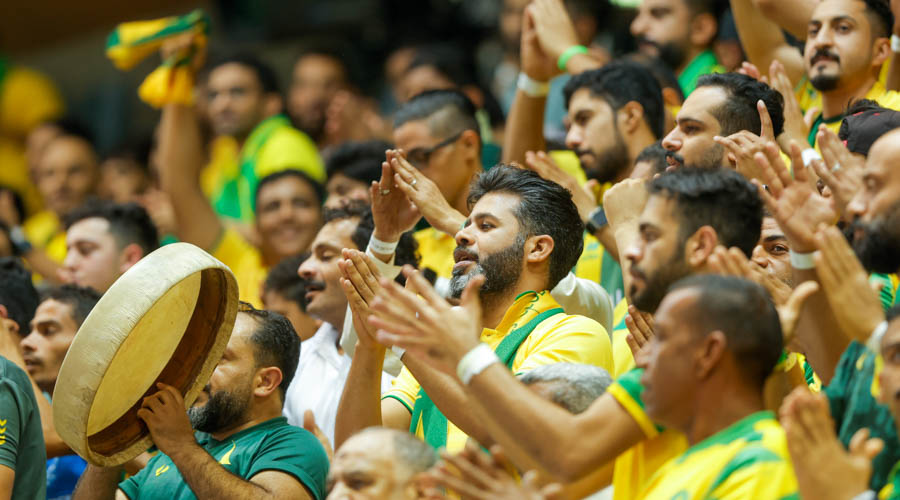 16:30 AST High expectations for Khaleej
The anticipation is building up for the debut of the Saudi club Khaleej in the IHF Men's Super Globe. The Saudi team will be fully supported by over 4000 fans in this match against Sydney-Uni, which will make for another excellent afternoon in the Dammam Sports Hall. Khaleej are definitely favoured for this match, especially after signing three Egyptian players for the competition – goalkeeper Karim Hendawy and backs Hassan Kaddah and Ahmed Elahmar – who will be definitely bolstering the team in the following days.
15:54 AST Full-time: Club Ministros vs Esperance de Tunis 21:46 (7:21)
In their return to the IHF Men's Super Globe for the first time since 2017, Esperance de Tunis threw off their path in the competition with a clear win, 46:21, against Club Ministros, thoroughly dominating the Mexican side, via their excellent fast breaks and superb defence. It was both the Tunisian side's highest win in the competition and the game with the most significant number of goals, beating the previous record by eight goals, a feature already achieved by the 49th minute. 
Ghassen Toumi was Esperance's top scorer, with eight goals, while Oussama Boughanmi, the recipient of the 'hummel Player of the Match Award', scored seven times and Tarak Jallouz added six goals. Plenty of easy goals were scored, including six converted open goal shots, which saw the Mexican side simply fail to stop their opponents. It was Ministros' second loss in a row in the 2022 IHF Men's Super Globe, which means they will finish the group last, and head to the Placement Round 9/12 over the weekend, as they now have a two-day break. They have also conceded 96 goals in their first two matches in the competition, the highest amount in history for a single team. On the other hand, Esperance face Barca for first place in the group tomorrow, a more challenging game for the Tunisian side, who will be big underdogs.
15:36 AST Esperance stay in control, despite a flurry of changes in the team
After scoring seven goals throughout the first half, Ministros put five past Esperance de Tunis in the first eight minutes of the second half. The Tunisian side clearly reduced their output in the match, with a spare thought for tomorrow's game against Barca, one that will decide the winner of the group and the side which will feature in the semi-finals. Coach Bassem Elsobki also substituted many players who were featured in the first half. Therefore it is just normal that Ministros have more chances now.
Yet that did not deter Esperance at all. They continued to score goal after goal, despite their top scorers in the first half, Ousamma Boughanmi and Tarak Jallouz sitting now on the bench to get some rest. The Tunisian side is cruising in this match and is close to breaking their record for the number of goals scored in a single match at the IHF Men's Super Globe, set in 2014, against Qatari side Al-Ahli, when they had 38 goals. With 15 minutes to go, Esperance are in the lead against Ministros, 33:14.
15:04 AST Half-time: Club Ministros vs Esperance de Tunis 7:21
Ministros are a team with only amateur players in their ranks, so making it in the toughest of competitions, like the IHF Men's Super Globe, is extremely difficult. Esperance have been very strong and ruthless at times in this match and will likely break their record for the biggest win in the competition and the most significant number of goals scored. With Boughanmi and Jallouz combining for 13 goals, they thoroughly dominated the first half and took advantage of the mistakes made by the Mexican team.
After 30 minutes, Ministros have scored only seven goals, two of which came through penalties, while their goalkeepers made only three saves, the first of which came in the 21st minute. Therefore, it is no surprise that the gap is huge at this stage of the match, 21:7. Ministros will not concede 50 goals, like in the previous game against Barca, but it will surely be another big loss for them today.

14:46 AST Ministros fall on the back foot again
Ministros have also featured on the card yesterday when they lost, 18:50, against Barca. Therefore with their lack of experience, they must have tired legs. While they took the lead against the Spanish powerhouse three times, this match against Esperance de Tunis is totally different. The African side knows that they should not let Ministros settle in the game and enjoyed a strong start to the match, taking an early 5:1 lead after nine minutes, with left wing Oussama Boughanmi leading the charge with three goals.
Tarek Jallouz added another two goals, with the two wings running riot for Esperance's attack, taking advantage of fast breaks of every mistake made by Ministros. The Mexican side turned the ball over five times already in the first 15 minutes, and there is no surprise that Esperance are leading the game, 10:3, the biggest lead in the match so far, which prompted Ministros to take a timeout.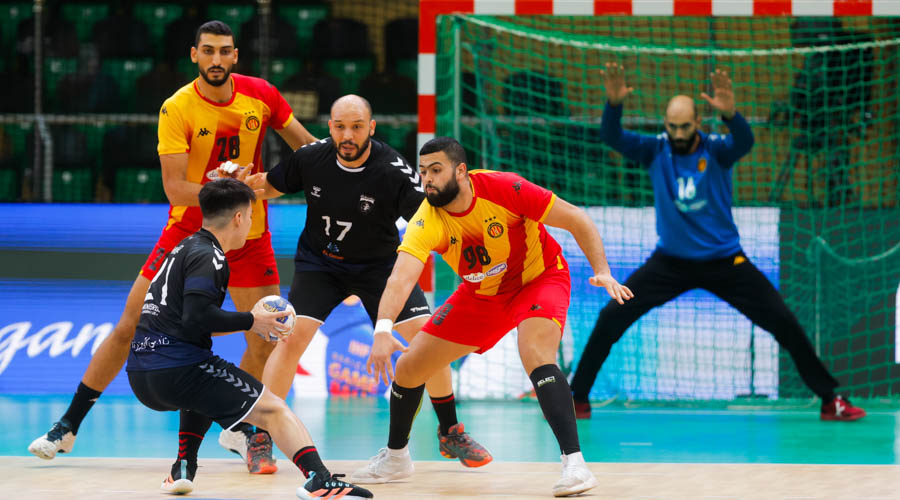 13:40 AST Full-time: Al-Kuwait SC vs Lomza Industria Kielce 26:47 (14:23)
This was a very good starting match from Kielce, who learnt the hard way that they should not fool around, with Talant Dujshebaev calling a timeout in the 21st minute when Al-Kuwait SC cut the gap to only four goals, 17:13. From that moment on, the Asian side scored only 13 more times. At the same time, Kielce pushed through for the match, using all their players at their disposal to seal their biggest-ever win at the IHF Men's Super Globe, 10 goals bigger than the previous one, 36:25 against Qatari side, Al-Sadd, in 2016. This was also the highest number of goals scored by the Polish side in the competition while also coming close to the 50-goal mark set by Barca yesterday against Ministros.
For Kuwait, this was not a surprise, but it is surely a difficult pill to swallow, with their second loss in as many matches. They will be heading for the Placement Round 9/12 in the following days, which is definitely a disappointment. Two of their players, Ali Saleh and Angel Hernandez, scored 12 goals now, but it was the defence that really disappointed, conceding 79 goals in the first two matches, an average of 39.5 conceded goals per match. On the other hand, Kielce had 12 players on the scoresheet, while goalkeeper Mateusz Kornecki, who had 17 saves, was named the 'hummel Player of the Match'.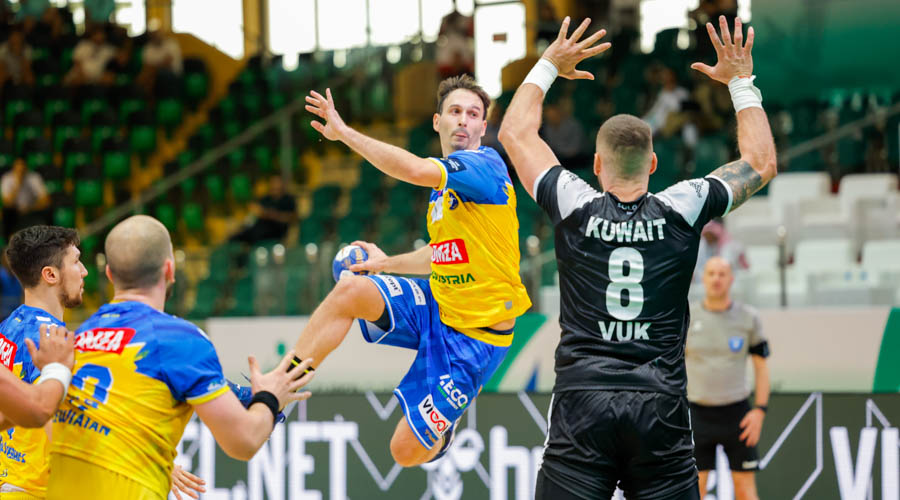 13:21 AST Kielce do not hit the breaks
Left wing Szymon Wiaderny has been nothing short of superb, converting fast breaks at an excellent pace, which enabled Kielce to build a 14-goal lead, 33:19, after only 41 minutes of the match. The biggest win in this edition of the IHF Men's Super Globe will not be recorded today, as this will still be Barca's 32-goal win against Club Ministros. Still, the Polish side is facing a more challenging opponent, which had some ambitions in this tournament. But Al-Kuwait SC are heading straight to the Placement Round 9/12, with their second loss in as many matches.
Wiaderny scored seven goals already, but we have a new top scorer in Kuwait's Ali Saleh, who added five goals to his seven-goal tally from yesterday, tying Pablo Urdagarin in the top goal scorer standings. With 15 minutes to go in this match, Kielce are leading big, 34:20, and will be heading for their first win in the IHF Men's Super Globe since 2016.
12:50 Half-time: Al-Kuwait SC vs Lomza Industria Kielce 14:23
Al-Kuwait SC are playing here for the chance to stay alive in the competition, with only a win keeping them alive to feature in the semi-finals. Sure, the task is daunting against one of the best sides in the world, but Kielce have not gone full strength in this game, as the schedule will only get harder for Talant Dujshebaev's side. But Kielce's coach was obviously not happy after conceding two consecutive goals via fast breaks, with big mistakes being made in attack by his side. His timeout, where it was clear that the team was not at full strength, woke up Kielce, who once again widened the gap until the break.
Dujshebaev has instilled some passion in his team, which finished off the first half with a 6:1 run, opening the nine-goal gap at the break. Kielce's performance was the second-best in the first half of the 2022 IHF Men's Super Globe after Barca scored 25 goals against Club Ministros yesterday, as the Polish powerhouse had 11 different players scoring at least one goal.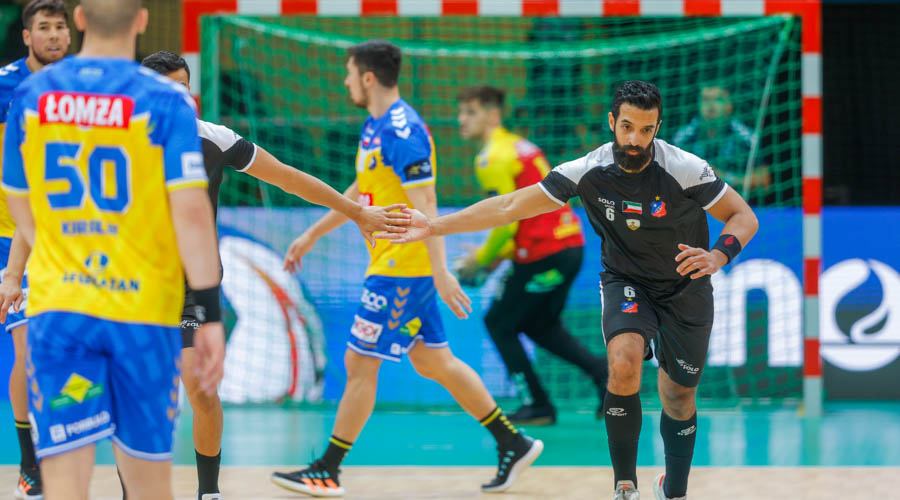 12:32 AST Kielce start strong, but Al-Kuwait SC stay close
Bringing their high-octane attack to the 2022 IHF Men's Super Globe, Lomza Industria Kielce have been stellar in attack, scoring 10 goals in the first nine minutes of the game. For most of the match, Al-Kuwait SC managed to stay close, but the gap grew by the minute, staying at three goals for several minutes when Talant Dujshebaev's side took a 10:7 lead. Alex and Dani Dujshebaev each scored two goals, with line player Artsem Karalek adding three, as Kielce are totally controlling the match. 
Surprisingly, Al-Kuwait's Frankis Carol Marzo, their best player, is sitting on the bench after receiving a knock in the last minutes of yesterday's match against Taubate. But Angel Hernandez has been once again in superb form, with his strong shots, keeping his side close to the runners-up of the EHF Champions League Men. After 15 minutes, Kielce are leading, 12:9, but this match looks harder for them than what Barca or Magdeburg had, which could be important on the final run of the tournament.
11:30 AST Can Marzo turn the tide for Al-Kuwait?
The first match will feature Al-Kuwait, who lost against Taubate in the first match, and Lomza Industria Kielce, who will return to the competition for the first time since 2016. Kielce, coached by the legendary Talant Dujshebaev, are hungry for wins and will do everything possible to secure another major trophy. But how will they cope against Al-Kuwait? The Asian side relies heavily on their two Cuban-born backs, Frankis Marzo and Angel Hernandez, but Marzo looked to be nursing an injury at the end of the match against the Brazilian side. Without him, Kuwait will not stand a chance. Will he be at 100%? There are only 45 minutes until the start of the match, so that we will find out quickly.
11:00 AST Sit back and enjoy
We had some great games on Tuesday, with the highlight being Al-Ahly's win, 36:30, against Mudhar. The Saudi side started the game well, but their lack of depth was on display, with the second part of the game being totally dominated by the Egyptian side, which secured their first win in the IHF Men's Super Globe since 2015. We embedded the game's highlights for you, so just sit back and enjoy!
10:30 AST Who's top at the 2022 IHF Men's Super Globe?
Barca's right wing, Pablo Urdagarin, is the top scorer of the competition so far, boasting a 12-goal tally after the first game, a clear win for his side against Ministros. On the other hand, Tunisian right back Amine Bannour, one of the most prolific scorers in the IHF Men's Super Globe, also scored 10 goals. He is in second place in the top goal scorer list, followed by two players with nine goals, Barca's Domen Makuc and Al-Ahly's right wing Omar Ali Dahroug, who only played in the first half for the Egyptian powerhouse.
Another Barca player, goalkeeper Roberto Domenech, provided the most significant number of saves, 22, for a 55% efficiency, followed by Al-Kuwait's Ali Safar, who had 10 saves and Taubate's Maik Ferreira dos Santos, who had 9 saves. 
10:00 AST Welcome to the second day of the 2022 IHF Men's Super Globe
We had some big wins and other exciting games on the first day of the 2022 IHF Men's Super Globe, with several high-profile names, such as the two finalists from the previous edition, SC Magdeburg and Barca, winning high against Sydney-Uni and Club Ministros. In fact, Barca's win against the Mexican side, 50:18, was the largest one in the history of the IHF Men's Super Globe, underlining the great patch of the form shown by the Spanish powerhouse.
Four other teams enter the competition on Wednesday, as there will be no time to rest for their four opponents, which will be playing their second match in two days. We expect more of the same superb atmosphere in the Dammam Sports Hall when Khaleej and Mudhar, the two hosts, will play in the last two games of the day.