Eight teams throw off 2022 IHF Men's Super Globe
18 Oct. 2022
Live blog: So here it is, the first day of the 2022 IHF Men's Super Globe is now done and dusted. We had four teams winning – the two European sides securing big wins and the other two taking clear ones – and we now have some pointers for the final standings of the group phase. Of course, these are just early days, but Al-Ahly SC's win against Mudhar, 36:30, will be crucial for their journey in the competition, as well as Taubate's win against Al-Kuwait. The two teams are probably finishing in the top 8.
Mudhar will be disappointed with their loss today, but their players gave it their all, but Al-Ahly SC were better physically and mentally. We will be waiting for you tomorrow, also on our website, with the second day of the IHF Men's Super Globe, four interesting matches, which will throw off in the Dammam Sports Hall at 12:15 AST.
Today's games:
11:30 AST Handebol Taubaté (BRA) vs Al-Kuwait (KUW) 32:28 (19:12)
13:45 AST SC Magdeburg (GER) vs Sydney-Uni (AUS) 41:23 (20:8)
16:00 AST Barça (ESP) vs Club Ministros (MEX) 50:18 (26:10)
19:45 AST Al-Ahly SC (EGY) vs Mudhar (KSA) 36:30 (18:17)
21:17 AST Full-time: Al-Ahly SC vs Mudhar 36:30 (18:17)
Mudhar had the chance three times to cut the gap to three goals, but each time they missed the shot. Therefore, when Al-Ahly SC got the opportunity, they duly delivered and secured their lead, enhancing it to six goals, 30:24, with 10 minutes to go in the game. It was something that Mudhar could simply not cope with, especially as their main scorer, Amine Bannour, scored a single in the second half. When other players needed to step up, it was too late, as the number of turnovers they made was too large, 12. In the end, with Mudhar forcing their luck with a constant seven-on-six attack, making easy mistakes was their undoing, with the game finishing with Ahly's 36:30 win, one of their biggest in history in the competition. Their center back Ahmed Nasr Allah was named 'hummel Player of the Match'.
Al-Ahly also broke the record for the number of goals scored in a single game at the IHF Men's Super Globe, which was set in 2007, against Kuwaiti team Al-Qadsiya, 35, with a strong and well-versed attacking display, which saw the Saudi side bring no answer. Sure, the Egyptian side needs to correct some things, and they will surely expect more from their goalkeepers, who combined for four saves, but this was as good as a start as it gets, being definitely in the mix for a spot between the eight teams in the final standings.
There is a lot until the end, though, and there is one game in Group B tomorrow, which sees Mudhar face SL Benfica, the reigning EHF European League Men winners. The Portuguese side will definitely be a tough opponent, but Mudhar need a win to avoid finishing in the last position. And today's loss against Al-Ahly definitely did not help.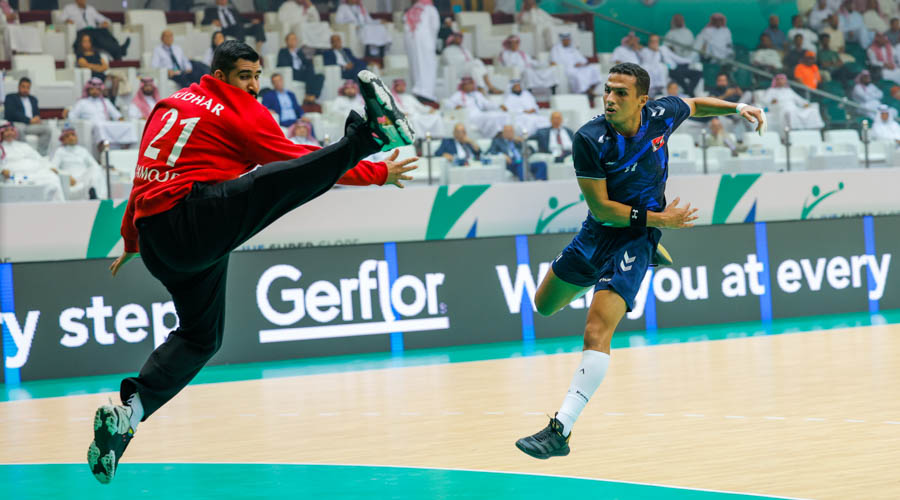 20:53 AST Al-Ahly close to their first win in seven years at the IHF Men's Super Globe
A 4:1 run to start the second half for Ahly prompted a quick timeout from Mudhar's coach, Zoran Kastratovic, after only three minutes and 51 seconds. It was once again the right wing position which duly delivered for the Egyptian side, as Omar Khaled Hassan scored two goals in quick succession after replacing Omar Ali Dahroug. And just like that, Al Ahly opened the most significant lead in the game, four goals, 22:18.
It went from bad to worst for Mudhar, as Hassan scored goal after goal, with devastating fast breaks really hampering the Saudi team. Until the 45th minute, the right wing scored five goals, as Al-Ahly now have 13 goals through their right wings. The Egyptian side still controls the game, despite two consecutive suspensions – one of which was, in fact, a red card for Ahmed Mesilhy. Whether that will hamper their efforts or not remains to be seen. But with 15 minutes to go, Al-Ahly lead 28:23 and are closer and closer to winning their first game in the IHF Men's Super Globe since 2015, when they ended in fifth place.
20:21 AST Half-time: Al-Ahly SC vs Mudhar 18:17
While Bannour has been nothing short of spectacular for Mudhar, finishing the first half with nine goals, the rest of the team simply went silent in the last minutes, helping Al-Ahly SC get back slowly, but surely, into the game. Judging only by numbers, Bannour scored more than half of Mudhar's goals in the first part. Sure, the Egyptian side improved their defence and forced mistakes from Mudhar, but the critical factor was taking advantage of them. Therefore, when the Egyptian side had a 3:0 run, with two goals from right wing Omar Ali Dahroug, they also took the lead for the first time in the match, 16:14, much to the excitement of their fans.
That support was crucial for them, as the fans appropriately celebrated every goal. And Ali Dahroug, in particular, was flawless, being the steady hand on which his team always relied in crunch moments. In fact, Al-Ahly's right wing almost tied Bannour's output with eight goals in the first half. At the break, the Egyptian side is leading, 18:17, but it is somewhat of a fragile lead. If Mudhar are back at their best in the second half, it might be very, very close in the end. One minus for Al-Ahly, though, is that one of their top defenders, Ibrahim El Masry, already has two suspensions and might need to be careful not to get the third and, subsequently, a red card.
20:04 AST Brilliant fans, close game, excellent goals
Everything is better with fans in the stands. And these are just amazing fans in the Dammam Sports Hall, with Al-Ahly SC and Mudhar improving their games through the chants, screams and explosions of joy from their fans. But Mudhar have taken the initiative, thanks to some excellent shots from right back Amine Bannour. The Tunisian stalwart is a veteran of the IHF Men's Super Globe and has also featured for Mudhar in 2012 and for Qatari side Al Sadd in 2014. He scored 14 goals in one match and 13 each in two other games, holding the record for the largest number of goals in a single game in the competition.
He only has three now in the first 15 minutes of the match, but those goals were crucial, as Mudhar have started the game better. There were coherent in defence, closing the lanes, and have also featured better-attacking returns, with Al-Ahly's goalkeepers saving only one shot. It is no surprise that Mudhar are leading 8:6 after 14 minutes, but their Egyptian opponents have done an excellent job of staying close in the match.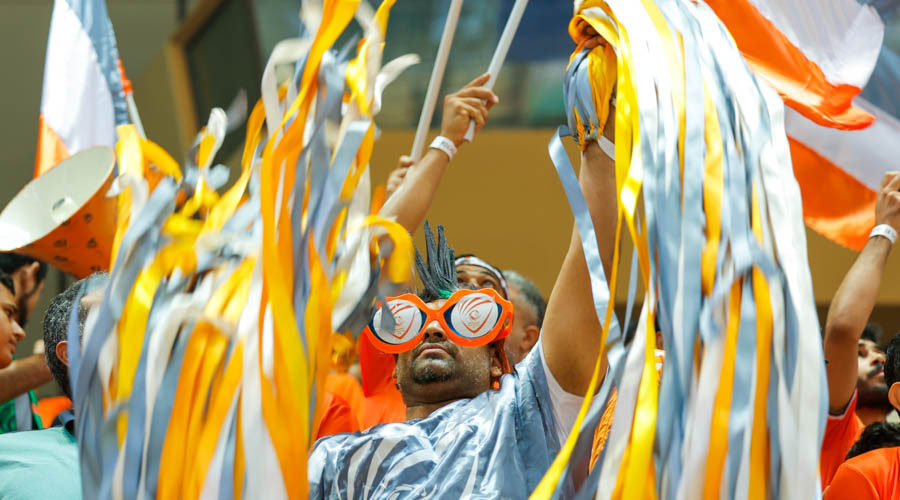 19:20 AST Countdown for the last match!
We had an exciting opening ceremony that took place at 18:30, but we are now heading back to handball and the last match of the first day of the 2022 IHF Men's Super Globe. And it will be a cracker between the Egyptian side Al-Ahly SC and Mudhar, the hosts. The Dammam arena is lively now, with fans of the two teams flocking to see their favourites. Al-Ahly SC have over 1500 diehard fans in the stands, while Mudhar also brought over 1000 fans. What an atmosphere; this will truly be an amazing game.
17:23 AST Full-time: Barça vs Club Ministros 50:18 (26:10)
This is Barça's biggest win in the history of the IHF Men's Super Globe. They have definitely put on a show against Club Ministros, especially using plenty of young players, with stalwarts like Dika Mem or Jonathan Carlsbogard not featuring as prominently as they will in the next matches. The Spanish side has both broken the record for the number of goals scored in a single match in the Super Globe and for the most significant win in the history of the competition, totally outplaying the Mexican side.
Right wing Pablo Urdagarin scored 12 goals, with centre back Domen Makuc, the 'hummel Player of the Match', adding nine more goals. The Spanish side will face a sterner challenge from Esperance de Tunis in the next game. Still, Ministros will be indeed happy with their display, scoring goals against a powerhouse like Barça, the first time they have ever played against such a formidable opponent.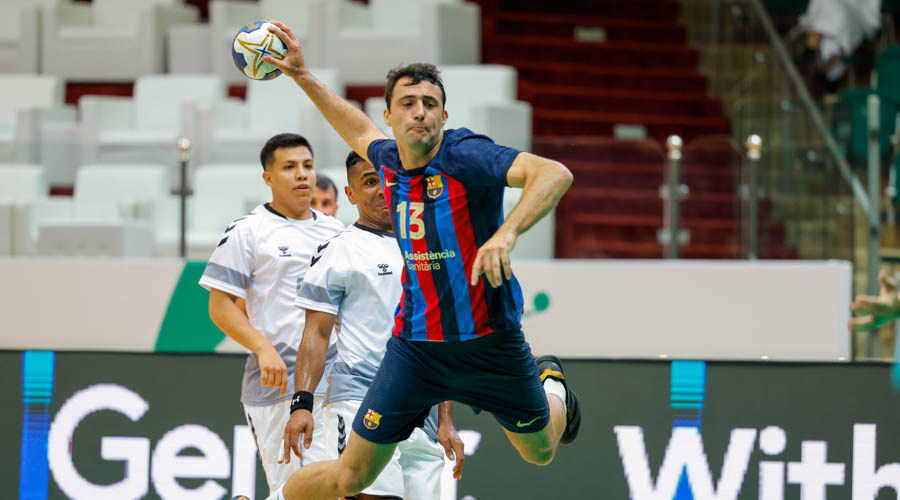 17:04 AST Barça give time to all players
Barça use Dika Mem, Aleix Gomez or Timothey N'Guessan, as they bring the big guns to the table right now. Consequently, the gap is getting bigger and bigger now, with the Spanish powerhouse starting the second half with a 6:1 run that opened a 20-goal gap, 31:11. Makuc and Urdagarin have now each scored eight goals, with Barça totally dominating and making a run for the record of goals scored in a single game, which will undoubtedly be broken.
The Spanish side lost the title in the last edition, but this look like prime Barça, who are thoroughly dominating, having a run of 44 unbeaten games dating back to last season. They will make it 45 with this win, as their lead has ballooned to 24 goals after 45 minutes, 38:14.
16:33 AST Half-time: Barça vs Club Ministros 26:10
Barça have scored at least 40 goals only two times at the IHF Men's Super Globe, 42 goals against Esperance de Tunis in 2017 and 40 goals against El Jaish in 2013. This will probably be the third time, and it will also probably break the record amount of goals scored by the Spanish powerhouse in the competition. So far, after the first 30 minutes, Barça have put 26 goals past Ministros, with more than half of them coming via fast breaks after balls were won in defence.
The Mexican side crumbled in attack after a strong start, where they scored three times in the first five minutes, putting only seven more past Barça in the next 25 minutes. They are surely finding it difficult to compete with the more established Spanish side, which has thoroughly dominated the game despite using young players most of the time. Goalkeeper Roberto Domenech had a strong outing between the posts, having 10 saves for a 50% saving efficiency. At the same time, right wing Pablo Urdagarin tied for the best performance for a single player in the competition, with seven goals.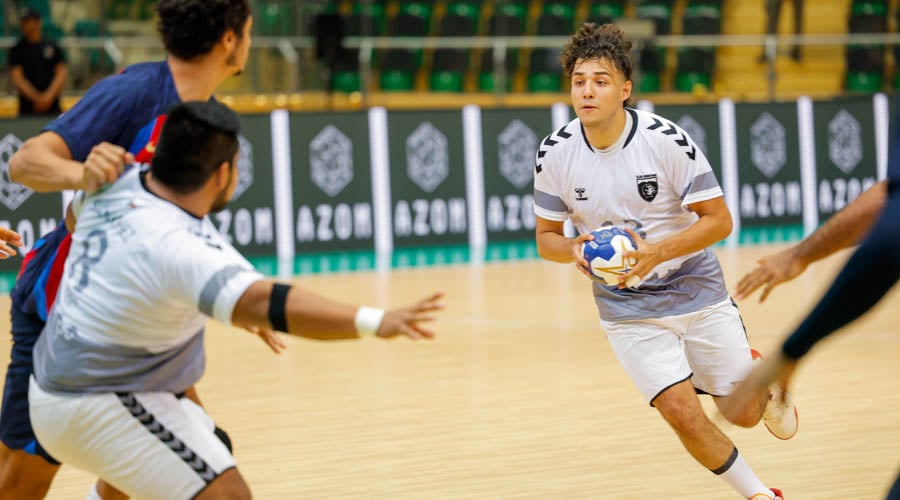 16:17 AST Impressive show for Ministros
Barça have started the match with plenty of young players on the court, like goalkeeper Roberto Domenech, right wing Pablo Urdagarin or left back Artur Parera. And for a brief moment, Ministros might have thought they could limit the gap, as they scored in their first three attacks and even took a 3:2 lead. However, Barça amped up their defence, started playing better handball and used a 7:0 run to turn the game on its head. We saw this scenario earlier when a more experienced side like Magdeburg dominated Sydney-Uni, which will definitely repeat in this match.
Using their impressive speed and fast breaks, Barça displayed some remarkable skills, with their young guns shining on the court. Back Domen Makuc scored four goals, but Ministros are still staying close. Whether this is Barça not pushing all the way or the Mexican side playing the match of their lives, the Spanish side is ahead by only five goals after 13 minutes, 11:6.
15:11 AST Full-time: SC Magdeburg vs Sydney-Uni 41:23 (20:8)
Sydney-Uni had something to celebrate, as they took advantage of Magdeburg's slowing down the game and went on a 3:0 run that really prompted a feel-good attitude on the bench. But there was nothing the Australian team could do to avoid starting their 10th edition of the IHF Men's Super Globe with a loss against a tough opponent, SC Magdeburg.
Despite changing the lines in the second half, the German side still went strong and even bettered their output from the first 30 minutes, finishing the game with 41 goals, two goals better than their previous record against Kuwaiti side Al-Salmiya SC. This bodes well for the German side, who will face a more challenging opponent in Saudi side Khaleej in the next match. However, Magdeburg will be one tough team to beat, with an excellent defence and equally strong attack.
The 'hummel Player of the Match' award went to Magdeburg's Philipp Weber, while the top goal scorer standings has two players tied at seven goals – Al-Kuwait SC's Ali Saleh and Magdeburg's Lukas Mertens.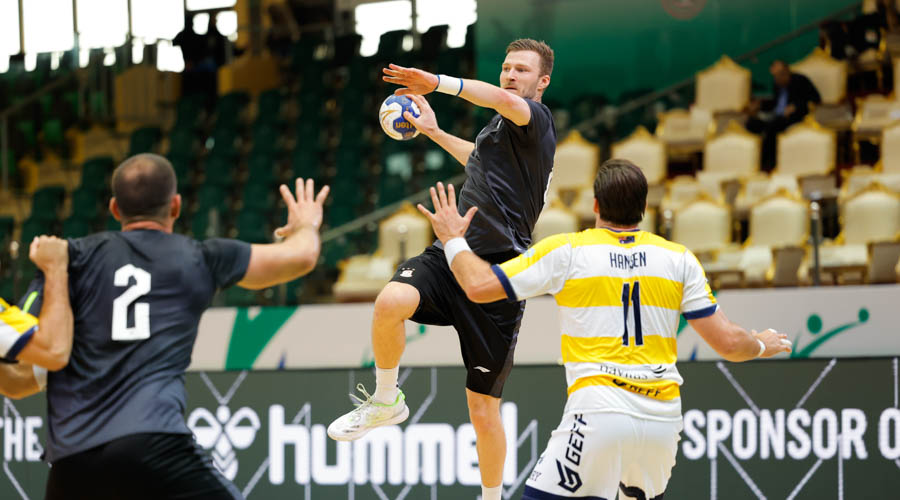 14:56 AST Can Magdeburg beat their record?
Magdeburg's record for the number of goals scored in a single match at the IHF Men's Super Globe is 39, set in 2002 against Kuwaiti side Al-Salmiya SC. That might fall today, as the German side is totally dominating Sydney-Uni and constantly finding ways to score on fast breaks. We could hear coach Bennet Wiegert repeatedly shout "tempo, tempo" on the sidelines, with the German powerhouse trying to master the fast break art, which they have definitely been doing in this game.
After starting the first half with a 6:0 run, Magdeburg doubled down and started the second part of the game with a 7:4 run, which surely underlined their dominance again. While their defence has been more porous than in the first part of the match, this is undoubtedly a big win for Magdeburg. They need only eight goals in the last 15 minutes to break their record, as their lead is enormous now, 32:17.
14:24 AST Half-time: SC Magdeburg (GER) vs Sydney-Uni (AUS) 20:8
The main issue for Sydney-Uni was conceding easy suspensions, which could have been easily avoided. In the first 30 minutes, the Australian side has conceded six suspensions, which translates into having to play 12 minutes with one less player on the court. And that has been genuinely problematic, especially when the opponent is a more experienced team. They can easily take advantage of fast breaks, with very good wings, like Lukas Mertens and Tim Hornke, which combined for 11 goals in the first half. Mertens scored seven times, tying the best performance at the 2022 IHF Men's Super Globe.
Therefore, it is no surprise that Magdeburg are leading comfortably, 20:8, with a strong display in defence, constantly pushed by coach Bennet Wiegert, who definitely sees this match as good preparation for the next matches. It seems certain that Magdeburg will earn a more significant win than last season, when they beat Sydney-Uni in the first match of the 2021 IHF Men's Super Globe, 32:21.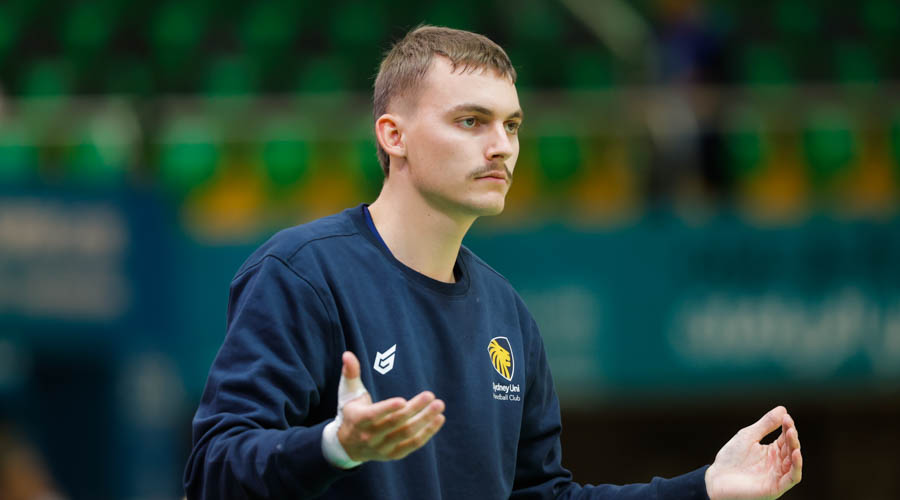 14:06 AST Strong start from Magdeburg
There is no question about who the winners will be, as Magdeburg are totally dominating the game. With plenty of experienced players on the roster, the German side went on a 6:0 run to start the game, and they will not look back. They will surely change several players throughout the game, but they have definitely looked sharp, despite plenty of misses in attack. Sydney's goalkeeper, Tim Schubiger, has kept the lead under control, posting a 40% saving efficiency with four saves in the first 11 minutes.
But Sydney needed 10 minutes and 41 seconds to score their first goal in the game, and Magdeburg duly took advantage of their issues. When the Australian side also conceded two penalties in a row, playing without two players for more than a minute, Magdeburg also took advantage. Therefore, this is no surprise; Magdeburg are heading to another win, leading 9:3 after 15 minutes.
13:45 AST Reigning champions enter the fray
SC Magdeburg, the reigning champions, will throw off this edition of the IHF Men's Super Globe precisely the way they did in 2021, with a match against Sydney-Uni. Last year, the German champions clinched a 32:21 win, but how will the match look today? They surely have plenty of firepower in their squad, with right back Omar Ingi Magnusson returning after a two-week absence. They still have a star-studded line-up, so they will be definitely favoured against Sydney-Uni, who will start their 10th edition of the IHF Men's Super Globe, a record.
12:55 AST Full-time: Handebol Taubaté vs Al-Kuwait SC 32:28
For a few minutes, it seemed that Kuwait could really mount a comeback and take something from this game, as they have cut the gap to only four goals, 27:23, with 13 minutes to spare. But Taubaté, whose production decreased over the last 15 minutes as the legs started to get tired, was too far away and still had exactly what was needed in the tank to clinch the win. This will be crucial for the Brazilian side, who can earn a better placement with this win, as they thoroughly deserve it, with plenty of hard work put in.
That 10:0 run in the first half was the pivotal point of the match, as hardly any team could survive that type of run. And Al-Kuwait SC, apart from their foreign players, simply did not have what it took to mount a comeback. Marzo and Hernandez were their top scorers, combining for 11 goals, but at the IHF Men's Super Globe, it is simply not enough to clinch a win with only two players producing the level needed for this match. Matheus Perrella Filho, who had seven goals and two assists, was named the 'hummel Player of the Match' as Taubaté celebrated their first win at the IHF Men's Super Globe since 2019. Sure, they might not have beaten records, but they did themselves proud with a superb game.
12:39 AST Taubaté in firm control
Handebol Taubaté are heading to their third consecutive win in the IHF Men's Super Globe, with a streak dating back to 2019, when they finished in sixth place in the final standings. Al-Kuwait started the second half better, with a 3:1 run, but have once again fallen down the pecking order due to their plethora of misses. Frankis Marzo might have scored four goals, but he also made a ton of mistakes that cost the team in the long run. But there is nothing that the Asian side could do to stop the rut at times, which has definitely been their main problem, especially as they have only scored six times between the 16th and the 37th minutes.
It was an issue of their own making, though, as the Asian side needed to protect the ball better and use their best players in attack to match their strengths. On the other hand, Taubaté's main asset was taking advantage of the mistakes made by their opponent, and it seemed like they simply can not lose this match. They are on par to deliver one of the best attacking performances in their participation at the IHF Men's Super Globe, with the target being the 38-goal performance against Sydney-Uni in 2018. Right now, with 15 minutes to go, they are cruising to a win, leading 26:20.
12:04 AST Half-time: Handebol Taubaté vs Al-Kuwait SC 19:12
Well, what about that mountain? Kuwait looked in total control of the match and had no real issues, but after Taubaté called that timeout, they were a different team on both sides of the ball, especially in defence, stopping Kuwait in their tracks. In the 16th minute, Taubaté were down 10:6. Seven minutes later, the Brazilian side used a whopping 8:0 run to turn the game on its head and change everything on the court.
Joao Henrique Rodrigues de Matos Santos and Leandro Alves Monte Silva combined for eight goals, but the defence really stood out, forcing 10 turnovers, five of which came from Frankis Marzo. Besides Marzo and Hernandez, who started getting increasingly tired, Kuwait had little to show. Sneakily, Taubaté took control of the match and duly took advantage of all their opponent's woes. The Asian side took two timeouts, trying everything to stop the rut, but the truth was that they failed to score for 10 minutes and eight seconds and handed Taubaté the keys to the match. Handball brings some surprises to the table, but this is surely a big one, especially judging the way the game unfolded.
11:47 AST Al-Kuwait dominate at the start of the match
After nine minutes and 15 seconds, Taubaté were forced to take a timeout after an abysmal start on their part. They have constantly been missing key moments in attack, turning the ball over four times and missing shot after shot, with Kuwait's goalkeeper, Ali Safar, saving three of the four shots he faced for an outstanding 75%. The class from right back Angel Hernandez and centre back Frankis Marzo was on display at all times, with the two combining for five goals as Kuwait jumped to a 5:1 early lead.
The Asian side is slowly getting closer to their first-ever win in the IHF Men's Super Globe, as their debut has been nothing short of superb, with a powerful display, at least from their top players. On the other hand, down 9:5 after 15 minutes, Taubaté will have a mountain to climb, and they genuinely need something special to mount a comeback.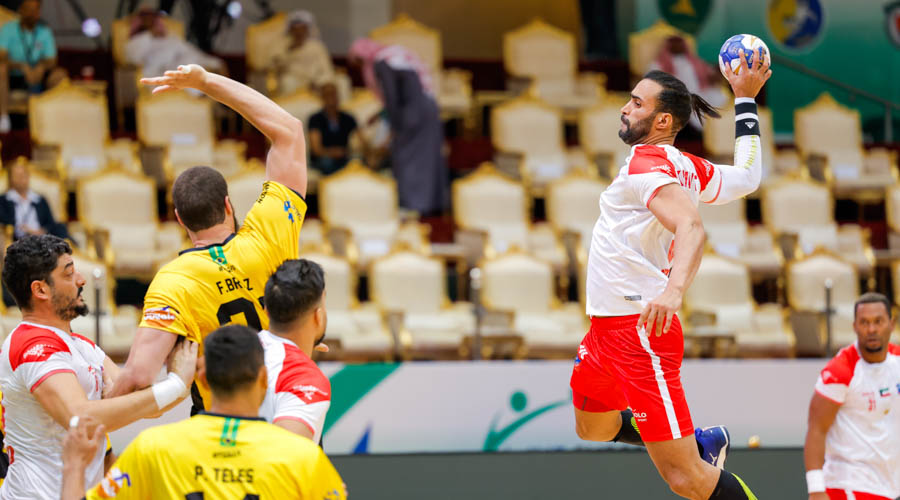 11:20 AST 2022 IHF Men's Super Globe about to start
Handebol Clube Taubaté and Al-Kuwait are on the court of the Dammam Sports Hall, making their last preparations before the start of the match, which will officially throw off the 2022 IHF Men's Super Globe. The Brazilian side will rely on their local players, while Al-Kuwait have some strong players on their roster. The top goal scorer of the 2021 IHF Men's World Championship, Frankis Marzo, is on their roster, as well as right back Angel Hernandez and centre back Vuk Lazovic also signed as a late addition to the squad.
It will be very interesting to see who prevails, so let's get ready for the first of the four matches played today in Dammam.
11:00 AST Groups, maths and semi-finals
The 12 teams in the competition have been divided into four groups each, with continental protection in the draw. Therefore no team will play against a side from their continent in the group phase. 
After the round-robin format group phase is over, the winners of each group will face each other in the semi-finals.
Group A: SC Magdeburg (GER), Sydney Uni (AUS), Khaleej (KSA)
Group B: Al Ahly (EGY), Mudhar (KSA), SL Benfica (POR)
Group C: Handebol Taubaté (BRA), Al-Kuwait (KUW), Łomża Industria Kielce (POL)
Group D: Barça (ESP), Club Ministros (MEX), Esperance de Tunis (TUN)
10:00 AST Who is going to be the winner?
13 of the previous 14 editions of the IHF Men's Super Globe were won by European sides, with Barça taking five trophies home, Füchse Berlin and Ciudad Real two each and THW Kiel, SC Magdeburg, Atletico Madrid and CB Cantabria one title each. Therefore, only Spanish and German teams secured the gold medal in those 13 instances.
The other side to win a trophy, the only non-European one, was Qatar's Al-Sadd in 2002, when they won all four matches played in a round-robin format, including the one against SC Magdeburg. However, European sides will also be favourites this time, with Barcelona, Magdeburg, Lomza Industria Kielce and SL Benfica aiming to complete their trophy cabinet.
09:30 AST Stars ready to make their mark
With 12 teams for the first time at the start of the IHF Men's Super Globe, there will be plenty of stars ready to take the court in Dammam. There are indeed players like Dika Mem, Omar Ingi Magnusson, Ludovic Fabregas, Alex Dujshebaev, Nedim Remili and Andreas Wolff, who are all known very, very well from the IHF Men's World Championship and other club competitions in the past decade. But there are also players like the 2021 IHF Men's World Championship top scorer, Frankis Marzo, who are eager to prove once again their mettle.
Khaleej, one of the hosts of the tournament, has also pulled a coup in the last week, loaning three stars from Egyptian side Zamalek SC, goalkeeper Karim Hendawy and backs Hassan Kaddah and Ahmed Elahmar, who will be ready to prove a point after displaying some fantastic games for Egypt's national team in the past tournaments.
09:00 AST Welcome to Dammam!
For the third time in a row, the Kingdom of Saudi Arabia is hosting the IHF Men's Super Globe after the 2019 and 2022 editions, which were won by Barça and SC Magdeburg. Dammam, one of the most populous cities in the country, will be the host this time, as the competition returns for the first time since 2019, with the 2021 edition being held in Jeddah.
The Ministry of Sports Hall, which has a capacity of 5000, will be the venue for the 24 matches that will take place over the next six days, with a single rest day, Friday, scheduled for the 12 teams competing for the coveted trophy.