Quarter-finalists to be decided on busy day at Slovenia 2022
28 Jun. 2022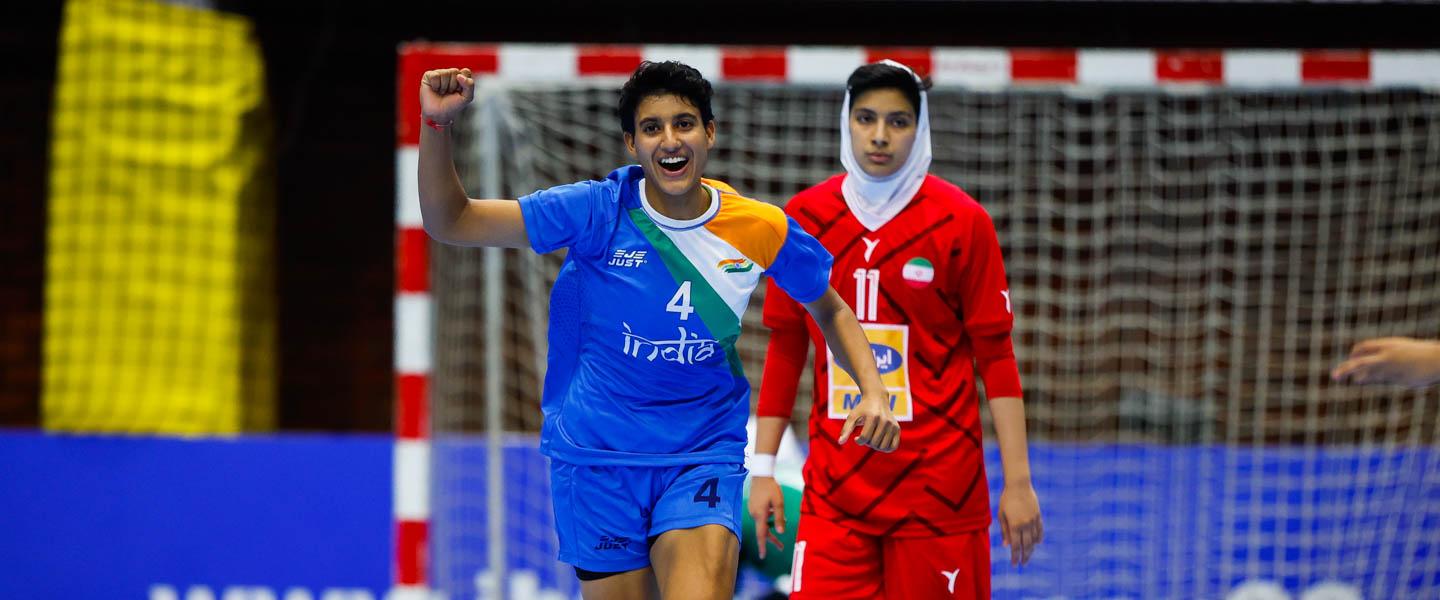 The main round and the President's Cup group phase will conclude on Wednesday, when the 2022 IHF Women's Junior World Championship provides a full, 16-game card, with the last available quarter-finals berths ready to be taken by the ambitious sides who are eyeing them.
Only two teams – Sweden and the Netherlands in Group A – have progressed to the knockout phase of the competition, while the other six remaining berths will be up for grabs, as several high-profile clashes between powerhouses are scheduled in the Golovec and Zlatorog Arenas in Celje.
Slovakia have already won their President's Cup group, with Romania, the Republic of Korea and Austria or Poland hoping to follow suit by securing the first place in their groups and vying for the 17th place in the final standings.
Main Round Group I
Netherlands vs Sweden (14:30 CEST, Zlatorog Arena, Celje)
Japan vs Tunisia (16:30 CEST, Zlatorog Arena, Celje)
They had their ups and downs throughout the whole tournament, but Netherlands and Sweden are the only sides to have secured safe passage to the quarter-finals with a game left in the main round. Now they are facing each other with the first place in Group I on the line and the chance to avoid the winners from Group III in the quarter-finals. Sweden (148 scored goals) and the Netherlands (146 scored goals) are ranked in the second and third places in the top attacking stats, with a similar efficiency – Sweden boast 71.4% shooting efficiency, just a small uptick from Netherlands' 68.2% efficiency.
This promises to be an exciting game, between two sides who have not lost a single match until this point in the competition. In the other game, Japan face Tunisia, as the Asian side will be favoured, despite conceding a heavy loss two days ago against Sweden, 21:40. On the other hand, Tunisia have won their matches against the Islamic Republic of Iran and Guinea and will look to improve that metric in their last main round match.
Main Round Group II
Denmark vs France (14:30 CEST, Golovec Arena, Celje)
Montenegro vs Norway (16:30 CEST, Golovec Arena, Celje)
The group of all possibilities throws off with a do-or-die clash for France, as "Les Bleuettes" face Denmark in a tie featuring two wounded sides. Starting off in excellent fashion, France's level has dropped off, with a draw against Norway, 34:34, and a loss against Montenegro, 24:25, really hampering France's chances in the tournament. For them to progess, a win will not be enough, they still need Norway to beat Montenegro, as the first place in the group is out of their reach. On the other hand, Denmark conceded a painful loss against Norway on Tuesday, but they can still earn safe passage if they do not lose and Montenegro do not win against Norway.
The silver medalists from Hungary 2018, Norway, have not entered Slovenia 2022 as huge favourites to lift the trophy, but after four games they are undefeated, drew against France and beat Denmark after a strong 8:0 run to start the game. Centre back Martine Andersen has orchestrated the game beautifully, while Norway's top scorer in the tournament has been line player Kaja Rohne, with 21 goals. However, most of Norway's game has been based on their two backs –Maja Saeteren and Andersen – who are topping the assists chart, with 19 and 18 assists under their belt. On the other hand, Montenegro have delivered a superb game against France, using an ultra-aggressive tactic throughout the game in attack – seven on six – and a 4-2 defence, which definitely can surprise the opponents during a match.
Main Round Group III
Czech Republic vs Slovenia (18:30 CEST, Golovec Arena, Celje)
Angola vs Germany (20:30 CEST, Golovec Arena, Celje)
Having never finished in the top 10 at the IHF Women's Junior World Championship, Angola are the big surprise of the competition, after winning the last three matches in a row, positioning themselves to win this group, after having already finished first in the preliminary round. The African side is virtually through to the quarter-finals, as only a 19-goal loss against Germany would see them out of contention if the Czech Republic beat Slovenia in the other match. On the other hand, Germany need to win to progress to the knockout phases of the competition, as a three-way tie between them, Angola and the Czech Republic would see the latter side out due to their 11-goal loss against the African side. "We just need to be better, more focused and we will do everything to win against Angola," said Germany's coach, Andre Fuhr, according to the official website of the German Handball Federation.
In the other match, Slovenia still hold a glimmer of hope about progressing to the quarter-finals, despite losing against Germany. They still need Angola to win in the last game, but also to win against the Czech Republic by exactly eight goals if they score more than 27 goals or by a larger margin. Yet with two consecutive losses against Angola and Germany, by a combined margin of 10 goals, their chances are slimmer and slimmer. Czech Republic stayed alive twice by beating Romania and Germany and will progress to the quarter-finals only if they win and Germany do not win against Angola.
Main Round Group IV
Croatia vs Hungary (18:30 CEST, Zlatorog Arena, Celje)
Switzerland vs Egypt (20:30 CEST, Zlatorog Arena, Celje)
Hungary need a point against Croatia to ensure winning the group but will eye to extend the unprecedented 12-game winning streak in the competition they built over the last two editions. No team has scored more goals than Hungary at Slovenia 2022, as the reigning champions have 155 goals in four games, for a superb average of 38.75 goals per game. With a constant rotation of players during those matches, Hungary are still eager to secure the first place in the group, as Croatia face a must-win scenario, after their painful defeat against Switzerland.
After finishing 13th at Nigeria 1989 and 15th at Cote d'Ivoire 1997, Switzerland can record their best-ever finish at the IHF Women's Junior World Championship, provided they beat Egypt and Hungary do not lose against Croatia. Despite conceding a painful 23:40 loss against the reigning champions in yesterday's match, Switzerland still proved to be a strong side, brushing off their first-game loss against Austria. If they do proceed to the next phase, this will be the first Switzerland youth or junior team to clinch a top-10 finish at the World Championship.
President's Cup Group I
Slovakia vs Islamic Republic of Iran (12:30 CEST, Zlatorog Arena, Celje)
India vs Guinea (20:30 CEST, Tri Lilije Hall, Lasko)
Slovakia, who started the President's Cup with two points and added just as many to their tally following a win against Guinea, are top of Group I. A draw against the Islamic Republic of Iran will be enough for them to stay in this position and continue in the 17th place bracket. Meanwhile, Iran are ranked third in the group with one point, and they were obviously frustrated by a narrow defeat against fellow Asian team India on Sunday.
For the rookies India, it was a historic win, their first at this level, and it helped them to climb to the second place with two points. Now the Indians will face another debutants, Guinea, and a victory will secure them a spot at least in the 21th place bracket.
President's Cup Group II
Italy vs Brazil (12:30 CEST, Golovec Hall, Celje)
Argentina vs Republic of Korea (18:30 CEST, Tri Lilije Hall, Lasko)
On Sunday, Brazil claimed their first win at the tournament, beating fellow South American team Argentina. With two points, the Brazilians are ranked third in the group, but they have a fair chance to climb up in the standings as they face group outsiders Italy on Tuesday. However, the Italians can be a tough nut to crack, which they proved in the match against the Republic of Korea. An extremely close fight lasted for 45 minutes before the Asian team pulled clear towards the final whistle.
After that win, the Republic of Korea are top of the group with four points, and they hope to stay in this position after the game against Argentina. However, the South American team are looking for redemption after losing to Brazil, and they are ready to fight hard.
President's Cup Group III
Romania vs Chile (14:30 CEST, Tri Lilije Hall, Lasko)
Lithuania vs Mexico (16:30 CEST, Tri Lilije Hall, Lasko)
After struggling in the first 15 minutes, Romania took a big win against Mexico yesterday, which allowed them to take the leading position in the group with four points. Unless they lose against Chile, which does not seem very likely, the European team will have an opportunity to fight for the 17th place.
Chile and Lithuania are level on two points, but in their mutual encounter, Lithuania were far superior yesterday, winning by 18 goals. This was their first victory in the current competition, and if they gain the momentum and also beat Mexico, they will have a good chance to end up in the 21st place bracket.
President's Cup Group IV
Austria vs Poland (10:30 CEST, Golovec Hall, Celje)
Kazakhstan vs USA (12:30, Tri Lilije Hall, Lasko)
The situation in this group is quite straightforward. After yesterday's victories, Austria and Poland are level on four points, so the winner of their mutual encounter will continue to fight for the President's Cup, while the losing team will fight for the 21th place. In case of a draw, Austria will hold an advantage, as their goal difference is better.
In turn, Kazakhstan and the USA stay on zero points, but at least one of these teams will end their losing run on Tuesday, as they will face each other. The winner of this encounter will be placed into the 25th place bracket, and if they split the points, Kazakhstan will be ranked higher on goal difference.