Slovenia 2022 throws off with full 16-game card
21 Jun. 2022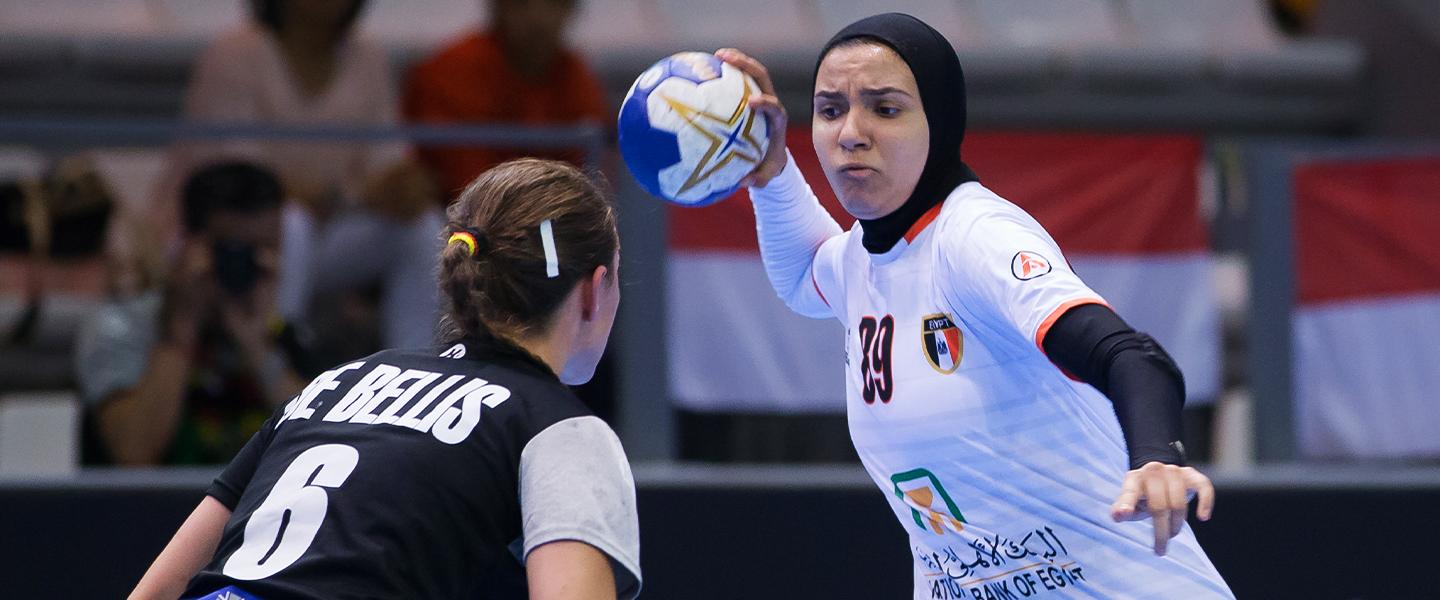 A festival of handball is right upon us, as the 23rd IHF Women's Junior (U20) World Championship edition throws off in Slovenia on Wednesday, in three venues located in two cities – Celje and Lasko. 
In an area renowned for its handball tradition, 32 teams will vie for the much-coveted crown of world champions, which Hungary secured in 2018 before the next edition, which was due to be hosted by Romania, was cancelled due to the COVID-19 pandemic. 
This is the first-ever IHF Women's Junior World Championship with 32 teams at the start, with 108 games spread over the next 10 days, deciding who will be the new world champions. Will Hungary become the first team in 17 years to retain their trophy or will another side rise to the challenge?
GROUP A
Slovakia vs Japan (14:30 CEST, Zlatorog Arena, Celje)
India vs Netherlands (20:30 CEST, Tri Lilije Arena, Lasko)
Slovakia will head into the IHF Women's Junior World Championship after two losses against Croatia in two friendly games, but most importantly they will miss Barbora Lancz, their top scorer and the fourth best scorer at the Women's 19 EHF EURO 2021, who is absent due to an injury. "The game is paramount to us, because we want to proceed to the next phase," said Slovakia's coach, Jan Benadik, according to the official website of the Slovak Handball Federation.
In the other game, the Netherlands are overwhelming favourites against India, who will be one of the three teams to make their debut in the competition. With back Kim Molenaar in superb form – 29 goals scored in the Scandinavian Open, where they drew against Sweden and lost against Norway and Denmark – the Dutch side hopes for a strong start of the tournament.
GROUP B
Islamic Republic of Iran vs Guinea (12:30 CEST, Tri Lilije Arena, Lasko)
Sweden vs Tunisia (16:30 CEST, Zlatorog Arena, Celje)
Three teams are making their debut at this year's IHF Women's Junior World Championship and two of them will be facing each other in the first match hosted by the Tri Lilije Arena in Lasko. Guinea finished fourth in the CAHB Women's Junior  Handball Championship after winning their group, but faltering in the knock-out phase against eventual winners Angola and Tunisia. On the other hand, the Islamic Republic of Iran continue their rise in women's handball, after making their debut at the senior 2021 IHF Women's World Championship last December in Spain, and will eye their first win in history against Guinea.
With four players who already made their debuts in the senior team, Thea Blomst, Clara Petersson Bergsten, Charité Mumbongo and Tyra Axnér, Sweden will surely be favoured against Tunisia, in what could prove to be a perfect start for the European powerhouse, that is eyeing their second medal in history after winning gold 10 years ago.
GROUP C
Denmark vs Montenegro (18:30 CEST, Zlatorog Arena, Celje)
Argentina vs Italy (18:30 CEST, Tri Lilije Arena, Lasko)
At first glance, this looks like a well-balanced group, with three European teams at the start, but Denmark are definitely favoured, after winning against the Netherlands (30:23) and Norway (36:23) but losing against Sweden (22:25) at the Scandinavian Open. Reigning South and Central American champions Argentina will take on Italy, a team that progressed to the final tournament via a Wild Card, after losing two games against Poland and Montenegro in the European Qualification tournament in Podgorica last November.

GROUP D
Norway vs Republic of Korea (15:30 CEST, Golovec Arena, Celje)
France vs Brazil (20:30 CEST, Golovec Arena, Celje)
This will undoubtedly be the toughest group in the competition, with a powerhouse ready to go out swinging at the end of the six matches scheduled for the preliminary round. Norway, who won silver at Hungary 2018 and the Republic of Korea, who were the bronze medallists four years ago, collide in the most expected clash of the first day of the competition. It is always difficult to pinpoint the level of the Asian side, who always were a hard nut to crack at this level, but they lost two games in a friendly tournament in Siofok, 31:33 against Romania and 25:28 against Hungary. 
On the other hand, France have been one of the teams to watch at the last editions of the competition, finishing in the top 10 three times since 2012, and will definitely be favourites against Brazil, who finished second at the Women's Junior South and Central American Championship.
GROUP E
Romania vs Angola (12:30 CEST, Zlatorog Arena, Celje)
Czech Republic vs Lithuania (13:30 CEST, Golovec Arena, Celje)
Sixth at Croatia 2014, 3rd at Russia 2016 and 8th at Hungary 2018 are the last three results for Romania at the IHF Women's Junior World Championship and Horatiu Pasca's side will hope to extend their top-10 streak at Slovenia 2022. Their luck did not run out in the draw, as they have been handed a big lifeline in this group, where they will start as favourites against Angola. The two sides met on 11 June in a friendly tournament in Siofok, Hungary, where Romania took a 22:21 win. On the other hand, Lithuania make their comeback after 17 years in the competition, but will be underdogs against a plucky Czech Republic team, that boasts the second best scorer of the Women's 19 EHF EURO 2021, Charlotte Cholevová.
GROUP F
Germany vs Chile (11:30 CEST, Golovec Arena, Celje)
Slovenia vs Mexico (18:30 CEST, Golovec Arena, Celje)
The hosts will make their debut just after the opening ceremony of the 23rd edition of the IHF Women's Junior World Championship, with Slovenia being heavily favoured against Mexico, a team that will make only the second appearance in the tournament and the first one since 2010. With expectations high for Slovenia, the hosts will take the chance to gear up for the final match of the group against Germany, while the fellow European side meet Chile in the first match in the Golovec Arena in Celje.
GROUP G
Croatia vs Kazakhstan (14:30 CEST, Tri Lilije Arena, Lasko)
Switzerland vs Austria (16:30 CEST, Tri Lilije Arena, Lasko)
Both Group G matches on the opening day will be held at Tri Lilije Hall in Lasko. At 14:30 Croatia, who are heading into their 10th straight IHF Women's Junior World Championship, will meet the only non-European team in this group, Kazakhstan. And two hours later – at 16.30 – the time will come for an exciting Alpine derby, as Switzerland will meet neighbours Austria. For the Switzerland team, it will be the first game at this level since 1997, while Austria are making their comeback after a six-year break.
GROUP H
Poland vs United States of America (10:30 CEST, Zlatorog Arena, Celje)
Hungary vs Egypt (20:30 CEST, Zlatorog Arena, Celje)
The opening match of the tournament will be played in Group H, as Poland will face the USA at Zlatorog Arena in Celje at 10:30. For the Polish side, it will be the ninth participation in the IHF Women's Junior World Championship, with their best result still being the third place in 1985. In turn, the US team, who qualified for the tournament as runners-up of the 2022 North America and Caribbean Women's Junior Championship, are making their return after a 41-year break, as they last participated in 1981.
In the other Group H match, Hungary, who triumphed four years ago on home court, will start their title defence with a game against Egypt, who finished 23rd in 2018. The European team will be seen as strong favourites in that encounter, which will also be held at Zlatorog Arena and is scheduled for 20:30.