Argentina win SCAHC Women's Junior Championship
28 Mar. 2022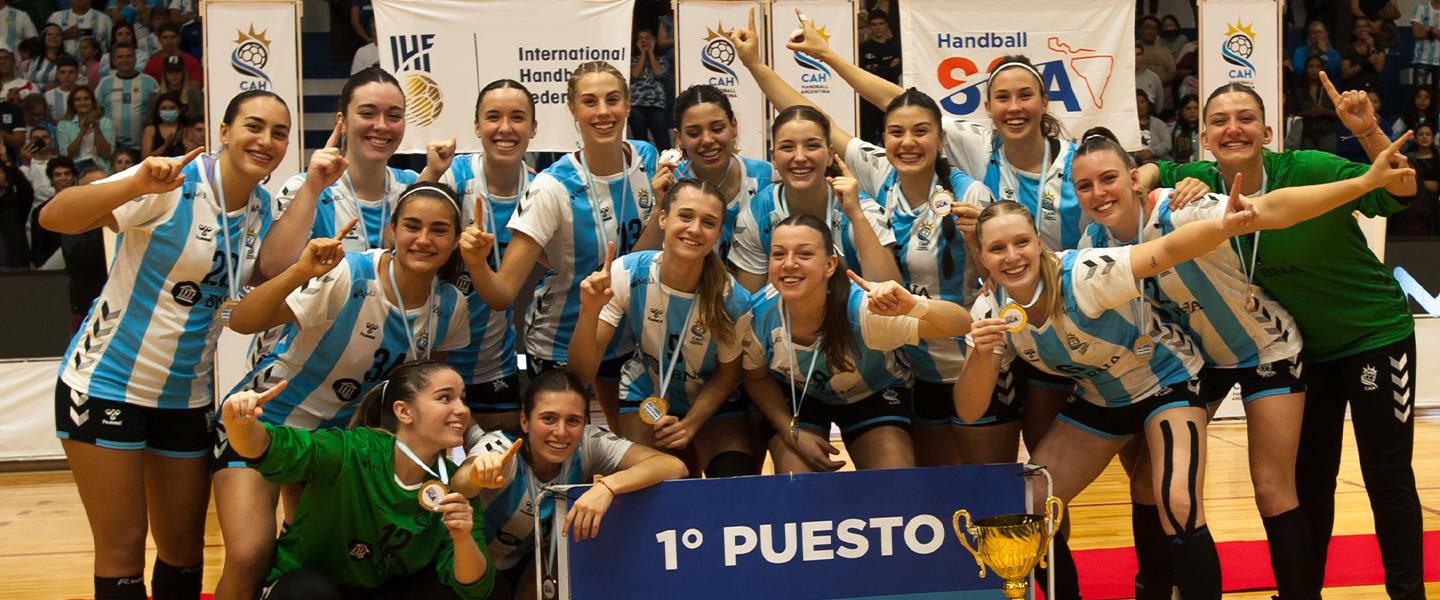 Home team Argentina claimed gold at the inaugural South and Central America Handball Confederation (SCAHC) Women's Junior Championship, which took place in Buenos Aires from 22 to 26 March.
Five teams competed in the round-robin tournament at Argentina's 'National Centre of High Performance Athletics', known as 'CeNARD', and the hosts, coached by Hernan Siso, managed to beat all their rivals – Chile, Uruguay, Brazil and Paraguay.
The key match against Brazil on Thursday was the tightest, but the Argentina trio of Oriana Lezana, Delfina Ojea and Sofia Rivadeneira combined for 18 goals and propelled their team to a 24:22 victory. At junior level, it was Argentina's second straight win against their biggest continental rivals, after they defeated Brazil in the Junior Pan America Games semi-final last October (23:21). 
While Argentina finished with the maximum of eight points, Brazil won their other three matches, including the last game on Sunday against direct rivals Chile (23:19), and came in runners-up with six points.
Both Argentina and Brazil booked their tickets to the 2022 IHF Women's Junior (U20) World Championship, which will be held in Slovenia from 22 June to 3 July. While it will be the 15th straight participation for the Brazilians, Argentina will make their return after missing the last edition of the championship in 2018. 
With four points under their belt, Chile finished third, while both Paraguay and Uruguay, whose encounter on Thursday ended in a 26:26 draw, claimed one point overall. However, Paraguay took the fourth position thanks to a better goal difference.
Argentina's centre back Delfina Ojea, who was called up for the senior national team by coach Eduardo Gallardo for the 25th IHF Women's World Championship in Spain last December, became top scorer of the competition with 21 goals, one more than Sofia Arami Villalba from Paraguay. 


Final ranking
1. Argentina
2. Brazil
3. Chile
4. Paraguay
5. Uruguay
For more information, including all match results, visit handballargentina.org.
Photos courtesy of South and Central America Handball Confederation