India win debut continental title at Asian Women's Junior Championship
15 Mar. 2022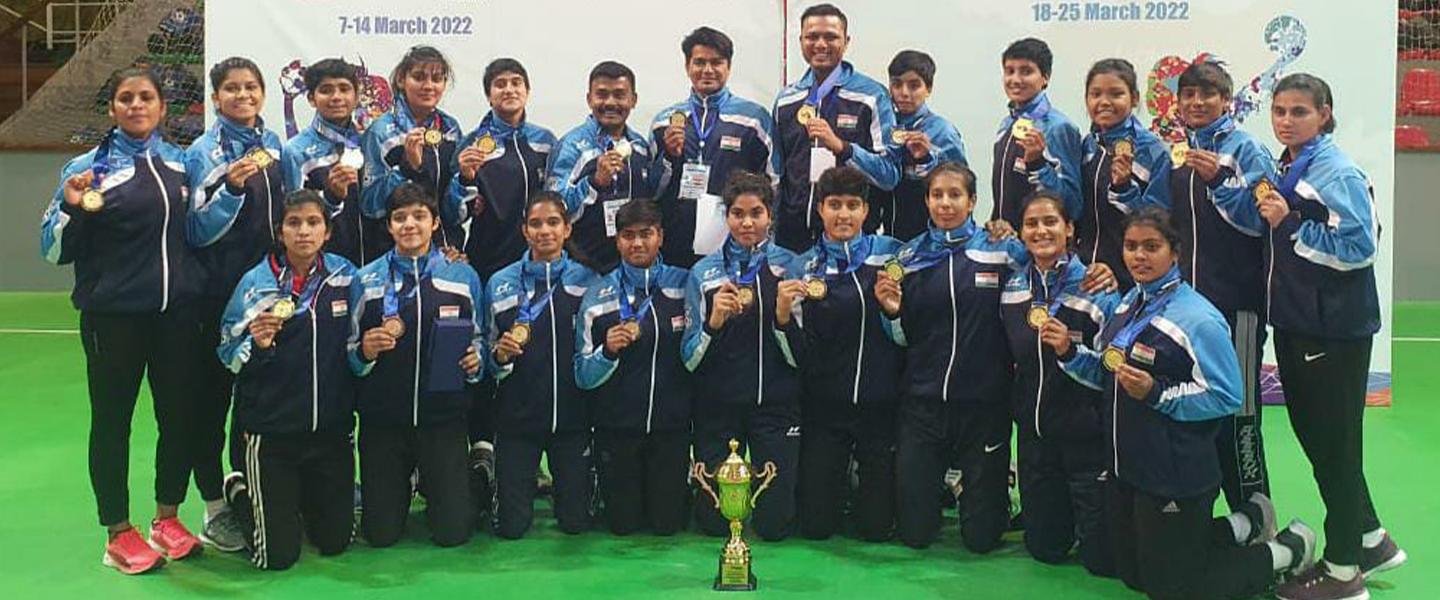 The 16th Asian Women's Junior Championship ended with India celebrating two historic firsts: their first gold medal at the event, long dominated by Republic of Korea, and their first IHF World Championship qualification ever.
Due to COVID-19, participation was restricted and the usual top nations were not present – but that does not negate the history celebrated by India, as well as runners-up Islamic Republic of Iran. As the silver medallists, Iran also secured a place at the 2022 IHF Women's Junior (U20) World Championship.
Ultimately, five teams were able to compete at this year's edition of the Asian Women's Junior Championship, which was held at the Dostyk Universal Sports Complex in Almaty, Kazakhstan from 7 to 14 March 2022, with the host nation joined by Uzbekistan, India, Islamic Republic of Iran and Thailand.
It ended up in a three-way-tie at the top of the group with India, Iran and Kazakhstan all winning three of their four games. In their head-to-head matches, Iran beat India (42:37), India defeated Kazakhstan (29:21) and Kazakhstan emerged victorious against Iran (30:24). 
Therefore, it went down to a mini-group, taking into consideration all the results between the teams – and with India (+3) and Iran (-1) having a better goal difference than Kazakhstan (-2), it was heartbreak for the hosts, who missed out on the World Championship spot. The first position marked also the first time an Indian team in either gender at any level has won a continental gold medal in handball.
"The team had gone to Almaty with great difficulty but the players made the country proud," said Handball Federation of India Executive Director Anandeshwar Pandey.
"Once we took an 11-goal lead [against Thailand], we were sure of winning our last game," said India captain and right wing, Priyanka Thakur to local media. "After losing to Iran in the second game, the morale was a bit down as we could have won that match. But the win against Kazakhstan lifted our spirits. We didn't allow the Thai girls a free hand and attacked from the onset.
"A fortnight ago, before the start of the championship, we weren't sure of our participation due to some technical issues," she added. "It's a dream come true for us."

India's Bhawana Sharma was named Most Valuable Player of the championship, as part of the All-star Team.
Almaty and the AHF now get ready to welcome the postponed Asian Women's Youth Championship, which will be played at the same venue from 18 to 25 March.
Final Ranking
1. India
2. Islamic Republic of Iran
3. Kazakhstan
4. Uzbekistan
5. Thailand
Photo: Kazakhstan Handball Federation