Remaining quarter-finalists to be determined
17 Jun. 2022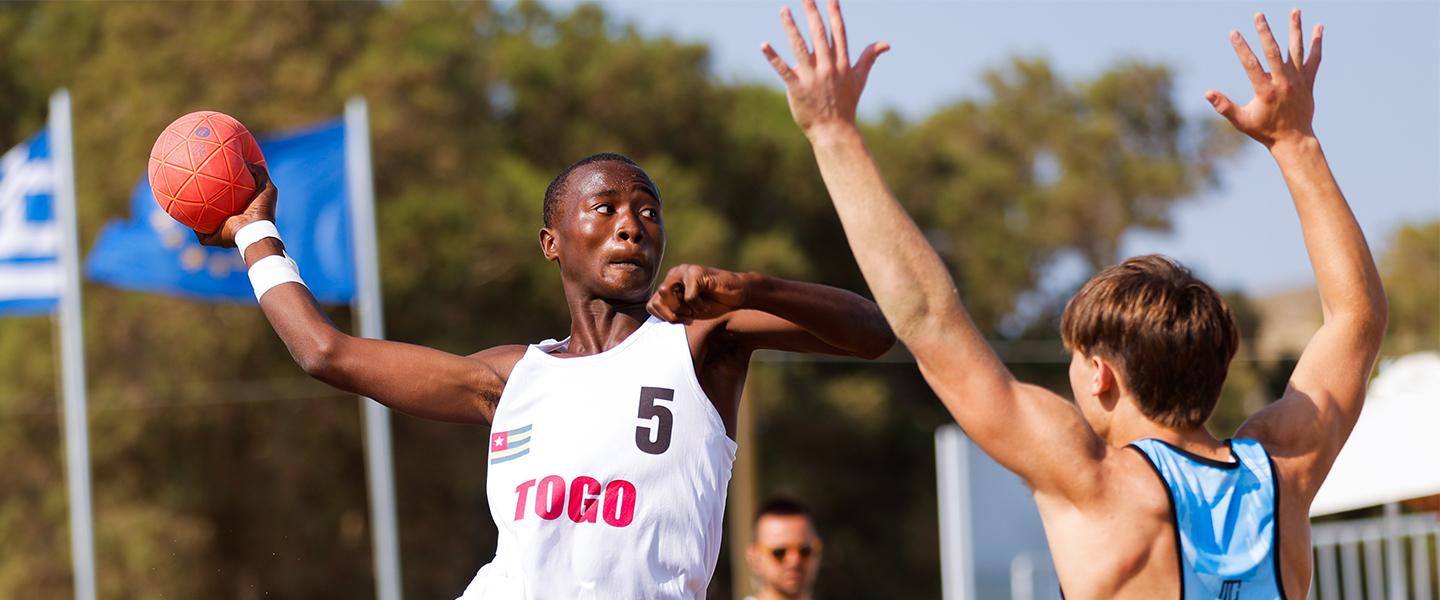 Live blog: The last main round day in Heraklion is over and all eight men's quarter-finalists are known.
Today's matches:
09:30 EEST Consolation round: United States of America vs Togo (2-0)
11:10 EEST Consolation round: Czech Republic vs Uruguay (2-0)
16:50 EEST Main round I: Sweden vs France (1-2) /  Islamic Republic of Iran vs Brazil (2-0) / Qatar vs Croatia (1-2)
17:40 EEST Main round II: Jordan vs Germany (1-2) / Spain vs Ukraine (2-1) / Greece vs Argentina (0-2)
18:52 EEST Men's games finished for today, join us tomorrow for the 9-16 placement round, quarter-finals and semi-finals
We start nice and early at 09:30 EEST with the quarter-finals completing at just after 12. The semi-finals start at 18:30 EEST.
18:35 EEST The final main round, group II table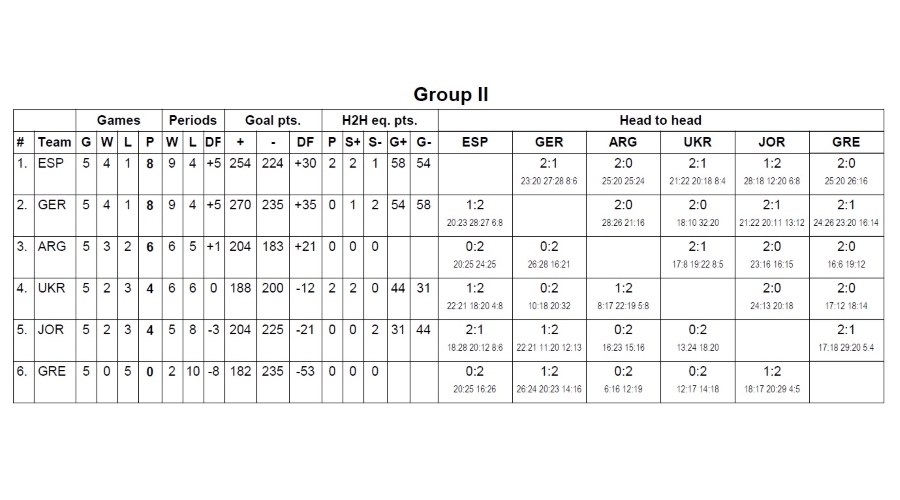 18:15 EEST Jordan and Greece go out, Ukraine join Germany, Spain and Argentina in quarter-finals
After beating Jordan earlier on in competition, Ukraine beat them to the last eight after they both ended on four points each. It marks the end of the road for the Asian side who had started off in Greece so well, beating Spain in a shoot-out.
Bronze medallists at the last event, Argentina, are getting close to another podium finish, just like title-holders Spain.
17:40 EEST Last three men's main round games throw-off
Jordan will be hoping to get back to winning ways, against Germany with Spain and Ukraine and Greece against Argentina wrapping up the round.
17:32 EEST Here's the group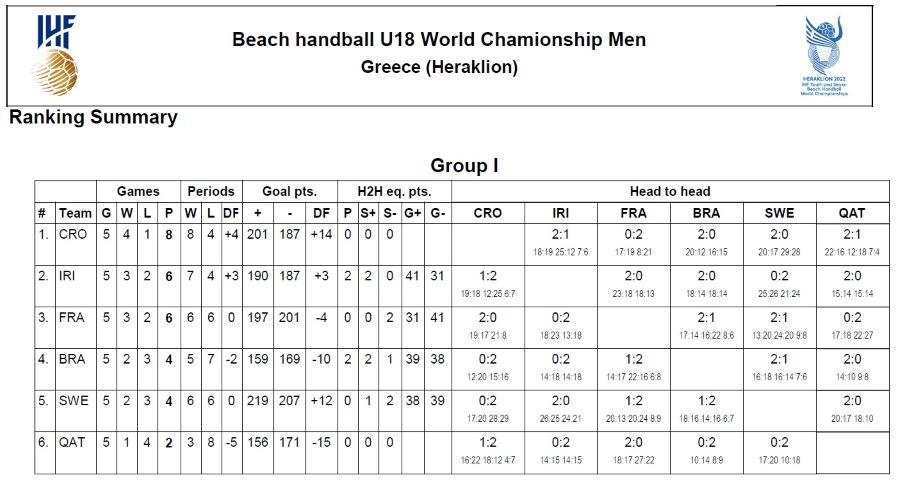 17:31 EEST European champions crash out, France and Brazil survive
Sweden's goalkeeper overthrows his attempt into an empty net and the ball nestles on top. It's all on France now and Baptiste Perchicot swerves the onrushing Swedish goalkeeper in a feint Ronaldo would have been happy with.
He delivers into an open goal and wild celebrations are sparked. This time, in a reverse like the other day, the French women run on to celebrate.
European champions Sweden have gone out and another team in yellow will be happy – Brazil. Despite losing, they are through on the head-to-head table.
Sweden started Greece 2022 with three, straight 2-0 wins. They then lost all three of their main round games.
That's how it goes sometimes.
17:29 EEST Four out of five attempts scored each from Sweden and France
They change ends, it's 8:8.
17:26 EEST Iran beat Brazil, nervy wait for South Americans and European champions
It is out of their hands now, Brazil need Sweden to defeat France in their ongoing shoot-out. Sweden need to win too. Wow. A lot to take in.
17:24 EEST Qatar vs Croatia now going to a shoot-out
Not much else to say on that really. It's all happening here.
(France and Sweden have both scored their two shots each so far)
17:21 EEST Shoot-out for France to save their chances, Sweden could go out, really? Beach handball. Wow.
France need to win here. That's an understatement. They are in a shoot-out with the European champions now after coming back to take the second set.
There is also a scenario where the Swedes could go out – is it even possible?
17:03 EEST Half-time
'Macarena' (Spain), 'Gangnam Style' (Republic of Korea) and any ABBA whatsoever (Sweden).
These are the choices, generally-speaking, you hear from championship DJs and music production companies when you travel around the world to handball competitions and these specific teams play.
Of course, they are used to it. 
For Sweden at half-time today, having won the first period against France 20:13, the DJ here played Abba's 'Gimme, Gimme, Gimme (a man after midnight)'.
What France need are points, more than the Swedes in the second set.
Iran are beating Brazil 1-0 in the Peixe-derby (see below) and Croatia will confirm their spot at the top of the table and send Qatar out if they hold on to their lead.
With Brazil and France both losing, if all scores stay the same, they will end up in fourth and fifth place on four points each – but with Brazil having beaten the French earlier here, they will go through on the head-to-head record in the fourth quarter-final spot.
16:50 EEST We're back
Three cracking games are underway right now. Who's your pick?
Can Iran defeat Brazil in an emotional game for Iran's beach handball technical advisor Antonio Guerra Peixe, the legend of the sport and former senior Brazilian men's coach?
Qatar and Croatia have clashed many times at senior level in medal matches - now they meet for the first time at youth level.
Finally, Sweden vs France - a classic indoor clash now on the sand with a lot to play for.
11:35 EEST A five-hour break now
There are no more men's games until 16:50 EEST so get refreshed and recharged and join us then.
11:10 EEST Czechs secure top-spot in consolation round
With their 2-0 win over Uruguay, the Czech Republic complete the clean sweep of three continents – they also beat the USA and Togo.
Next up is the 9-16 placement round and they will be aiming to show their quality against some opponents who made it into the main round.
10:35 EEST Czech Republic on course for fourth, successive win
The European team have taken the first set against Uruguay in their consolation clash on the central court just now. They won it 26:21.
If they hold on, it will be their fourth straight win at Greece 2022, having won both of their previous consolation games – against Togo and the USA – plus their last preliminary group game against Jordan.
In their five games so far, they have only lost twice in Heraklion, once against the title-holders Spain and in a dramatic shoot-out against the hosts in their opening game.
Fine margins are what makes this sport so exciting but that will not be of comfort to the Czech Republic side, who could quite possibly be the unluckiest side in the championship having not qualified for the main round, despite winning a group game.
10:00 EEST They've done it!
The USA men's youth team have won their first-ever Beach Handball World Championship game. They won the second period 18:8 to take a 2-0 win.
09:45 EEST Another day has started
We're underway here in Heraklion with the USA taking on Togo in the consolation round.

First set for the USA in Greece
The Americans have registered their first set victory here in Heraklion. They have beaten Togo 23:16. Why not watch the second set live on our YouTube channel?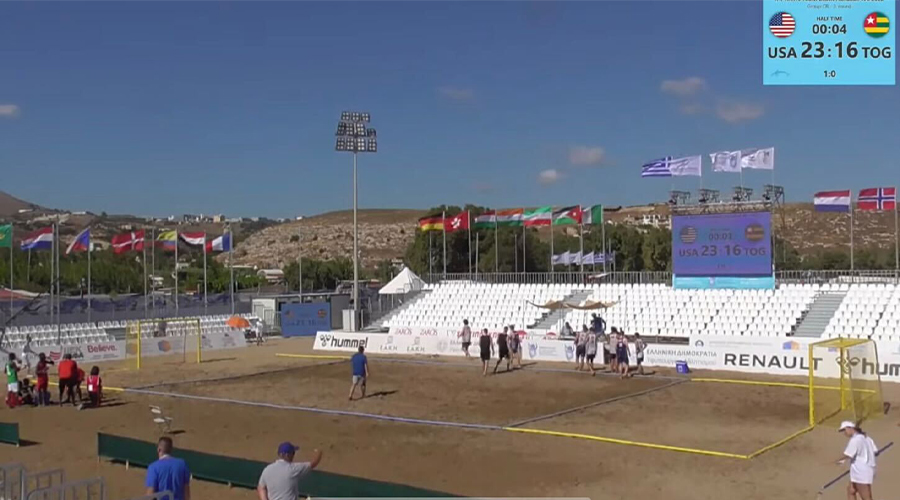 09:15 EEST Good morning, everyone
The final day of the main round is about the start and it is going to be a promising one, where so much can still happen. 
Just as yesterday, we will start the day with consolation matches, though, before the main round continues in the afternoon. First up are USA and Togo, followed by Czech Republic versus Uruguay at 10:20. 
Let's get ready to rumble!