16 teams, 16 dreams - the men's youth teams get their engines started on the Cretan sand
14 Jun. 2022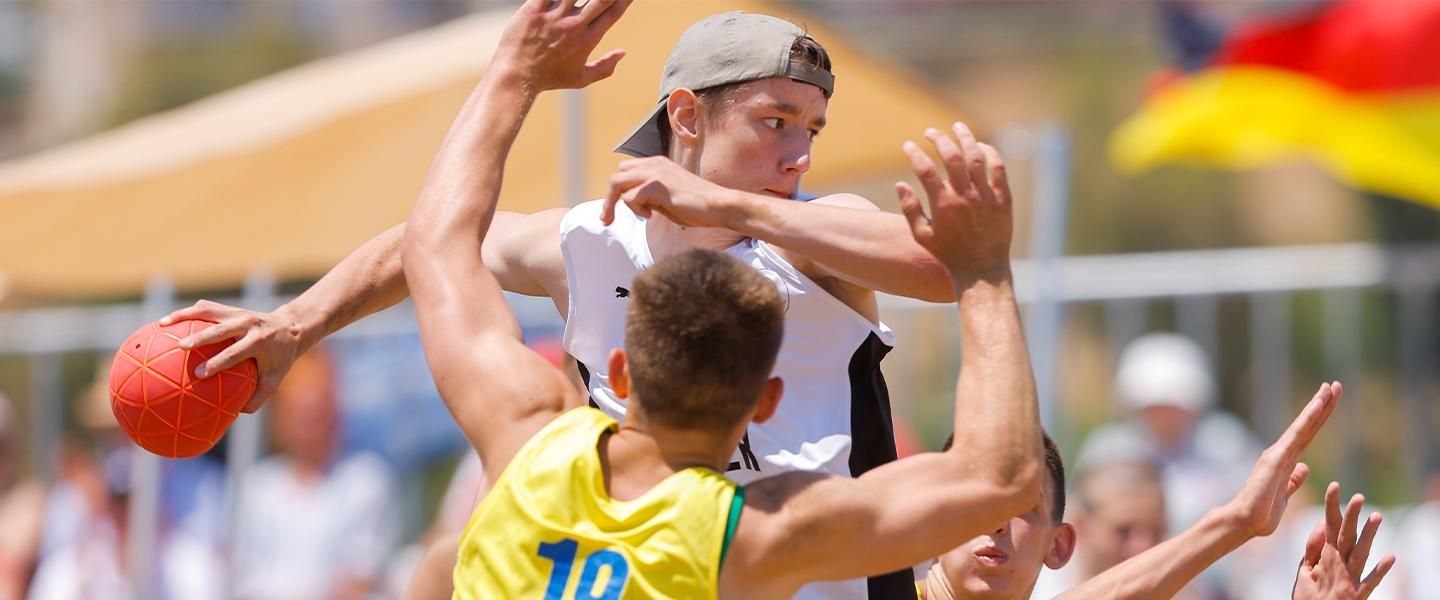 Live blog: After Argentina, Iran, Sweden, Germany, France and the hosts claimed their first Greece 2022 wins just as well as Ukraine, Croatia, Jordan and title-holder Spain, it's a wrap for today.
Join us tomorrow again for the final preliminary round decisions. 
Today's matches:
11:10 EEST Argentina vs Uruguay (2-0) / Islamic Republic of Iran vs United States of America (2-0) / Sweden vs Qatar (2-0)
12:00 EEST Ukraine vs Germany (0-2)
12:50 EEST Croatia vs France (0-2) / Greece vs Czech Republic (2-1)
15:00 EEST Spain vs Jordan (0-2)
16:40 EEST United States of America vs Sweden (0-2) / Qatar vs Islamic Republic of Iran (0-2)
17:30 EEST Germany vs Argentina (2-0) / Uruguay vs Ukraine (1-2)
18:20 EEST Togo vs Croatia (0-2) / France vs Brazil (2-1)
20:10 EEST Jordan vs Greece (2-1)
21:00 EEST Czech Republic vs Spain (0-2)
21:57 EEST Day 1 is in the history books
15 men's games have been played, nine remain. Iran, Jordan, Sweden, France and Germany all won their two games today and are looking ahead to the main round.
Qatar, Spain, Brazil and others have work to do as the preliminary round concludes tomorrow.
Join us then and share your thoughts with us on Twitter, Facebook or Instagram, using the hashtag #Greece2022!
21:55 EEST Spain goalkeeper Perujo: "We had the capacity to remedy the fall"
Miguel Santamaria Perujo told ihf.info after his Spain side beat Czech Republic that they are now 'OK' in Greece after their hiccup earlier against Jordan, when they lost via shoot-out.
"It's such a difficult championship," he said. "We lost the first match, but we have the capacity to remedy the fall. Now we're okay for the championship. After Jordan, we just concentrated on the championship and the next match.
"The Czech Republic are a good team and our coaches have done a good job. We want to win every game and the championship."
21:45 EEST Ministerial work-out
The Deputy Minister of Culture and Sports (see below) is now leading a fitness/warm-down/beach handball session on court to the sounds of Europe's 'The Final Countdown'.
He is now trying his hand at spin shots.
21:35 EEST Spain overcome early pain but will they reign again?
A shock loss against Jordan this afternoon will have been forgotten tonight as Spain powered to a 2-0 victory over Czech Republic thanks to a 36:23 second-period victory.The title-holders, Youth Olympic Games gold medallists and European championships runners-up are now fully charged.
21:10 EEST Wow wow wow
With the first period tied at 24:24 and the time on the clock run out, Spain had a free throw in front of goal. The Czech Republic built their wall on the Heraklion sand, surely Carlos Ocana Matas couldn't score from there. Could he?
He did. 26:24. Could this be the moment Spain get their Greece 2022 campaign back on track?
21:10 EEST Jordan ensure sun sets on the chance of a perfect day for host nation
Goalkeeper Yousef Hammour was the hero for Jordan in their 5:4 shoot-out win against host nation Greece in the penultimate game of the opening day of Greece 2022.
After his side opened the scoring and Greece overthrew their first shot pass, but eventually drew level, Hammour sprinted out of his goal to nullify the Greek threat, causing them to hit the crossbar with their third and shoot wide with their fourth. It was left to Ahmad Al-Otabi to score the solitary point, to put his side 5:2 ahead and not leave Greece any chance of a comeback.
"They went back, I went forward," summed up Hammour through a translator at the end of the game about his shoot-out heroics. "I pushed them and they then hit the crossbar. We do practise shoot-outs in training, but not all the time."
The result was Jordan's second shoot-out win in two matches today after their sensational victory over title-holders Spain in the morning, they are now top of the group.
"I dreamt of this, I'm happy," said Hammour.  "I get goosebumps when I see the Jordan flag flying here and on my chest. We worked hard before the Asian championships and we knew we would come to the world championships. We are doing something you can't imagine. We are working hard and studying all the teams. The coach told us before Greece that we are coming here as the dark horses, we are here to compete, we are here to win."
20:43 EEST It's a shoot-out!
A dominant Jordan ensure there is a muted response in the central court area from the home fans as their second-period 29:20 win sees the game go into shots. Nervy times for the hosts.
20:35 EEST Jordan in control, looking like a shoot-out
With just under five minutes remaining in the second period, the Asian silver medallists are 16:10 up against Greece. We could be going to a shoot-out...
20:25 EEST Ministerial performance from host nation
In front of Eleftherios Avgenakis, Deputy Minister of Culture and Sports and Member of Parliament for Heraklion, Greece Government, who earlier took part in the official opening ceremony, the home side lead Jordan 1-0 at half-time in their clash.
They won the first period 18:17 after Jordan came back into it but were denied a lead thanks to a great save from Stefanos-Panagiotis Pougatsias. He then watched his team go up the other end and seal that victory.
Currently, Greece coach Panos Gousios has his players sitting on the sand in a circle as they prepare to do battle in the second period.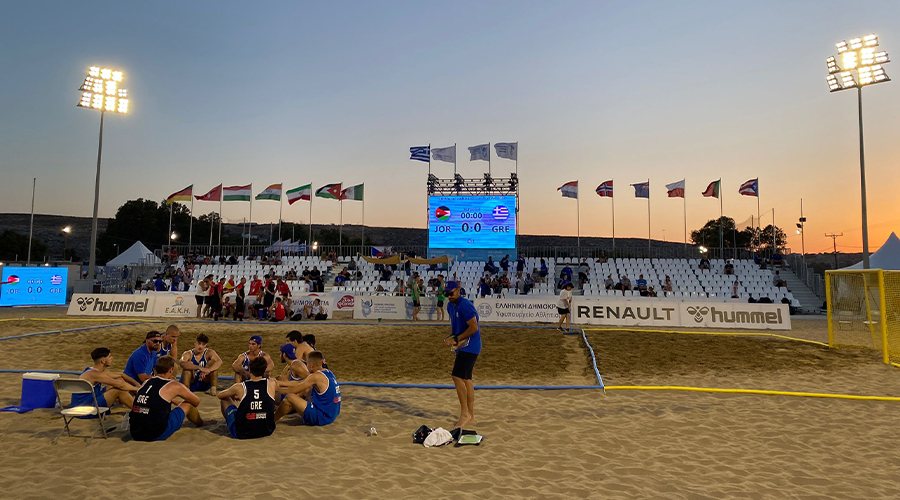 20:05 EEST Beach handball under the lights
THE FLOODLIGHTS HAVE COME ON. The sun is still bright, but shadows are being cast across the central court. Now we have the spotlights shining down on the sand and shining down on global beach handball too.
 
20:00 EEST Two more to go!
Just a pair of games remain today. Both in the men's competition and both on the central court. First up is Jordan against Greece and concluding the day is Czech Republic vs Spain. That means a total of 28 games in both the men's and women's competition would have been played. What was your favourite? Let us know using the hashtag #Greece2022!
19:50 EEST "He is the best" – Iran coach Anashghaeirad praises legendary Brazil coach Peixe
Here's Iran coach Mehdi Anashghaeirad on working under the new Iran senior men's coach and technical director, Antonio Guerra Peixe.
"He is the big man. He's my father. His father to all of beach handball, he is the best," said Anashghaeriad after his side defeated the USA 2-0 this morning.
"When I was 18 he was coaching the Brazil teams. During those 28 years he's been the best and now, he's still the best.
"I will cook for him, wash his clothes," he joked. "I will do everything for him because he's my master, he's my teacher, he's my professor. If I stay close to him I think I can catch all the things I need to learn from him."
19:35 EEST The 2022 IHF Men's and Women's Beach Handball Youth World Championships will officially open
We are now underway with the officially opening ceremony here in Heraklion. The IHF officials and referees have come out onto the sand now. They will be followed by all the nations competing. You can watch live on our YouTube channel.
19:30 EEST Germany in commanding form on the Greek sand
Two wins, two 2-0 victories, four point. It was a good day for the German men's team today in Heraklion. Their specialist, Paul Bonnet agrees.
"Yes. It's very nice, better than we thought and very good," said the specialist about victories over Ukraine and Argentina today, the Argentina win coming thanks to a late two points in a 28:26 first period.
 "I thought the Argentina game will be very tough because they are a very good team and have played very good against Brazil recently, but we had to give all what we have in our hands in that first period.
"It's really important, we are all very good mentally," he added about concentrating right until the last few seconds to take that first period win against Argentina.
"The coach said to us, we have to concentrate and we were on point. That was the difference against Argentina but I'm very happy that we have a break now until our game tomorrow. We can go to the hotel, rest, enjoy the evening and the morning tomorrow.
"But we are very excited for the next game. Beach handball is more and more accepted in Germany  and it will grow up. I'm very happy to be here and be in the national team. It's a pleasure for me and it's very, very nice to see the flag and look at my shirt and see our national badge."
19:20 EEST Togo and Brazil get their campaigns started with different results, France looking strong
Croatia were able to overturn an early 0-2 loss against France to see off African side Togo, who are appearing in their second, consecutive
IHF Men's Youth Beach Handball Championship.
With two wins from two, France can look forward to the main round knowing that their shoot-out win against the late arrivals, Brazil, will have given them some valuable experience.
They had won the first period 17:16, but the South Americans ensured a third one would be played after they easily won the second, 22:14.
France's specialist Baptiste Dubois now has 26 points to his name in just two matches and will be causing Togo to have a sleepless night tonight as they prepare to play them tomorrow.
18:27 EEST Emotions overpouring as Ukraine win against Uruguay via shoot-out
Ukraine have won their first game at Greece 2022, defeating Uruguay 12:10 in a shoot-out watched by a packed crowed around the outside court.
The nation has overcome much adversity to make it to Heraklion, but they are here and have two points in their preliminary group account.
18:05 EEST 100% for the day
Germany have just beaten Argentina 2-0 (28:26, 21:16). After a first period which was tight until the last few seconds, the Europeans powered ahead in the second and their business-like performance means they can enjoy their almost-24 hour rest ahead of their third and final preliminary match tomorrow, against Uruguay.
17:48 EEST Germany shoot down Argentina in the first period
With the last shot in the opening 10 minutes, Germany come out top in a 54-point (28:26) first period over the South Americans.
Both teams won their first games of the day 2-0, Germany against Ukraine and Argentina against continental rivals Uruguay. Can the Argentina men come back? Coach Leticia Brunati is deep in conversation with them at the break currently.
17:42 EEST USA's Hodgson: "There are just new people everywhere. It's great to see."
Fresh off their second-ever game, the USA's specialist Ian Hodgson revealed to ihf.info what it means to represent his country and continent on a global stage.
"A lot of people here just talk to us and, I don't really know how to say it, but it seems like they're rooting for us. It feels great to be here and with us being so far away from home and just new people everywhere, plus the diversity here, it's great to see - everyone loves the game. It's just a great atmosphere and I love playing the sport.
"It was really awesome," he added about stepping on to the sand for the first time to represent the USA. "I was nervous, of course, but it's really great to be here and I hope we can win a few games."
Earlier this morning, the United States lost 2-0 to Iran (20:31, 8:10) in their opening game but after a few hours break, they returned to face European champions Sweden. Even though they lost by the same score (0-2), it was a much-improved performance (16:26, 16:26), according to the San Francisco CalHeat player.
"It was really fun and was a great improvement from our first game," said Hodgson about the performance against the Swedes.
"This is the first tournament we've ever been to and our first-ever game we've played, against Iran this morning. We've improved a lot even since then and we're continuing to improve. We're working together a lot better now and had less loose passes. We're connecting more and our defence got stronger, getting more stops than in that first game.
"We hype each other up," revealed the 17-year-old about how his side reflect on matches played and prepare for those to come. "We try to study the other team and see what we can do and then we all come together and we do what's best."
Readers of ihf.info will maybe have heard already of Hodgson's home club, San Francisco CalHeat, a club which has supplied three of the US squad of 10 for Greece 2022.
"It's like a family," he said. "I joined a year ago and I've gotten significantly better. Everyone, even the people you don't know, treat you with so much respect and they help you so much every time you make a mistake.
17:25 EEST Brazil are here!
After being delayed, the Brazilian men's team have just arrived on site here. And, yes, they were singing when they arrived, although the sound system at the arena was a little bit louder.
17:10 EEST Jordan's Aburumman: "We can be the dark horses here"
More on that historic – and shock – win for Jordan against Spain earlier today.
"We came here from Jordan not to just participate but knowing that we could be the dark horses in this event," said Jordan goalkeeper Mohammad Aburumman, who scored the winning goal in a shoot-out win over Spain in their opening match.
"We can win games, we can do everything here," he said. "We had a close tournament in Jordan before coming here and we are ready."
They beat the World Championship title-holders and Youth Olympic champions 2-1 after losing the first period and then bouncing back (12:28, 20:18, SO 8:6).
"It was our first game in the World Championships and we didn't get inside the game," he explained about their first-set loss. "Before the second set, we talked to the coach and he told us about how to defend against them. He had studied them and they were going in from the left with a spin shot. We closed the defence and we had a good block against the Spanish shooting."
And the shoot-out?
"I knew if I shot it would be a goal, I had self-confidence, because the coach told me to shoot if their goalkeeper went out, but it's teamwork which made us win. All of the players are playing good in this game and they have a mentality for this."
They play Greece in their second match this evening.
16:54 EEST Sweden doing the business
It's half-time on the show court here in Heraklion. The USA are playing just their second-ever game as a team and it's against the European champions, Sweden.
Progressing from their opening game against Iran, the USA have scored 16 points in the first period. Unfortunately for them, the Swedes have scored 26.
15:40 EEST Surprise Jordan beat title holders
Spain surely did not expect their first match to end like this as Jordan suprised the defending champions, not only by sending the game to a shoot-out but by handing them a defeat. 
28:18, 12:20, 6:8 – that's how they did it. 
By the way, the Jordan men's youth team are the first-ever side from the Asian nation to play at an IHF Beach Handball World Championship and what a way to open their account!
15:32 EEST Shoot-out coming
After Spain took the first period convincingly 28:18, Jordan came back in the second period, winning it by eight points, 20:12.
Now the teams are off to the shoot-out.
15:00 EEST It's time!
Spain and Jordan get their Greece 2022 campaigns off finally now as they take on each other in the 15:00 EEST game. They will play their second games later this evening after the opening ceremony.
14:05 EEST Strong goalkeeping sees Greece men through
That win for the Greek men was in no large part down to the performance of those in goal.
The Czech Republic hit the crossbar with their first penalty shot, no doubt Stefanos-Panagiotis Pougatsias in the Greek goal putting off Kristián Duda with his shot.
Then, Konstantinos Siarava saved the next Czech shot, their coach looking up to the air and breathing a sigh of frustration. The Czech team then scored their third but their fourth was saved and fifth hit the post.
"We feel happy, we won by teamwork and we hope to go further," said Greece's Ignatios-Georgios Toulkeridis after the win. "We just needed to keep focussing and play hard. Our first goal now is to beat Jordan tonight and if we win, we set new goals and go further."
13:40 EEST Greek delight
And they did it. The men followed in the footsteps of the women's team and claimed a win in their first Greece 2022 match.
It was a hard one, going all the way to shoot-outs but with a score of 6:2, Greece made sure to take the victory.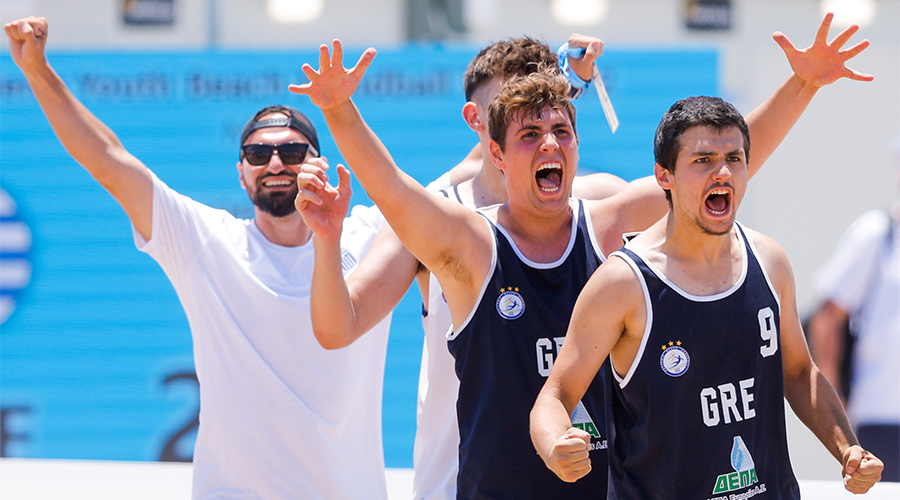 13:30 EEST Shoot-out time
After their shock at losing the first period after being in control for most of it (see below), Czech Republic have turned on the style in this second period. Flowing, fluid attack, complete with no-look passes and some football-esque saves in goal.
Greece did keep in touch, but they knew the game was up well before the end of it as the Czechs win it 24:18 to send it to shots.
13:25 EEST France beat Croatia
With a clear 21:8 win in the second period, France were able to celebrate a 2-0 win against continental rivals Croatia. 
13:17 EEST Drama, drama, drama
After being behind against the Czech Republic the whole first period, the Greek youth men brought it back to 16:16, took a time-out and then scored a solitary point through Dimitrios Papadopoulos, his seventh of the game.
Cue big celebrations from the side... but they were premature as there were still three seconds to play after the Czech Republic side called their own time-out.
After a pause to adjust the scoreboard and, probably,  player emotions too, the Czech side launched a quick attack, but could not get their shot off in time, the ball hitting the Greek post after the buzzer had sounded.
That was when the home side could celebrate a 17:16 first-set win. 
Phew! We have to do it all again now.
13:15 EEST Tough fight on court 2
After France took a close 19:17 first-set win, the second period in the match against Croatia started off just as tight. 
However, France are now able to pull away, leading 12:4. 
13:01 EEST Support from the stands
The Greece senior men's team are here supporting their youth rather loudly. The Greece youth women are here too, it's just the senior women missing, but they're busy as we said below.
Greece have been behind the whole first set against Czech Republic, after five minutes they are down 5:8.
12:50 EEST Can the Greece men follow the lead of their women?
After the host nation's women's youth team saw off Puerto Rico 2-0 in the last match on central court, it's time for the men to step up. They will play the Czech Republic.
At the same time, the Greek senior women's team are playing a friendly match against Netherlands on court 3.
It's a Greek beach handball festival!
12:33 EEST Another straight 2-0 win
The fourth match of the Men's Youth Beach Handball World Championship is finished and just the like the three other matches before, it was a clear 2-0 victory, after a high-scoring second period, which Germany won 32:20.
12:18 EEST Germany take first period
The first period of Germany versus Ukraine is done and dusted and the Germany side claim a 18:10 first-set win. 
Let's see if Ukraine can turn the tables in this match. 
12:10 EEST Sweden's Holmqvist: "It's a great group of lads"
European Champions Sweden started their campaign in Greece with a 2-0 (20:18, 17:10) win over Qatar and goalkeeper Simon Holmqvist could not be happier.
"I'm so proud of the team," he said, shortly after walking off the sand following the victory. "It's a great result for us, we played really well. It's really hard for us to know anything about the teams which are not from Europe, but we played a really good game."
Oscar Johansson scored 16 of the 38 total points for Sweden in the game and Holmqvist sung the praises of the pivot, but also admitted that the rest of the team will have to share the scoring as the championship progresses.
"Especially in the first set, he was great and scored almost all the points," said the Halmstad HF player. "But we have great players in every position and throughout the competition it (the scoring) will spread out.
"It's a great group of lads, it's really fun to be here, to be in a competition like this is amazing."
And does he feel like his side has a target on their back as European champions?
"You feel it a little bit," he said. "But we try to not think about it and we just perform as good as we can."
11:50 EEST Three times 2-0
The first session of the men's youth competition at Greece 2022 finished with three straight 2-0 wins for Argentina, Iran and Sweden.
11:30 EEST Swedes sweet in Crete
Oscar Johansson has scored exactly half of the 20 points the European champions recorded in the first period, as they take a 20:17 victory over Qatar.
Argentina and Iran also won the first period in their respective matches.
11:10 EEST European Champions Sweden ready to set the Heraklion sand on fire 
The European Champions are on court, lining up against Qatar. Can they add a world gold to their continental title?
One thing is for sure – they have already won the battle of the fans, with the yellow shirts of their travelling fans everywhere.
But Qatar have quality – and a famous name too: Filip Danijel Saric. The son of the legendary goalkeeper Danijel is in goal for Qatar and will hope to keep out the Swedes.
A South American-derby clash between Argentina and Uruguay, plus the USA against Iran are the other two games which open the men's championship here in Crete.