Debutants USA storm into last four on home sand in Birmingham
14 Jul. 2022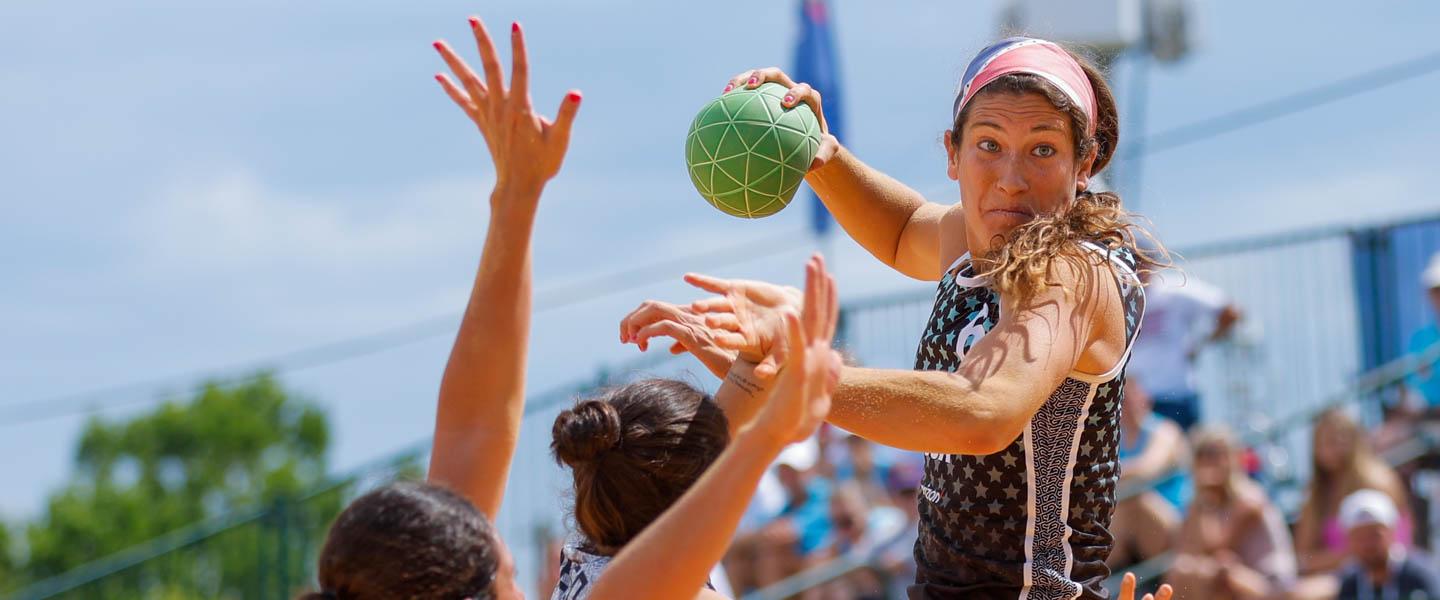 A first appearance and now a first semi-final. The USA booked their ticket to the last four in the women's beach handball competition at The World Games 2022 in Birmingham, USA on Wednesday after defeating Mexico 2-0 in a crunch decider.
Norway will play Argentina and Germany will take on the USA in the final four on Thursday.
The six-team round-robin preliminary group stage concluded on Wednesday with six games played, four dreams realised and two teams licking their wounds.
Those two teams are Mexico and Australia who lost both their games 0-2 today, the North America and the Caribbean (NACHC) champions Mexico going down against the USA first and then Argentina, while the Oceania (OCHF) champions Australia were defeated by world champions Germany and then Norway.
That USA versus Mexico game was key, with the winners of it ultimately taking the fourth and last semi-final spot behind group winners Germany who finished above Norway and Argentina.
The US took a 22:20 first-period win, followed by a 20:18 second-period victory, thanks to a last-second Christine Mansour single-pointer to cement a 2-0 result.
Mansour scored 22 points in the game, evidence of her lethal ability in front of goal. That ability ensured she finished the 2022 IHF Women's Beach Handball World Championship as the top scorer but the 29-year-old was quick to praise the collective effort.
"We stepped up and did what we needed to do to advance to the semis," said Mansour to ihf.info. "We performed under pressure, made the right reads, disrupted Mexico's offence and really came together as a team. We are so fired up to have made history on our home soil by advancing into the semifinals."
But what about those 22 points?
"I'm only as good as the passes my teammates dish to me," she said with a smile. "Luckily, I was finding the back of the goal, but I wouldn't be scoring if it weren't for my goalies flinging the ball full court to execute the fast-break nor my teammates' playmaking on offence.
"It's a joy to play with this team and I'm looking forward to building on the momentum and putting everything we have out on that Alabama sand on Thursday, together."
The Mexico result will do the US team a world of good, overcoming a continental loss at those NACHC championships earlier this year.
"We are very proud of how the team performed," said US coach Lisa Dunn to ihf.info. "We have so clearly grown and improved since the NACHC in April, it is a true testament to the hard work that each and everyone on this team has put in.
"This team has once again made history for our programme and USA Team Handball by making it into the semifinals at the World Games. We are hungry and ready to fight for a spot on the podium.
"We had an incredible training camp before the world championship that took us to Sicily to play at the EBT finals, followed by a week of friendlies against the Netherlands, Greece and Australia," explained Dunn about what has changed for the team since April. 
"That took us to the world championships where we set non-result-driven performance goals before and after each game. That in addition to the countless hours our assistant coach Michi Mensing spends preparing video analysis for the team. I believe all of that has pushed the team to improve dramatically."
While the US may be making headlines for their progression and world champions Germany seemingly unbeatable – they defeated the US 2-0 in the later game – both Norway and Argentina are through too.
The Norwegians have been particularly impressive so far, only losing to Germany via a shoot-out and defeating the 2017 silver medallists from South America the same way today.
"When it was my turn to shoot we have already won, so it was not that much pressure on me but I enjoy being the last person to shoot, even with pressure," said Norway's Maren Sjaamo to ihf.info about her single, final point to cement a 7:4 victory.
"I like it when I get responsibility, so I am happy with my role in the team," she added. "Though it is a little bit scary taking the shots, I mostly enjoy it. The feeling when I score in a shoot-out is one of the best, because it all may depend on me."
Argentina beat Mexico 2-0 to ensure third place and 2018 Youth Olympic Games gold medallist Gisella Bonomi is looking forward to the semi-final clash where they will face Norway again.
"It feels amazing to be closer to one of our objectives," said Bonomi. "We've been waiting for this opportunity for a long time, during which we've training hard to get here.
"It was a great match today, but not our best performance. It's in our hands to adjust details to maintain the game on our side. It's a matter of focus and a bit of luck too when it comes to playing against teams with that much experience."
Interested attendees amongst the fans at Sloss Furnaces on Wednesday also included International Olympic Committee (IOC) President Dr Thomas Bach and International World Games Association and (IWGA) President Jose Perurena Lopez who visited the show court to catch some action on the sand.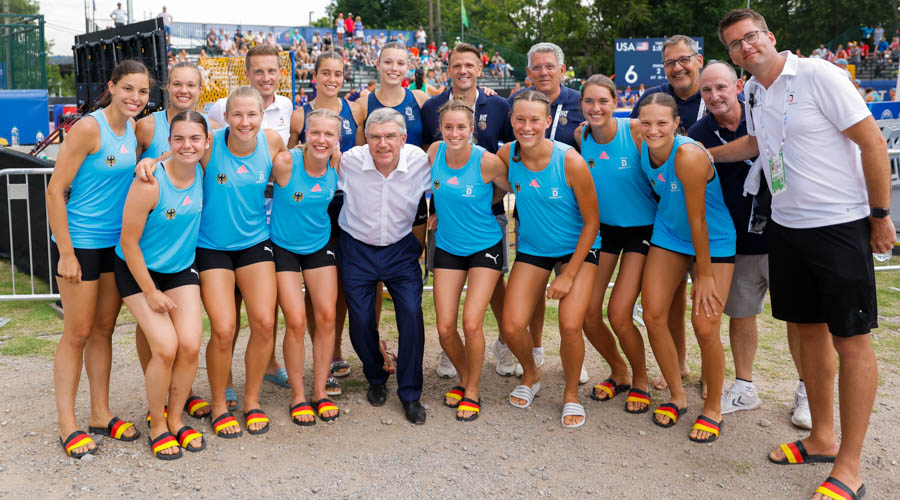 Both Bach and Lopez are big supporters of beach handball and have been present at several events over the years.
"It was an honour for us to play in front of Thomas Bach and showcase the passion, heart, and ambition we have for beach handball," said Mansour to ihf.info about the special visit on Wednesday.
"We all truly believe that this sport deserves Olympic recognition and hopefully he felt this sport's potential and will become a proponent of adding beach handball into the 2028 Los Angeles Olympic Games.
"After all, it would only be right to showcase our sport on the beaches of California where our programme was founded."