Four-pronged challenge headlines last round in Group B
02 Aug. 2021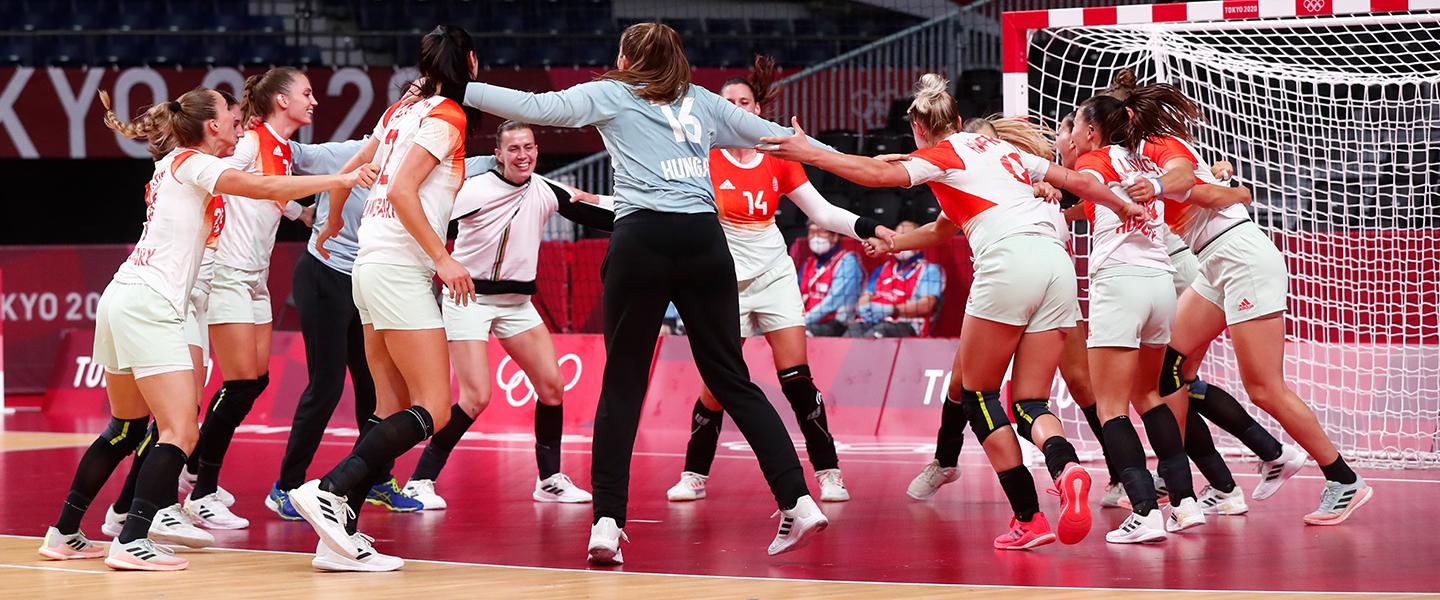 Running updates of Tokyo 2020 women's Group B – follow the action of the Olympic handball tournament live and stay always up-to-date. France clinched their quarter-final berth with a win against Brazil, Spain lost to ROC and now have to wait for the result of the final match: Hungary vs Sweden.  

We have entered the last round of the group phase of the Olympic Games Tokyo 2020 women's handball tournament. There is still one quarter-final berth to clinch, after Sweden, ROC and France have booked the ticket. Are you ready for more handball action? 
Today's matches:
11:00 JST: France vs Brazil (29:22)
14:15 JST: Spain vs ROC (31:34)
16:15 JST: Hungary vs Sweden (26:23)
 
20:00 JST Presenting the Group B quarter-finalists

 

17:55 JST Closing curtain for Group B

Stopping for a team picture after an outburst of joy. Group B ended in emphatic fashion for Hungary, who have just snatched a quarter-final berth for Tokyo 2020, after their superb 26:23 win against Sweden.
After 30 games, Group B of the Tokyo 2020 women's handball Olympic tournament is over, with four teams progressing to the knock-out phase. Spain, the silver medallists at the IHF Women's World Championship 2019, and Brazil, the South American powerhouse, leave the stage, despite each winning at least one game and fighting until the last drop of energy.
It has been a whirlwind at times, with Rio 2016 silver medallists France close to elimination, with the reigning Olympic champions, the ROC team, conceding a draw and a painful loss, a 24:36 drubbing against Sweden, but the standard has been high.
Sweden have won the group phase at the Olympic Games for the first time ever and registered their third quarter-final berth in four editions. They have almost doubled the amount of wins – they had four prior to Tokyo 2020 – and will likely better their record in the competition, the seventh place at Rio 2016.
We'll take a short break and then move over to Group A, where the last quarter-finalist will be decided in the next hours. First up, Montenegro against reigning world champions the Netherlands at 19:30 JST.
 
17:42 JST FINAL WHISTLE Hungary vs Sweden 26:23

The curtain has fallen over Group B at the Tokyo 2020 Olympic Games and we know all the qualified teams to the quarter-finals. Hungary will be joining Sweden, ROC and France into the knock-out phase of the competition, after sealing a precious win against Sweden, 26:23. They executed their plan to perfection, by letting Sweden lead only once throughout the game and having an in-form goalkeeper in Blanka Biro, who ended the game on 12 saves.
Sweden did their best, but, in the end, the backbone of Hungary's win was that superb stint in the first 10 minutes of the second half, when Sweden failed to score a single goal and the Hungarian side ran riot with a 6:0 partial. This is a testament to Hungary's never-give-up attitude, especially after losing the first three games and failing to perform at the highest level.
On the other hand, Sweden had these kind of moments in the previous games, but eventually came out unscathed, with a late outburst. This was by far their worst attacking performance, scoring only 23 goals, having never scored less than 28 goals previously at Tokyo 2020.
Sweden won the group with seven points, the same as the ROC team, but holding the tiebreaker courtesy of their 36:24 win. France finished third, with five points, while Hungary earned the four place in a tie with Spain, at four points, but leapfrogging them thanks to the 29:25 win. After winning three points in the first two games, Brazil conceded three losses to finish last.
 
17:29 JST The Blanka effect

Elin Hansson finally broke a drought of 12 minutes and 13 seconds for Sweden, but by that time, Hungary were well ahead in the game. Nathalie Hagman added more misery to the Swedish side, missing a one-on-one fast break with Blanka Biro and it looks like Sweden are heading to their first loss in this tournament. It's not about the effort they put in, rather about their costly misses that prevented them to stay close to Hungary.
If Hungary win this game, they will owe it to Blanka Biro, their superb goalkeeper, who has already saved 12 shots in this game for a 38% efficiency. On paper, it might not look much, but she was instrumental in stopping Sweden in key moments of the game, exactly when Hungary needed it the most. We are heading to the business end of the last game of Group B and, as of now, Hungary are looking to seal the win and progress to the quarter-finals. With 10 minutes left, Hungary lead Sweden 23:20, but have lost Zsuszanna Tomori to a red card, after a tough foul on Elin Hansson.
 
17:16 JST Sweden fail to score, as Hungary are inching closer to the quarter-finals

How important was Greta Marton's last-gasp goal in the first half to tie the game at 15:15. It gave them exactly the energy they needed to start the second half well and this is what they did properly, putting six unanswered goals past Sweden. What a game this is, especially going by how much Hungary need this win to proceed to the quarter-finals, after dropping their first three games.
It was also a very good defensive outing for the Hungarian side, becoming more aggressive and hampering Sweden's back line in the progression of the passing, as the Scandinavian side failed to register a goal until the 40th minute, despite a time-out called by coach Tomas Axner. Goalkeeper Blanka Biro also saved three shots in the first seven minutes of the second half to lift Hungary and propel them to a 21:15 lead.
 
16:52 HALF-TIME Hungary vs Sweden 15:15

A 4:1 unanswered run from Sweden prompted a time-out called by Hungary's coaches, Gabor Elek and Gabor Danyi. It's no surprise that Sweden mounted this comeback and even took the lead, 15:14, as their efficiency has been getting better, while Hungary looked a tad slow in attack. This was the key of the first half, in Sweden upping their game and not missing so much and when they did that, everything started to turn in their favour. Despite missing one penalty each, Nathalie Hagman and Johanna Westberg have been influential for Sweden, while Jenny Carlson was the first half's top scorer, with four goals from four shots.
Hungary felt the pressure and Katrin Klujber missed her first penalty shot in the 28th minute, but eventually tied the game with six seconds to go, 15:15, as left wing Greta Marton converted her fourth shot. She has been absolutely immense, a very reliable hand to put the trust in. But Marton cannot win a game by herself and the Hungarian side need more from their nine-metre line.
Right now, Spain, who will be watching the game with huge interest, are through to the quarter-finals. Hungary still need a win to proceed and Sweden are making them work hard for it.
 
16:38 JST Hungary stay in front, but Sweden have their chances

Sweden are creating the chances, but are missing too many of them. Their 42% shooting efficiency is not enough to create problems, despite their defence, which is playing quite aggressive and defending high, near the nine-metre line, is getting quite a few stops. Hungary are not dominating, they are just doing enough to stay in front. If Sweden were to become more ruthless in attack, then Hungary will probably have a problem on their hands.
Up until that point, though, things are looking good for Hungary. Goalkeeper Blanka Biro saved six shots and has a 45% saving efficiency, while Hungary's backs, Noemi Hafra and Katrin Klujber have also converted their shots, with wings Greta Marton, who scored twice in a row, and Viktoria Lukacs also being reliable. In defence, they have conceded open shots, but have limited Sweden's top goal scorer, Carin Strömberg, who failed to score a goal from her first three shots, after putting 23 past the opponent goalkeepers in the first four matches. Hungary boast a 10:8 lead now, with 10 minutes to go in the first half.
 
16:27 JST Flawless start from Hungary

Jumping to a 2:0 lead was the perfect way to start the game for Hungary, feeding their challenge for a win that would seal the quarter-finals berth they were looking for. It is crucial for the Hungarian side to keep the lead and not run to get it back, to see that it's possible to win against Sweden, one of the last two unbeaten teams in the competition, alongside Norway.
Despite sealing the first place two days ago, Sweden are pulling no punches and giving it all, yet Hungary have sharpened their defence since conceding 30 goals against France, 33 against Brazil and 38 against the ROC team. Right now, after 10 minutes, they have just shipped in three goals and are leading 6:3, enjoying a bright start of the game. Sweden are no pushovers, though, and any misstep from Hungary will be punished. Remember that in the last game against Brazil, the Scandinavian side were down four goals, only to come back and seal a crucial 33:31 win.
 
15:45 JST A clearer picture

The ROC's win not only sealed the second place for the side in Group B, but also brought them the 20th win in history at the Olympic Games. It was a great game from Alexey Alekseev's side, which boasts the third best attack in the competition, scoring at an average 29.6 goals per game.
It also painted a clearer picture of the standings in Group B, with Sweden taking first place, ROC securing second, while France finish third, avoiding a tough quarter-final game against Norway. Instead, either Spain or Hungary will play Norway, while France will face the second-placed team in Group A, either the Netherlands or Montenegro.
We'll find out the full picture in the next hours. But next up, Sweden take on Hungary, with the Hungarian side facing a must-win game to proceed in the competition.
 
15:40 FINAL WHISTLE Spain vs ROC 31:34

It's over and ROC secured second place in the group after their 34:31 win against Spain. Handball can be tough and teams that have started the tournament well can be on their way out of the competition. Well, Brazil have already been eliminated, despite starting with three points in the first two games, while Spain looked like a lock to proceed after the first three games, when they took two wins.
What happened then was that the two teams unraveled and had little chance to salvage something. Spain's start of the second half was a headline in itself, it was that precise moment when they lost the game and that was the moment when their fate in the tournament could have been sealed.
It was a combination of lack of attention, some trouble in defence and a total blackout in attack, which helped ROC back into the game, after being down for the first time. Since that moment, ROC never looked back and they surely look like they are peaking at the right moment. The ROC finished the group phase with three wins and secured second place, setting up a quarter-final against the third-placed team in Group A. They have also scored the second-largest amount of goals in the tournament, 34, the ninth time in 27 games at the Olympic Games when the ROC scored at least 34 goals in a game.
The ROC will need to wait until they find out their opponent, but it will be the Netherlands, Montenegro or Japan. They will be favoured against Montenegro or Japan, while a game against the Netherlands would surely be one to watch.
As for Spain, their issues were surely on display and their future hangs in the balance. There will be little time to wait, as the next game will decide their fate. Sweden, who have already secured the first place in the group, take on Hungary at 16:15 JST. Anything but a Hungarian win will help Spain take the fourth place and face Norway in the quarter-finals. If Hungary win, then, by the virtue of holding the tiebreaker, the 29:25 win from two days ago, they are through to the quarter-finals.
 
15:29 JST ROC keep Spain at bay, despite misgivings

It looks like it is game over for Spain and it's impossible to understand what has happened to the Spanish attack in the first 10 minutes of the second half, when they started brightly, but collapsed entirely, helping the ROC to take a 26:20 lead, that is proving to be unassailable. The entire team entered into panic mode and right now it is proving difficult, if not impossible, for Spain to salvage something from this game. When a team are not taking care of the ball in attack, deploying a seven-on-six tactic can backfire quickly and this is exactly what happened for Spain, with ROC's goalkeeper Anna Sedoykina converting an open goal shot.
What's clear is that Spain crumbled under pressure and forgot about who they are, a defensive-minded team that is thriving when applying pressure on the opponents. Well, Spain engaged in a shoot-out with the ROC and this is exactly what the opponents wanted. Spain have the attack, but they are down by four goals, 26:30, with eight minutes to go.

15:12 JST 6:1 run from the ROC prompts Spain timeout

Spanish coach Carlos Viver has realised that his team can only keep up with the ROC side if they are aggressive in defence and try and block the ROC back line, which can be very tough to defend against. In fact, Spain even take the lead briefly for the first time, 19:18, completing a 7:1 run that spanned between the 23rd and the 32nd minute.
However, it is another dip in the Spanish form that really brings the best out of the ROC team. A 4:0 run turns the game on its head and Spain simply cannot get some momentum in attack, turning the ball over four times. Spain need to get clearer minds, having turned the ball over 13 times in the first 37 minutes. It's too much and the ROC look to seal the deal as sisters Anna Vyakhireva and Polina Kuznetsova combine for three goals, with the ROC taking a convincing 24:20 lead. Carlos Viver is forced to take a time-out now.

14:49 JST HALF-TIME Spain vs ROC 17:18

At this result, Spain are on the brink of elimination, with a Hungarian win against Sweden in the next game having them out of contention, due to Hungary holding the tiebreaker. A fast-paced game does not suit the Spanish team, they have been used to win games via their defensive effort. When the defence worked, producing steals and turnovers from the ROC, Spain have been at their best. And this is exactly what they did in the last eight minutes of the first half, with the central defender exerting pressure on Ilina and Dmitrieva, whomever worked as centre back.
In fact, the ROC have scored only two times in the last seven minutes of the game, enabling Spain to build a 4:0 run, spurred by Alexandrina Cabral Barbosa, who has just made her comeback after a devastating knee injury. Despite leading by five, ROC's inability to hold their lead and see their attacking proficiency dwindling, can bite them back in the second half, with Spain having cut the gap to only one goal, 17:18.
The 18 goals conceded by Spain in the first half are the third largest amount in their history at the Olympic Games, with the record of 22 set against Hungary at Athens 2004, in a 5/6 Placement Match, as Spain have also conceded 20 goals against the Republic of Korea in the same competition.
 
14:41 JST Spain's turnovers make the difference

This is not looking good for Spain, especially in defence. They have conceded 20 goals in the first half only twice in 30 games at the Olympic Games, but are heading directly to that as the ROC seem unstoppable. In fact, ROC have been converting 81% of their attacks, with Ekaterina Ilina leading the way with four goals. The distribution, however, was superb, with seven different players scoring at least one goal.
The difference has been made by Spain's turnovers. 'Las Guerreras' themselves had a superb shooting efficiency, 71%, but turned the ball over no less than seven times, as the ROC are now boasting a 16:11 lead, with eight minutes to go in the first half.
 
14:26 JST ROC's attack carries the load in the start

It's a bright start for the ROC team, who are playing for securing the second place in the group. The Spanish defence has been playing quite well, but the difference has been made by the ROC fast breaks, as the reigning Olympic champions take a 6:4 lead, with right back Vyakhireva rendered impossible to stop in the first minutes of the game.
However, once the Spanish defence had settled, things were looking on the up for the silver medallists of the 2019 IHF Women's World Championship. They could have taken the lead, 7:6, but a costly turnover was quickly punished by left back Vladlena Bobrovnikova on a fast break and, instead, it is the ROC who are leading now, 8:6, after 11 minutes. In a shoot-out, the ROC look to have more firepower, therefore Spain seem to be in a bit of trouble.
 
13:50 JST Pivotal game for Spain

Next up, at 14:15 JST, is ROC against Spain, in a pivotal battle in this group. Spain scored 10 goals less than the ROC at Tokyo 2020, but the ROC conceded 10 more goals during the four games, in a battle of two different teams. The ROC had their worst start at the Olympic Games, with a 24:24 draw against Brazil and a 24:36 loss against Sweden but bounced back in superb fashion to take wins against Hungary (38:31) and France (28:27).
It is Spain's game to lose, as a loss, combined with a Hungary win against Sweden would see the Spanish side eliminated, while the ROC seal the second place in the group provided they do not lose this match. This will be the first match between the two sides at the Olympic Games, with the reigning champions winning four of the mutual seven games between the two teams, with Spain taking one win and three games between the two teams ending in draws.
 
12:40 JST France progress to Olympic quarter-finals for the sixth straight time

When at full strength, France can play amazing and this is exactly what they just did in a crucial game for their future at the Olympic Games Tokyo 2020. Cleopatre Darleux saved nine shots for a 45% saving efficiency in the second half, to lift France to only their second win in five games in the competition.
This has been their worst start at the Olympic Games since the current format with two six-team groups has been introduced at Beijing 2008, while also securing two wins in the group stage at Sydney 2000 and Athens 2004, when each group had five teams, therefore one game less for every team.
 

Since their first qualification at the Olympic Games at Sydney 2000, the French side have never finished lower than sixth and this win ensures they will be no lower than eighth at Tokyo 2020. Right now, the players will get some rest, but Olivier Krumbholz will surely watch the next games, especially Spain vs ROC, which will throw off at 14:15 JST. It will have a big influence, as an ROC win would secure the third place for France.
 
12:26 JST FINAL WHISTLE France vs Brazil 29:22

It's over! France win against Brazil, 29:22, and are through to the quarter-finals, while the South American side is eliminated, despite their strong start, with a draw against the ROC, 24:24 and a win against Hungary, 33:27. From that moment on, Brazil lost the next three games and they stood little chance to secure something in any of them, despite conceding a three-goal loss against Sweden and a four-goal loss against Spain.
This game has been no close contest, especially after Brazil faltered seriously after a good start in the first 10 minutes. Key contributors, players who were world champions in 2013, were totally stopped in their tracks by the French defence, while Olivier Krumbholz's attack duly delivered when it mattered most, via fast breaks, nine-metre shots or with goals scored from their wings.
But this is where it gets interesting. France are now in third place, with five points, but can only stay there if Spain (four points) lose against Russia (five points). Otherwise, France will be down to the fourth place, with a quarter-final game against Norway looming. It would be a rematch of the EHF EURO 2020 final last December, when Norway took a convincing 22:20 win to win the gold medal. It would be an amazing game and a headliner for the quarter-final phase, especially as an in-form Norway would meet an outsider in France, who have already lost two games and only won two games at Tokyo 2020.
Meanwhile, Brazil see their second handball team eliminated in as many days, after the men's team lost against Germany and finished outside of the top four. There will be a need for a change of generation, as key players did not contribute in crucial moments for the Brazilian side.
Another consequence of France's win is that Spain must now earn at least a point against the ROC if Hungary win against Sweden. France, Sweden and the ROC are already through, with only one other quarter-final place up for grabs.
 
12:13 JST Game (almost) over

Brazil could have cut the gap to only two goals in the 38th minute, but that Araujo suspension really sucked the life out of Brazil's game and halted all their momentum. From that moment on, France have found the way to score at will and stopped the Brazilian attack, who has scored just three times between the 36th and the 46th minutes.
Credit to Cleopatre Darleux, the French goalkeeper, who saved five shots after being ushered in at the start of the second half, while backs Kalidiatou Niakate, Grace Zaadi and line player Beatrice Edwige all scored their first goals between the 40th and 43rd minute to lift France to a 25:18 lead after 49 minutes. Stranger things have happened in handball, but it seems like this game is over. Brazil are simply struggling to score easy goals, as Do Nascimento has not scored since her fourth goal in the 10th minute, while neither Duda Amorim nor Ana Paula Rodrigues Belo did score a goal. There is too little input from the Brazilian star players in this game.
 
12:01 JST Brazil find unsourced potential to take the game to France

Bruna de Paula, Brazil's rising star, has been playing in France since the 2016/17 season, therefore leaving little secrets behind for the French side. Sure enough, Olivier Krumbholz has been preparing for her antics and rendering her a non-factor up until this point of the game. De Paula, who has been Brazil's top scorer in this tournament, with 21 goals, scored only twice from six shots in this game, being constantly stopped by the French defence.
But after fellow back Samara da Silva's lively start in the second half, Brazil are back into the fold, cutting the gap to only three goals, 15:18. Did France believe they have already won this game? Judging by their experience and the exigent coach they have on the bench, it is unlikely. However, Brazil are a totally different team, being superb in defence, keeping France in check. Yet a two-minute suspension for Larissa Araujo hampers their challenge and France are back to a four-goal lead, 20:16, with 20 minutes to go. Don't go anywhere, though, this looks to be exciting until the end.
 
11:36 JST HALF-TIME France vs Brazil 17:11

The Brazilian players looked confident throughout the tournament, there are plenty in their roster who won the IHF Women's World Championship in 2013, but their game today has not been up to par with their expectations. They looked too emotional, crumbled under pressure and were outplayed in every department by a sturdy French side, who were superb on defence and created chances via the balls they took from Brazil.
But in attack is where France excelled, converting 71% of their shots and limiting turnovers to a minimum. Alisson Pineau, the designated penalty taker for France, has been once again their best scorer, with four goals, but seven other players contributed with a least one goal, to lift France to a 17:11 lead at the break.
Sure, there have been plenty of ups and downs for France this tournament, from the 30:29 win against Hungary to their 27:28 loss against ROC in the last game, but right now, they certainly look like they cannot lose this game they dominated from start to until now. There have been plenty of smiles from coach Olivier Krumbholz during the game and the players will probably give him more reasons to smile in the second half. A win would see France through to the quarter-finals.
 
11:21 JST France seem to be in control

"You are playing very stressed, please enjoy the game," said Brazil's coach, Jorge Duenas, during a time-out he took in the 14th minute. Indeed, the Brazilian side feels the pressure of the loss, which would see them out of contention for a quarter-final place. After 17 minutes without a save, Barbara Arenhart stops her first shot, a one-on-one with line player Pauletta Foppa, conceding all of the eight shots put on goal by the French players prior to this. This is no way to win a game, therefore Brazil really need to improve, taking some pride in their defence to fuel their attacks.
France are by no means cruising to the win, but their game is more balanced, they take better care of the ball and are, generally, finding more open shots. And, most importantly, the stops they got in defence truly helped them open a 10:6 gap, after a pair of goals from right back Oceane Sercien Ugolin. If France do solve their fast break problem, missing all three up until this point, they will win this game.
 
11:11 JST Do Nascimento keeps Brazil alive with four-goal outburst

It has been a slow start to the game, but both sides have proved time and time again at Tokyo 2020 they know to navigate their ups and downs and mount a comeback whenever needed. France and Brazil combined for nine missed shots in the first 10 minutes, as the start of the game has been slow, plagued by turnover and one-on-one missed shots, as Brazil failed to have another player scoring other than right wing Alexandra do Nascimento. That is one point of view, the other is that the 39-year-old former IHF Female World Player of the Year has scored four times, converting all of her shots.
Therefore, it is no surprise that the game is tied at 4:4, as France really need more from Estelle Nze Minko and, basically, from their whole back line. They have only scored nine goals in the first four games from the nine-metre line, the second-worst record at this edition of the Olympic Games, with only one goal more than Montenegro. Correct that and you can have a path to the win.
 
10:50 JST Only one team can be the true winner in a decisive France vs Brazil clash

Today's card is full of exciting matches, but it cannot get any better than a winner-takes-all situation that this next match, France vs Brazil, brings. Both teams are tied on three points in the standings, but only the winner will go through, such is the complicated situation in Group B. Of course, another draw for the two sides would complicate matters, but the general consensus is that only one team from these two will advance to the quarter-finals.
France have been underwhelming at Tokyo 2020, conceding more goals than usual, an average of 28 per game, with their defensive record bettered by five sides in the competition. However, Brazil's style duly suits the French side. In such a game, though, every attack will count.
Let's see how this game pans out, what's sure is that the two sides will leave everything on the court with their future at stake.

10:45 JST Group B is ready to go

Sweden have already sealed the first place in the group, staying unbeaten in the first four matches and will face Hungary in the last match, as the Hungarian side is in a must-win situation to proceed to the next phase of the Olympic Games Tokyo 2020 .
However, Hungary's fate is out of their hands and they will also need certain results in the other games of the group.
Rio 2016 silver medallists France face a must-win situation against Brazil to proceed to the next phase in the competition. If France finish fourth, then a rematch of the EHF EURO 2020 final against Norway will await in the quarter-finals.
On and off throughout the tournament, Spain can earn safe passage even with a loss against the ROC, but they need Hungary not to win against Sweden, as they would hold the tiebreaker.
What they need to qualify:
Sweden: already through to the quarter-finals
ROC: already through to the quarter-finals
Spain: do not lose against the ROC / lose against the ROC AND Hungary do not win against Sweden
Brazil: do not lose against France 
France: win against Brazil / draw against Brazil AND Spain lose against the ROC AND Hungary do not win against Sweden
Hungary: win against Sweden AND Spain lose against the ROC AND Brazil vs France does not end in a draw

You can find out more about Group B by clicking here. 
All the latest info regarding statistics and standings can be found on our page dedicated to the women's handball tournament at the Olympic Games Tokyo 2020.