Rio 2016 finalists headline crucial day for Group B teams
31 Jul. 2021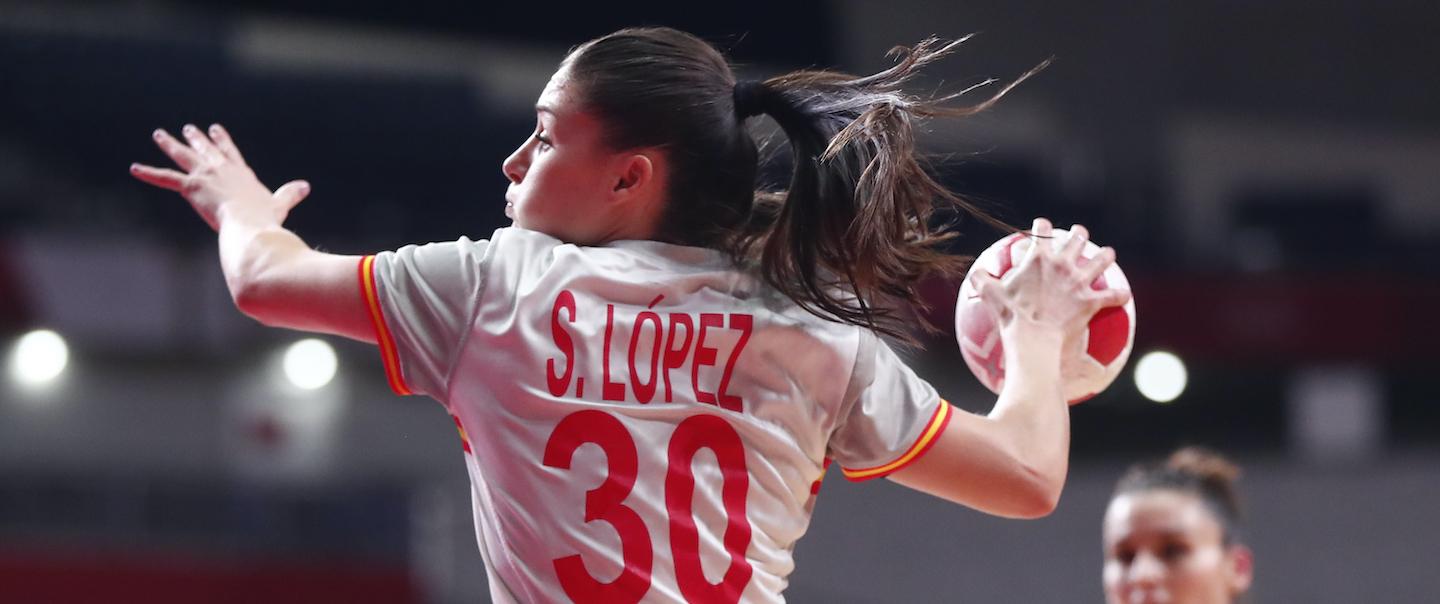 Running updates of Tokyo 2020 women's Group B – follow the action of the Olympic handball tournament live and stay always up-to-date. In the first match of Group B, ROC and France aim to claim another two points in the competition.  Sweden won their third preliminary round game against Brazil in the second Group B matchup.

It's round 4 of the women's competition at the Olympic handball tournament and today's Group B schedule promises exciting matches as the teams fight for the quarter-final spots. While Hungary have zero points and are virtually out of contention, only two points separate the first and the fifth places after three rounds.
Today's matches:
14:15 JST: ROC vs France (28:27)
16:15 JST: Brazil vs Sweden (31:34)
19:30 JST: Hungary vs Spain (29:25)

23:00 JST Round 4 for Group B has come to an end 
That does it for Group B today! ROC started off round 4 of games with a nice win against France. Sweden continued their impressive campaign in the second game with a victory again Brazil. And finally, Hungary picked up their first Tokyo 2020 win in impressive fashion against Spain.
With only one round of games left, many questions still remain about which four teams will advance. Tune in on Monday 2 August for what promises to be the most exciting day yet!
 

21:00 JST FINAL WHISTLE Hungary vs Spain 29:25

Spain reduced the seven-goal deficit in the 41st minute to only one goal 10 minutes later. 33-year-old goalkeeper Mercedes Castellanos was exceptional this half and made six saves at a rate of 46%.
But their big comeback was denied by the Hungarians, who turned off the fire and reached the final minutes in command of the match.
Hungary finally grab their first points at Tokyo 2020 after three straight losses.

20:30 JST Hungary grow stronger and go ahead by seven goals
41st minute. Carlos Viver calls a timeout. It's the most difficult moment for them as the deficit has increased and the score is 16:23 in favour of Hungary.
"We have 20 minutes left yet, we can't be like this, girls. Let's go!," Viver tells his players, who look disappointed. But they are called 'Guerreras' for a reason and giving up is never an option. There's still plenty of time for them to react.

20:05 JST HALF-TIME Hungary vs Spain 14:11

We just saw an encouraging first half for the Hungarian side, who lead at the break thanks to superb production from two of their under-21 players. Greta Marton has scored five goals and Petra Vamos has contributed four.
It seems contradictory to look at the score knowing that Spain were more efficient in attack than Hungary in this first period, but it isn't. Hungary have taken 25 shots versus 18 attempts on goal for the Spaniards.

19:50 JST A bright Greta Marton pushes Hungary ahead

It's a slow start for Spain so Hungary take advantage and lead 9:5 after the first quarter of the game.
Two fast break goals and another two from the left wing for 21-year-old Greta Marton, who won the 2018 IHF Women's Junior World Championship.
The new generation is bringing fresh air to Hungary, who pursue their dream of making the next phase at Tokyo 2020.

19:20 JST In need of their first win, Hungary go up against Spain

The last time Hungary and Spain met was in Japan, in the preliminary round of the 2019 World Championship. On that occasion, the 'Guerreras' took a 29:25 victory.
Hungary hope for a different result tonight — as they have accumulated three losses and are now forced to collect their first points if they want to keep their dream of making the quarter-finals alive.
Spain didn't start their Tokyo 2020 campaign in the best way but they recovered quickly from their initial loss 24:31 versus Sweden and went on to defeat France 28:25 and Brazil 27:23.
Will Hungary be able overcome this challenge versus 2019 World Championship silver medallists?
 
17:48 JST FINAL WHISTLE Brazil vs Sweden 31:34

With three goals in the last 13 minutes, Sweden's Jamina Roberts was crucial in her team's win against Brazil, 34:31, the third for the Scandinavian team at Tokyo 2020. It also brings a quarter-final berth for Sweden, the first team to progress to the next phase of the competition in Group B. It has truly been disappointing for Brazil, who were trying to get the stops and surprise Sweden and they really did just that until the 52nd minute, then Sweden pulled away decisively.
Roberts and Elin Hansson, with six goals apiece, were Sweden's stars in this game, with the Scandinavian side aiming for their best-ever finish at the Olympic Games, looking to improve on their seventh place at Rio 2016. This was also only Sweden's seventh win in 21 games in the competition, in their fourth participation. Yet they still somehow can tap into unknown potential, despite being a young team.
On the other hand, Brazil needed more from key contributors at times, despite few things that can be held against players like Ana Paula Rodrigues Belo, Eduarda Amorim or Barbara Arenhart. The golden generation of the Brazilian handball, world champions in 2013, are closer to the final of their careers and for many this might be the last chance at the Olympic Games. And they can cap it off with a win next Tuesday.
With Sweden facing Hungary, who can be already eliminated if they lose later against Spain, they have a chance to top the group, after already securing a quarter-final berth. On the other hand, Brazil meet France in a do-or-die game, in a winner-takes-all match.
 
17:35 JST …only for Brazil to bounce back

What. A. Game. It has been nip and tuck and Brazil just bounced back to transform a five-goal gap, 17:22, into a deadlock, 25:25. Experienced players have been key in this game, as Duda Amorim, Ana Paula Rodrigues and Alexandra do Nascimento combined for 15 goals until the 52nd minute. Bruna de Paula, who is dubbed as Brazil's next star, has been somewhat quiet, only scoring twice.
Sweden have only themselves to blame for, as they have let such a big gap go away – but credit also to Brazil, who have been defending well and had six saves from their goalkeepers in the last 12 minutes. It's anybody's game and Brazil are playing for their lives now.
 
17:21 JST Sweden go for the win

As Jessica Ryde entered the game between the Swedish posts, she has been nothing short of superb, by saving nine shots for a 56% saving efficiency. By comparison, Brazil's goalkeepers have only saved four shots between them and this is exactly where the difference has been made.
It's truly been a collective effort for Sweden, with Elin Hansson scoring five times and four other players scoring three times each. Therefore, the 22:18 score line after 40 minutes rings true and it all points out to a Swedish win today.
 
16:55 JST HALF-TIME Brazil vs Sweden 13:15

How quickly a game can turn. Sweden were tested throughout the first 20 minutes of the game, but they amped up their defensive effort and hampered Brazil's chances. Three converted fast breaks later, Sweden jump on a 5:0 run to take the lead, 13:12.
This is more like it for Sweden, who are taking advantage of Brazil's missed chances, including two penalties by Cardoso and do Nascimento. At the break, Sweden are leading by two goals, 15:13, after being down by four goals with 10 minutes to go. It is anybody's game now. But Sweden can still clinch a quarter-finals berth with a draw.
 
16:40 JST Do Nascimento turns back the time

39-year-old Alexandra do Nascimento is turning back the clock with a vintage performance on the biggest of stages. The biggest challenge for Sweden's defence has been avoiding penalties and they just did not do that so far. And Do Nascimento has truly took advantage of it, converting all her six penalties to lift Brazil to a 12:8 advantage after 21 minutes.
Well, Sweden's unbeaten record will definitely be tested today. Despite boasting a 71% shooting efficiency, the Scandinavian side have turned the ball over too many times, while their goalkeeping has been a non-factor.
 
16:34 JST Fiery start from Brazil

Brazil's combo of unorthodox centre backs Bruna de Paula and Ana Paula Rodrigues Belo is back at it, starting to score and dish assists at free will. But the Swedish defence is strong and disciplined and it will be very tough to crack. A spin shot, a penalty and some shots from the back provide Brazil with a 9:7 lead after 14 minutes.
On the other side, Sweden rely once again on their top scorer, Carin Strömberg, who scored twice already. How will Brazil cope with Sweden's physicallity in the second half?
 
16:00 JST Sweden eye quarter-final berth against Brazil

Despite the many errors committed by the two teams, this game was one of the best at Tokyo 2020, with the lead changes, the emotions running high on the court and the feeling that this was one of the last chances for the losing team to progress to the quarter-finals. Of course, nobody is done and dusted yet, except for Hungary, who failed to win any of the first three matches in this tournament.
ROC won that game, courtesy to committing less turnovers than the opponent and were celebrating getting closer to the quarter-finals. Meanwhile, another pivotal game is ready to start. Sweden are facing Brazil, as the South American side must earn at least a point if they are to be serious challengers for a quarter-final berth.
However, Sweden are the only side to remain unbeaten in the competition in Group B so far and so much as a draw would definitely put them through to the knock-out phases of the competition. The game starts in 30 minutes, so join us then!
 
15:43 JST FINAL WHISTLE ROC vs France 28:27

There have been 29 turnovers in this game, with the two sides combining for only 23 goals in the second half, after scoring 32 in the first half. There have been many mistakes, but also some very good defensive actions for both sides. So who's going to win it and improve their chances for a quarter-final berth? For a moment, it looked like the ROC team, who took a 27:25 lead, taking advantage of France's attacking woes. But Krumbholz called a time-out and went all-in, taking out the goalkeeper for an outfield player in attack.
And exactly when France thought they could save something from this game, another turnover sees ROC's line player Ksenia Makeeva steal a ball and put her team on attack. A miss from the same Makeeva sees the ball bounce back to the ROC, who lose it and then Anna Sedoykina makes a key save on a one-on-one fast break with Allison Pineau. The French side holds the last possession, but Estelle Nze Minko's pass to Foppa is intercepted once again by Makeeva, who seals the win for her team.
It's been a roller-coaster of a game with five lead changes, a lot of pressure for both sides to get it done, but the ROC went out on a limb and were better in the crucial moments, to repeat their win of the Rio 2016 finals. This time, it was 28:27, but the score matters less now, as the ROC team boast huge chances to progress to the quarter-finals. France, on the other hand, face a sturdy challenge to retain their silver medal from Rio, as they will probably face one of the top two teams in Group A provided they progress to the next phase.
Alisson Pineau scored nine goals for France, six from penalties, while Ekaterina Ilina converted all of ROC's nine penalties to tie Pineau. France play against Brazil on Monday, in a must-win game, while the ROC face Spain, in what could shape up to be a clash for one of the first two places in the group.

 
15:16 JST Pineau leads France with six-goal outing

ROC's fine finish of the first half was also translated in the second half, with goalkeeper Anna Sedoykina making two great saves to help her team tie the game, 18:18, after 36 minutes. Feeling that his team is failing to make the cut in attack, Olivier Krumbholz, who was all smiles in the 25th minute, when his team was by four goals in front, called for a time-out, trying to get his team more organised.
This is a very entertaining game, chiefly because these are two good sides who, at their best, are shining bright. However, none of them has been able to block out certain moments when they truly look spiritless at times. For what it's worth, France's defence throughout the tournament, has been far from the standards Krumbholz's sides usually boasts. Yet, France are still leading, 20:19, thanks to a masterclass of a game from centre back Allison Pineau, who scored six goals until the 40th minute.
 
14:51 JST HALF-TIME ROC vs France 15:17

The re-match of the Rio 2016 final is not disappointing. These are two powerhouses, albeit quite struggling in this tournament, which are pulling no punches, and are trying their best to improve of chances of qualification from the group phase. Winning this game means that their future at Tokyo 2020 is likely to be brighter and, right now, it seems France are getting the better of the ROC. Krumbholz's move to change their defensive shape was decisive, as Vyakhireva could not get the open lanes she had in the start of the game. Therefore, the ROC attack became predictable, slow and started turning the ball over. And, as we all know, France are superb, one of the best teams on the fast break in the world.
The result? A 6:0 run for France, based on four goals from fast breaks, that turned the game on its head and made the silver medallists at Tokyo 2020 the favourites for the win. Moreover, the ROC team also had Polina Vedekhina suffered a back injury, with her return to play questionable. France's joker, who can also play both on the right back and on the right wing, Laura Flippes, has been the star of this period of the game, scoring six goals in the first half.
As for the ROC, their five minutes and 25 seconds scoreless stint really hampered their efforts. Yet, France are still a team that is susceptible to moments when they are not at 100%, therefore it is a not foregone conclusion that the game is over.
France are leading at the break, 17:15, converting their shots at a superb 81% shooting efficiency. ROC shook off some wobbling in their attack and with Vyakhireva finally scoring twice in the last minutes of the first half, they cut the gap to only two goals. Exciting second half coming up!
 
14:36 JST Krumbholz adapts defence, as Vyakhireva is unstoppable

Vyakhireva has already received five penalties, as France simply are not equipped to deal with the ROC right back, who has not scored a goal, but was superb in attack, impossible to stop without breaking the rules. We might see Krumbholz shifting his defence to a more aggressive 5+1, to start and stop Vyakhireva by man-marking her.
Until then, Ekaterina Ilina scored as many goals as France until the 17th minute, converting all the penalties she shot. And, sure enough, Krumbholz takes the 5+1 out of the playbook and starts using it. France have been exposed on both sides of the ball, having five turnovers in attack and being thoroughly dominated on defence.
Still, Leynaud makes a save after a Vyakhireva shot and France can tie the game, only for Oceane Sercien Ugolin, who has recently replaced Alexandra Lacrabere in the roster, to commit an attacking foul. It is 9:8 for the ROC, with 10 minutes to go in the first half.
 
14:28 JST Crunch game to be expected here…

We will probably see more of this throughout the game. France opened a two-goal lead, 3:1, but it was closed immediately by the ROC, with Aleksey Alexeev's side taking the lead for the first time after eight minutes, 4:3. A 2:0 run for France prompts the third lead change in the game, but a pattern is emerging and it begs the question: is the reigning MVP of the Olympic Games, awarded at Rio 2016, Anna Vyakhireva, back at the highest level?
She was fouled two times, obtained two penalty shots and two suspensions for the French defence, duly converted by Ekaterina Ilina at the top corner. After 10 minutes, the ROC team are 6:5 up, having scored four goals with a player more on the court.
 
13:50 JST Re-match of Rio 2016 final headlines the day in Group B

Moving on to Group B for the first time today. The wait is almost over as, soon, two of the best teams in the world, France and ROC, are ready to throw off their game in the Yoyogi National Stadium in Tokyo. Five years ago, at Rio 2016, the two sides met in the final, but now the circumstances are totally different, as both are fighting for their lives to progress to the quarter-finals. Both conceded a loss and both drew a game in the first three rounds, therefore the room for manoeuvre is slim at best, every point counting its weight in gold now.
France are bringing back seven players from the silver-winning roster five years ago (Allison Pineau, Grace Zaadi, Amandine Leynaud, Beatrice Edwige, Estelle Nze-Minko, Alexandra Lacrabere), while the ROC bring back six players from the winning squad (Polina Kuznetsova, Daria Dmitrieva, Anna Sen, Anna Vyakhireva, Vladlena Bobrovnikova, Ekaterina Ilina), including the MVP of the Rio 2016 Olympic women's handball tournament, Vyakhireva.
For France, the main issue has been the defence, which leaked 85 goals, and is therefore only the fourth-ranked defence (out of six) in Group B, which is somewhat unexpected from an Olivier Krumbholz-coached team. On the other side, the ROC's attack has been awfully quiet, scoring only 86 goals, 26 goals less than the best in the competition, the Dutch.

13:45 JST Group B is about to start

Leaders Sweden, the only team to remain unbeaten after three rounds, can clinch a quarter-final berth with a win against Brazil, irrespective of the other results in the group. The Scandinavian side have the best attack in the group – the third best overall – and the second best defence of the competition and will be looking to take advantage of their momentum ahead of a Brazilian side which lost against Spain two days ago, 23:27.
Spain could also secure their progression to the knock-out phase with a win against Hungary, the team which conceded the second-largest amount of goals in the competition. 'Las Guerreras' shook off a loss against Sweden in the first game to secure two wins in the next two rounds and are looking for the third.
Meanwhile, the final from Rio 2016 will feature as a group phase match, with both finalists, the ROC and France, with three points and on the brink of elimination.
The loser of the tie will face a sturdy challenge to progress to the quarter-finals, albeit with a clash against Norway or the Netherlands looming large.
You can find out more about Group B by clicking here. 
All the latest info regarding statistics and standings can be found on our page dedicated to the women's handball tournament at the Olympic Games Tokyo 2020.