World Championship final rematch opens Beach Handball Global Tour
01 Jul. 2022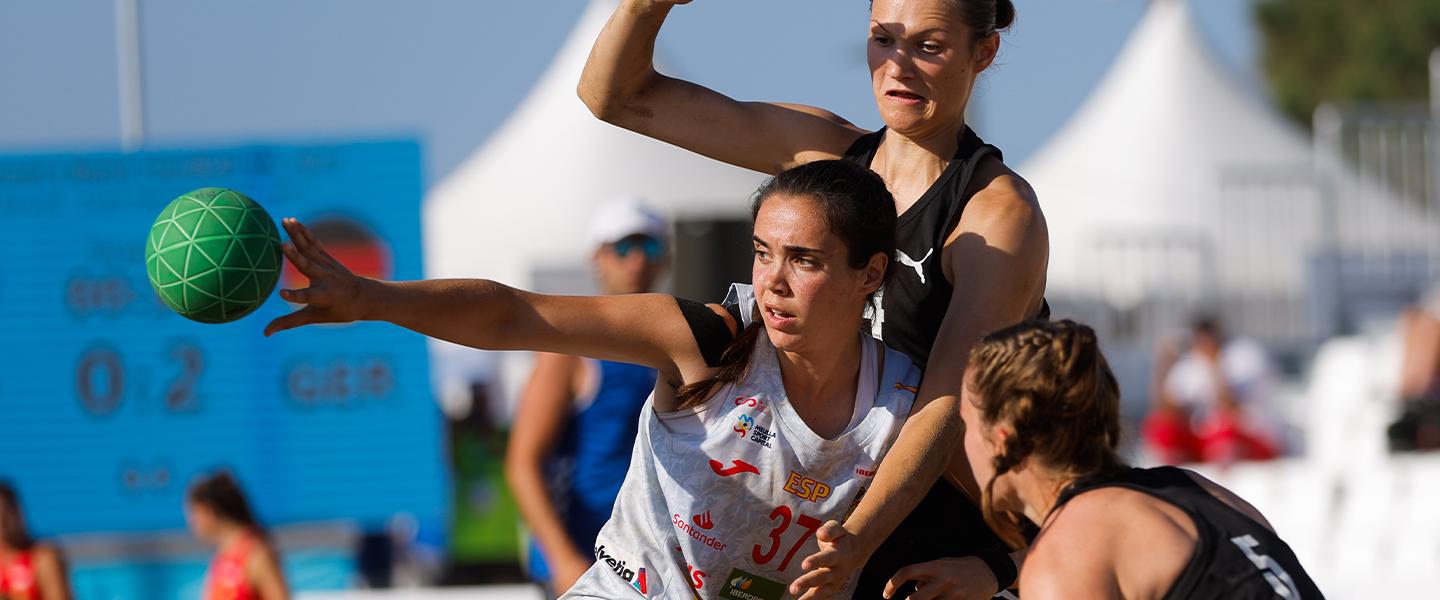 After being postponed for two years, the 2022 edition of the Beach Handball Global Tour throws-off today in Gdansk, Poland.
The northern coastal city will welcome newly-crowned world champions Germany along with the team they beat in the final just five days ago – Spain. The two will be joined by hosts Poland and Croatia.
Germany will be the team to beat after winning their last 18 games on their way to both the European and world titles. 
They only dropped two periods last year at the 2021 European Beach Handball Championships in Bulgaria and one of those was to Spain their semi-final. Spain were also their opponents in Greece last Sunday when the two teams played off for gold.
The Germans proved too strong, winning both periods with a golden goal (15:14, 22:20) but coach Alexander Novakovic has named a completely different squad of 10 as he looks to give rest to his all-conquering team ahead of them departing for the United States of America and their quest to win a third trophy – The World Games, which runs from 11 to 15 July.
"We'll be playing in Poland with a completely different squad, a mix of U18 players and close candidates," he said to DHB.de. 
"This is a completely new constellation, so we first have to go into the tuning and practice processes. For us, the tournament is not about results, we just want to see progress and I'm curious to see how the young players in particular do."
Spain have named eight of the 10 players who were on the sand in Heraklion last week in that final loss with Mónica Cámara and Remei Prat replacing Patricia Conejero Galan and Mireia Torras Parera.
They beat Croatia on their way to bronze in Bulgaria last year with a 2-0 main round victory. The Croatians went on to finish 11th, while hosts Poland lost 0-2 against Germany in the main round, too, on their way to eighth.
For Croatia and Poland it will mark their first championship action since Bulgaria and they cannot wait to get involved. Their match in Gdansk will be a forerunner of their clash on 9 July at the Beach Handball EURO 2023 qualification tournament in Prague, Czech Republic. 
"The Beach Handball Global Tour will be a great opportunity for us to play even better," said Croatia's Anja Vida Lukšić to Beach Handball Croatia. 
"We have been training hard for the last few months and now we will see what it will look like against quite strong opponents. The most challenging team in the tournament is certainly Germany, who won the World Championship a few days ago and Spain, who were runners-up.
"Both teams are great and it is a good thing that in the preparation period we have the opportunity to play with the best teams."
Her national coach Iva Kanjugović is looking forward to the tour stage, a stage which will provide the opportunity for experimentation.
"The result in Gdansk is important," she said. "We want to impose the acquisition of a winning mentality, but it is not in the foreground. We will put the emphasis on the progress of the younger girls who will perform in the tournament.
"We have three juniors in the squad and Gdansk will serve us to see if we can count on them in the future. This is a great event where they will gain a lot of experience which I hope they can use later in further performances for the national team."
Games from Gdansk can be watched on the IHF-Competitions YouTube channel and can be followed on the IHF social media channels, using the hashtag #beachhandball or by visiting the mini-sites for the men's and women's tournaments on ihf.info.
To find out about the Beach Handball Global Tour competition format and a lot more, click here. 
Following the conclusion of this first stage, the second stage of the IHF Beach Handball Global Tour will take place in Orihuela, Spain from Friday 29 to Sunday 31 July. In total, 2022 will see four stages played on the tour debut.