Qatar 2019 – Day 6: Women's Review (Finals)
16 Oct. 2019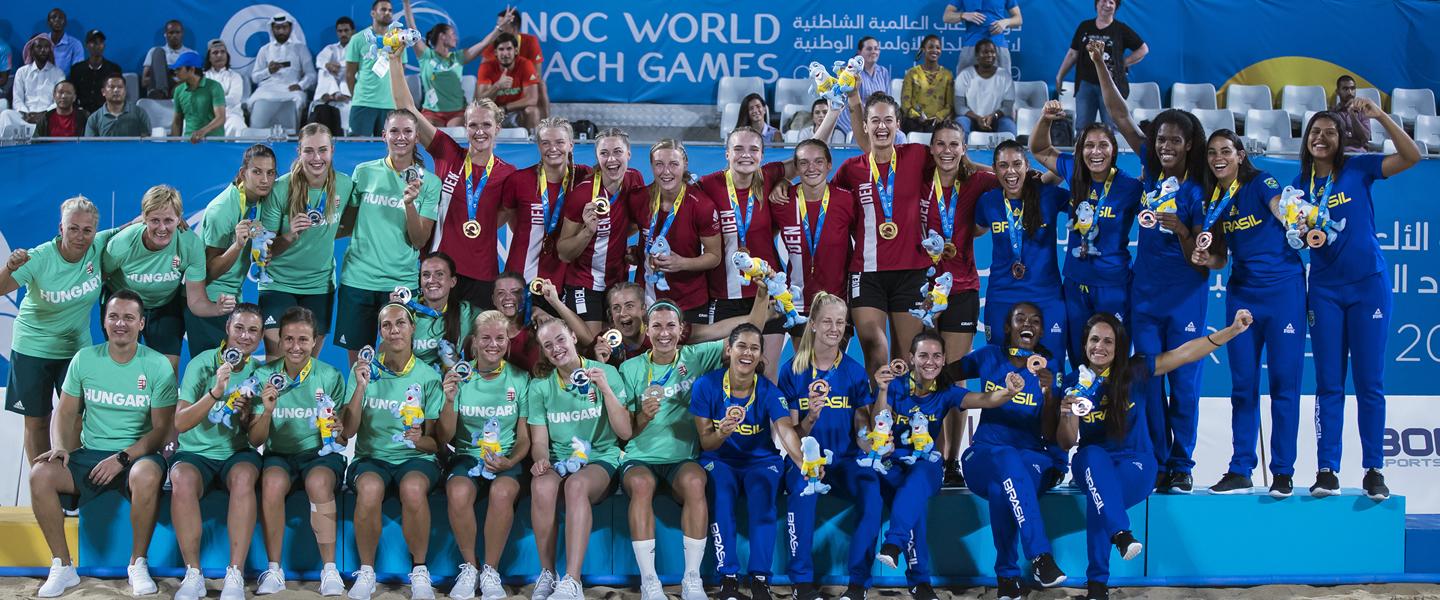 The women's beach handball competition at the ANOC World Beach Games – Qatar 2019 is over, and Denmark are champions. 
Three placement matches at the Al-Gharafa Beach Handball Arena and the bronze and gold medal matches took place at the Katara Beach venue on the final day of the Games.
Final: Denmark vs Hungary 2-0 (21:19, 15:14)
In similar circumstances to their 2019 EHF Beach Handball European Championship triumph over Hungary in the final, Denmark beat their continental rivals again in a gold medal match, defeating Hungary 2-0 at the debut edition of the ANOC World Beach Games.
On 7 July earlier this year, Denmark ran out 2-0 winners after easily taking the first period 18:12, but squeezed past their opponents in the second period 23:22 after Hungary had equalised for Hungary with 10 seconds left – and history repeated itself again with a last second winner from Ann Cecilie Moller, the same player who confirmed continental gold.
These two teams had played earlier in Qatar, in the group stage, with Denmark winning via shoot-out but that was not needed today as the deadly Line Kristensen scored 11 first period points and brought the scores level at 14:14 in the dying seconds of second period, with Hungary having been 14:10 up.
And in those last moments, Denmark pushed for the winner, squeezing the ball in and leaving Hungary just seconds to equalise.
"When you win against a team, you get the feeling you will win again," said Denmark coach Morten Frandsen Holmen who ran down the full length of the court at the final whistle. "The match with Hungary in the preliminary group was a turning point for us.
"I regretted it later," he said about the burst of energy. "I feel so stupid I had to run. I was so tired. But this is the final and we won the gold medal."
3/4 Placement Match/Bronze: Brazil vs Vietnam 2-0 (26:14, 23:18)
World championship bronze medallists Brazil added another bronze to their collection, defeating the Asian runners-up Vietnam, who can hold their heads up high, but were outplayed by their more experienced rivals.
Greece win clash of current and past world champions; Poland go one better than Kazan 2018
Both Greece and Spain, the current and former world champions played off for seventh spot at the Al-Gharafa Beach Handball Arena after a disappointing campaign in Qatar and it went all the way to a shoot-out after two clear periods for both teams. World championship title-holders Greece prevailed, 2:1.
The other matches saw identically-scored periods for either team as China eventual beat the USA to finish ninth, while Poland went one better than their 2018 world championship ranking, to finish fifth, defeating Youth Olympic gold medallists Argentina, 2-0.
Results: Women's Competition – Wednesday 16 October 2019
9/10 Placement Match
United States of America vs China 1-2 (24:16, 16:24, SO 4:5)
7/8 Placement Match
Spain vs Greece 1-2 (20:16, 19:26, SO 1:2)
5/6 Placement Match
Poland vs Argentina 2-0 (15:14, 20:10)
3/4 Placement Match/Bronze
Brazil vs Vietnam 2-0 (26:14, 23:18)
Final
Denmark vs Hungary 2-0 (21:19, 15:14)