Why do you love beach handball?
14 Oct. 2019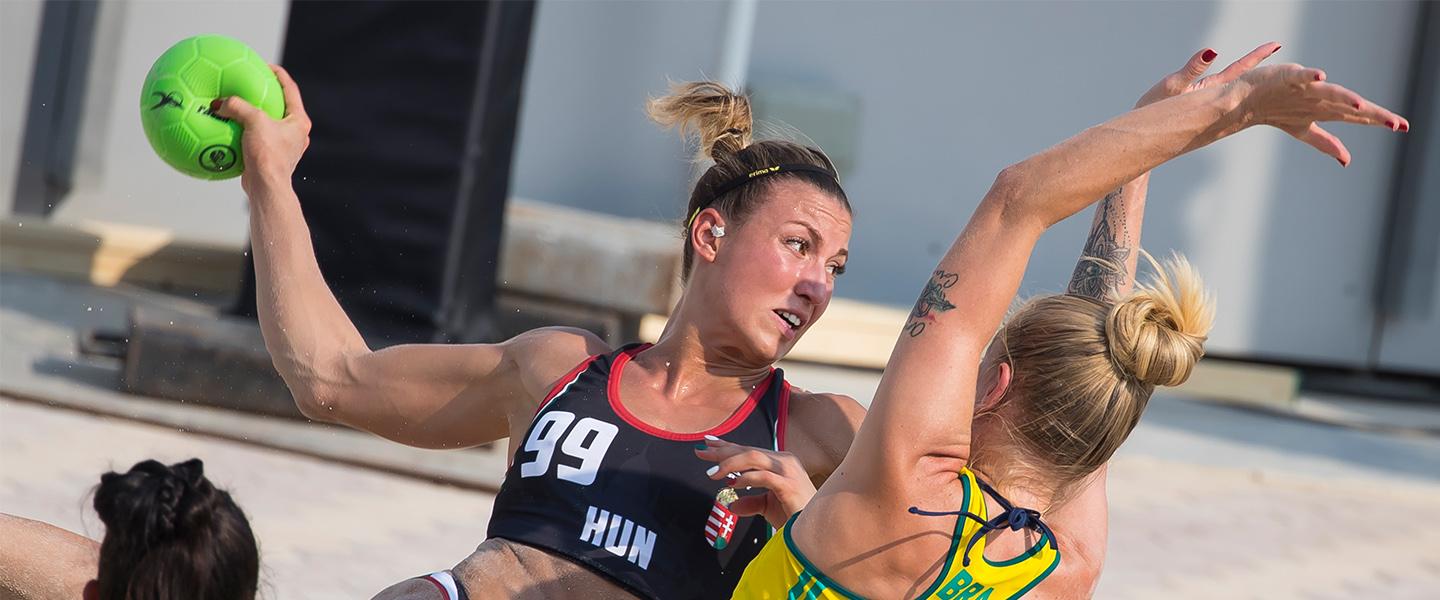 The 2019 ANOC World Beach Games are in full-swing in Doha, Qatar where we've already seen the world's best put on an amazing show.

The 2019 ANOC World Beach Games can be followed on Instagram, Twitter and the competition website.
Ahead of the competition, IHF.info asked players, coaches and federations involved at the ANOC World Beach Games one simple question – why do you love beach handball?
Madeleine McAfee – Player, AUS (Women)
It's fast-paced, demanding and can, at times, be heart-wrenching. I don't think I've ever been as nervous or hyped for a team, even when I'm spectating, than during a shoot-out, which is a feeling not many other team sports offer. Beach handball has an amazing vibe – playing sports with your mates from all over the world, in the sun and on the sand – it doesn't get much better than that.
Bruno Carlos de Oliveira – Player, BRA (Men)
The essence of the beach handball is what I love the most; the fair play, the spectacle, the integration and the atmosphere of friendship between the teams. Beach handball has the philosophy that educates and transforms people into better beings.
Hanen Romdhan – Player, TUN (Women)
I have adored the beach, the sand and the sea since childhood and I played beach volleyball, tennis and football with my brother before starting in beach handball. I played in a tournament in Tunisia where I was among the best and as I was also an indoor player too, I found completion between my love of handball and my love of the sand and the sea with beach handball.
Martin Vilstrup Jr Andersen – Player, DEN (Men)
What is it that I don't love about the sport? I love the fair play which is crucial for the sport. But the biggest thing I love is the atmosphere around it. Being able to compete at a high level against each other, but still being friendly and having a good relationship with people is great. Being able to switch between being humbled and nice against each other, and in the next minute trying to beat them by 20 points. It's like one big family, although in this family everyone wants to beat each other.
Juan Carlos Zapardiel – Coach, ESP (Women)
From the very first day I practiced beach handball I fell head over heels in love with it. I started practicing at the age of 27 and I especially like the amazing atmosphere around this sport. I also think this is an extremely spectacular and exciting sport. The scoring system makes it very attractive and the shoot-out is incredible. I like everything about it. I love it.
Charlie White – Player, USA (Men)
I love how exciting and high-scoring beach handball can be. For me, there is nothing better than training on the beach, jumping in the ocean and traveling the world to compete at an elite level. I played many sports growing up, but I feel like I was born to play beach handball. I wish I had discovered it earlier in my career.
Anna Kaloidi – Player, GRE (Women)
I can't say just one thing. I love the whole philosophy of the sport. Beach handball motivates me to become a better athlete.